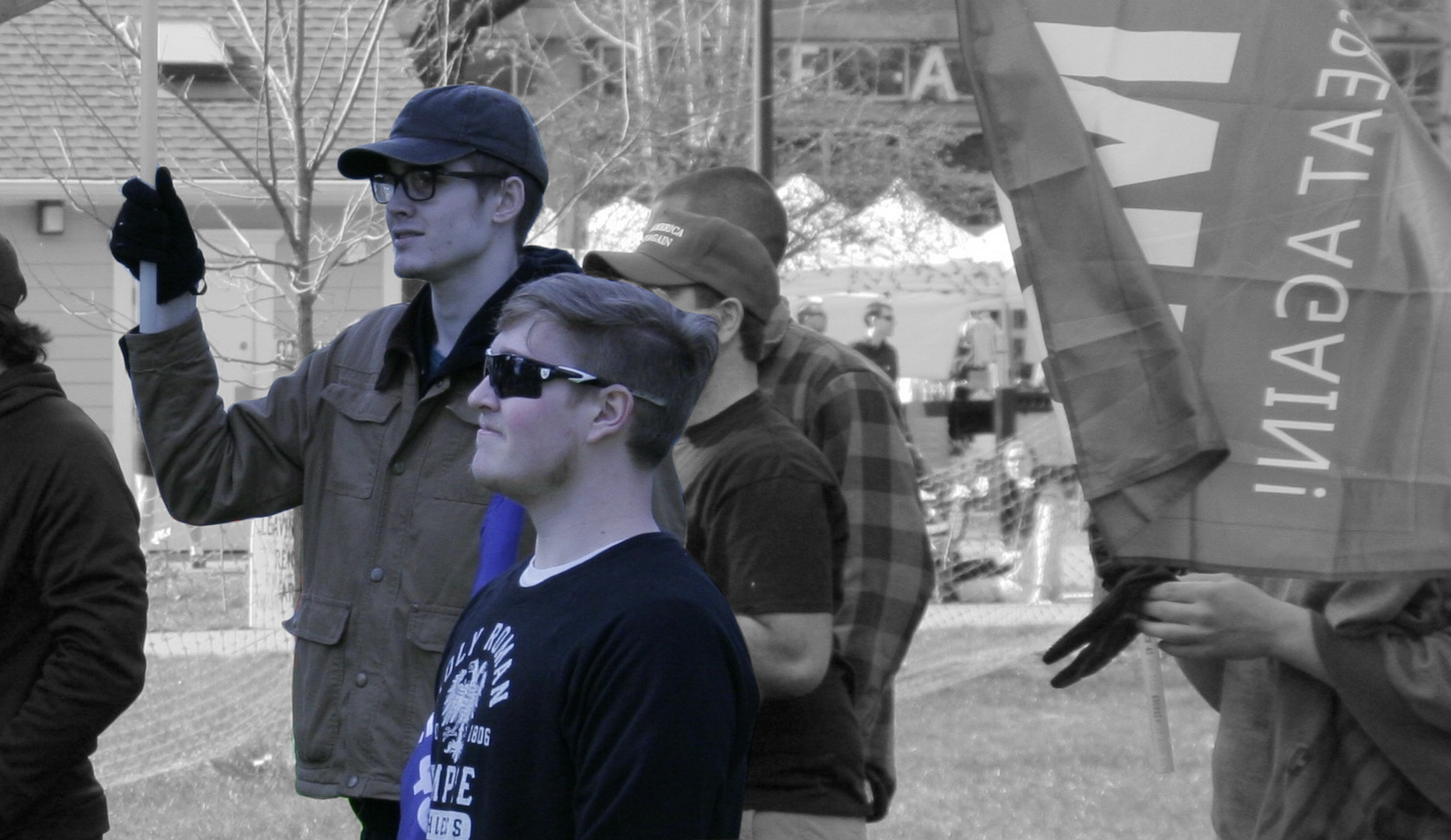 Daily Stormer Book Clubs
The Daily Stormer Book Clubs (DSBC) are a network of neo-Nazi cells spread throughout the United States, Canada and Europe. Begun on Andrew Anglin's The Daily Stormer web forum, these groups have allowed white supremacists and fascists in different metropolitan regions to meet and coordinate racist intimidation and violence since 2016.
The Portland, Oregon DSBC chapter (referred to in this article as the "PDX Stormers") was until recently one of the largest and most active. Not only do they have a fluctuating membership in the neighborhood of 10 to 20 neo-Nazi participants, they have, more than other groups around the country, moved from the realm of the internet to real-world activities. Over the past couple years the PDX Stormers have carried out racist and anti-Semitic propaganda actions in the Portland metro area, in some instances targeting and then exposing even elementary school children to Nazi imagery. They have participated in a large number of Joey Gibson's far-right rallies, and assaulted counter-protesters.
In October of 2017, Pacific Northwest Anti-fascist Workers Collective publicized information about PDX Stormer Jarl Rockhill. In February of 2018, Rose City Antifa publicized the identity of Vancouver, WA neo-Nazi Alexander Wolfgang Becker, also a member of the PDX Stormers. In the coming weeks, Rose City Antifa will expose the identities of three more PDX Stormers neo-Nazis: Matthew Blais, Bogdan Gerasimyuk, and Michael Dorsey. These three, along with Rockhill and Becker, represent the core of the most active and often seen neo-Nazis in the group. For updates, check rosecityantifa.org or follow along with the hashtags #stormerbreaker and #debaseddoxx.
The Daily Stormer
Founded in 2013 by wealthy itinerant tourist and blogger Andrew Anglin as a replacement for his earlier Total Fascism website, The Daily Stormer established itself as a popular forum for neo-Nazis by taking an arch tone in the dissemination of its propaganda. Anglin, having spent close to a decade participating in edgelord internet forums, attempted to strategically style his website's editorial prose after the now-defunct news-gossip site Gawker. The Daily Stormer, typically maintaining the usual white nationalist and neo-Nazi tropes of Holocaust denial, misogyny and racism, also continues to tap into more mainstream cultural trends, glorifying, for instance, far-right Fox News political commentator Tucker Carlson, who they see as someone who consistently spreads a slightly-disguised version of white supremacist ideological messaging. They also serve a role in honing and furthering many of the racist memes found across the internet.
The candidacy of Donald Trump brought The Daily Stormer's racist views further into view of the mainstream, and Anglin made a show of endorsing Trump for President in mid-2015. As the campaign continued to embolden the Alt-Right, Anglin was able to mobilize "troll-storms" to harass and threaten whoever he deemed an enemy, notably against the small Jewish community of Whitefish, Montana. These campaigns of hateful phone-calls and emails included hundreds of death threats filled with racial slurs. These horrific threats hold particular weight in the Trump era, as one act of internet-fueled white supremacist violence follows another.
Many of the most notable perpetrators of racist violence have links to The Daily Stormer. Dylan Roof, the mass-shooter who in June 2015 murdered nine congregants in a historically Black church in Charleston, South Carolina, quoted The Daily Stormer in his later-uncovered manifesto, and evidence suggests that he was a regular poster on the website's forums. James Harris Jackson, the murderer who targeted 66 year-old victim Timothy Caughman because of his race in 2017, cited The Daily Stormer as an early haven for his racism. The Aztec High School shooter William Atchison also frequented The Daily Stormer.
In August of 2016, Anglin instructed The Daily Stormer users to coordinate themselves into regional "Daily Stormer Book Clubs" in order to be able to become a "real-life troll army." Anglin suggested that chapters acquire firearms and paramilitary training, like other neo-Nazi organizations such as Atomwaffen Division and The Base . Most of the DSBCs never got beyond meeting in bars or cafes.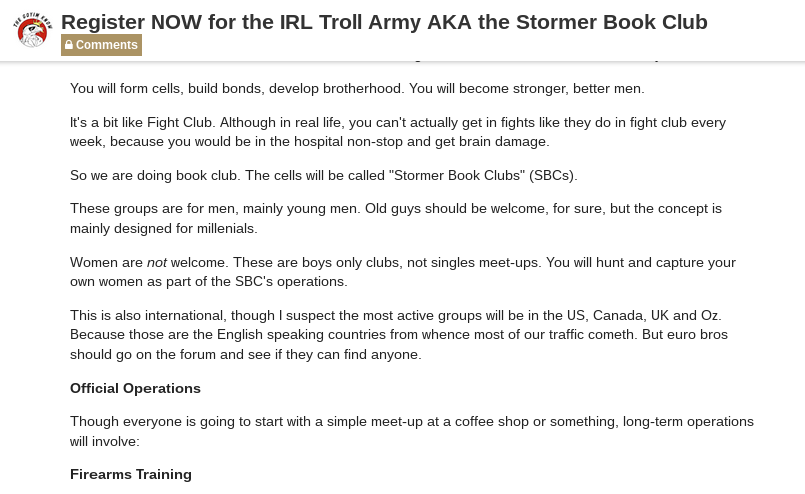 A portion of the article in which Anglin first called for the organization of Daily Stormer Book Clubs.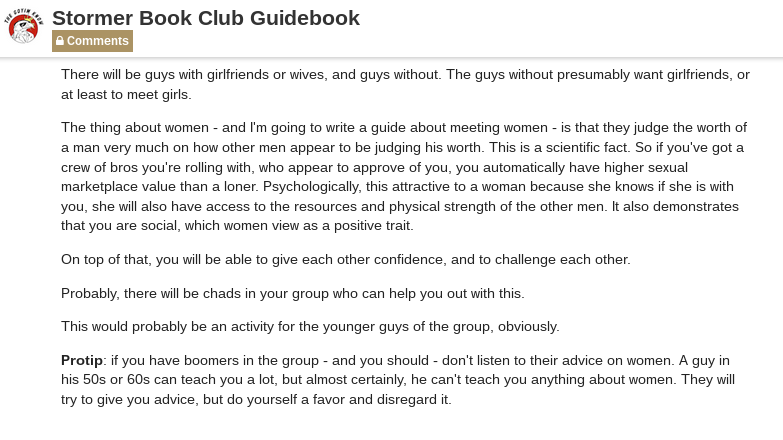 Anglin suggests in the "Stormer Book Club Guidebook" that neo-Nazis can learn how to meet girls as one of their activities, among other activities such as weapons training.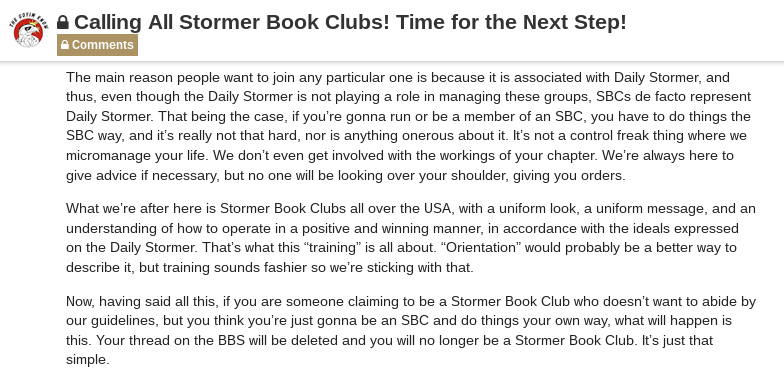 Robert Warren Ray describes the DSBC organizational structure, in which every DSBC is sanctioned by leadership.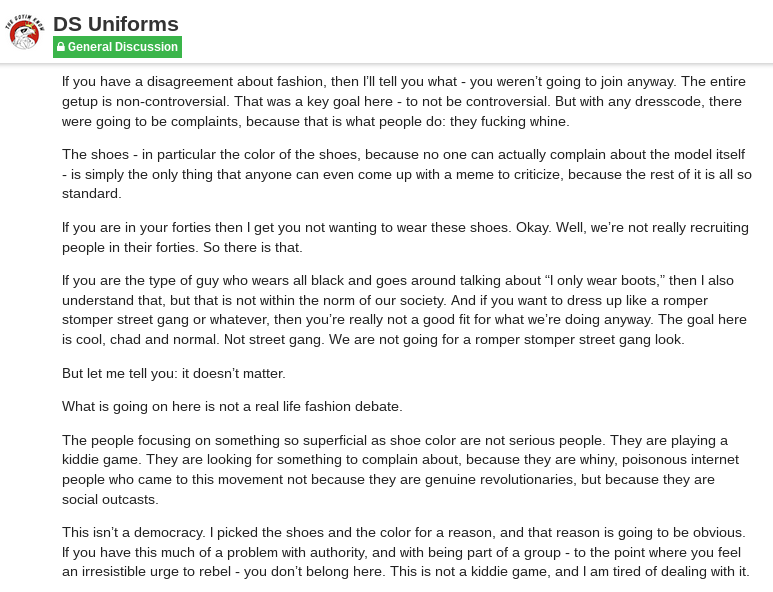 Anglin engages in a long-winded diatribe about the importance of red sneakers to his vision for the DSBCs.
Some chapters would move beyond the social club stage, and go on to put up racist, anti-Semitic, and overtly neo-Nazi propaganda around their cities. Members of multiple chapters would travel to participate in the deadly Unite The Right rally in Charlottesville, VA in August 2017. Popular memes devised by Anglin, such as "White Sharia," became the inspiration for chants which were heard in Charlottesville and at other far-right rallies around the country. Anglin would go on to refer to Unite The Right as "our Beer Hall Putsch", in reference to the German Nazi Party's galvanizing failure to seize power in 1923.
While Anglin himself (already facing legal troubles) avoided the August 2017 rally, Robert Warren Ray (aka Azzmador), a frequent contributor to The Daily Stormer and then-employee of Anglin's, delivered a grotesquely anti-Semitic speech in his stead. Ray has previously been a member of the Dallas-Forth Worth DSBC, and was responsible for defining the structure of the DSBCs along with Anglin. Ray has also been a vocal supporter of the PDX Stormers chapter, having frequently interacted with them on Gab (a social media site popular with the far-right).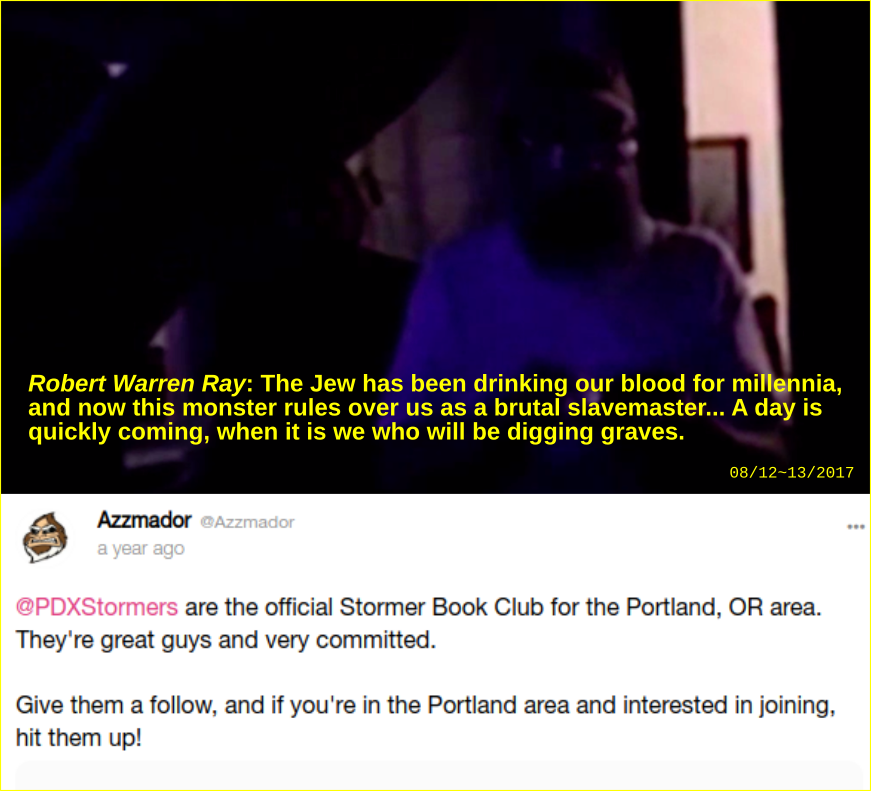 (Above) Robert "Azzmador" Ray represents Anglin and The Daily Stormer in Charlottesville, advocating anti-Semitic violence just after the rally in which activist Heather Heyer was killed. In the foreground, an attendee raises the Nazi "Roman salute." (Below) Ray endorses the PDX Stormers as "great guys and very committed."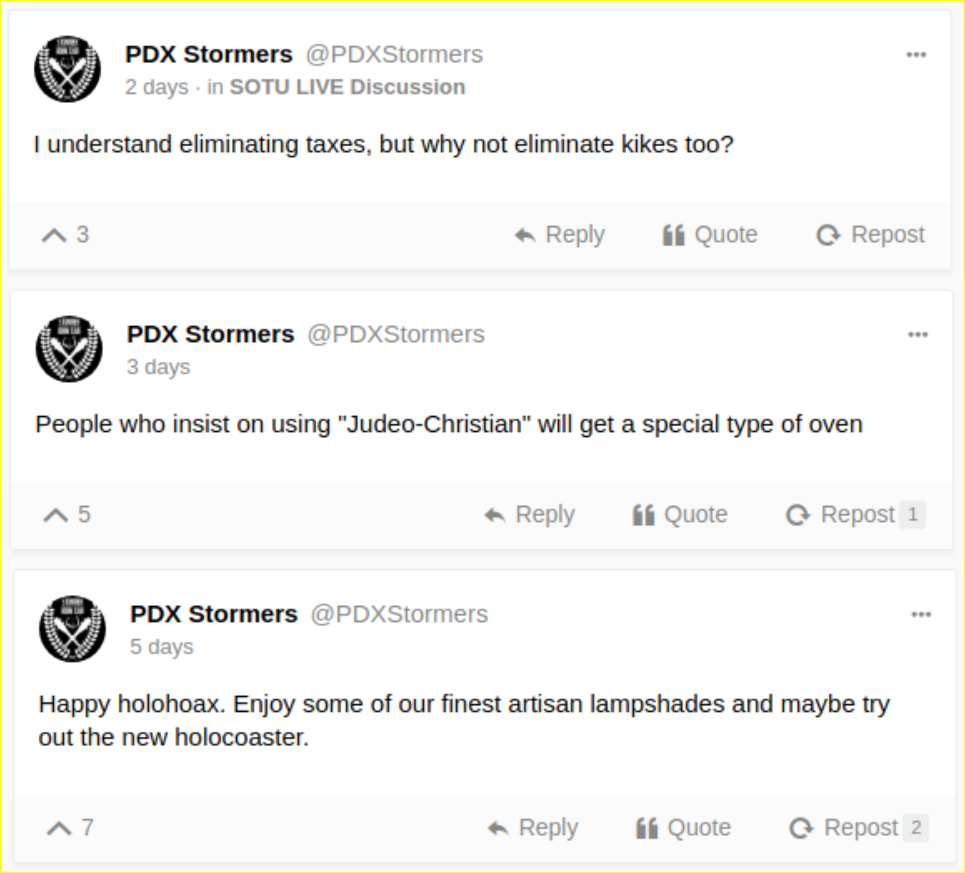 The PDX Stormers advocate violence in similar fashion.
Through The Daily Stormer and the leadership of the DSBC, a number of national actions were staged that involved local DSBCs harassing targets and posting neo-Nazi propaganda. These campaigns normally find an event in the national news cycle upon which to piggy-back, in order to get more media coverage and spin their anti-Semitic and fascist ideas. Campaigns have involved pro-gun activism after tragic and well-publicized mass shooting events, pro-Kavanaugh propaganda surrounding the protests of the confirmation of the newest Supreme Court justice, and condemning the Boy Scouts for opening its programming to children of all genders. Of course, in the mindset of The Daily Stormer, all of these events are analogous in that they depict the "genocide" white culture, are signs of a globalist conspiracy with Jewish interests, both of which can only be overcome by the race war that they seek to lead.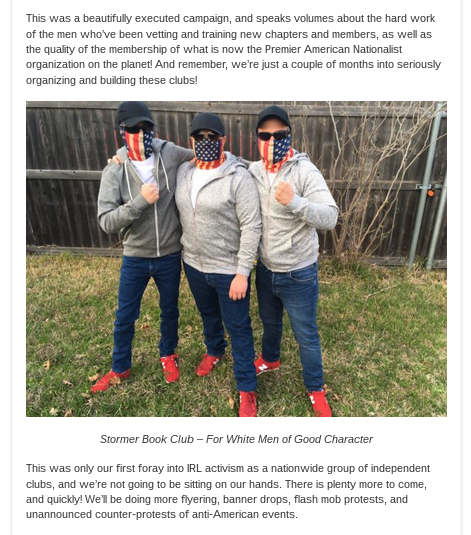 In a number of cities including Vancouver, WA, DSBCs put up anti-Semitic pro-gun pamphlets in the wake of a mass shooting (more details about the PDX Stormers' involvement in this campaign follows bellow). In this screen image of the article on The Daily Stormer celebrating the activity, three members of a DSBC are visible wearing the DSBC uniform.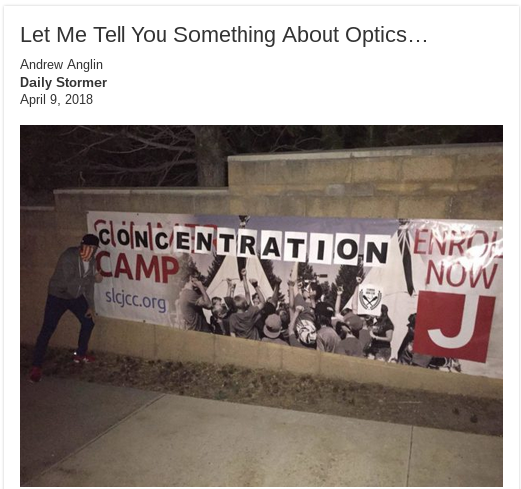 Anglin celebrates a DSBC defacing a Jewish community center banner.
As The Daily Stormer's rhetoric grew progressively more unhinged in the aftermath of Unite The Right, the website domain was taken down by domain host GoDaddy, then by a series of replacement domain hosts. Alleged The Daily Stormer webmaster, Andrew Auernheimer, helped facilitate the site's relocation as Anglin fled legal prosecution abroad. Also known as the Nazi troll "weev", Auernheimer has been at the center of a number of cybersecurity scandals. Prolific if not original, Auernheimer has credited "the lulz" as motivation for his reactionary stunts. In 2016, for example, Auernheimer took credit for sending anti-Semitic fliers advertising the Daily Stormer to university printers across the U.S.


In the CCC logs (see below), Matthew Blais (aka beornmod) attempts to establish clout by namedropping weev and bragging about the notoriety the local chapter received after harassing the staff of a Portland bar on March 12, 2017.
Currently, the DSBCs are waning. The last concerted attempt at propaganda on a national level was in October. Robert Warren Ray and Andrew Anglin are both facing seperate legal cases. Traffic for The Daily Stormer is lower than in 2017. Even the local PDX Stormers are becoming disenchanted with the DSBC system. However, the former members of the PDX Stormers are currently moving on to even more radical neo-Nazi groups. Having a group through which to organize for 2017 and 2018 has allowed these local neo-Nazis to interface with other white supremacist groups, gain entry into far-right events, recruit, and stage propaganda actions that they would not have been capable of alone. For many of them, this was only the beginning.
The Cascadian Coffee Company Logs
In December 2017, Rose City Antifa, Pacific Northwest Anti-Fascist Workers Collective, and Eugene Antifa gained access to the logs of a Discord server named Cascadian Coffee Company (CCC). As we reported at the time, previously unconnected groups of Northwest fascists and white supremacists including members of the PDX Stormers, as well as fascists unaffiliated with any group, used CCC to coordinate and recruit new members. We referred to this group as the "Oregon Aryans" and along with regional allies have exposed the identities of many individual neo-Nazis who participated.
Articles about CCC Participants
Failed rapper David Woods, aka deedub, Australopithecus Jordan

American Front prospect Matthew Lee Combs, aka blackhat 16. The neo-Nazi beliefs of his partner Bethany "Weed Nazi" Sherman, were also revealed in that article after she participated in the Twitter chat that was the precursor to the Discord server. Recently, Sherman sued Eugene Antifa's website host to unmask member and visitor names as revenge. The motion to gain that information failed.

Atomwaffen Division member Wade Mendisabal, aka WadeAW

Atomwaffen Division member Matthew James Carroll, aka DJ Maci

Atomwaffen Division member Kaleb Cole, aka Khimaere

Long-time Oregon neo-Nazi Jimmy Marr, aka Jimmy Marr

Itinerant neo-Nazi and former Traditionalist Workers Party member Matthew Brien Stafford, aka My Name is Hate

PDX Stormer ringleader Matthew Blais

PDX Stormer member Bogdan Gerasimyuk

PDX Stormer member Michael Dorsey (full article coming soon)

The Cascadian Coffee Company Discord channel itself appears to have been established in part by PDX Stormer Matthew Blais, as a new alternative to a pre-existing private Twitter chat by the same name. Via that Discord server, representatives of the PDX Stormers were able to directly coordinate the dissemination of Nazi propaganda with Springfield, OR neo-Nazi Jimmy Marr and other "Oregon Aryans" around Corvallis and Eugene, as well as with Atomwaffen Division members in the Seattle area. Blais specifically engaged extensively with Marr and the other members of the Discord channel when planning optics and strategy for events, and on several occasions Blais and other Oregon Aryans refer to conversations in other Discords where they are in direct communication with high-profile figures within the Daily Stormer hierarchy like Andrew Auernheimer.
This contact between the PDX Stormers and neo-Nazis in Washington and Oregon cemented some of the first actions that the PDX Stormers were able to perform. The PDX Stormers attended one of the first Patriot Prayer events with the Oregon Aryans, and were involved with banner drops with Jimmy Marr as some of their first propaganda attempts. This foundational network allowed them to move from meeting privately, to engaging in public actions.
The PDX Stormers
The Portland area DSBC chapter has been active since 2016. Although they call themselves the "PDX Stormers," they are active in both Portland and Vancouver, Washington, and a number of them live in Vancouver. The Stormers' frequent attendance of Patriot Prayer's infamously violent hate rallies in Portland is well-documented. In addition to violently attacking protesters and marginalized people, the racist and anti-Semitic propaganda they litter the community with has been the subject of mainstream media coverage.
Although they were meeting up as early as 2016, on March 12, 2017 the PDX Stormers first made themselves noticeable to the public when they were were filmed throwing a slur-laden tantrum while being kicked out of their meeting place at a local pub. But it was not just the PDX Stormers in attendance– they were there to meet Jimmy Marr, David Woods, and other members of the CCC Discord. Staff identified these neo-Nazis as the source of Nazi leaflets that had been distributed at the bar. This is the known beginning of their public activity in the Portland area, which would be followed by many more incidents.


Matthew Blais (aka beornmod) brags about the harassment of Lucky Lab employees and hacking that occurred after their neo-Nazi gathering was kicked out.
Since that time, the PDX Stormers have received a substantial boost in prestige by taking part in Joey Gibson's Patriot Prayer events. Throughout 2017 and early 2018 they were a constant presence at his rallies, taking part in the violence against counter-protesters, chatting with other participants, and bringing their new recruits to public meetups. Inspired by this, they have engaged in a wave of propaganda postings when not at Patriot Prayer events, leafleting various neighborhoods and college campuses throughout the Portland metro area.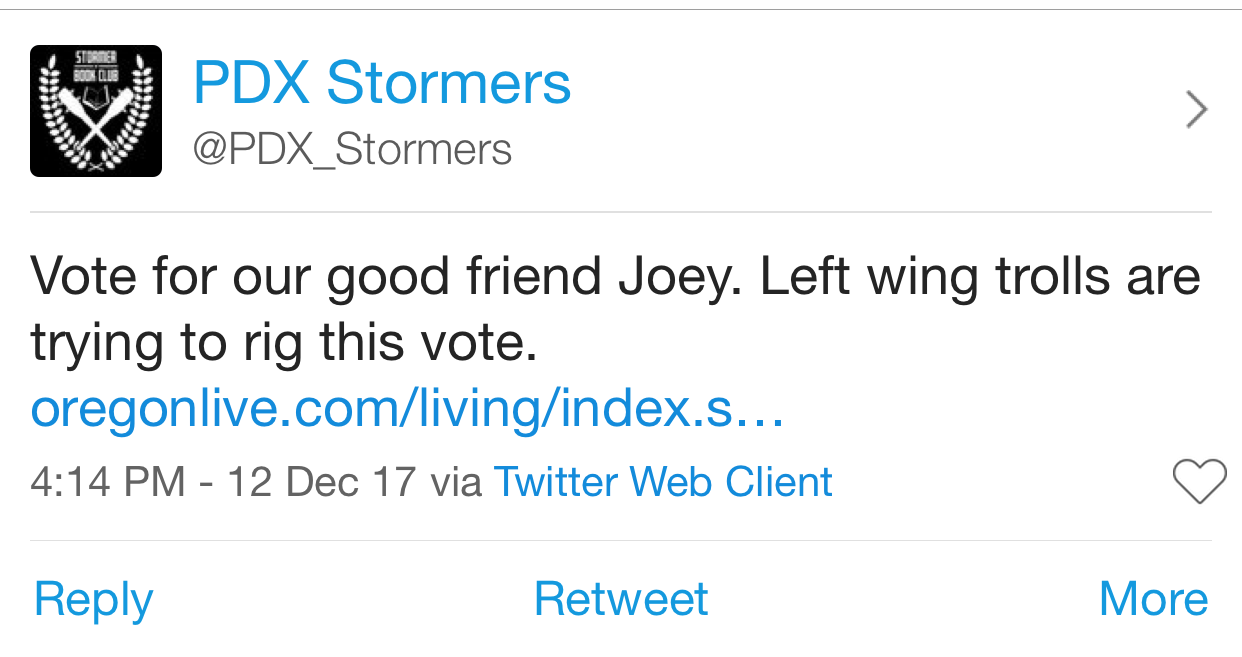 PDX Stormers attempt to get out the vote for Joey Gibson in The Oregonian's annual news popularity contest.
It is difficult to overstate the influence of Joey Gibson on the PDX Stormers. A young group of 10 to 20 neo-Nazis do not have the numbers to hold their own public rallies. However, by attending Patriot Prayer events, they not only found safety in numbers, but a comraderie with other far-right individuals and groups willing to attack activists and immigrants, and a base of people from which they could recruit. Using these public appearances as a pretense, they were enabled to plan their own racist actions, often on the way to and from Patriot Prayer events.
Gibson has always claimed ignorance of the neo-Nazis at his events, despite the copious amount of evidence that anti-fascist activists have provided to prove it. However, in looking at the entire history of just one neo-Nazi group's actions in and around his events, the ridiculousness of that claim becomes fully apparent. Not to mention Gibson's obvious culpability in the rise of fascist and anti-Semitic propaganda around Portland.
What follows is a detailed history of PDX Stormer activity through 2017 and 2018.
April 2, 2017
On April 2, 2017 Joey Gibson organized the first of his many rallies in the Portland area, held at Esther Short Park in Vancouver, Washington. Gibson's far-right, fascist-friendly, and often violent Patriot Prayer events proved to be pivotal networking opportunities for PNW neo-Nazis, and several members of the local Daily Stormer Book Club chapter became acquainted with one another at his events. Photos show them together, and chat messages recount their activity and preparations for violence.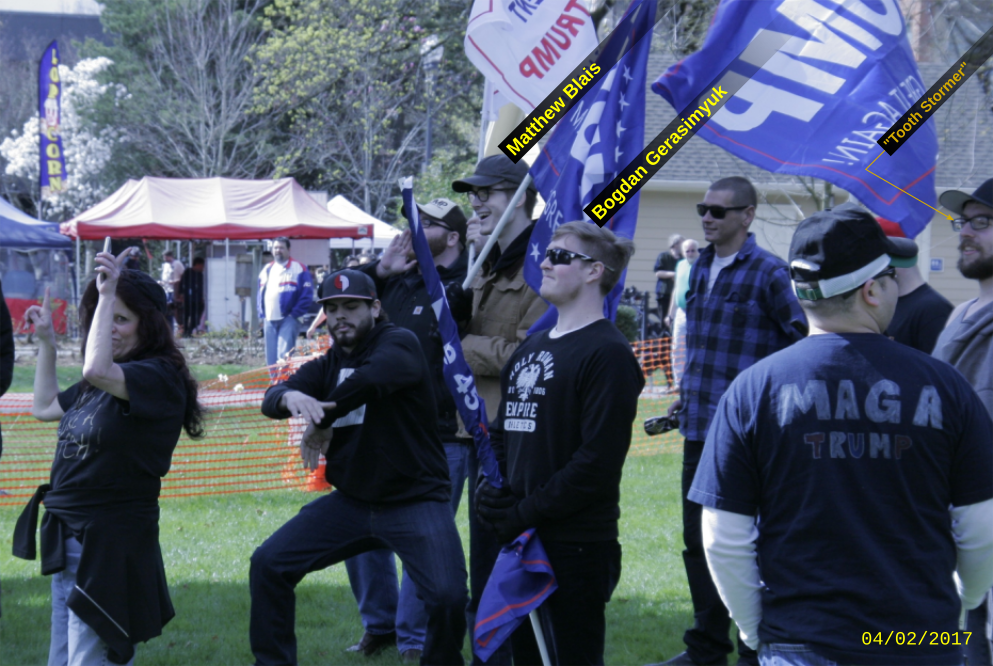 _PDX Stormer members Matthew Blais and Bogdan Gerasimyuk are seen mingling at Joey Gibson's April 2, 2017 rally in Vancouver, WA. _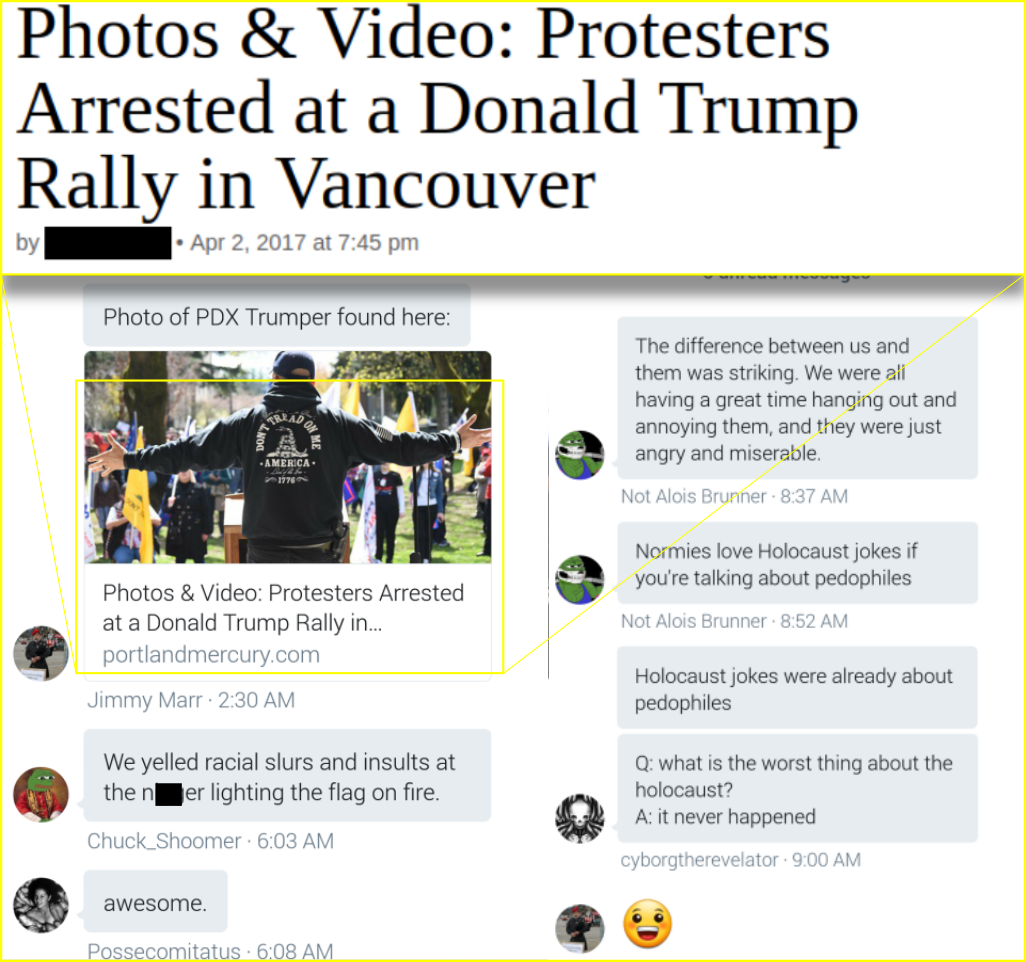 Private chats reveal PDX Stormers members reveling in the racist behavior that was permitted at Joey Gibson's far-right event on April 2, 2017. Participating are PDX stormers Bogdan Gerasimyuk (aka Chuck Shoomer) and Matthew Blais (aka Not Alois Brunner), as well as infamous Eugene, OR neo-Nazi Jimmy Marr.
April 29, 2017
On April 29, 2017 Gibson organized a rally at Montavilla Park on 82nd Avenue in Portland. A number of PDX Stormers mingled with other members of the CCC Discord there, including Bogdan Gerasimyuk, Alexander Becker, David Woods, and Andrew Oswalt.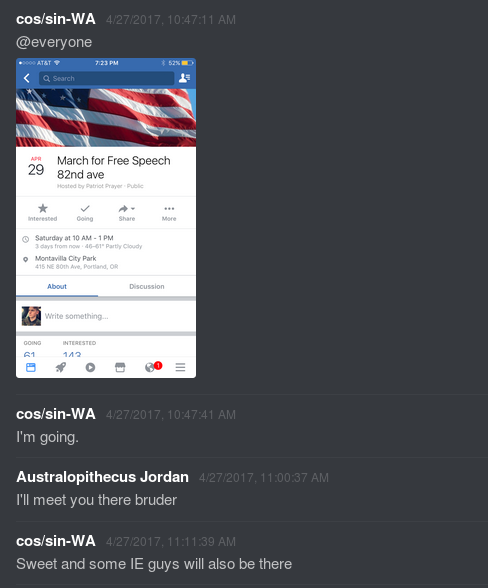 On the CCC Discord, PDX Stormer Bogdan Gerasimyuk (aka cos/sin-WA) says that he and members of Identity Europa will be attending Joey Gibson's April 29, 2017 rally. David Woods (aka Australopithecus Jordan) says he will meet them there.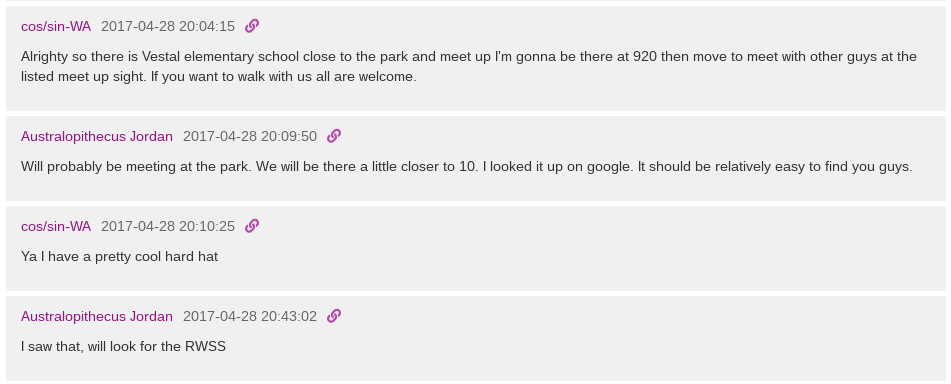 Gerasimyuk references his painted hard hat that he will be bringing to Joey Gibson's 82nd Ave rally (see photo below as well).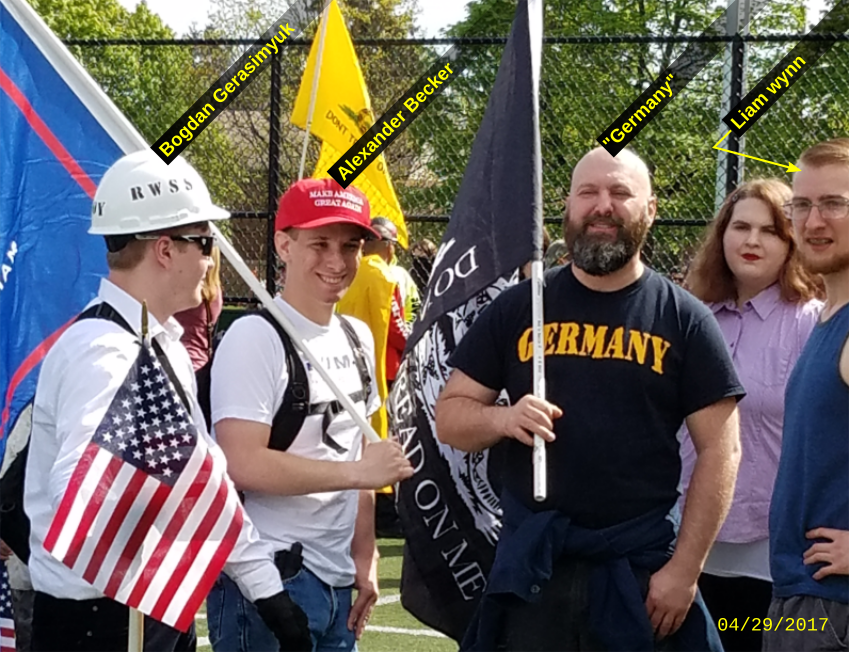 Gerasimyuk (referenced in previous RCA articles as "Goy Helmet"), Alexander Becker, and "Germany" enjoy themselves at Joey Gibson's far-right rally on April 29, 2017 along with Stormer Book Club and Identity Europa affiliate Liam Wynn.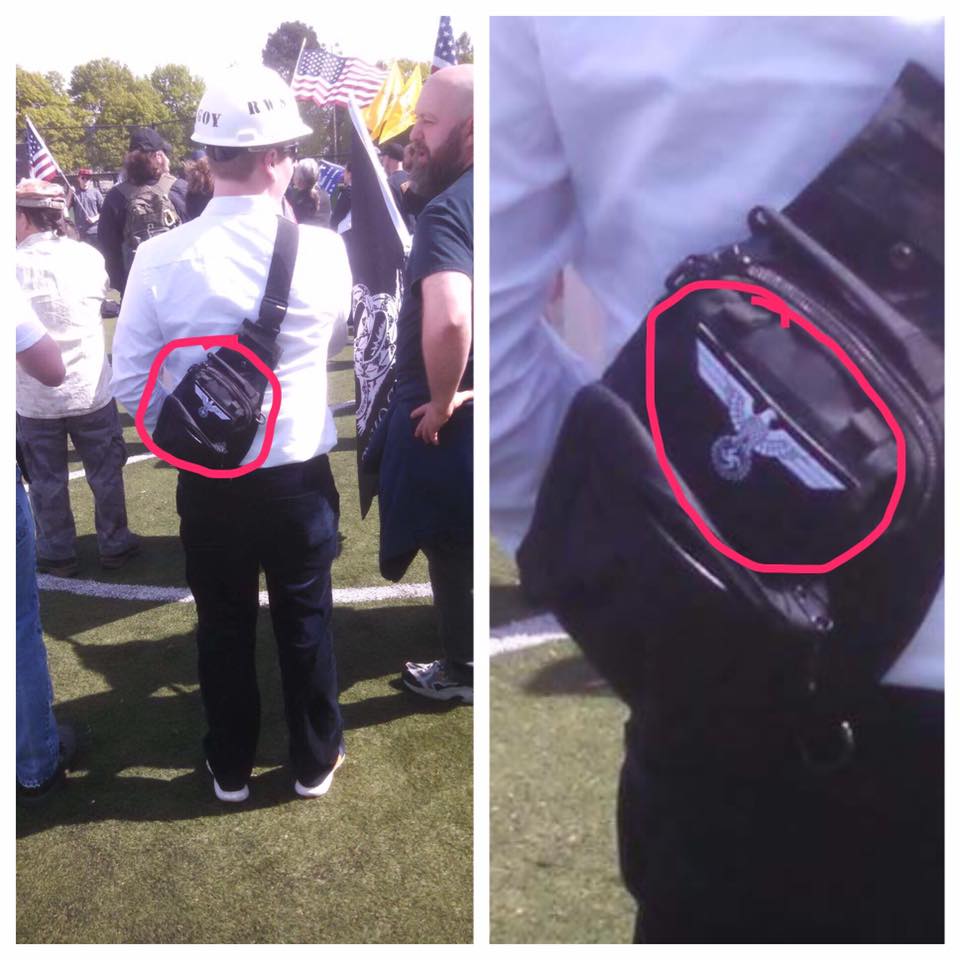 Gerasimyuk wore a "parteiadler" Nazi pin to Patriot Prayer's April 29, 2017 rally, when he attended with other PDX Stormers. Other attendees made him remove it because it made Gibson's event look bad, but the PDX Stormers were allowed to stay.
June 4, 2017
After Jeremy Christian, an attendee of Gibson's April 29, 2017 Montavilla rally, murdered two Portlanders and gravely wounded a third while spouting racist Islamophobic rhetoric aboard a MAX train, Gibson threw another large rally in downtown Portland at Terry Schrunk Plaza. Speakers invited by Gibson included anti-Semite Tim "Baked Alaska" Gionet, who trapsed around the rally interviewing known neo-Nazis like Jacob von Ott, spreading Holocaust-denial propaganda, and asking about the white supremacist shibboleth, "the 14 words". Also present on that day were fellow PDX Stormers members Alex Becker, Matthew Blais, and Michael Dorsey, as well as many other fascists and neo-Nazis.
After the rally, neo-Nazis hung an anti-Semitic banner over the I-205 freeway in Southeast Portland. Brought and deployed by Central Oregon neo-Nazis, the PDX Stormers, including Matthew Blais, helped scout the area, as documented in the CCC Discord server.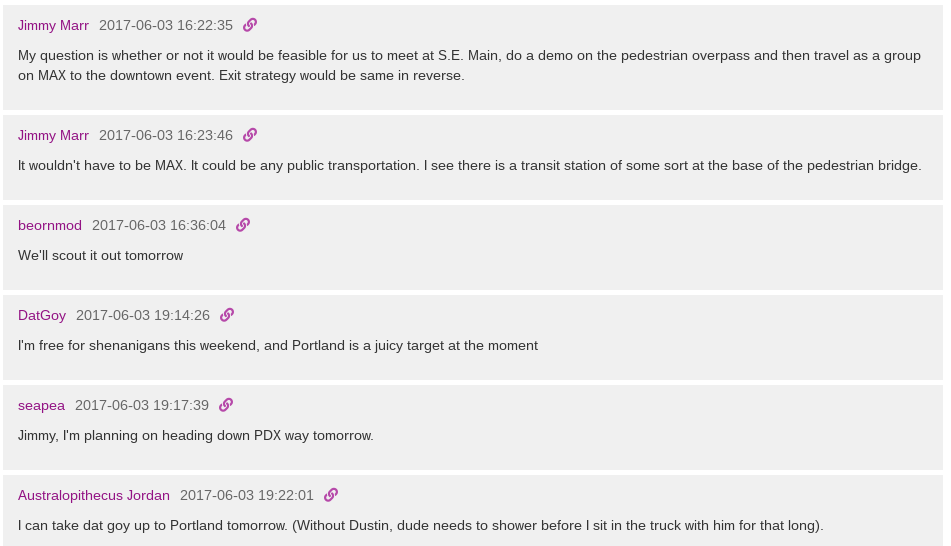 On the CCC Discord, Matthew Blais (aka beornmod) mentions scouting out the location that was later used by neo-Nazis to display an anti-Semitic banner after they attended Joey Gibson's June 4, 2017 "Free Speech" rally.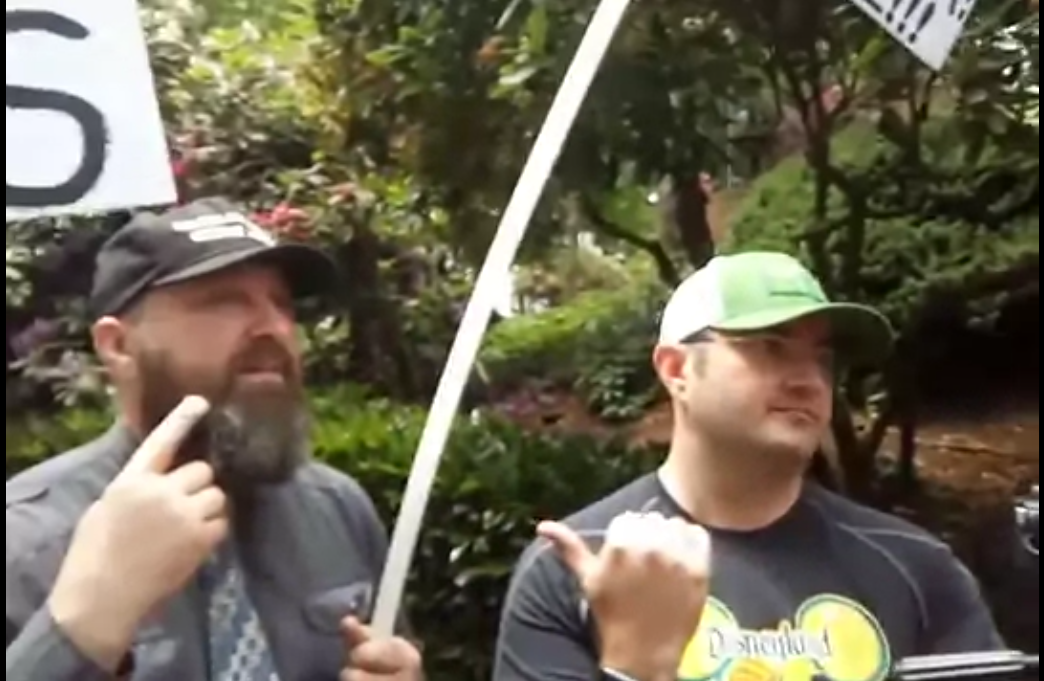 The PDX Stormers neo-Nazi known as "Germany" is seen at Joey Gibson's June 4, 2017 rally in Downtown Portland conversing with Patriot Prayer follower M. Travis Volker.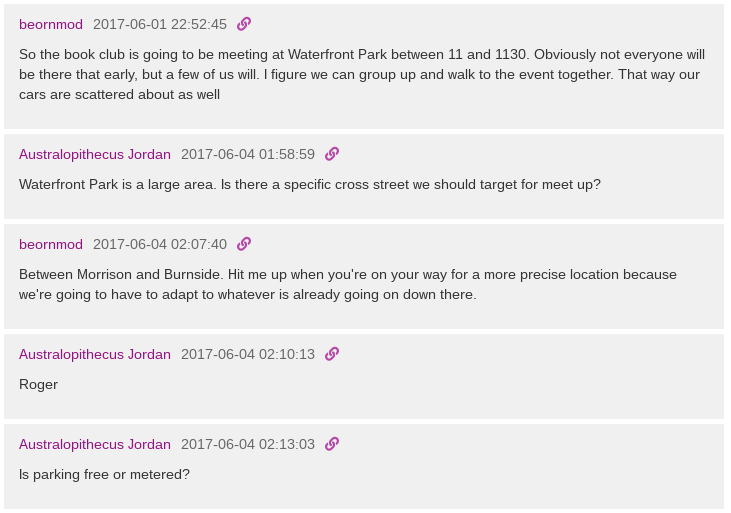 Matthew Blais of the PDX Stormers (aka beornmod) coordinates with David Woods (aka Australopithecus Jordan) about the Stormers' meetup spot for Patriot Prayer's June 4, 2017 rally.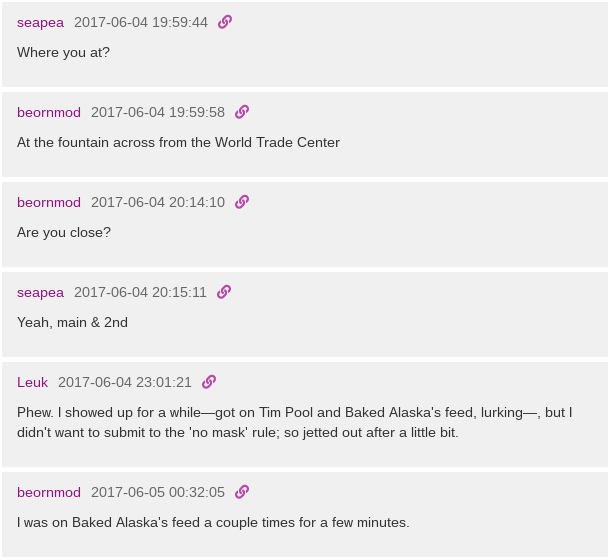 CCC Discord users including Matthew Blais brag about getting on Joey Gibson's keynote speaker Baked Alaska's livestream during the June 4, 2017 rally.
June 30, 2017
Less than a month later, Gibson was back with a rally on the Portland waterfront. At this rally, for the first time the far-right attacked counter-protesters in large numbers. Attendees included PDX Stormer member Alex Becker, Liam Wynn and Matt Duffy.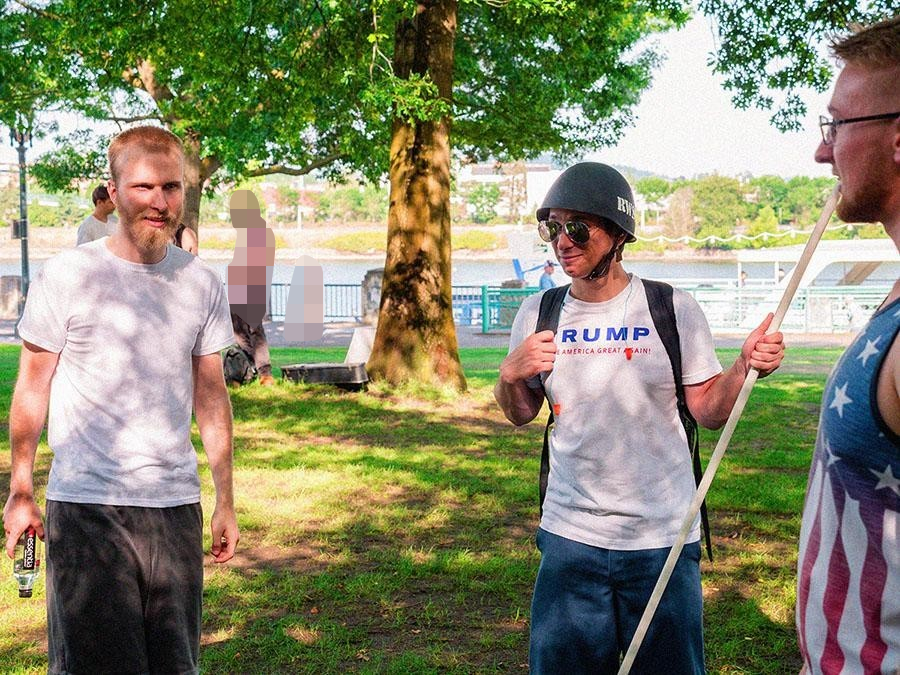 Becker, Wynn, and Duffy at Joey Gibson's violent June 30, 2017 waterfront rally.
August 6, 2017
In a near repeat of the June 30 event, Gibson staged a second violent waterfront rally on August 6, 2017. In the photo below, PDX Stormer members Jarl Rockhill and an unidentified person we are naming "Might is Right" are seen there along with vicious anti-Semite Edie Dixon and Patriot Prayer follower Daniel Caleb Dixon.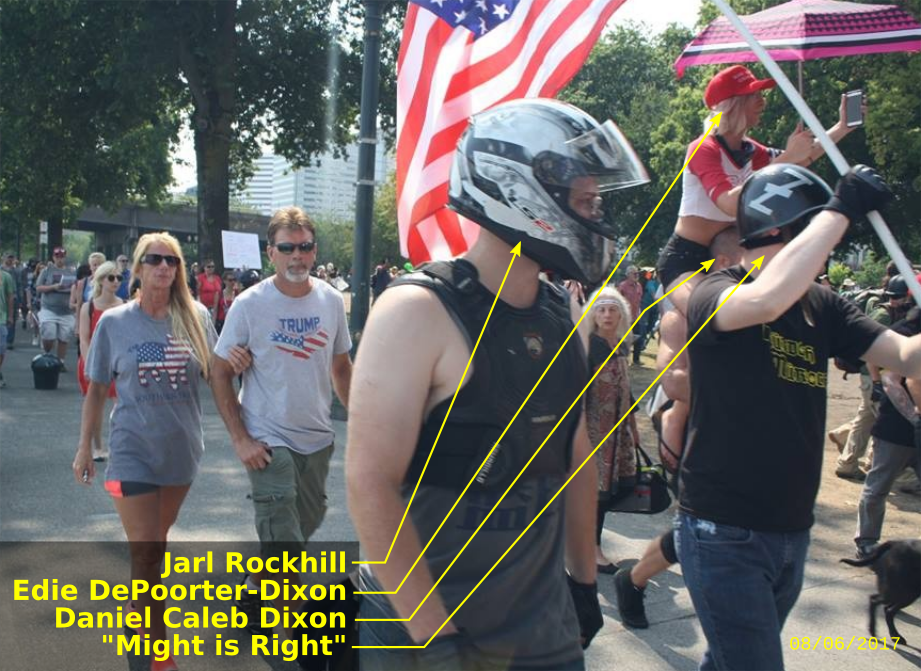 Rockhill, "Might is Right," Edie Dixon, and Daniel Dixon.
August 13, 2017
Alex Becker of the PDX Stormers was seen at Joey Gibson's hate rally in Seattle on August 13, 2017, the day after the murder of Heather Heyer at the Unite the Right rally in Charlottesville, VA.
August 20, 2017
In one of a series of banner drops engineered by Jimmy Marr, members of the CCC Discord, including a number of PDX Stormers, held a anti-Semitic banner drop on a freeway overpass in Vancouver, Washington. In the photo below, Matthew Blais (aka beornmod) posts a photo of PDX Stormers holding an anti-Semitic banner over I-205 in Vancouver, WA on August 20, 2017 in the CCC Discord. Matthew Stafford (aka My Name Is Hate) and Atomwaffen Division member Kaleb Cole (aka khimaere) respond with approval.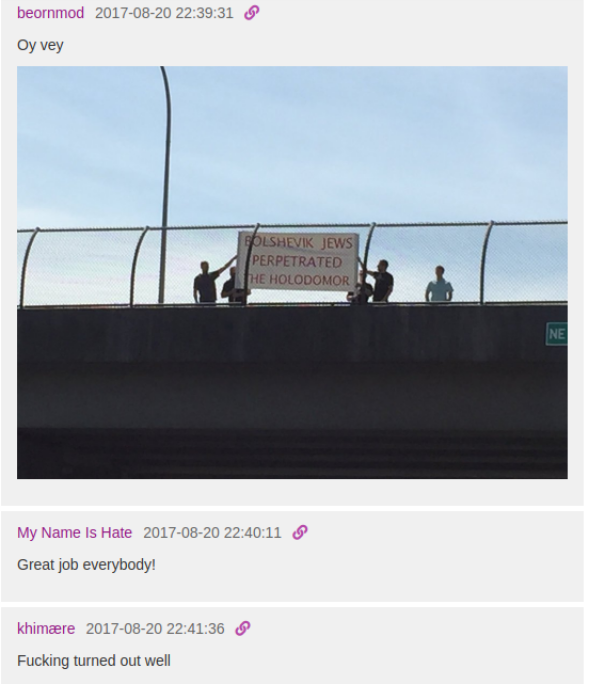 PDX Stormer member Matthew Blais posts evidence of an anti-Semitic banner drop on the CCC Discord server.
September 5, 2017
Two PDX Stormers turned up at a pro-DACA rally, where they were interviewed by KATU news. After being confronted by activists, they reportedly gave a neo-Nazi roman salute, and then ran away.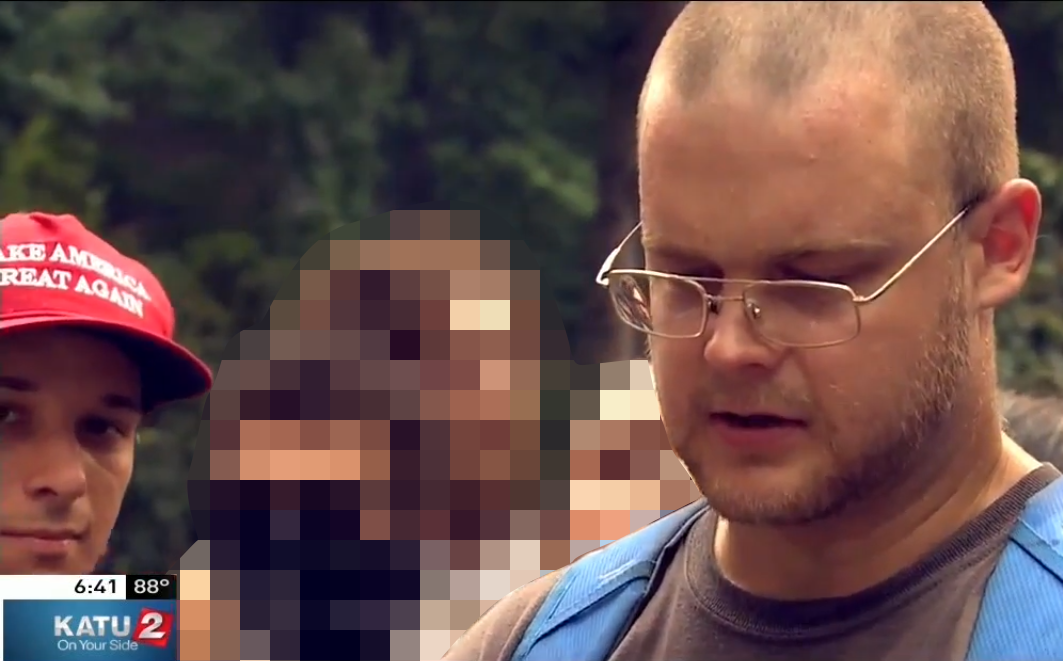 Alexander Becker and Jarl Rockhill being interviewed by KATU news on September 5, 2017.
September 10, 2017
On September 10, 2017, Gibson attempted a third waterfront rally in Portland. Due to significant counter-protester turnout, he was forced to relocate his rally to Vancouver. There, four of the PDX Stormers showed up: Matthew Blais, Jarl Rockhill, Alexander Becker, and "Might is Right."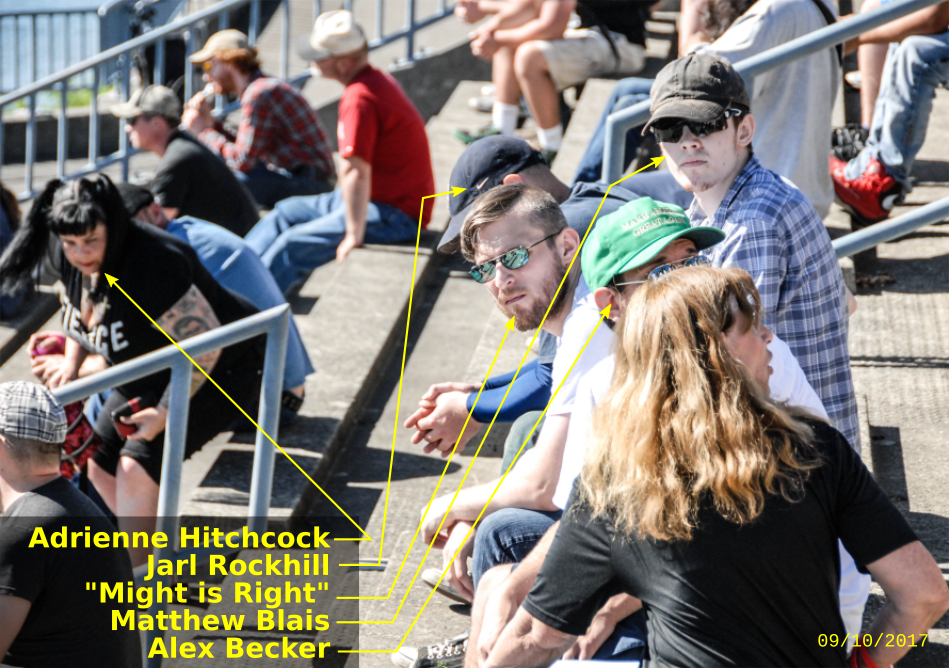 At Joey Gibson's Vancouver rally on September 10, 2017, PDX Stormers Blais, Rockhill, Becker, and "Might is Right" were in attendance. Also visible is "anti-antifa" Patriot Prayer activist Adrienne Hitchcock.
October 15, 2017
On October 15, 2017, Patriot Prayer held a flag-waving event at the State Capitol in Salem, Oregon. Four PDX Stormers were in attendance: Michael Dorsey, Jarl Rockhill, "Might is Right," and another person we are naming "Prep Stormer." At this event, Tusitala "Tiny" Toese famously shook hands with Jarl Rockhill, whose fascist sonnenrad tattoo is fully visible in the video.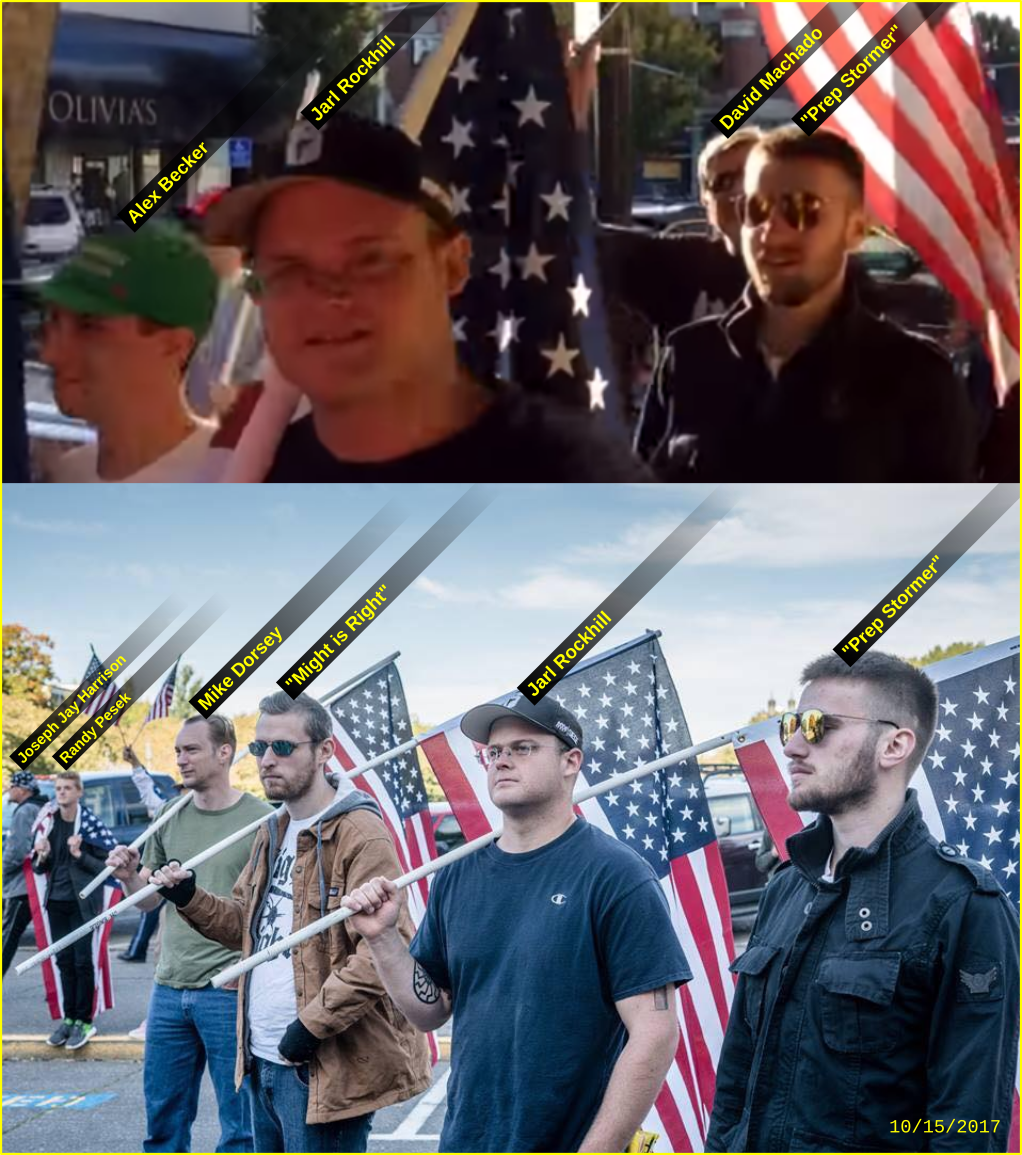 Four PDX Stormers present at Patriot Prayer's October 15, 2017 event.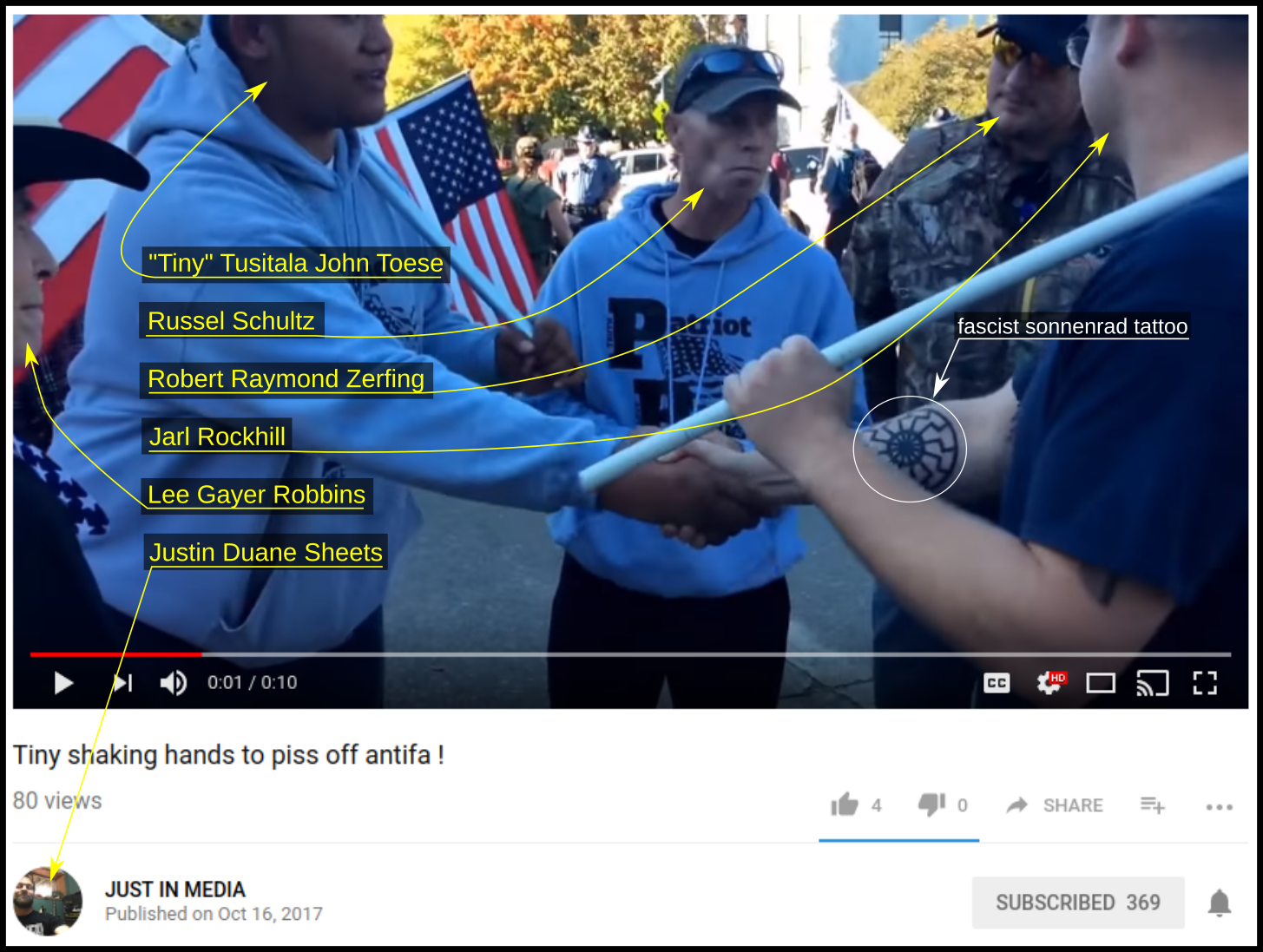 Tiny Toese and PDX Stormer Jarl Rockhill shake hands, with Rockhill's fascist tattoo visible.
November 13, 2017
On November 13, 2017, Morgan Brandfors organized a banner drop event in concert with the 4chan-derived white supremacist meme, "It's Okay to be White." This event, notably, was scheduled on the 29th anniversary of the murder of Ethiopian immigrant Mulugeta Seraw, at the hand of notorious nazi gang East Side White Pride. A number of Patriot Prayer members were in attendance, as were the PDX Stormers, including Bogdan Gerasimyuk, Alexander Becker, Matthew Blais, "Might is Right," and one other. Also present was neo-Nazi skinhead Raul Gonzalez, who came equipped with a Hitler Youth knife.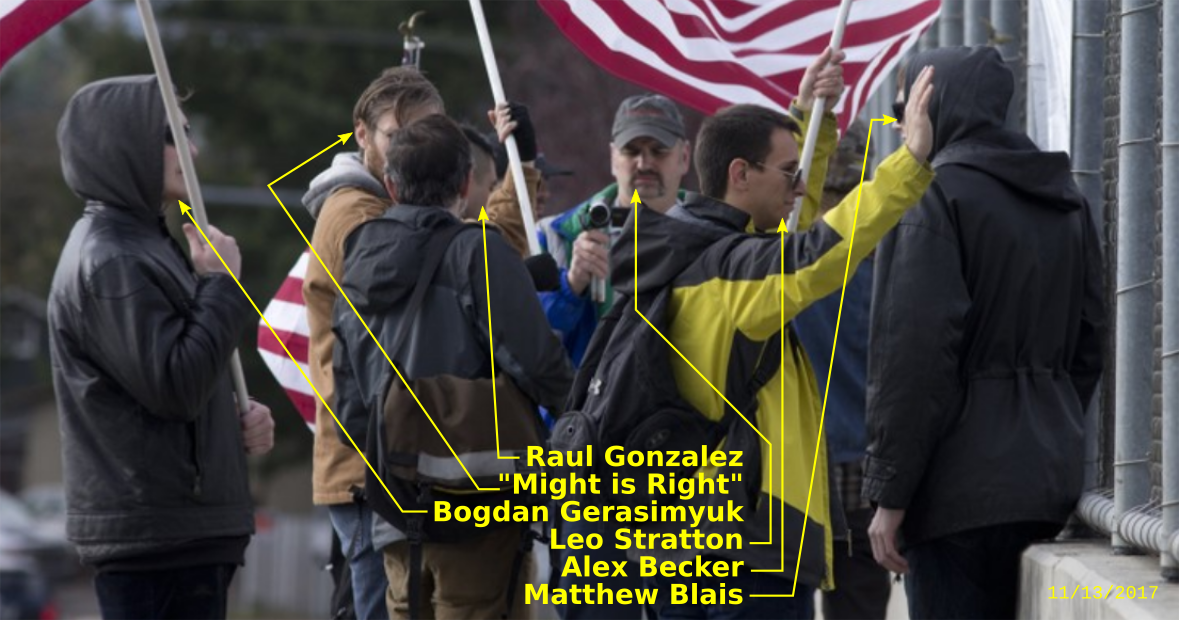 Raul Gonzalez, "Might is Right," Bogdan Gerasimyuk, deceased far-right Youtuber Leo Stratton, Alexander Becker, and Matthew Blais at the "It's Okay to be White" event on November 13, 2017.
November 25, 2017
A little over a week later, a repeat of the "It's Okay To Be White" event was staged. PDX Stormers neo-Nazis Alex Becker and Jarl Rockhill were seen with Portland area neo-Nazi Raul Gonzalez and Joey Gibson, as Gibson neglected his small child to chat with fascists.


Raul Gonzalez, Alexander Becker, neo-Nazi pedophile Jarl Rockhill, Joey Gibson, and Joey Gibson's child.
November and December 2017 Propaganda Flyering
In November and December of 2017, beginning around the time of the first "It's Okay to Be White" rally, Clark College was plastered with posters bearing anti-Semitic rhetoric as part of a national flyering campaign coordinated through The Daily Stormer forums. PDX Stormers specifically targeted Clark College's Office of Diversity and Inclusion in an effort to intimidate and silence marginalized students.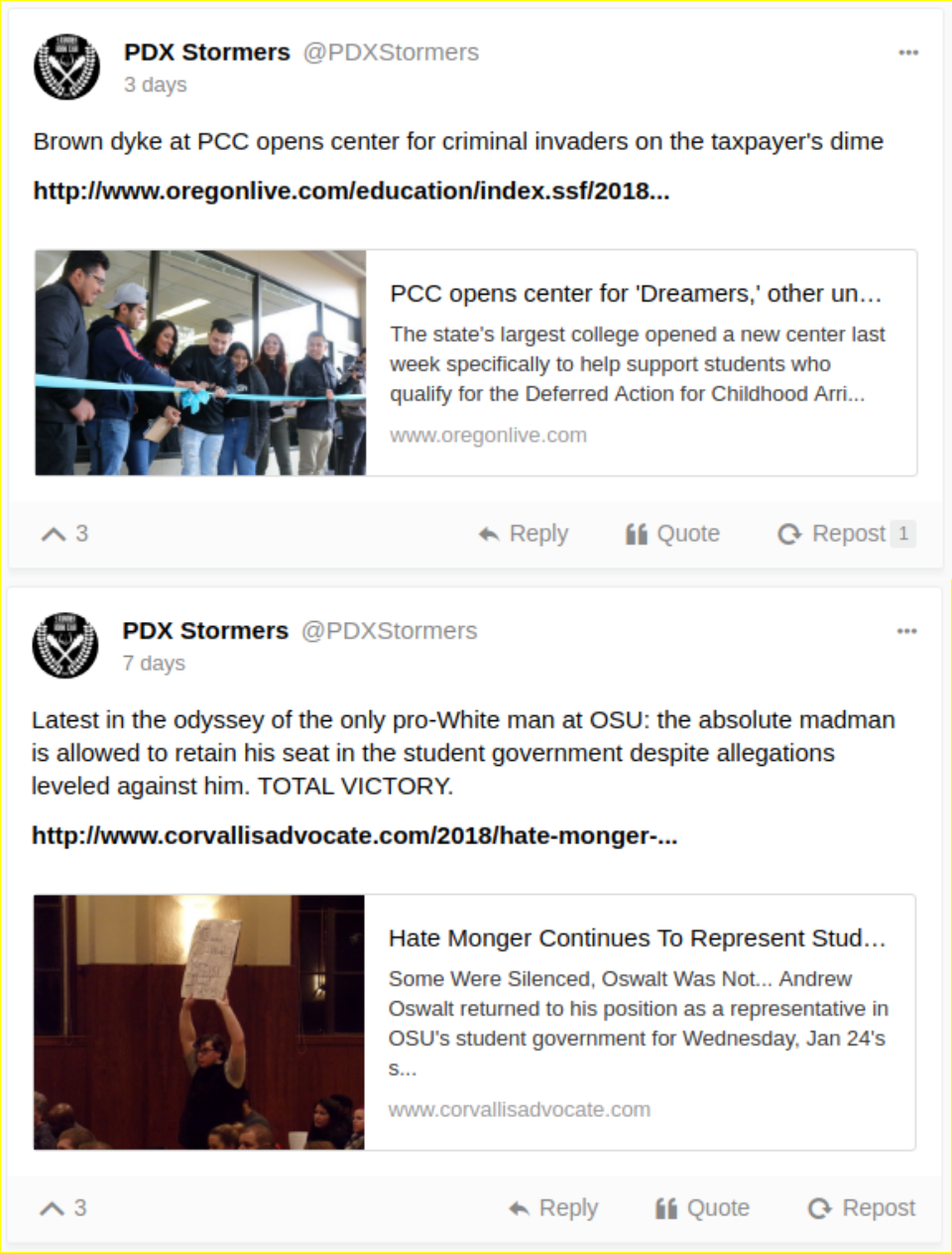 The PDX Stormers direct their racist threats towards Portland Community College in December 2017.
In December, after tweeting a racist, homophobic message about the school, the PDX Stormers targeted Portland Community College. They posted Nazi and anti-Semitic stickers around the Cascade campus in North Portland. Alexander Becker's Green Mercury Mountaineer SUV was spotted on surveillance camera leaving the scene, and his noticeable yellow jacket (see in the It's Okay to be White rally photos above) also identifies him amongst the group.
These propaganda initiatives continued, targeting colleges, gun sellers, neighborhoods, and, in at least one instance children (anti-Semitic and homophobic propaganda flyers targeting the Boy Scouts of America), in efforts to intimidate and proselytize. PDX Stormers also staged quick street photo ops in which they carry white nationalist banners through busy commercial areas.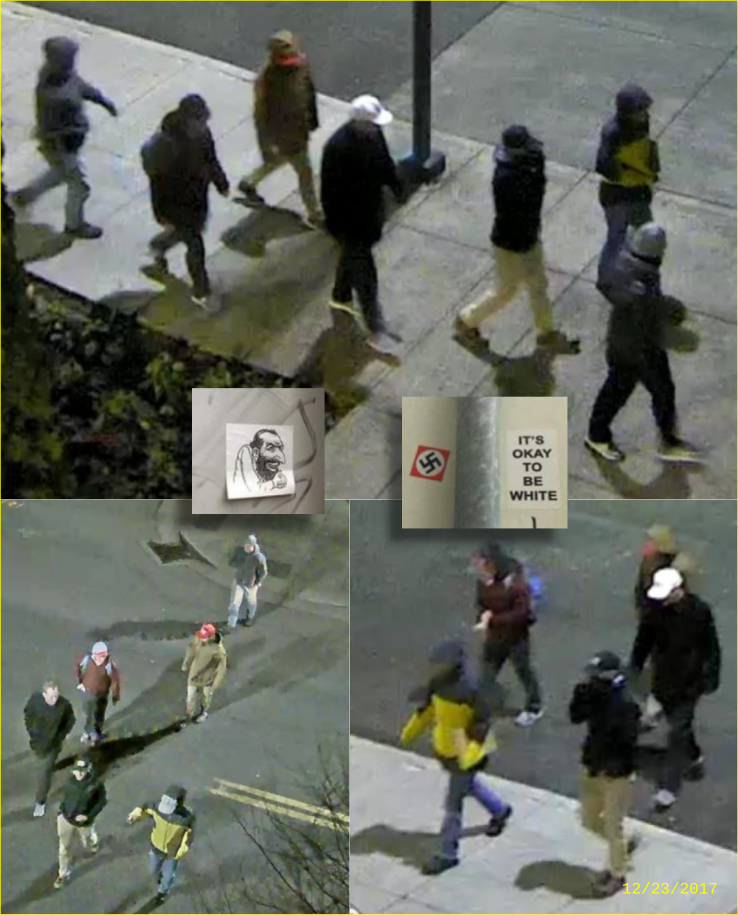 PCC surveillance videos show the group responsible for putting up anti-Semitic and Nazi stickers around the Cascade campus in December 2017.
December 2, 2017
On December 2, 2017 Joey Gibson lead a group of Patriot Prayer followers including Robert Zerfing, Tiny Toese, Quincy Anatello, Donovon Flippo, and pedophile PDX Stormer Jarl Rockhill to yell anti-immigrant slogans at people waiting for transit in downtown Portland on December 2, 2017.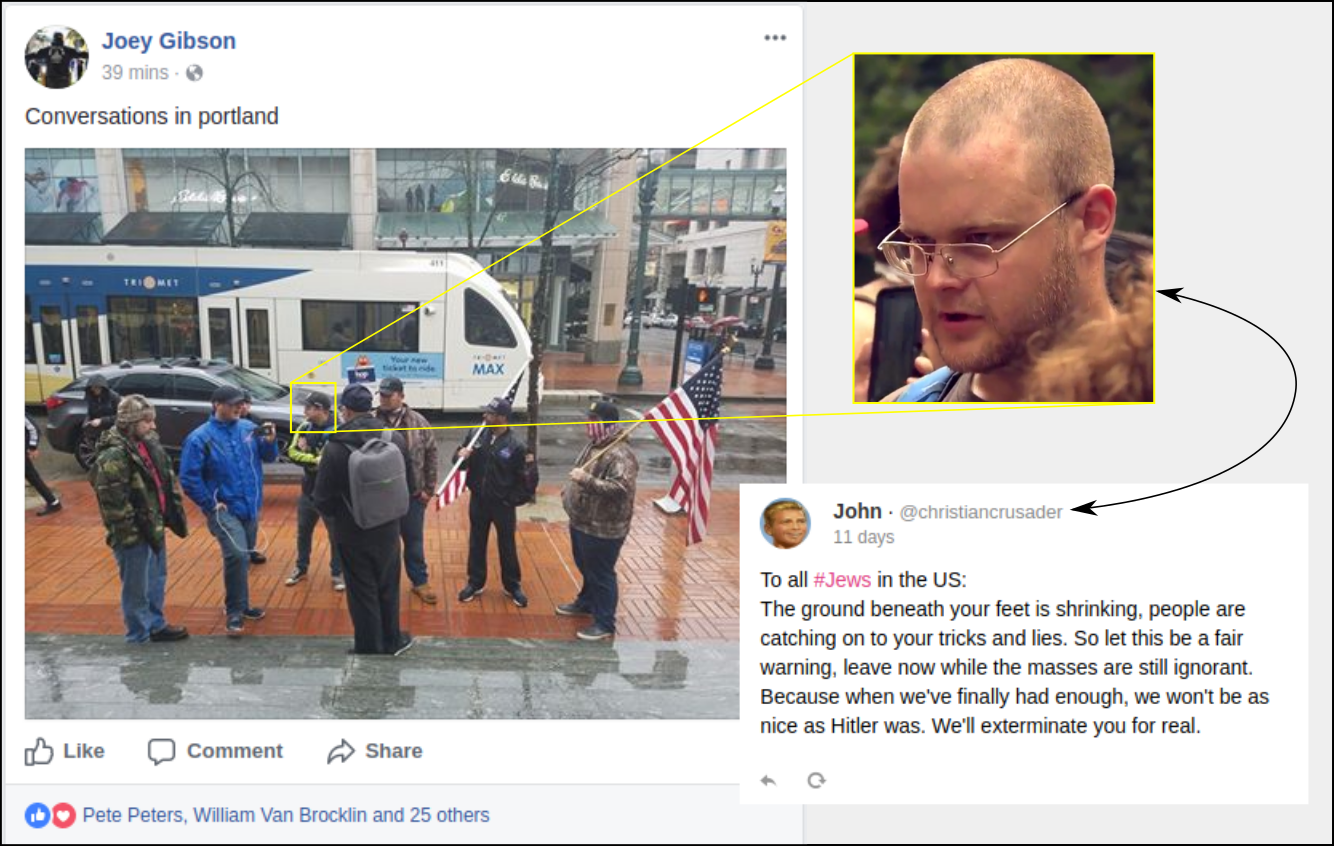 Jarl Rockhill hanging out with Joey Gibson, juxtaposed with an example of his anti-Semitism.
December 9, 2017
On December 9, 2017 Patriot Prayer held an anti-immigrant rally in downtown Portland at Terry Schrunk Plaza. The rhetoric for this rally was at a high: several people called for violence and murder against immigrants in the run-up to the rally, including former Patriot Prayer guest speaker Kyle Chapman, and Patriot Prayer follower Haley Adams.
The PDX Stormers did their own support work on social media, attempting to bring out greater numbers. At this event, two Native counter-protesters were attacked by Hammerskin-wannabe Noah Gunn, who later bragged about his attack on a neo-Nazi web forum.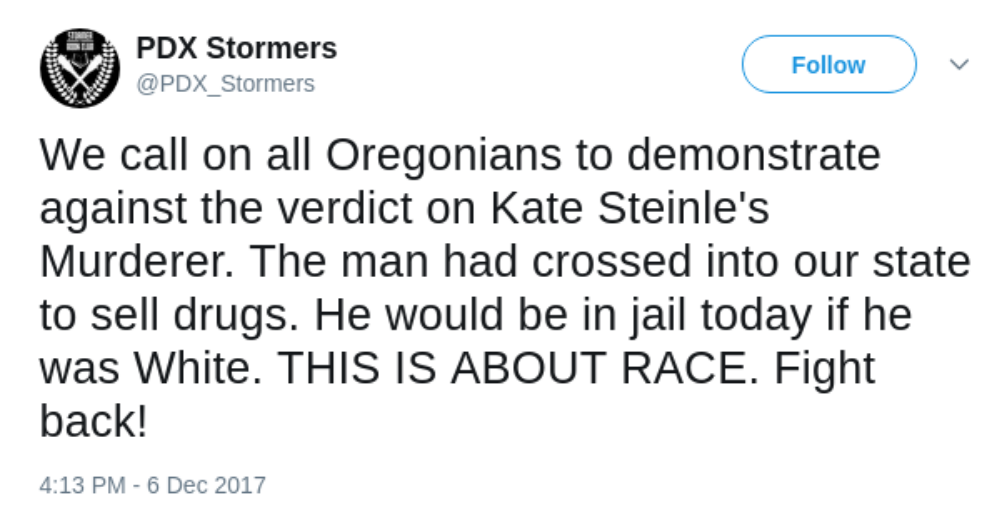 PDX Stormers attempt to bring out greater numbers for the December 9, 2017 anti-immigrant rally.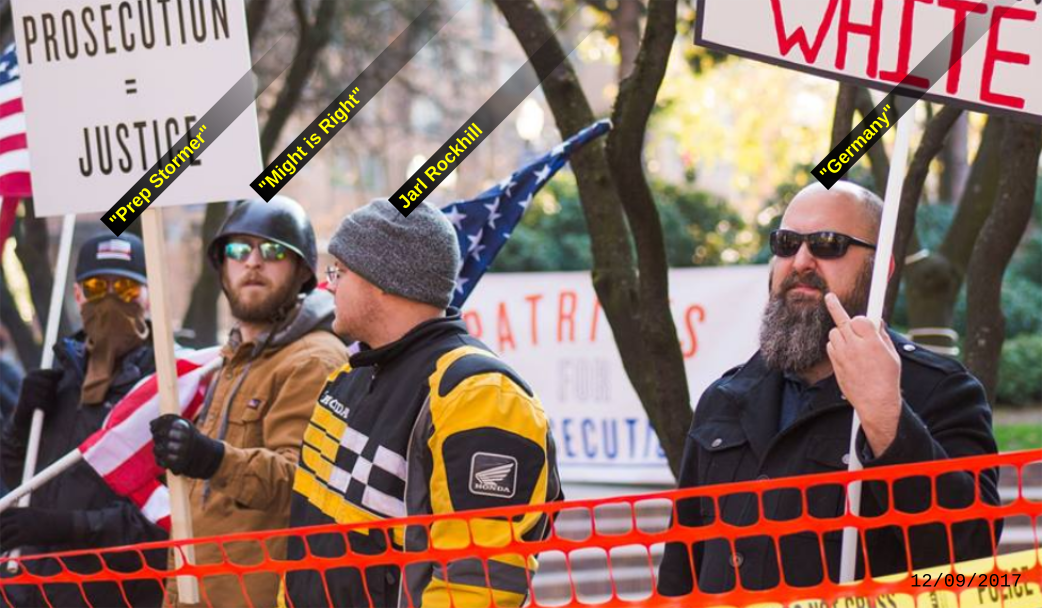 The PDX Stormers neo-Nazis we are currently calling "Germany," "Might is Right," "Prep Stormer," and Jarl Rockhill attend Joey Gibson's violent anti-immigrant hate rally.
February 10, 2018
Joey Gibson held a Patriot Prayer rally on February 10, 2018 at the University of Washington in Seattle, WA. In the immediate aftermath of Rose City Antifa's exposure of Alexander Becker as a neo-Nazi member of the PDX Stormers and also a follower of Patriot Prayer, Becker and Jarl Rockhill attended this rally with two other neo-Nazis. They wore American flag masks to attempt to hide their faces, as part of the new DSBC "uniform." Despite this highly complex disguise, their identities were fairly obvious.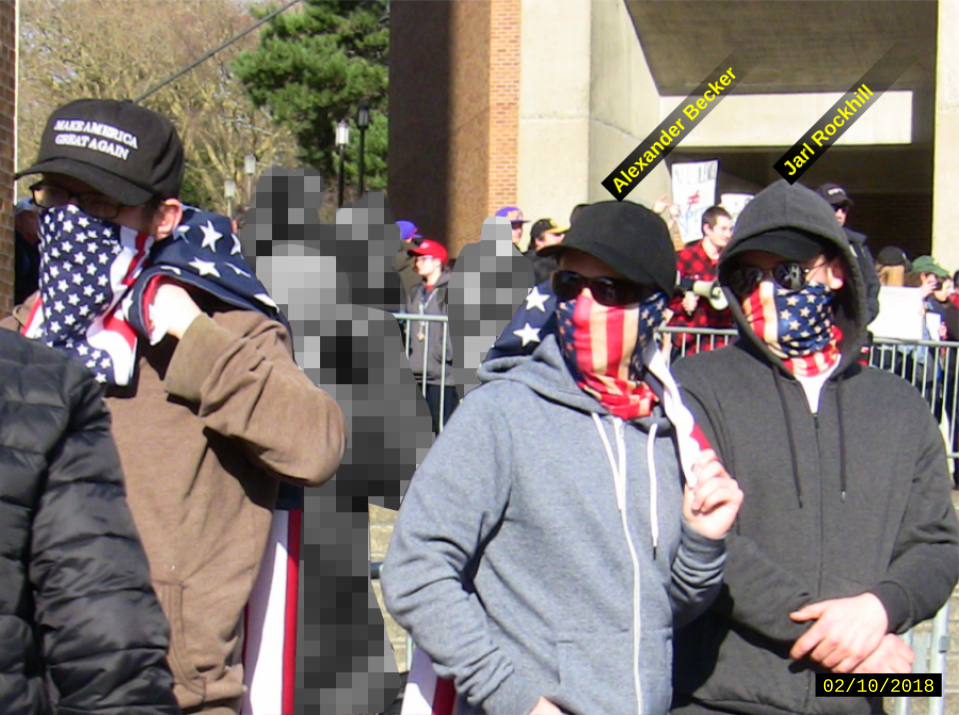 Rockhill, Becker, and a third PDX Stormer at the University of Washington on February 10, 2018.
March 2018 Propaganda Flyering
On February 14, 2018 Nikolas Cruz murdered 17 people in the Stoneman Douglas High School shooting, using guns with magazines carved with swastikas. The PDX Stormers flyered a number of gun-sellers around Vancouver, WA with propaganda characterizing liberal efforts to enact gun control legislation as a Jewish conspiracy. On March 19, 2018, they also put up the same flyers (as well as some "It's Okay To Be White" propaganda) outside of Gaiser Hall at Clark College in Vancouver, WA. On March 22, 2018, Clark College held a forum to address this and other racist incidents on campus, where a co-director of the Chabad Jewish center addressed the audience. Less than three weeks later, on April 11, 2018, anti-Semitic flyers were found near the Chabad Jewish center in SE Portland, OR.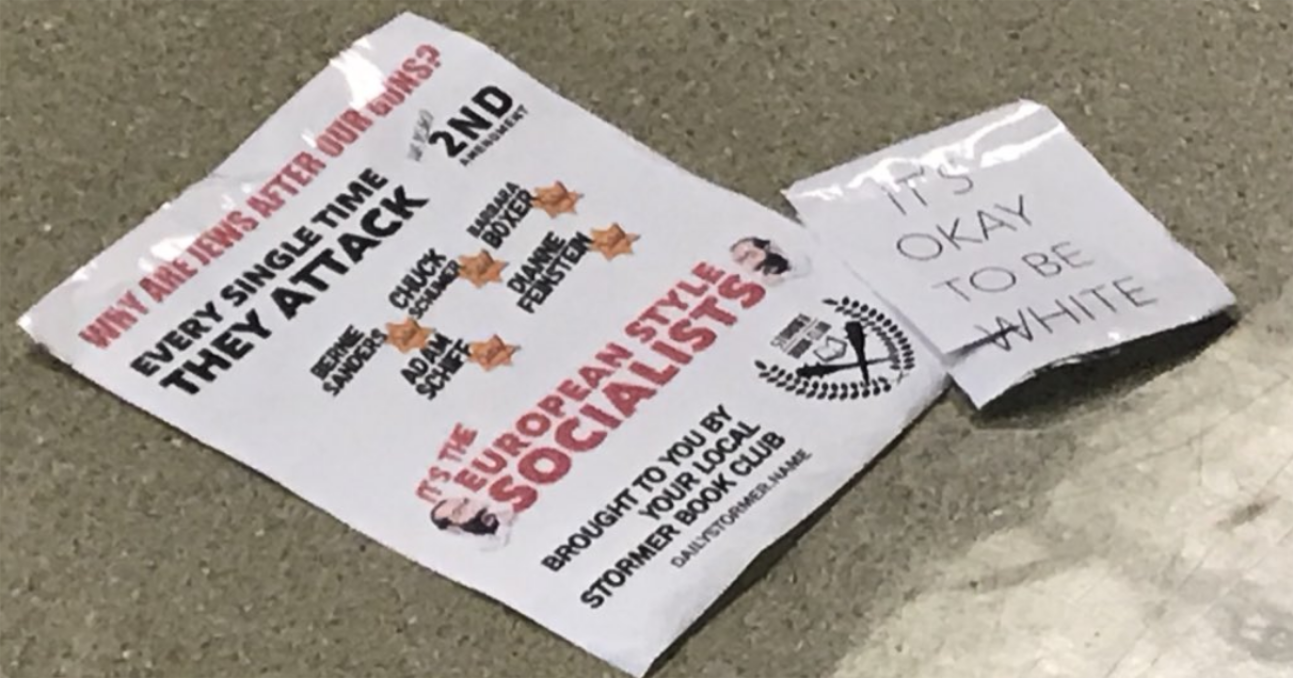 Anti-Semitic flyers which were posted by neo-Nazis from the PDX Stormers at Clark College on March 19, 2018. Identical flyers were also posted outside of multiple gun-sellers around Vancouver, WA and the Portland metro area.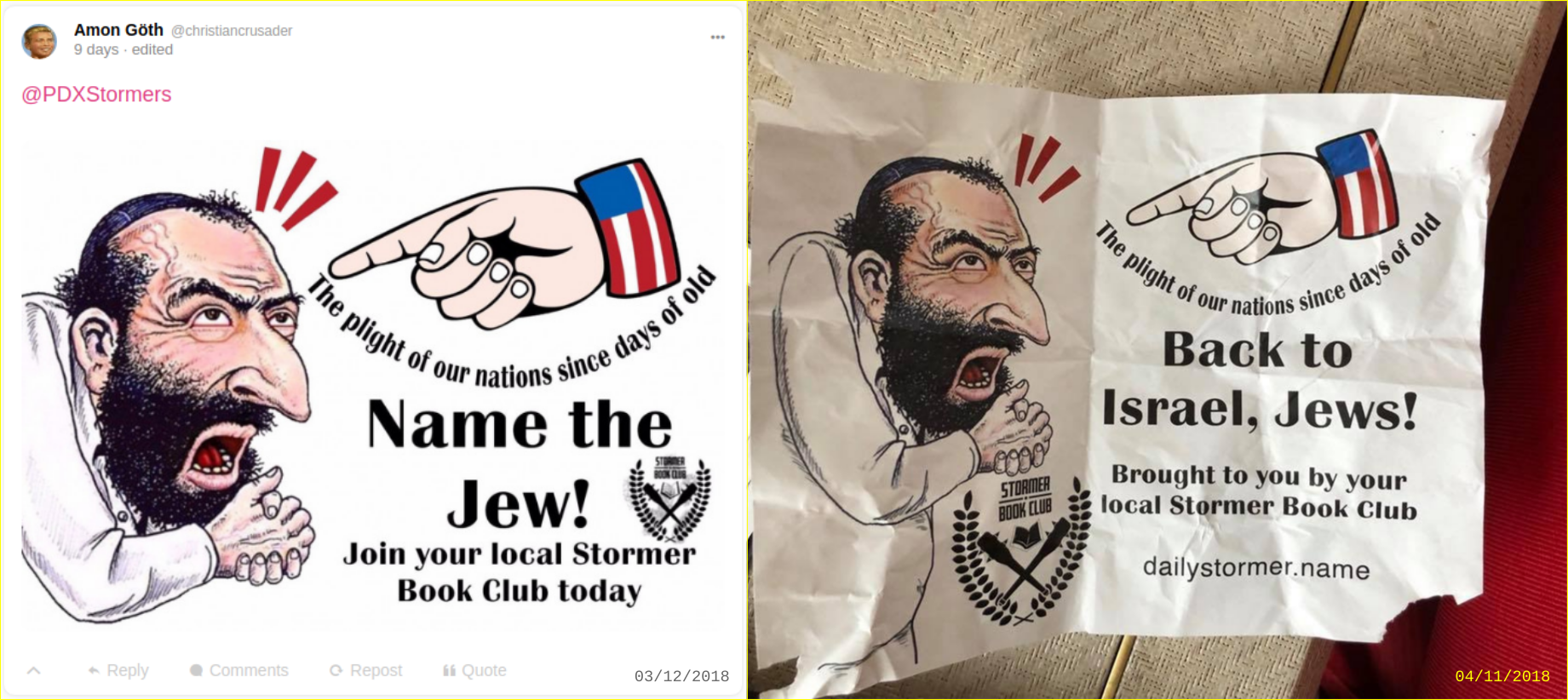 (Left) a gab post by PDX Stormers neo-Nazi Jarl Rockhill, and (right) a nearly-identical flyer posted at the Chabad Jewish center in SE Portland shortly after a Rabbi from the organization addressed a forum at Clark College regarding PDX Stormers flyers which had been posted at the college.
June 3, 2018
Anti-fascist activists left a banner displayed over a freeway to oppose Joey Gibson's June 3, 2018 hate rally. Alex Becker (aka Felix Mittemeyer) and fellow neo-Nazis from the PDX Stormers went and retrieved it, and then posted a photo on social media to brag about it. Patriot Prayer member Tiny Toese can be seen expressing his approval in the comments in the screen image below.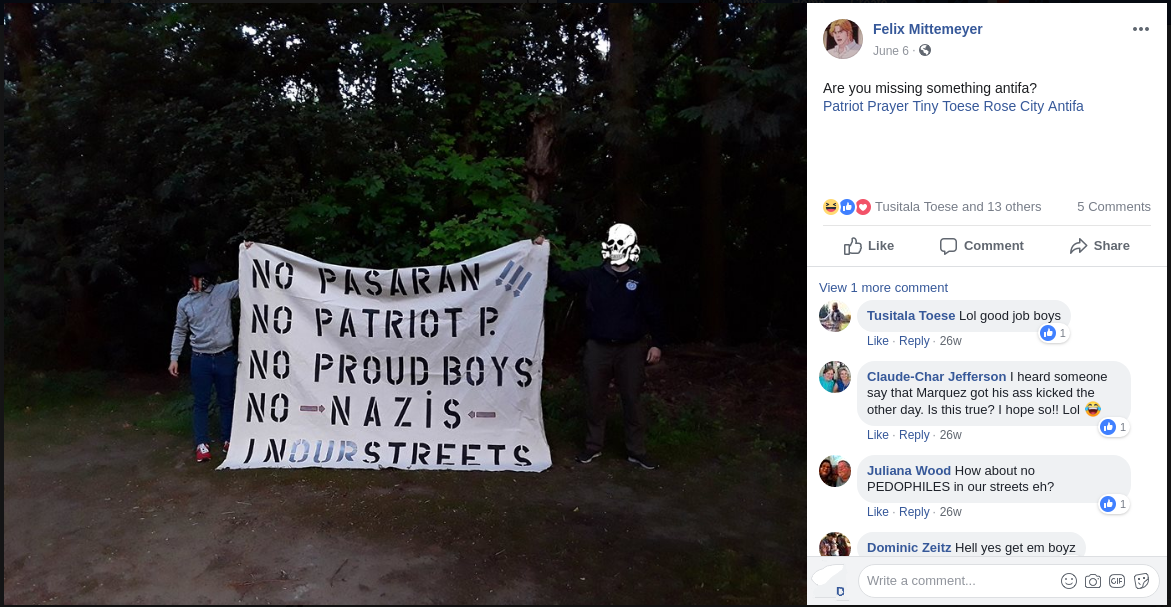 PDX Stormers and Patriot Prayer giggle about their low-risk photo shoot.
June 30, 2018
On June 30, 2018 Joey Gibson held an unprecedentedly violent Patriot Prayer rally in downtown Portland along with many fascists and members of the white nationalist Proud Boys. The PDX Stormers, both capitalizing on the distraction and piggy-backing on the right-wing street demonstration, held their own march throughout downtown Vancouver, WA at the same time. They dressed in the DSBC uniform and carried an "It's Okay To Be White" banner as well as a sign bearing the DSBC logo. They also made a trip into Portland to put up branded Daily Stormer flyers which encouraged racists to report undocumented people to ICE. These flyers were put up in the Lents neighborhood, where earlier in the summer, the Stormers had placed other anti-Semitic flyers.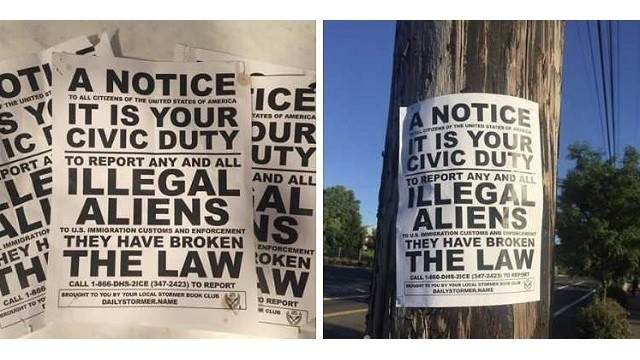 Racist pro-ICE flyers posted by the PDX Stormers.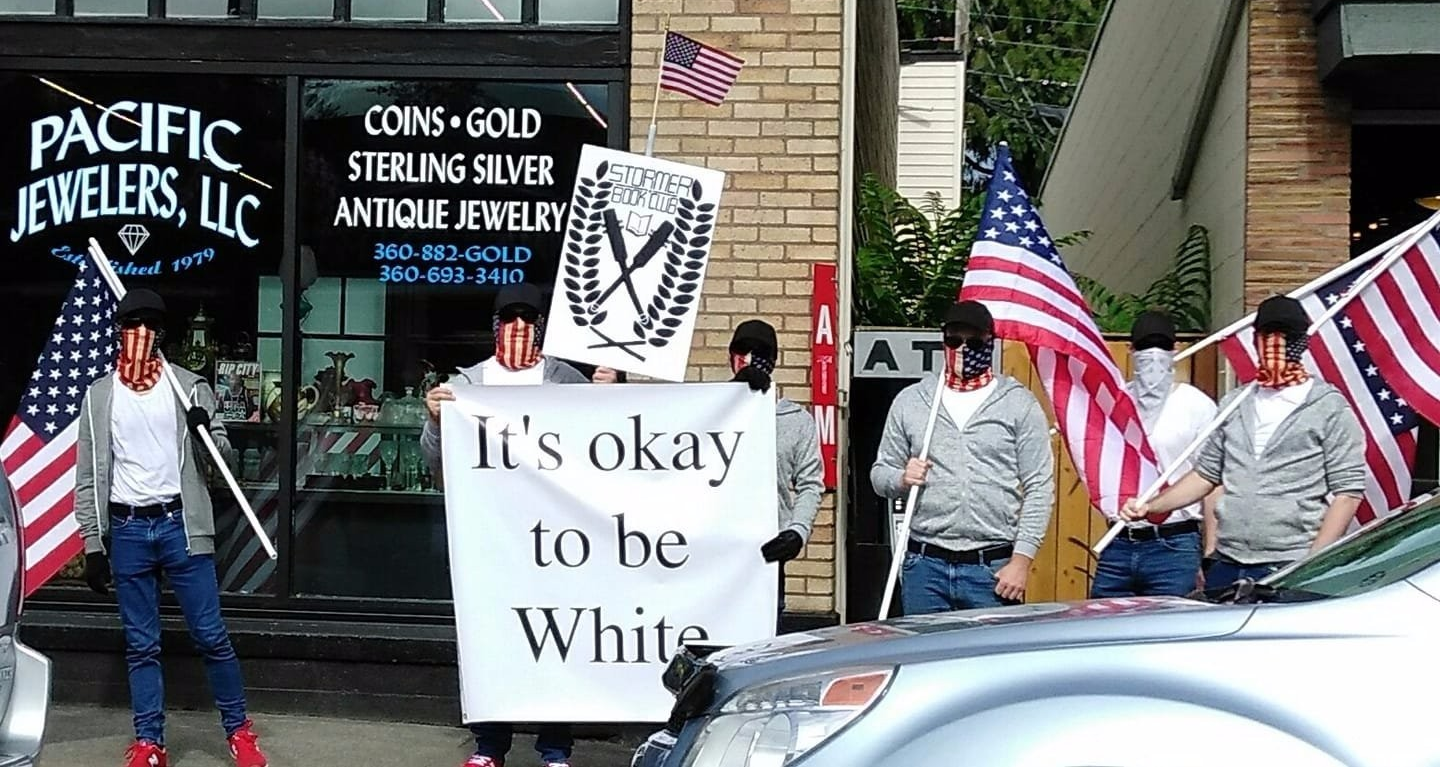 On June 30th, 2018, PDX Stormers take advantage of that day's Patriot Prayer rally and counterdemonstration in Portland to stage a quick photo-op, giving the impression of a neo-Nazi march in downtown Vancouver, rather than attend Joey Gibson's event as they regularly have in the past.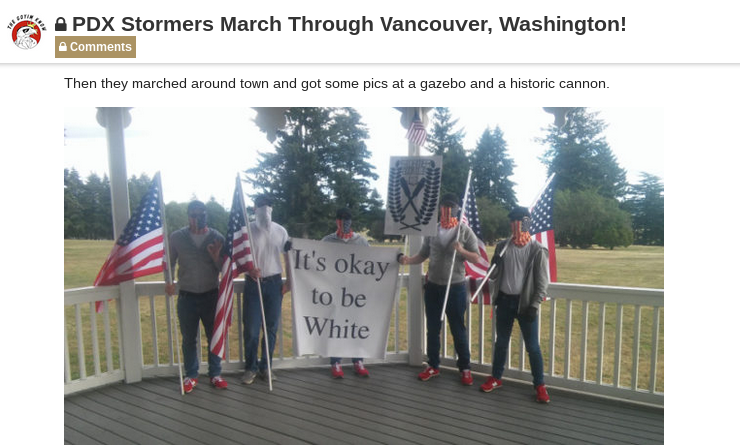 An article on The Daily Stormer celebrates the PDX Stormers' flag walk.
August 4, 2018
PDX Stormers reappeared in Portland at Joey Gibson's August 4, 2018 rally in downtown Portland. Alexander Becker and Bogdan Gerasimyuk were present. Becker appears to be wearing the same shirt and helmet he has been seen wearing at other Joey Gibson events, which has used as opportunities for networking and spreading neo-Nazi ideology. Also visible in the photo below are far-right "street artist" Dennis Ray Lewis (aka Sabo; Unsavory Agents), and violent Patriot Prayer followers Dakota James Miller and Carly Marie Fleming.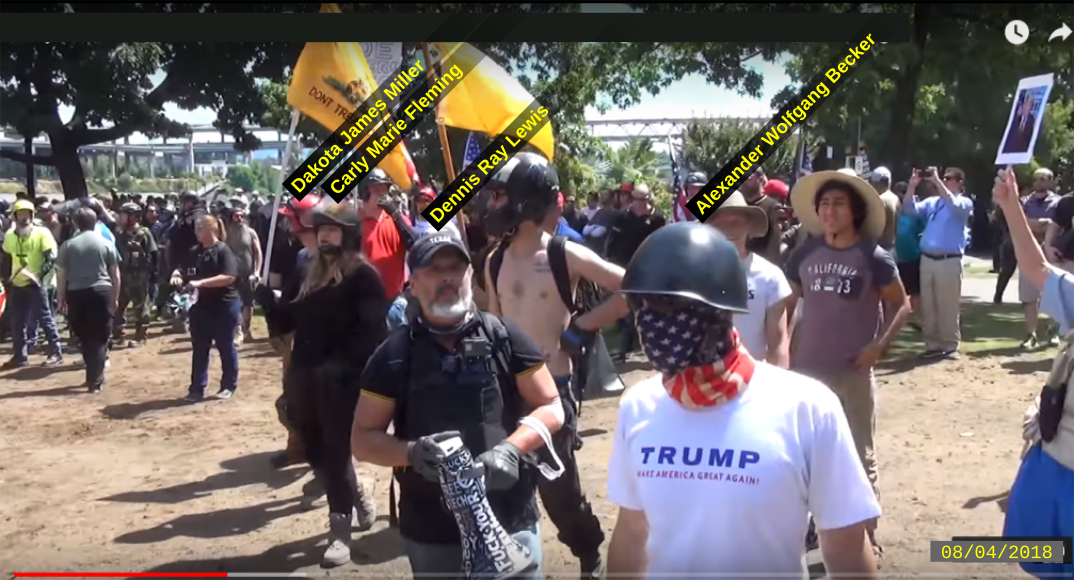 PDX Stormer and other Patriot Prayer attendees.
November 10, 2018
Members of the PDX Stormers collaborated with Springfield, OR fascist Jimmy Marr to hold a neo-Nazi "It's Okay To Be White" banner over the freeway on November 10, 2018.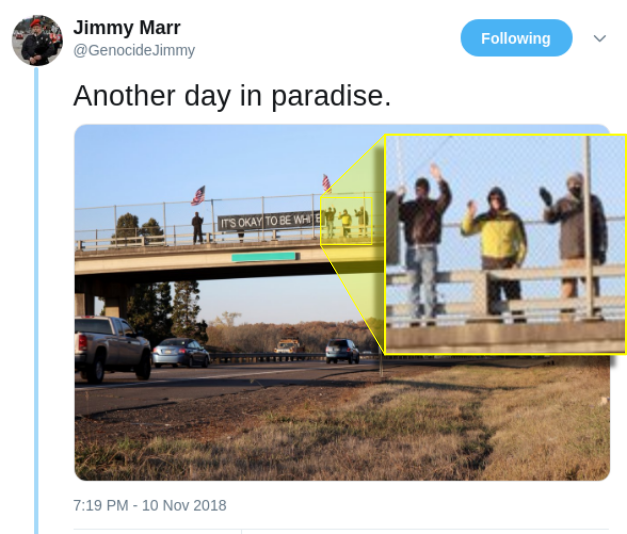 November 10, 2018 racist banner collaboration between the PDX Stormers and Jimmy Marr.
Whereas many contemporary fascist and white supremacist organizations obscure their message, relying on dogwhistles and mainstream conservative facades, The Daily Stormer and PDX Stormers abandon subtlety entirely. Though their cartoonish internet troll aesthetic may offer them a veneer of absurdity, their purpose is unmistakable–since 2016 alone, too many lives have been lost as The Daily Stormer's incitements to genocidal violence have come to fruition. And as we will see in future articles, this sort of "IRL propaganda" is only the beginning of these neo-Nazi's goals.
Rose City Antifa is dedicated to the pursuit of a community free of anti-Semitic, racist, and homophobic propaganda, and to exposing neo-Nazis before their ideology manifests itself in action. In the coming weeks, we will provide information to publicly identify Matthew Blais, Bogdan Gerasimyuk, and Michael Dorsey, three members of the neo-Nazi PDX Stormers. Follow along with us here or through the hashtags #stormerbreaker and #debaseddoxx, and join us in exposing fascist organizing in the Pacific Northwest.
If you have information on the PDX Stormers or any racist or fascist organizing in your area, contact Rose City Antifa at [email protected].