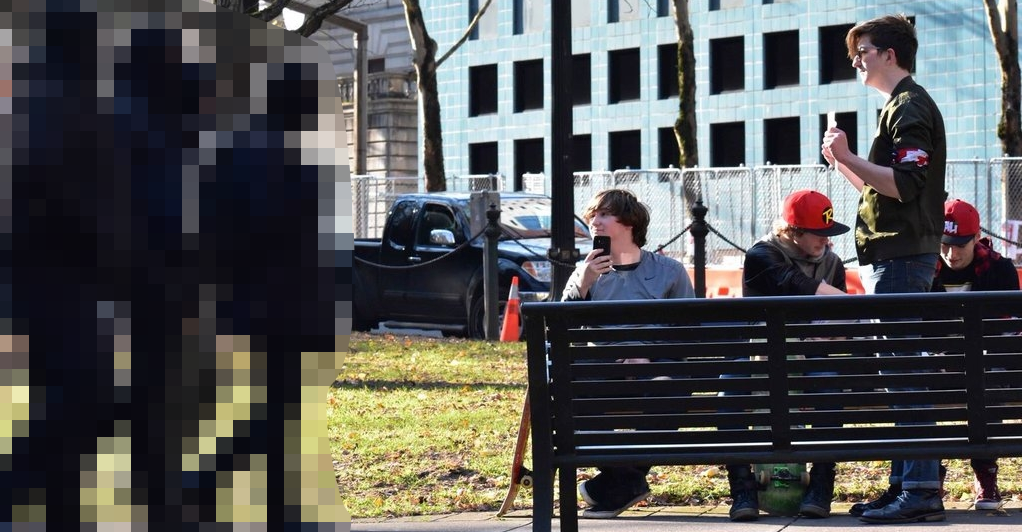 Noah Gunn holds up a neo-nazi "It's Okay To Be White" poster at Patriot Prayer's anti-immigrant Hate Rally on December 9th.
As previously reported, a large number of the people in attendance at Joey Gibson's anti-immigrant hate rally on December 9th, 2017 were fascists. One such fascist was seventeen-year-old Noah Gunn, who has attended several Patriot Prayer events in the past year where he has had the opportunity to encounter and become indoctrinated by any number of the white nationalists, neo-nazis, "identitarians," and others who regularly attend and recruit at Gibson's events. Noah Gunn has been documented participating in Patriot Prayer event and group discussion threads online, where he has been validated and egged-on by the irresponsible and authoritarian adults associated with the organization.


Noah Gunn participates in a number of Patriot Prayer facebook discussions, one in which he advocates for public executions of undocumented people while chatting with Vancouver WA neo-nazi "Mike Gainer".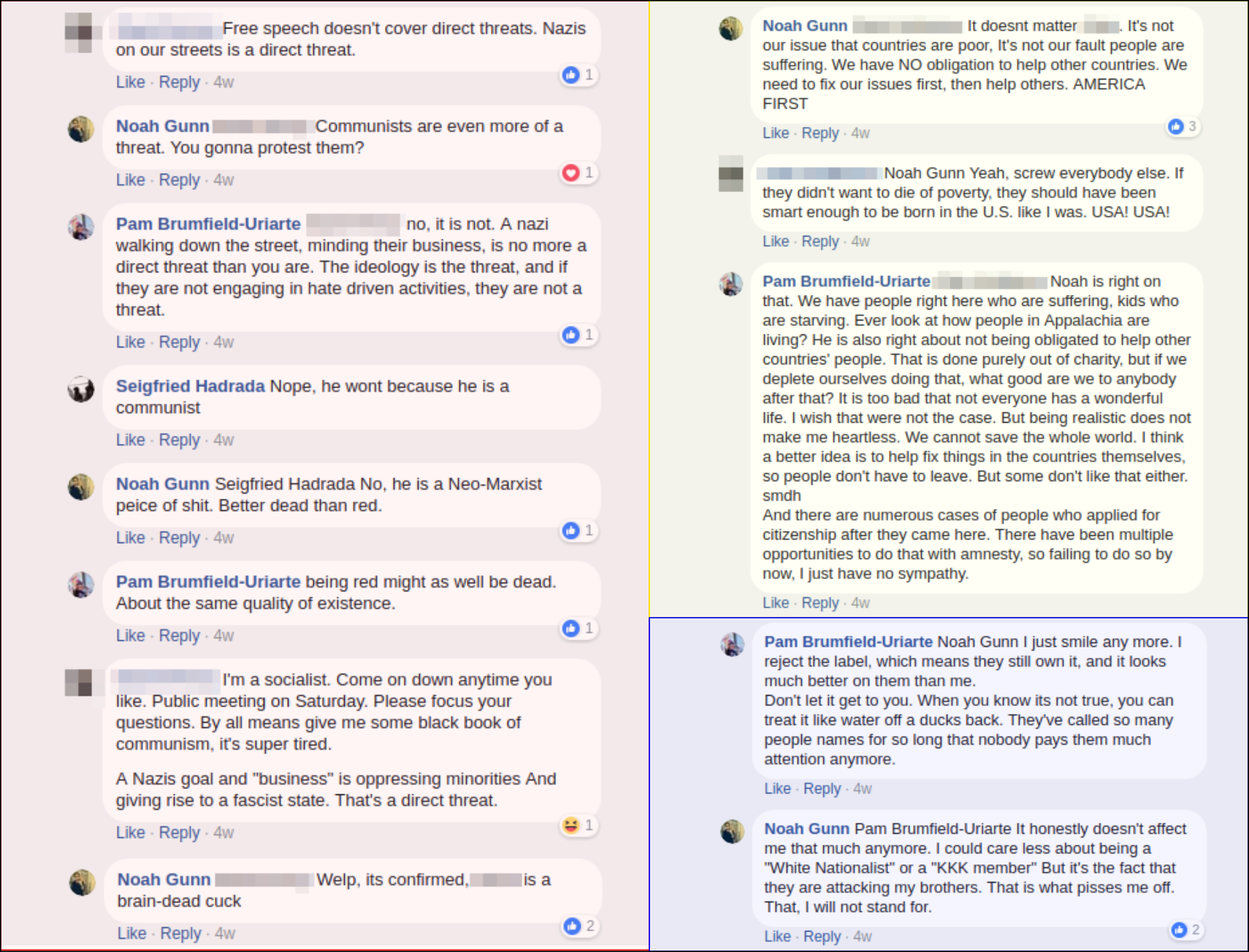 50-year-old Pam Brumfield-Uriarte has shown an exemplary willingness to validate 17-year-old Noah Gunn's nazi apologist rhetoric. This is something of a pattern for Pam.
Noah Gunn, Wannabe Bonehead
On December 9th, Noah Gunn physically attacked community activists alongside other Patriot Prayer rally-goers. It is not unusual for participants in Patriot Prayer Facebook threads to broadcast threats of violence or to brag about their violent actions at Patriot Prayer events. Noah Gunn is no exception to this trend.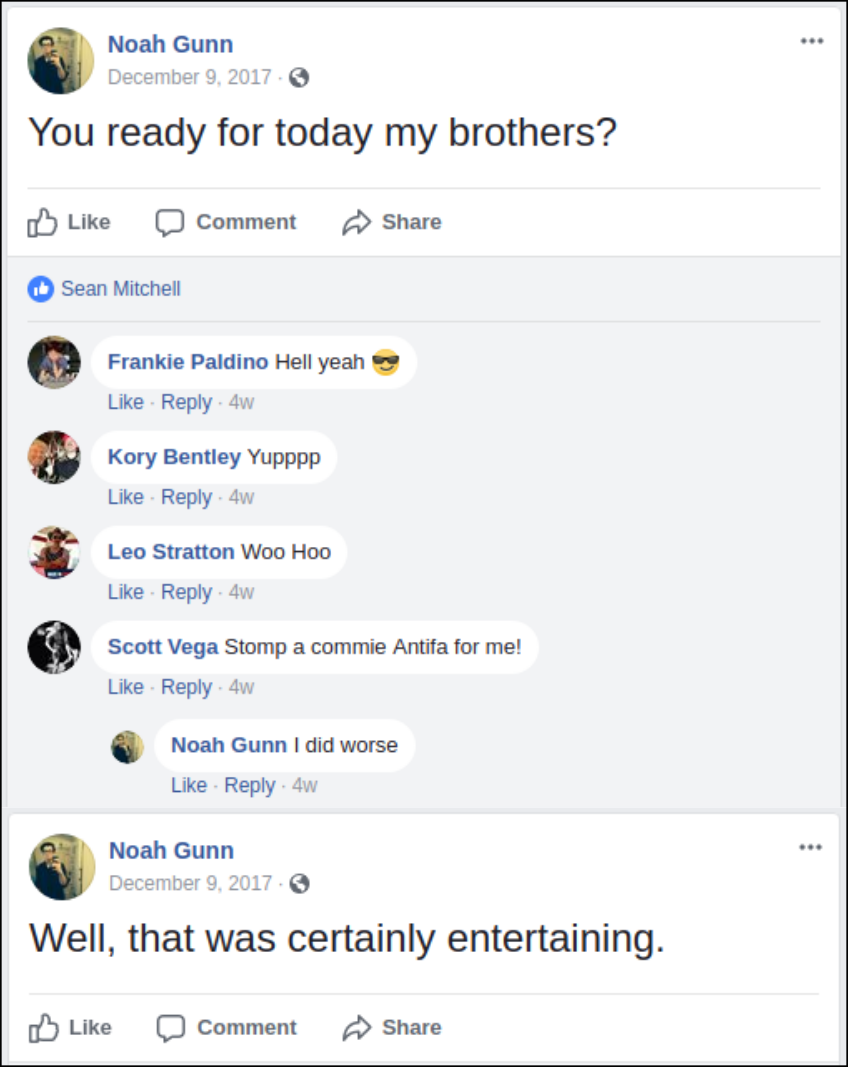 Noah Gunn talks tough on Patriot Prayer's facebook event page with Portland fascist Ethan Devries (aka Frankie Paldino), Seattle Proud Boy Kory Bentley, & far-right propagandist Leo Stratton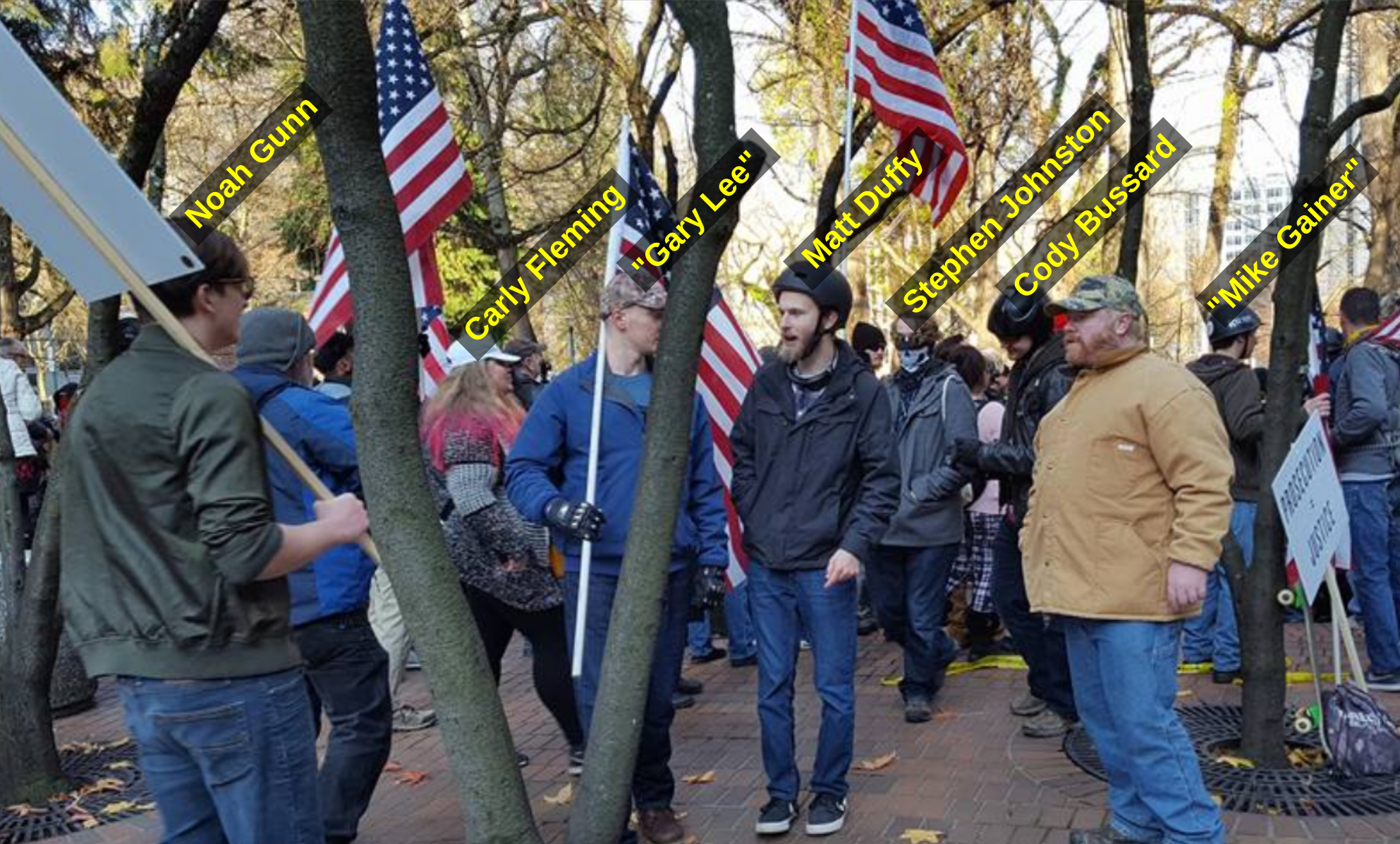 At Patriot Prayer's December 9, 2017 anti-immigrant hate rally, Noah Gunn was seen associating with known regional fascists such as "Gary Lee", Matt Duffy, Stephen Johnston, Cody Bussard, and "Mike Gainer"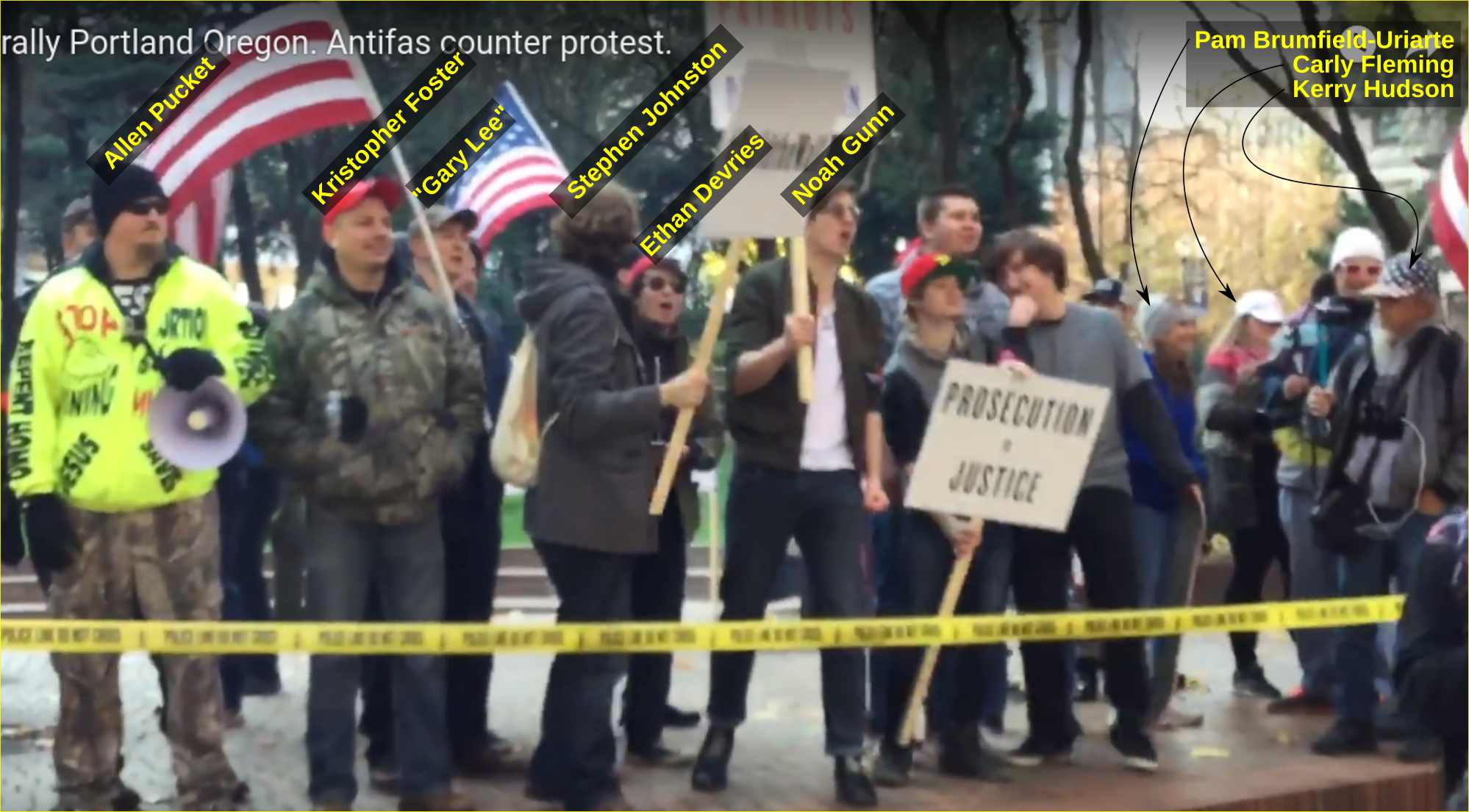 Another photo of Noah Gunn at Patriot Prayer's December 9, 2017 anti-immigrant hate rally, seen here associating with known fascists such as Allen Pucket, "Gary Lee," and Ethan Devries, as well as with fascist-friendly "Patriots" like Kristopher Foster, Pam Brumfield-Uriarte, Carly Fleming, Kerry Hudson, and Keith Campbell.
Despite the protestations of Gibson that there was no evidence that members of his December 9th rally were fascists, Rose City Antifa has conclusive proof of Gunn's association, in the form of posts he made on an online message board for racist skinheads. Noah Gunn's posts under the name "VinlandLives" on a neo-nazi Hammerskin web forum show him gloating specifically about harming a native woman by hitting her with a wooden plank.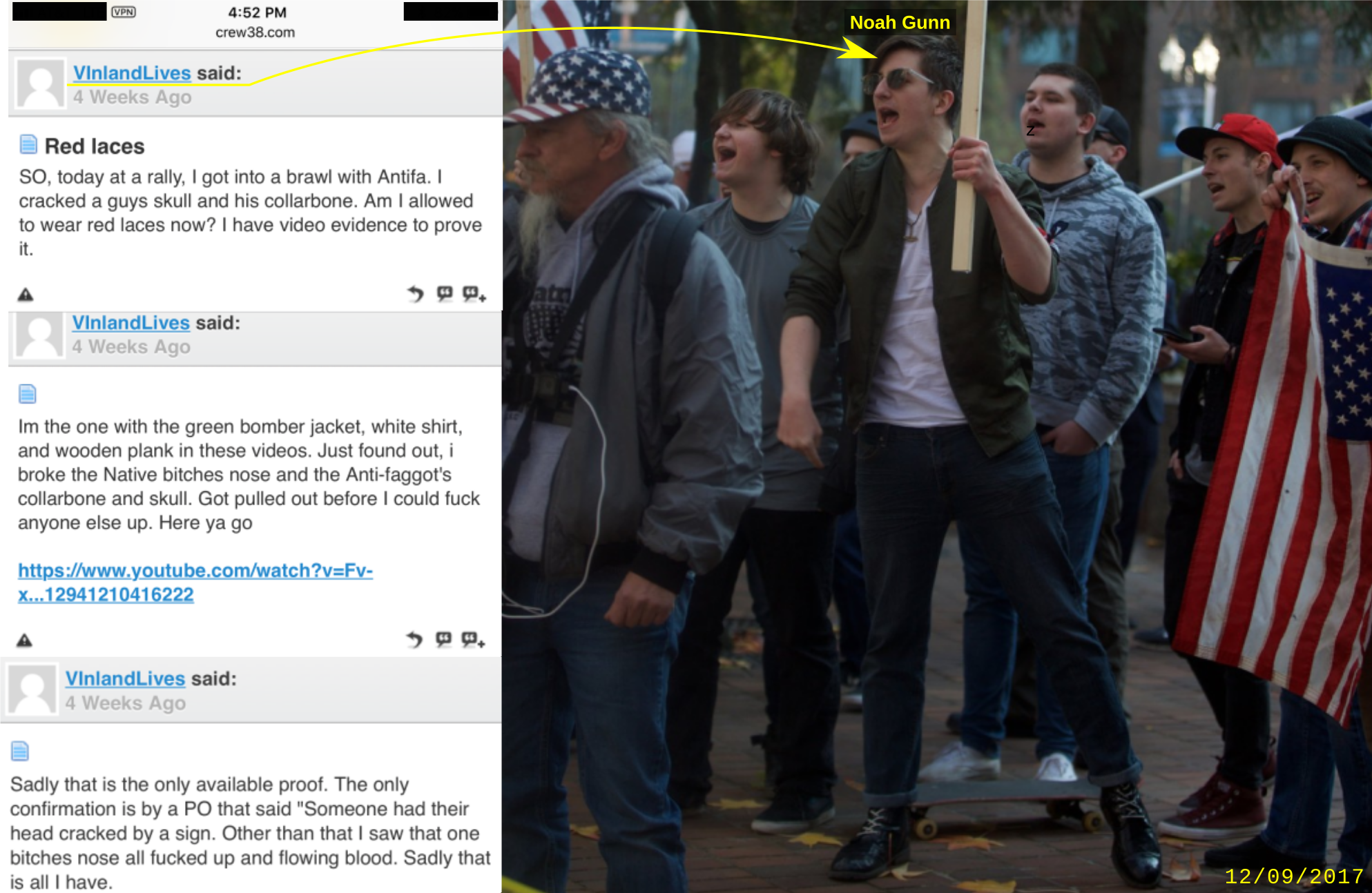 Noah Gunn brags about attacking anti-fascist demonstrators, and specifically a native woman, in a neo-nazi web forum.
Gunn makes it very clear that he is looking to earn the right to wear "red laces," a dubious neo-nazi merit badge which generally signifies that the wearer has spilled the blood of a non-white person for the neo-nazi movement. All of Noah Gunn's posts in this forum have occurred within the past two months, and he began posting there shortly after having attended a Patriot Prayer rally in Salem on October 15th, 2017. There were multiple known fascists in attendance at that event.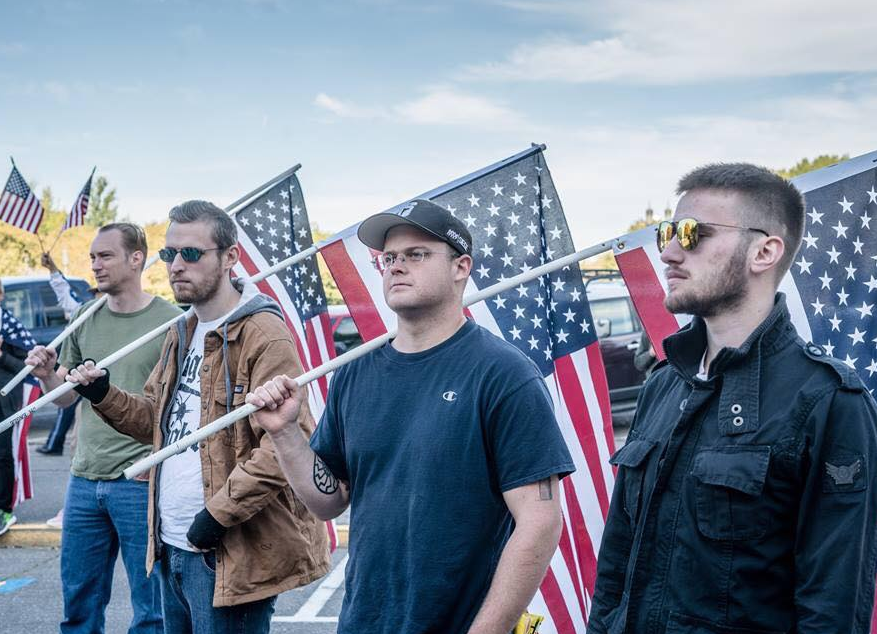 Neo-nazi pedophile Jarl Rockhill (2nd from right) stands with other known neo-nazis in attendance at Patriot Prayer's October 15, 2017 rally in Salem, OR.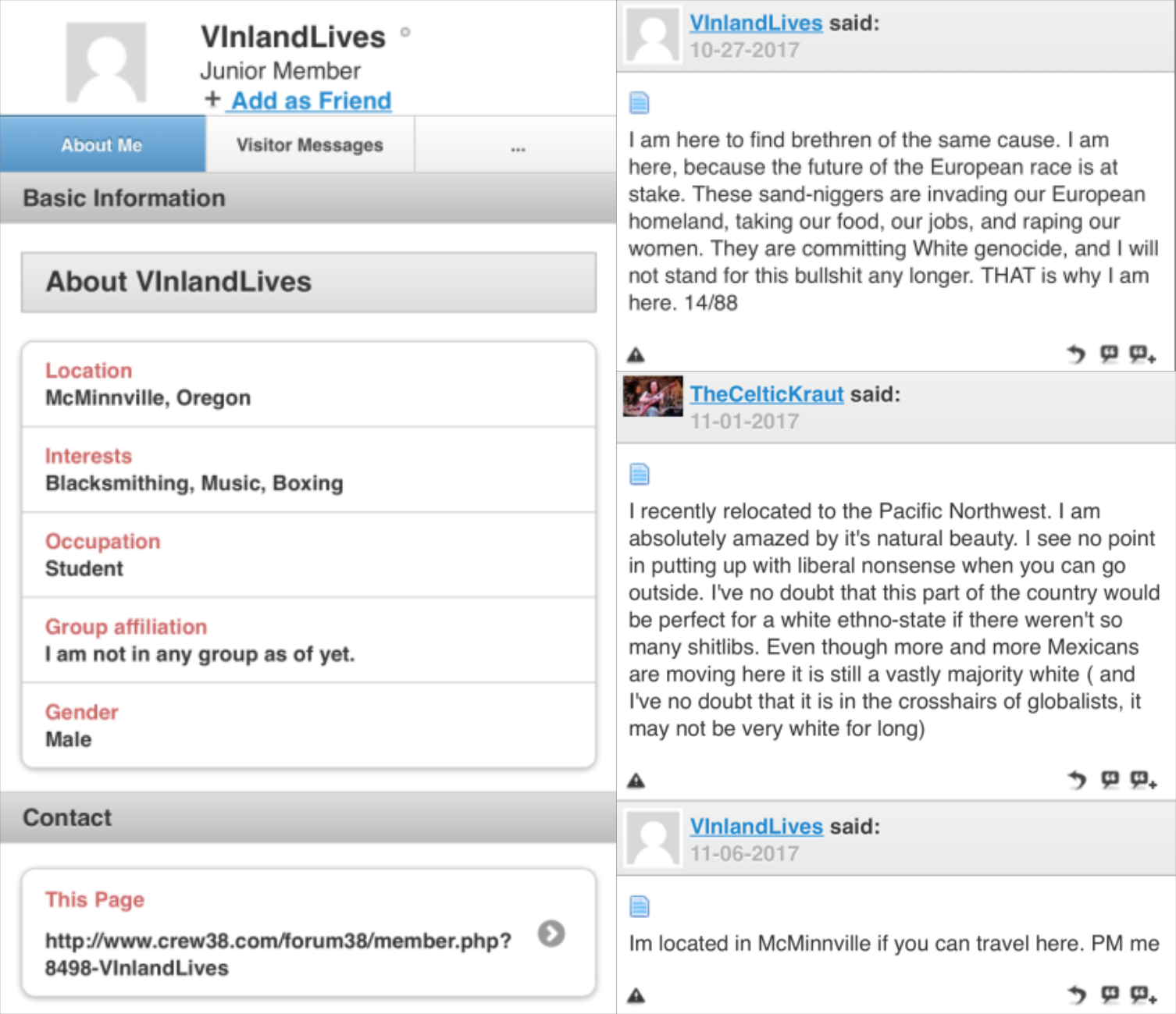 Several of Noah Gunn's posts on neo-nazi web-forums expressed interest in meeting with other neo-nazis for the purposes of organizing. Noah's interest in boxing will be briefly revisited later in this article.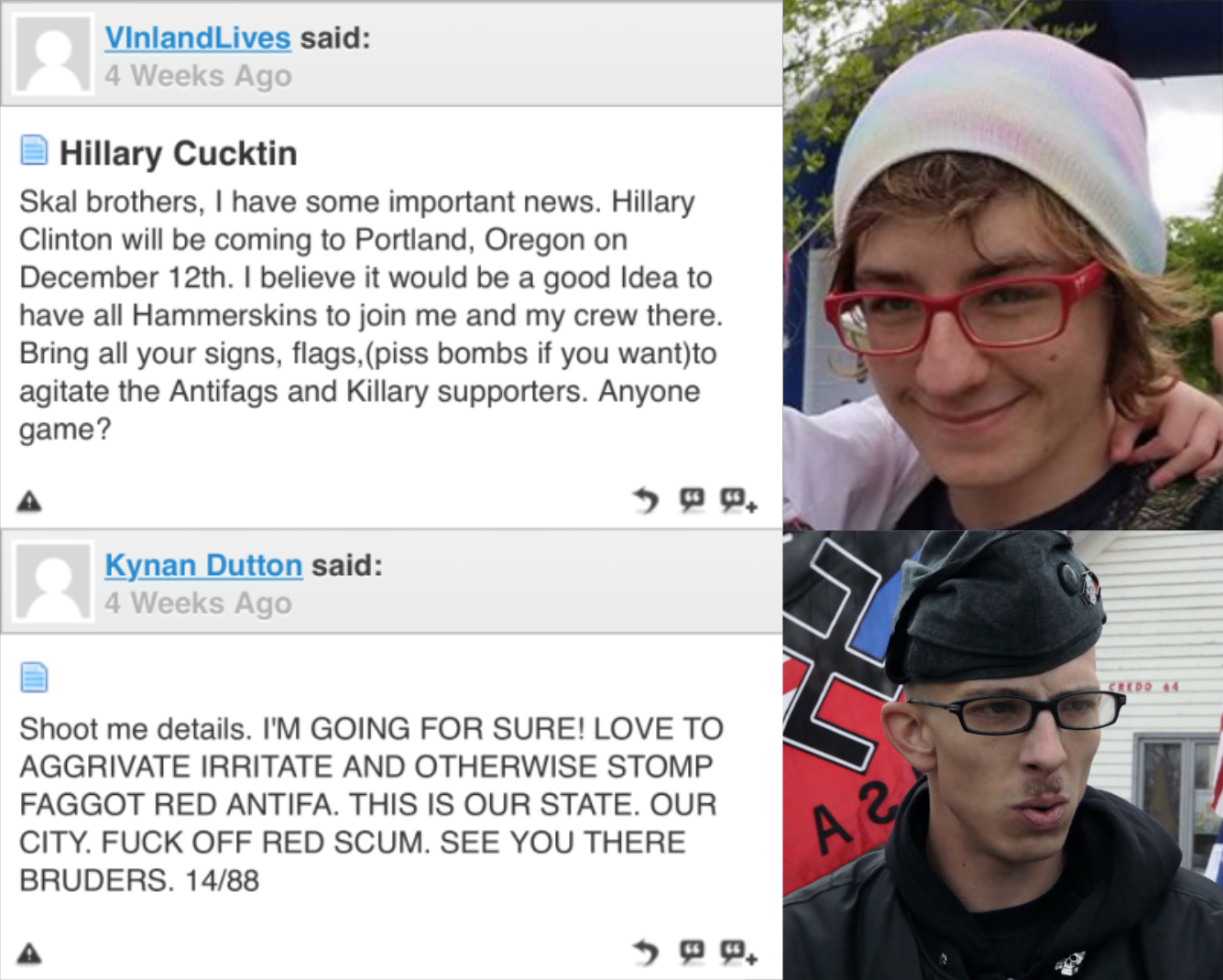 Noah Gunn, while attempting to rally hammerskin neo-nazis to attend the Patriot Prayer protest against Hillary Clinton, is shown in communication with Salem, OR neo-nazi and NSM member Kynan Dutton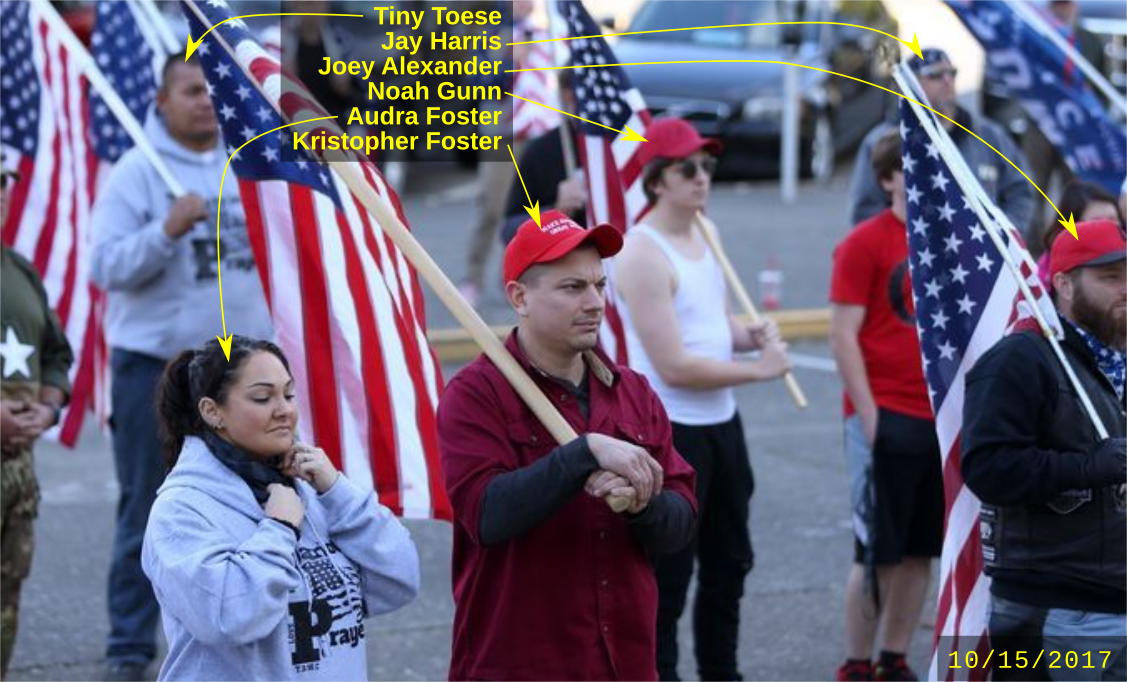 Noah Gunn at an October 15, 2017 Patriot Prayer rally in Salem OR. Also pictured: Tiny Toese, Jay Harris, Joey Alexander, Audra Foster, and Kristopher Foster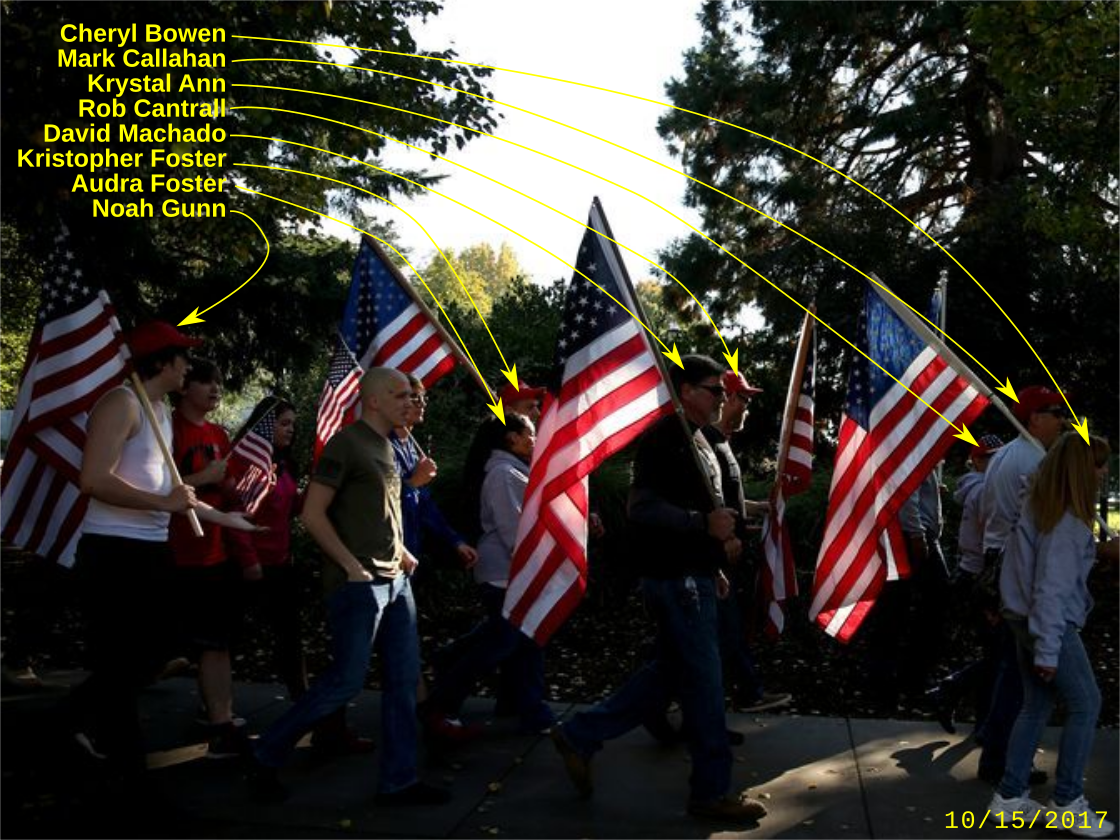 Noah Gunn at an October 15, 2017 Patriot Prayer rally in Salem OR. Also pictured: Cheryl Bowen, Krystal Ann, Proud Boy Rob Cantrall, David Machado, Kristopher Foster, Audra Foster, and Oregon politician Mark Callahan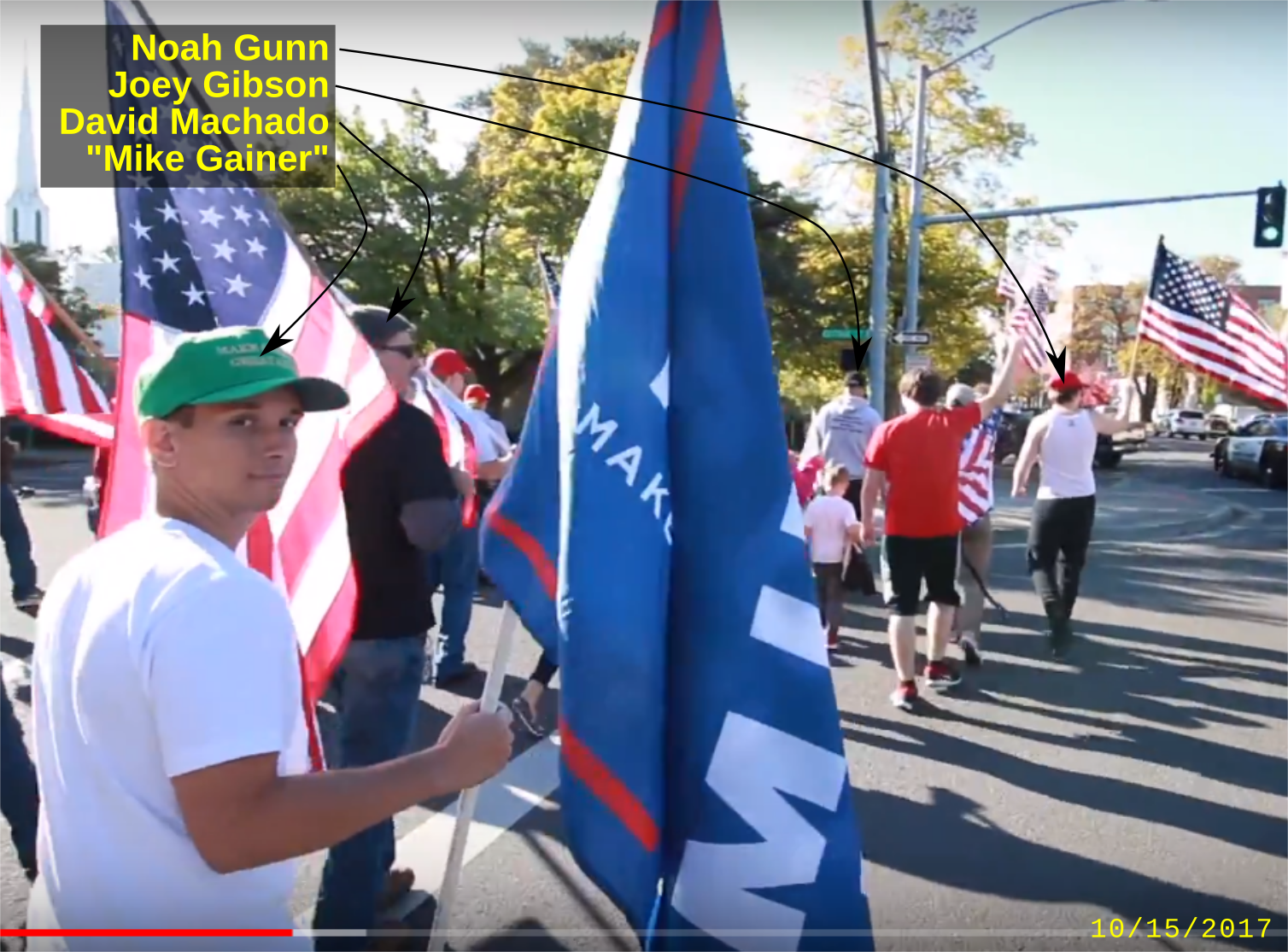 Noah Gunn at an October 15, 2017 Patriot Prayer rally in Salem OR. Also pictured: David Machado, Patriot Prayer leader Joey Gibson, and a Vancouver, WA neo-nazi who uses the pseudonym "Mike Gainer"
A Pattern of Dangerous Youth Indoctrination
Patriot Prayer events are often spaces where avowed fascists are welcomed to encounter and indoctrinate members of the public who, while they may merely identify as "republicans," "right wingers," or "Trump-supporters", are usually already sympathetic to the racist resentment cultivated by the far right, and who are therefore increasingly susceptible to open fascist proselytization. Sadly, this also presents opportunities for young people to be exposed to such ideologies. Noah Gunn is not the only young person to be exposed to fascist ideas in this way.
Patriot Prayer follower Amy Williams and her son Ryan provide another cheerless example of Joey Gibson facilitating neo-nazi sloganeering among young people. Amy Williams has attended many of Joey Gibson's events, and almost as often has brought her son Ryan Williams along with her. On June 4th, 2017, Ryan Williams became a target for racist recruitment by Joey Gibson's personally-selected anti-semitic keynote speaker Tim "Baked Alaska" Gionet, who encouraged him to watch revisionist holocaust-denial propaganda and also personally taught and recited to him a neo-nazi slogan.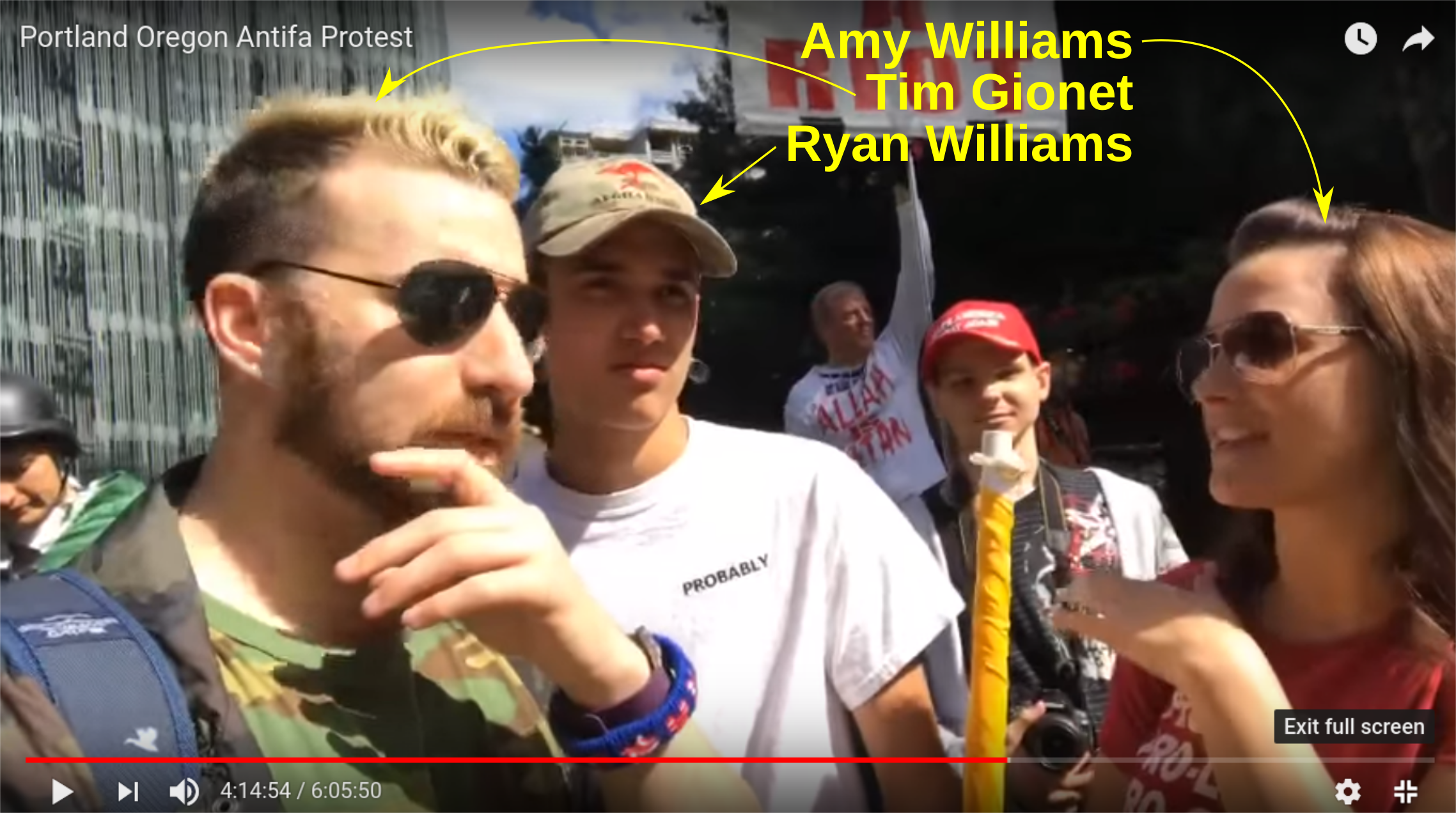 Amy Williams and her son Ryan talk with notorious alt-right anti-semite Tim Gionet at Joey Gibson's June 4th, 2017 hate rally in Portland OR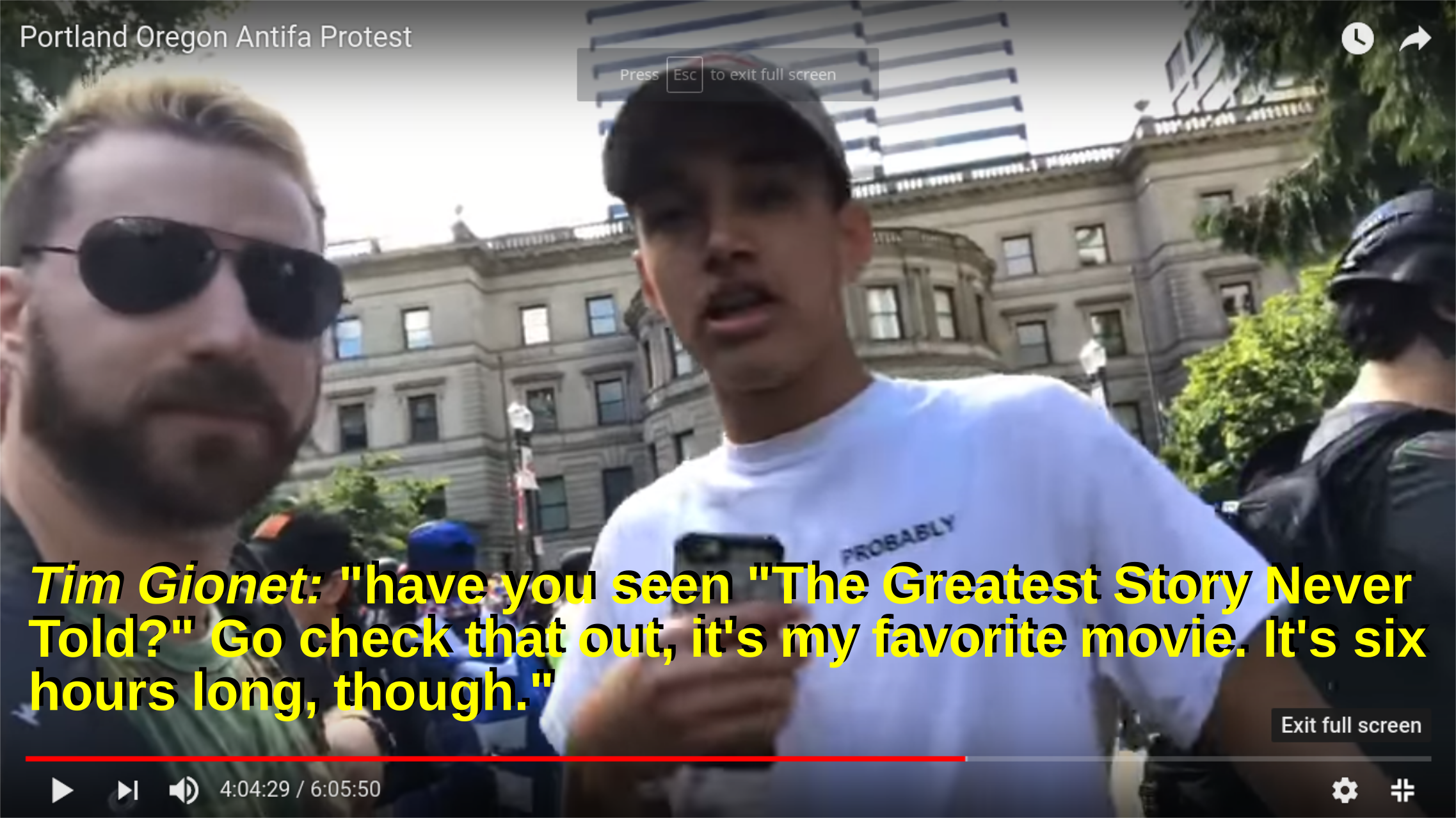 Tim Gionet recommends a Hitler-worshipping revisionist holocaust denial film to Ryan Williams.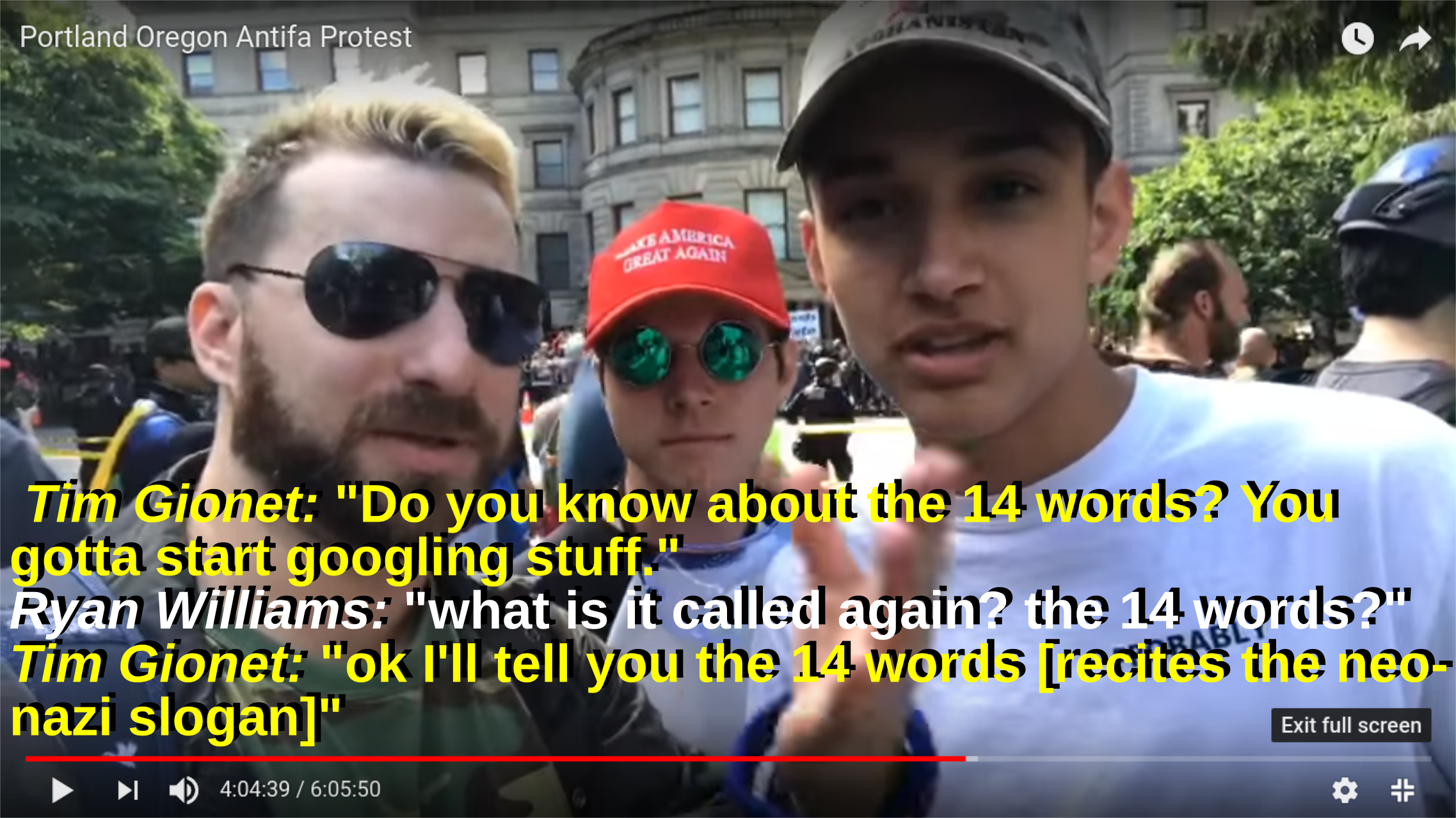 Tim Gionet teaches Ryan Williams a neo-nazi slogan.
Joey Gibson's rallies have welcomed neo-nazis to such an extent that his followers do not seem the least bit uncomfortable associating with them at non-Patriot-Prayer events as well. On September 9, 2017, Amy Williams took her son Ryan to an "overpass flag wave" event where they mingled with neo-nazi Patriot Prayer followers like Raul Gonzalez and Steve Shallenberger.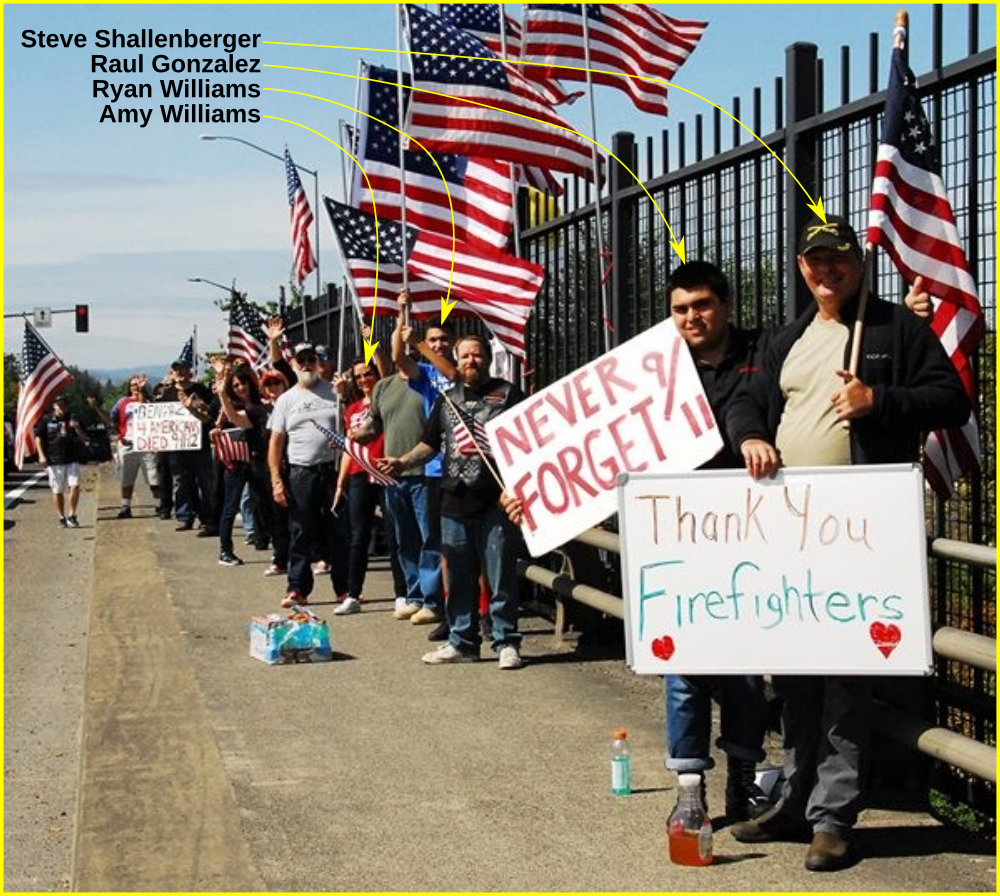 Amy and Ryan Williams associate with known fascists at a flag waving event
An Aspiring Fascist in McMinnville
Noah Gunn, a young neo-nazi and Patriot Prayer follower who carried out racist attacks at Joey Gibson's December 9, 2017 anti-immigrant hate rally, lives in McMinnville Oregon. In October of 2017, Gunn was mentioned in a Willamette Week article about Betsy Devos' visit to McMinnville High School:
"Local charter school student and counter-protester Noah Gunn supports private school vouchers, however. Gunn says McMinnville High School "failed" to accommodate his ADHD, but at his online charter school, Gunn says he can get one-on-one help for the subjects he struggles in. Gunn, who identifies as "moderate right-wing," was in the minority."
Gunn has participated in "Recharge Youth Ministry" activities at Baker Creek Community Church. (325 NW Baker Creek Rd, McMinnville, OR 97128; (503) 434-5541).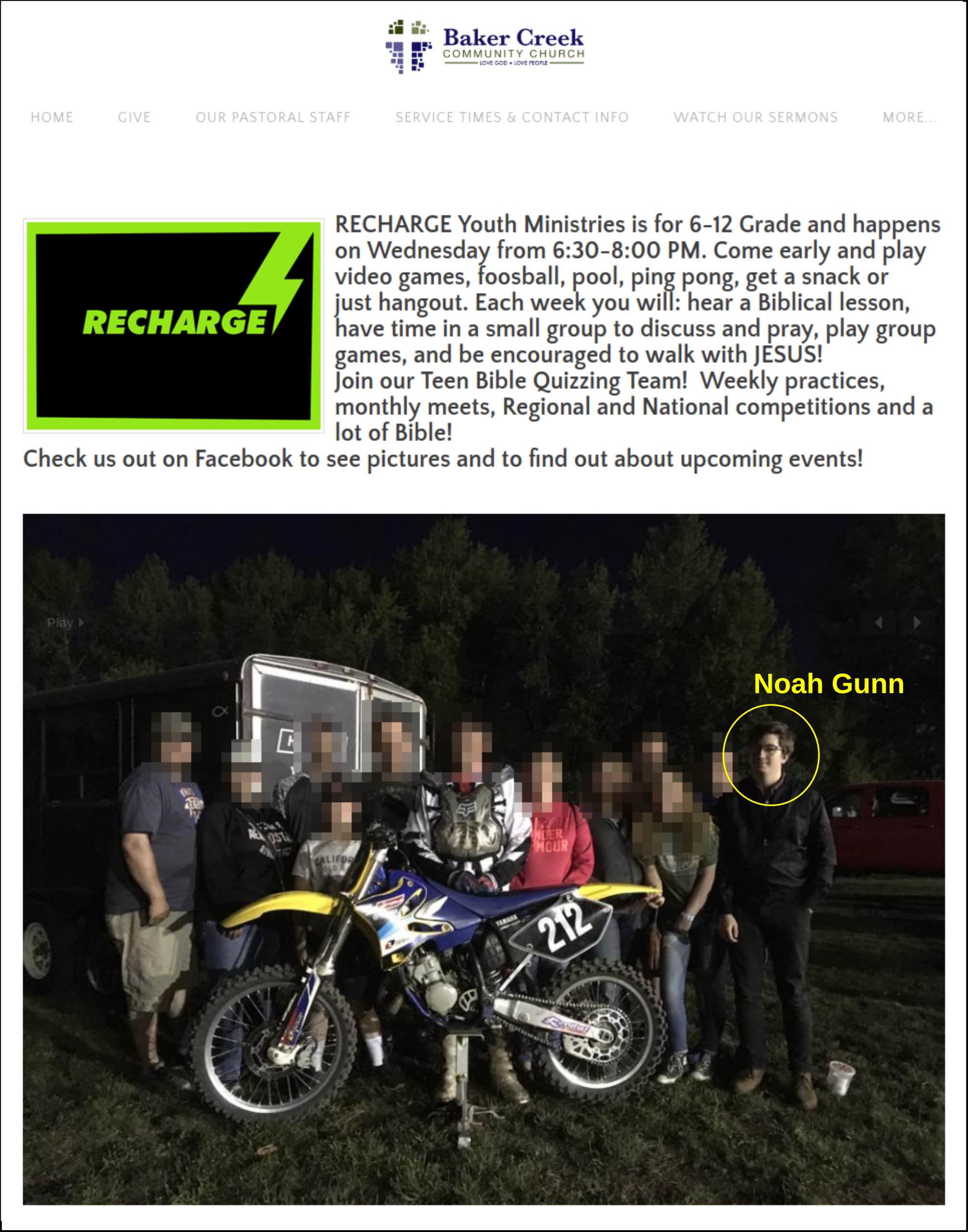 Noah Gunn pictured on the website for Baker Creek Community Church
Noah Gunn often wears a "Thor's Hammer" or "Mjolnir" symbol on a necklace. This symbol does not always have racist connotations, but when it appears in the context of far-right political activity, it is often an indicator of white supremacist beliefs and fascist commitments.

Noah Gunn wears a mjolnir symbol
Noah Gunn has two gofundme campaigns online at the time of this writing. One is a pitch to fund a trip to Ireland in April-May of 2018, and the other is for a "Church ministry Boxing Gym." It should be noted that Noah has also listed "boxing" as one of his interests in his profile on the aforementioned neo-nazi hammerskin web-forum, suggesting the possibility that Noah may be looking to construct a space to host and proselytize on behalf of neo-nazis while using "wholesome" church activities as a cover.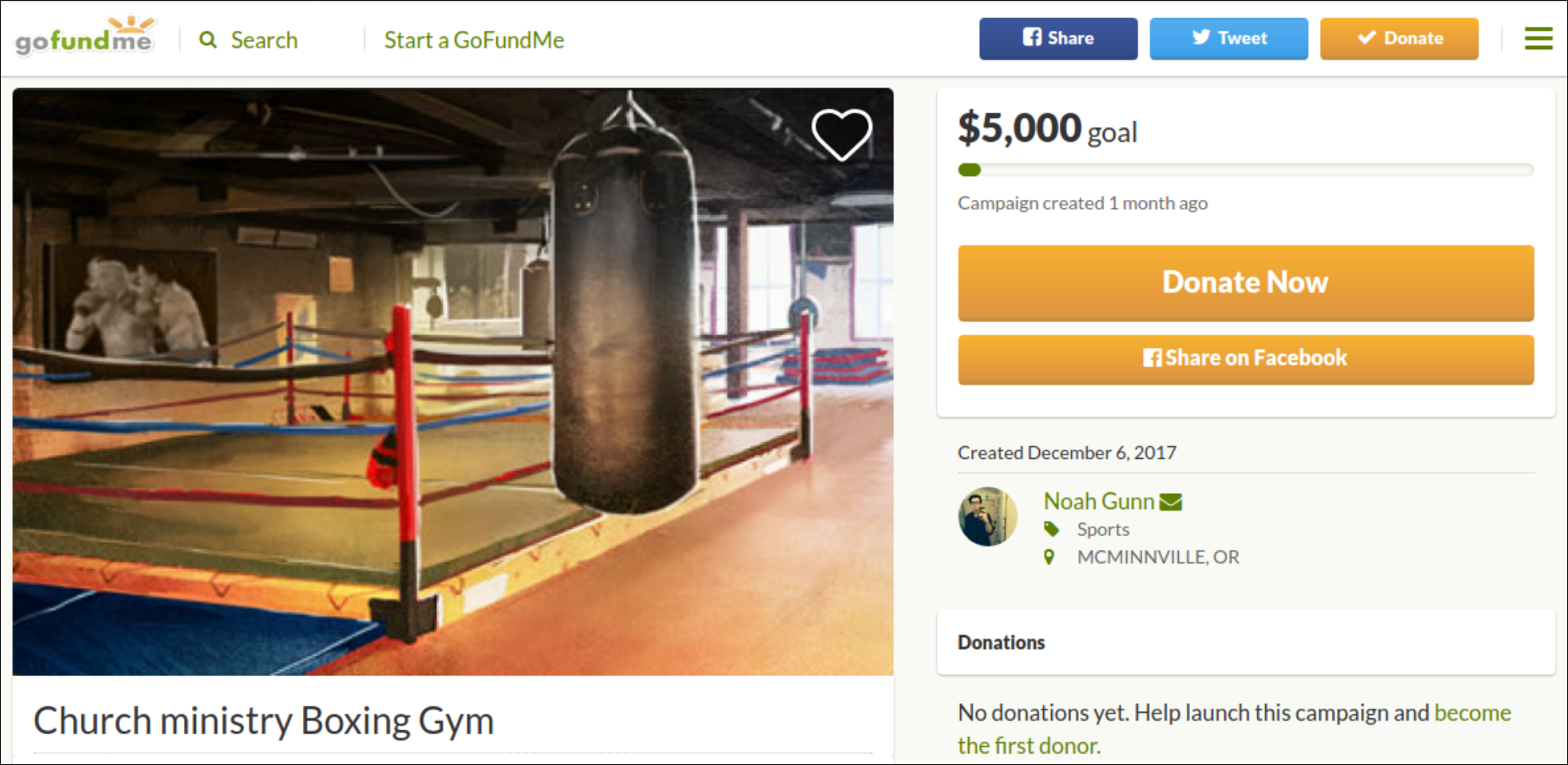 Specific Information regarding Noah Gunn
DOB: 06/08/2000
Address: 1335 Ne Evans St Mcminnville, OR 97128-3630 (Parents' house where he spends a good deal of time)
Church: Baker Creek Community Church, 325 NW Baker Creek Rd McMinnville, OR 97128; 503.434.5541

Clear photos of Noah Gunn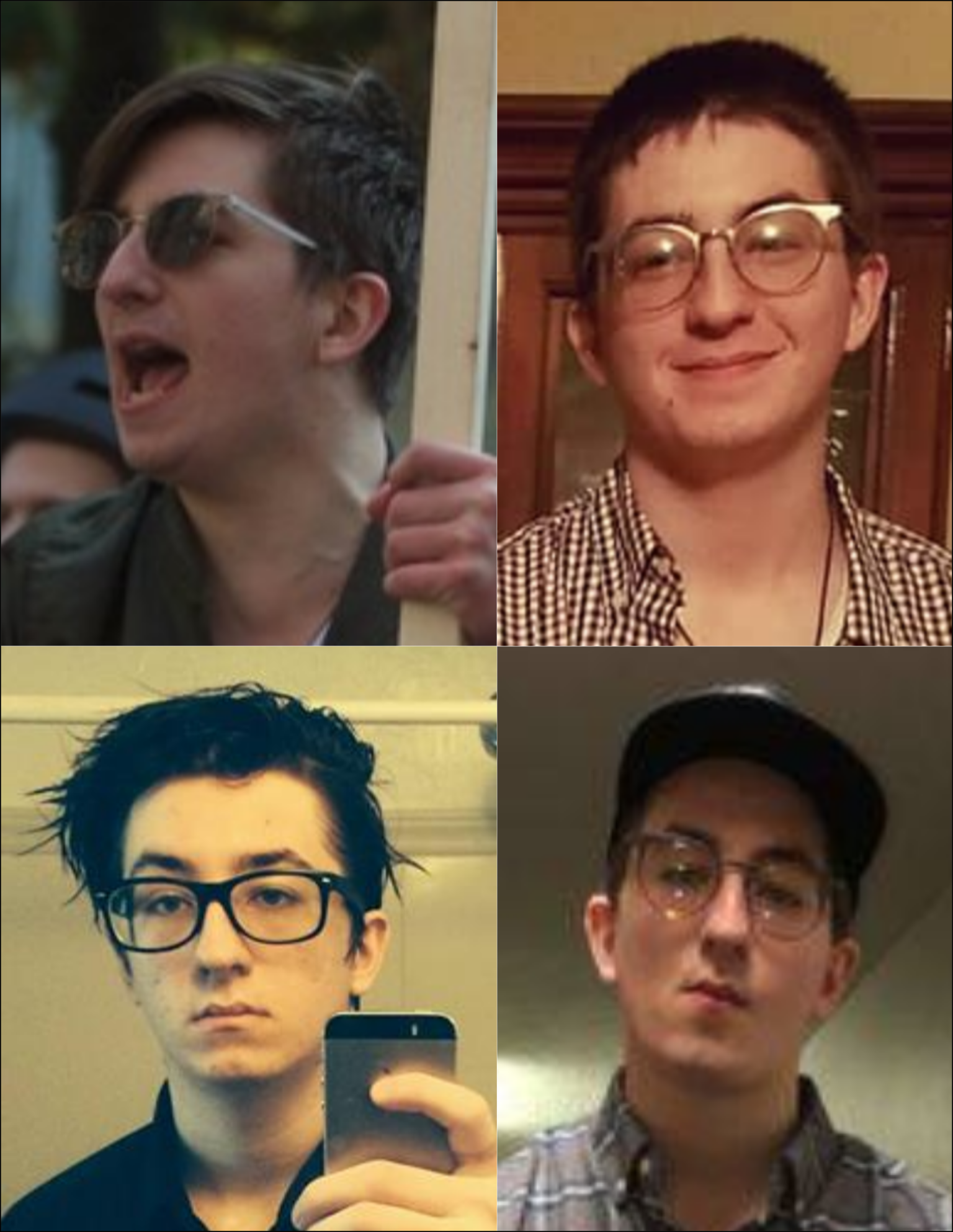 It is a crucial and perilous time to assist young people in navigating against indoctrination from far right and fascist information and propaganda sources. Alt-Right neo-Nazi organizations such as Atomwaffen Division are beginning to produce a stream of murders, and white nationalist terrorist actions by young people are on the rise. This situation is made more dangerous by disingenuous and opportunistic profiteers like Joey Gibson who pretend to be concerned for the well-being of young people while simultaneously creating spaces where they may be both indoctrinated with and able to carry out the practices of violent neo-nazi ideology. We encourage adults to be alert for signs of fascist radicalization, and to advise young people against attending bigoted events such as those organized by Patriot Prayer.
Rose City Antifa is dedicated to exposing, opposing, and confronting fascist activity. If you have information regarding any of the people mentioned in this article, or other fascist and white supremacist activity in the Pacific Northwest, please email us at [email protected].
If someone in your life needs help transitioning out of participation in a hate group, consider contacting Life After Hate.