Rose City Antifa, working in conjunction with allied groups in the region, has obtained information on many of the Pacific Northwest-located members of the white nationalist, alt-right group known as the Proud Boys. Over the coming weeks, we will be publishing a series of articles detailing the Proud Boys' specific brand of organized hate, and the individuals who make up this rising "weekend warrior" gang, in order to alert the community about the threat that this group poses. You can follow along on our website and on Twitter, using the hashtag #DoxxAllYourBoys.
Articles in the Series:
Introduction: The Pacific Northwest Proud Boys - White Nationalist Social Club
Volume 1: Robert Zerfing, Travis Nugent, Caleb Stevens, Ethan Nordean
Volume 2: Dominick Owen, "Tiny" Tusitala John Toese, Aaron Laigaie, Anthony Edward Bell
Volume 3: Russell Schultz, Kory Bentley, Derrick Lancaster, Daniel Garris
Volume 4: Rob Cantrall, Dakota Gilmore, Pete Venturo, Graham Jorgensen, David Silliman
[Volume 5: Matteo Dagradi, Donovon Flippo, Jason James, Aaron Williamson] (https://rosecityantifa.org/articles/pb-5/)
Volume 6: Jake Farmer, Nick Boling, Travis Taylor, Mark Rupprecht

Phone Jam!
Please join us in contacting Siemens about their employee Caleb Stevens (details about Stevens can be found below.) Ask to speak to the branch manager or the HR department, and inform them that Caleb Stevens is a violent member of the Proud Boys hate group. Stevens has posted threating social media posts, and assaulted community members. He posts pictures of himself online with prominent white nationalists and fascists. He is homophobic and a misogynist. Tell them that the community will not stand for employees of corporations in the Portland area invading downtown in order to assault activists, and to defend fascists spreading hate and intolerance.
Siemens Building Technologies 15201 NW Greenbrier Pkwy, Beaverton, OR (503) 234-9995 Siemens Industry Inc 23582 NW Clara Ln, Hillsboro, OR (503) 530-8978
Robert Raymond Zerfing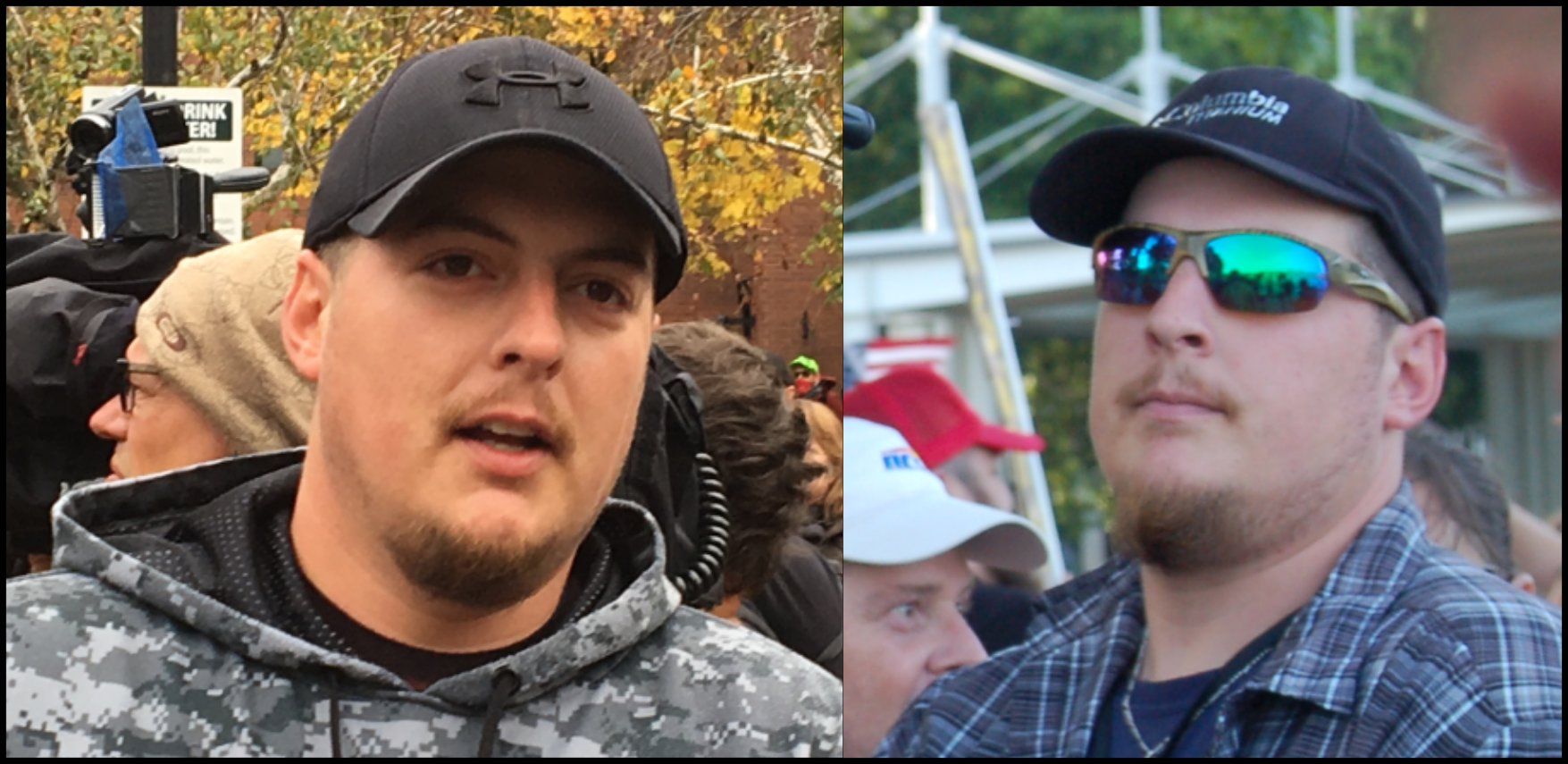 Rose City Antifa has previously reported on Robert Zerfing's far-right youtube venture, CSC Media. Since then, Zerfing has become an official member of the Proud Boys hate group. Zerfing's past as a deadbeat dad and an alleged domestic abuser fit right in with the Proud Boys brand of smug and violent misogyny. In two separate legal proceedings, judges have ruled that Zerfing owed back child support that had not been paid to two different mothers of his children. These two former partners have each accused him of domestic abuse in court filings as well. One of them also claimed that the police were called on him for domestic violence at least once.
In addition to being a violent misogynist, Zerfing's far-right politics could be said to not only be fascist enabling, but fascist sympathizing. Zerfing's "CSC media" project exists as a platform for him to clumsily emulate an Alex Jones style of demagoguery which bears no resemblance to actual journalism, but instead peddles sensational lies which appeal to the resentments of his intended audience. Zerfing has, for example, repeated a vile revisionist history around Heather Heyer's vehicular murder at Charlottesville, propagated dangerous misidentification of mass shooters, and pushed countless believable-only-to-people-desperate-to-believe-it "ANTIFA" hoaxes such as the "November 4 Antifa Super Soldier Civil War".
Zerfing also runs the Washington State Patriot Response Facebook page, which celebrates political murders carried out by fascist state leaders such as Augusto Pinochet and Rodrigo Duterte, as well as violence and murder carried out by right-wing paramilitary death squads. When it comes to Patriot Prayer's well-documented practice of facilitating fascist and neo-Nazi organizing, Zerfing's first rhetorical strategy is to merely deny that it exists. But when pressed further, he actually expresses an affinity with Nazis that extends into fantasizing about forming a crew of Proud Boys to protect Hitler himself against those who opposed his genocidal programs. A perusal through Rose City Antifa's articles from the past year will reveal numerous instances of Robert Zerfing rallying with neo-nazis.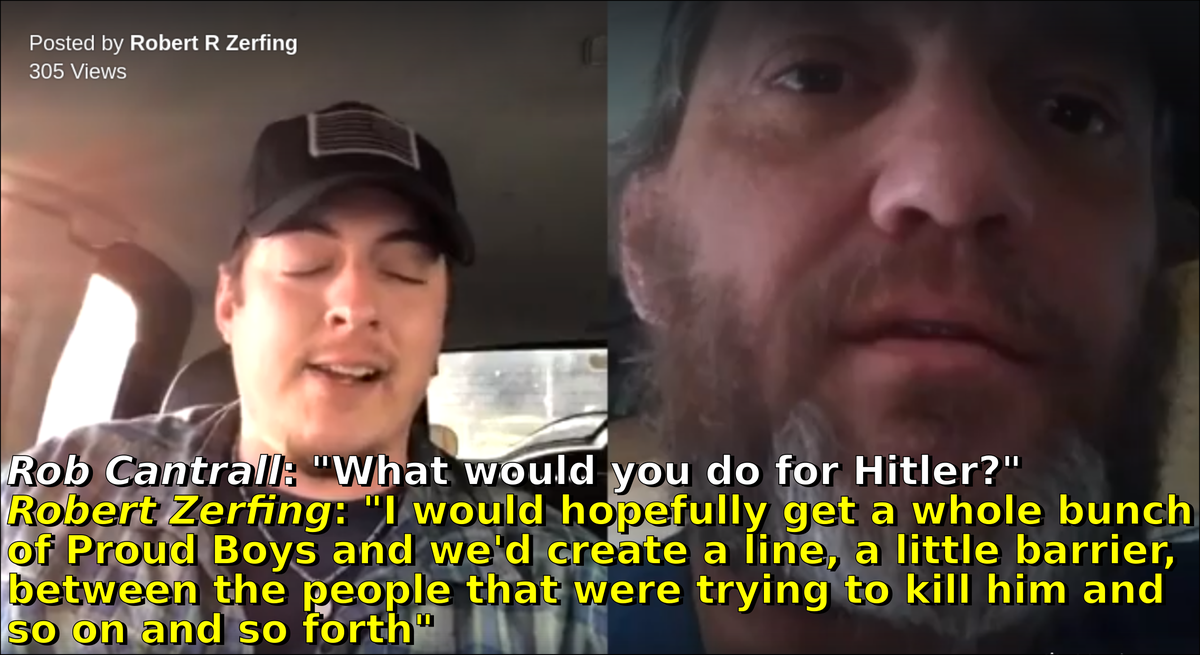 Proud Boy Robert Zerfing fantasizes about defending Hitler.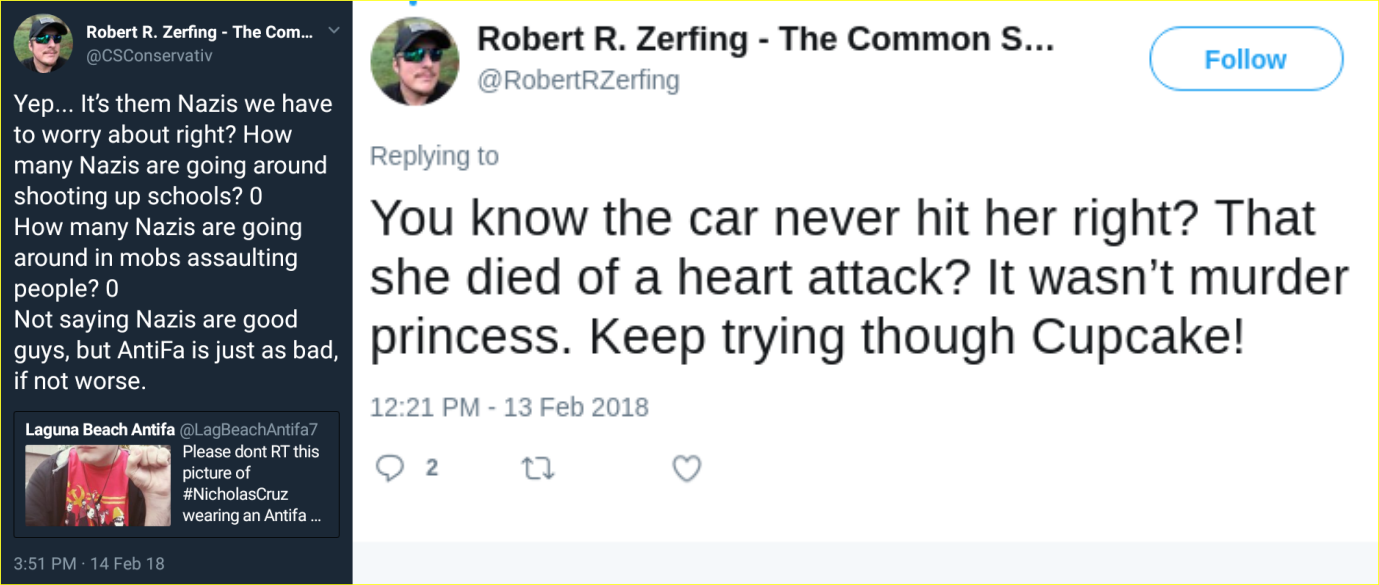 (Left) Proud Boy Robert Zerfing credulously circulates a misidentification by an obviously fake antifa twitter account about Nikolas Cruz's murderous rampage in which he carved swastikas on the ammunition magazines, (Right) Zerfing asserts the debunked conspiracy myth that Heather Heyer was not murdered at Charlottesville.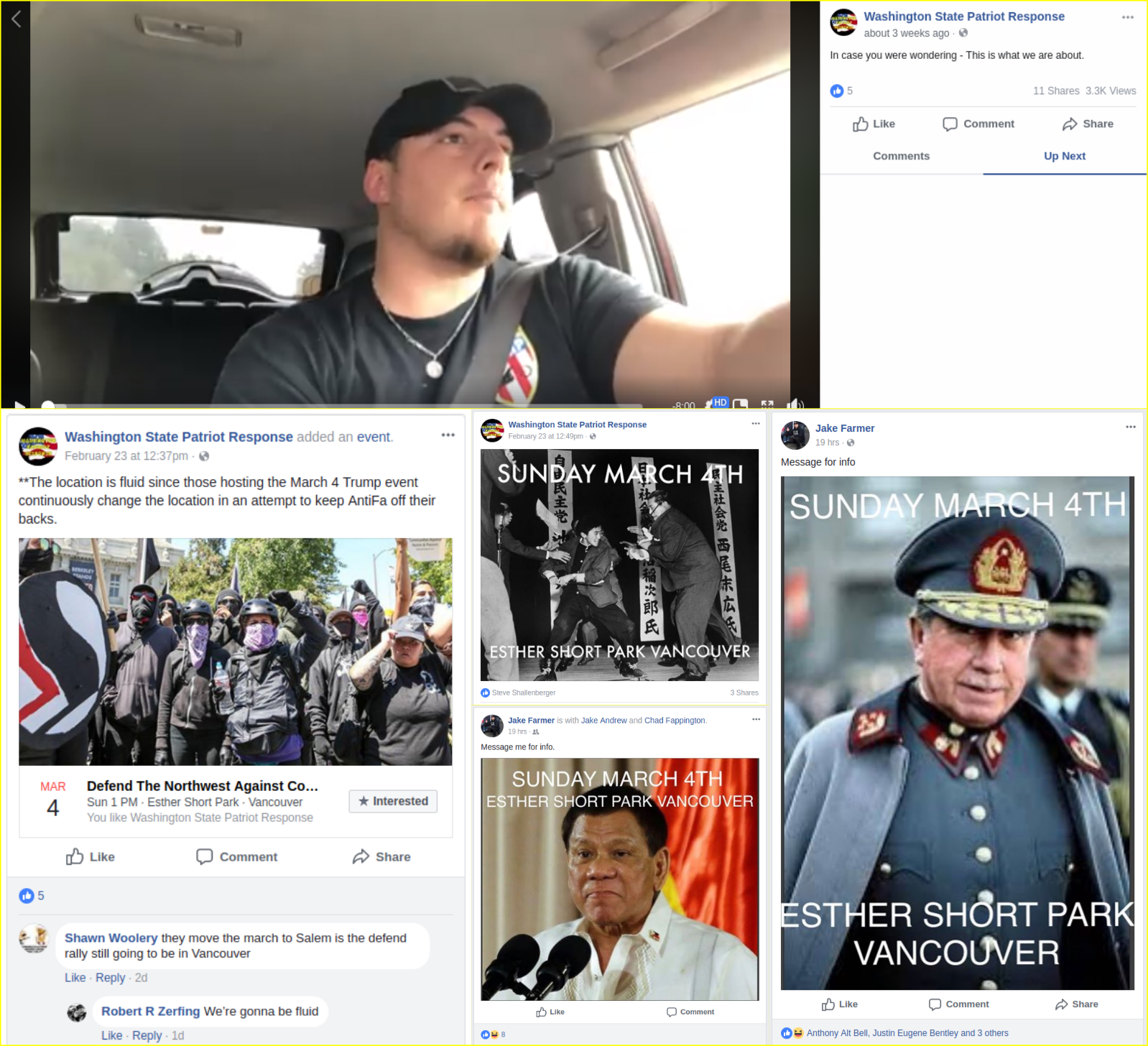 Robert Zerfing celebrates murders carried out by state and non-state right wing death squads in the propaganda for his fascist Washington State Patriot Response Facebook page.


A redacted excerpt from a court filing by one of Robert Zerfing's former partners reveals him to be a domestic abuser who hit, pushed, and kicked her.
Current Details:
Name: Robert Raymond Zerfing
aka: Haywood; CSC Media; The Common Sense Conservative
DOB: January 26, 1984
Description: 6'4" 250 lbs
Vehicle: maroon Toyota FJ Cruiser, white University of Oregon sticker on the back window just above the spare tire.
Address: 1236 S Pekin Rd Woodland, WA 98674 (Zerfing apparently lives with his parents)
Phone: (360) 921-5253
Facebook: https://www.facebook.com/HaywoodRZ
Facebook: https://www.facebook.com/profile.php?id=100007398047986
Facebook: https://www.facebook.com/CSCMediaGroupUS/
Facebook: https://www.facebook.com/CSCHaywood
Twitter: https://twitter.com/RobertRZerfing
Twitter: https://twitter.com/csconservativ
Website: http://www.cscmediagroupus.com/

Travis Wayne Nugent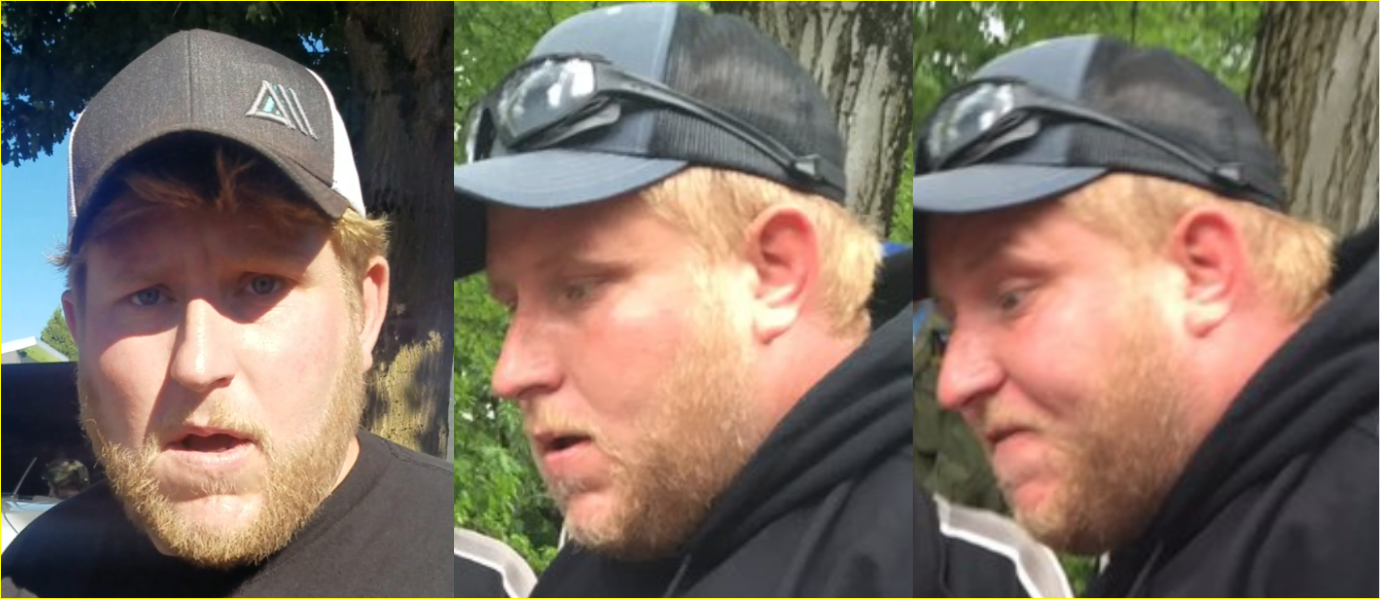 Travis Nugent has rapidly become one of the most visible Proud Boys currently acting at the beck and call of Joey Gibson. Large and insecure, he most often resorts to bellowing at close range and aggresively invading the personal space of activists. Dozens of videos can be found of Nugent blustering his stale-chaw breath in the faces of people half his size. On rare occasions (after it is clear that someone has been cornered, thoroughly outnumbered, and weakened by punches from other people) Nugent will also jump in and start attempting to throw punches himself. He has also been spotted jumping in alongside lines of riot cops as they strike anti-fascist protesters with batons. Nugent attempts to join in their shoving, so he can pretend that he is police too.
Nugent's other claim to fame is driving the Proud Boy bus, which is parked on his property.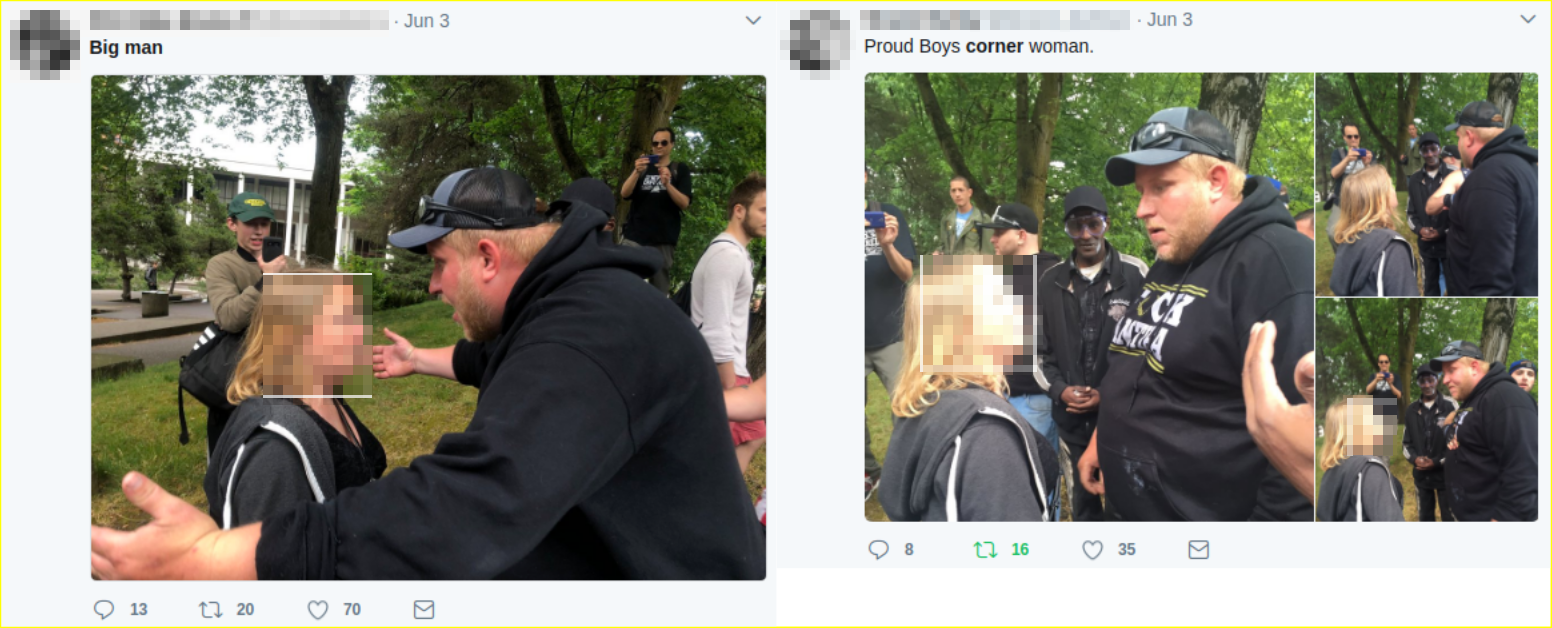 Two separate twitter users notice and capture photographs of Proud Boy Travis Nugent bellowing in the face of a woman half his size at Patriot Prayer's extremely violent June 3, 2018 rally. This is normal Travis Nugent behavior, and is encouraged by the Proud Boys.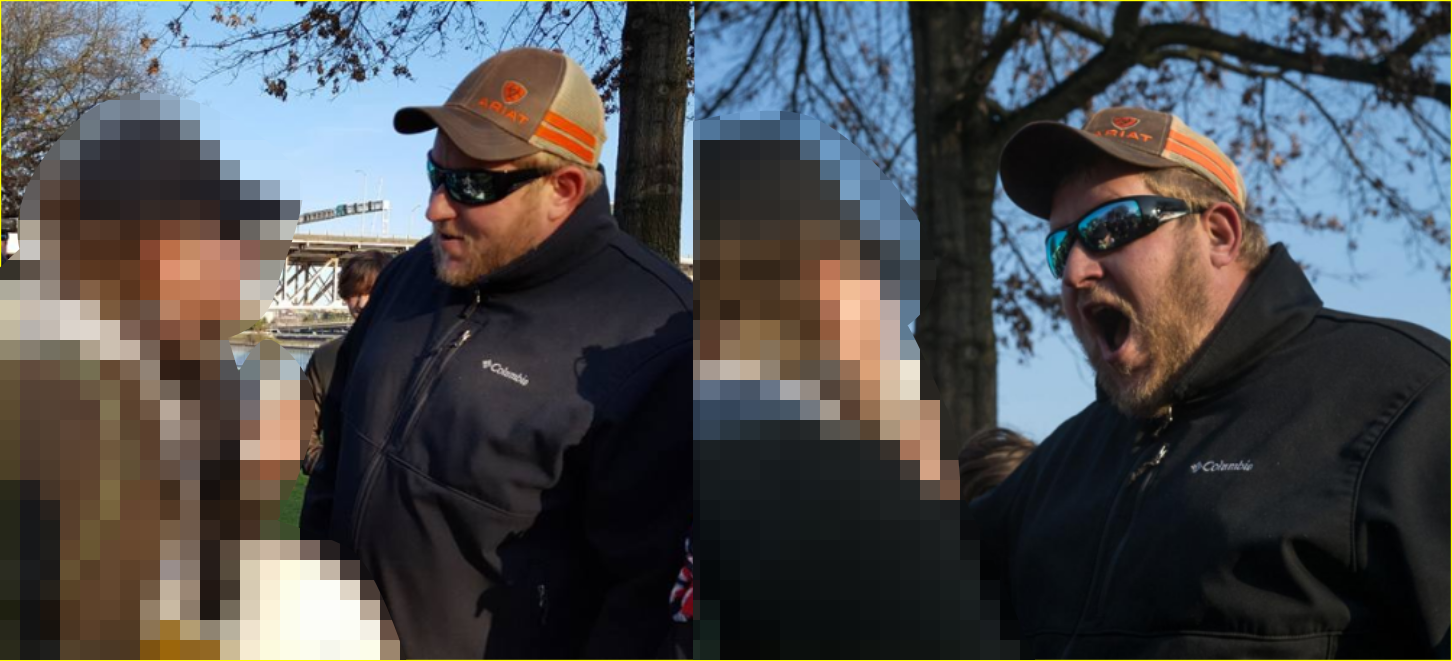 Travis Nugent gets extremely close to a counter protester against Joey Gibson's anti-immigrant hate rally and screams in their face, as usual.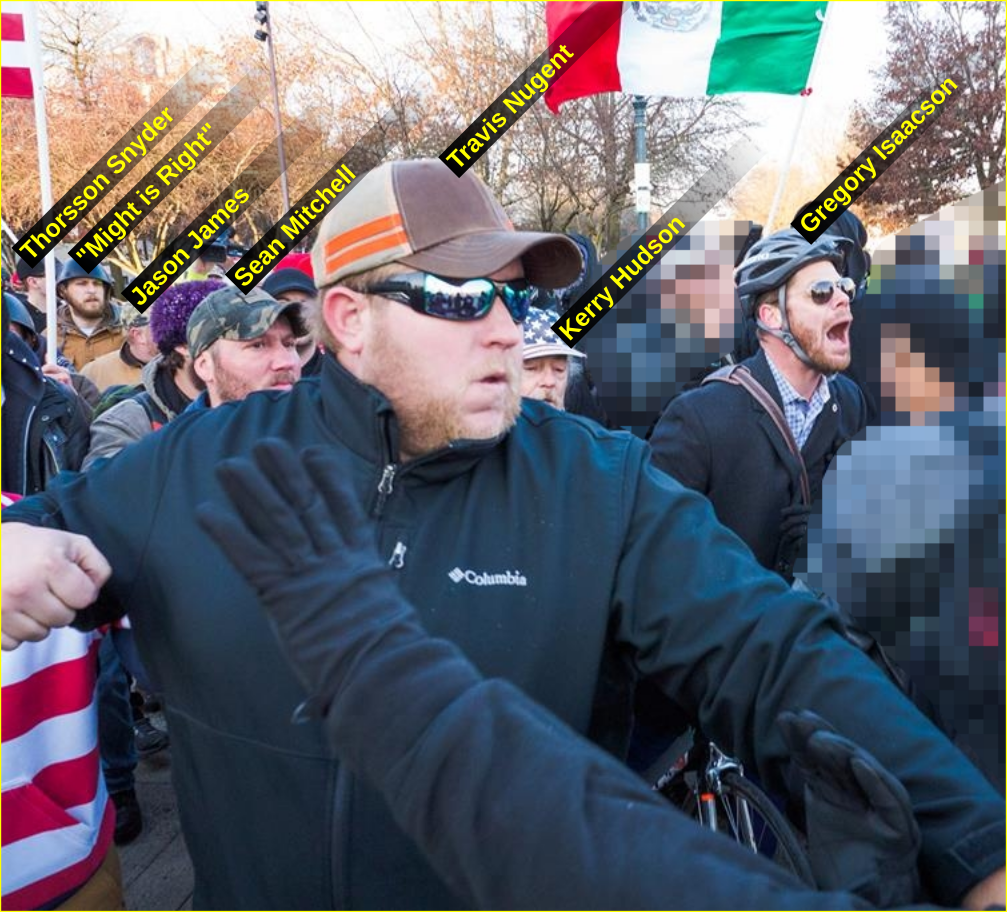 Travis Nugent in the act of punching someone at Joey Gibson's anti-immigrant hate rally. As you can see, Nugent and other Proud Boys are marching in a crowd that includes neo-Nazi Thorsson Snyder, PDX Stormers member "Might is Right," Proud Boys Jason James and Sean Mitchell, violent far-right youtuber Kerry Hudson, and holocaust denier Greg Isaacson.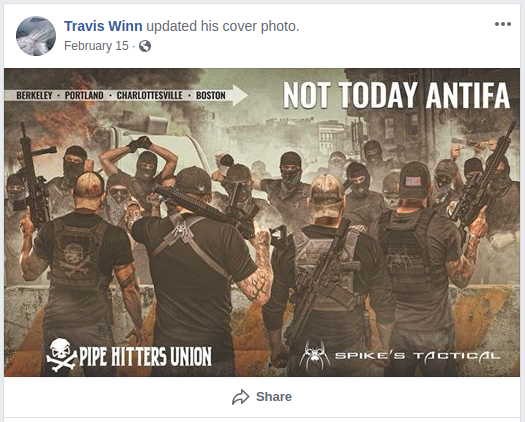 Travis Nugent shares an advertisement by a reactionary gun company which celebrates the murderous Nazi violence that took place in Charlottesville.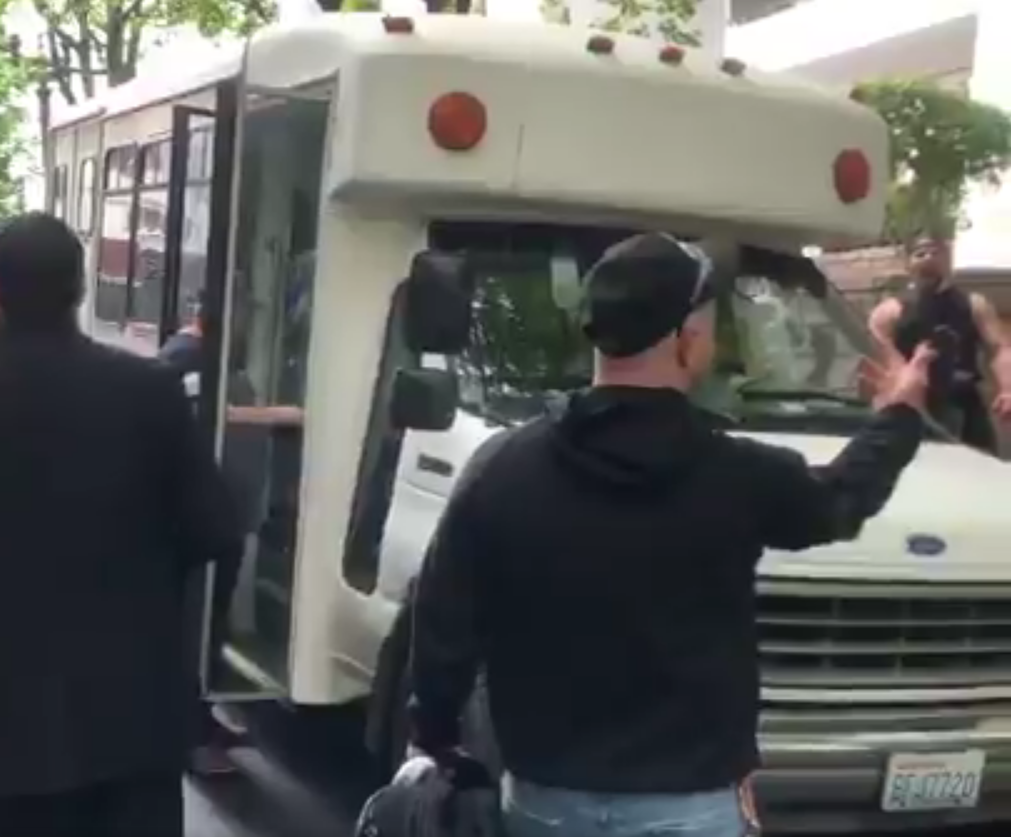 Proud Boys board their bus on June 3, 2018.
Current Details:
Name: Travis Wayne Nugent
aka: Travis Winn
DOB: April 14, 1985
Address: 17006 NE 72nd Ave, Vancouver 98686
Vehicle: White Ford Bus, WA BFJ7720
Job: All Phaze Renovations, 17006 NE 72nd Ave, Sole Proprietor, Vancouver, WA UBI #: 603-468-897
Vehicle: Facebook: https://www.facebook.com/travis.nugent.37
Youtube: https://www.youtube.com/channel/UCoPseDKnPgFOE-eaqWbtSaQ

Ethan Michael Nordean

Ethan Nordean likely has the highest vanity-muscles-to-meaningful-accomplishments ratio among members in the Pacific Northwest chapter of the Proud Boys hate group. Perhaps uncoincidentally, Nordean co-owns a protein supplement company, although this company largely serves to distribute photo-shopped glamor selfies of Nordean coupled with trite motivational meme-messaging.
Nordean first began appearing at Patriot Prayer rallies in June of 2017 under the moniker "Rufio Panman," a reference to a character in Steven Spielberg's Peter Pan film Hook. The name of his supplement company, Bangarang Elite Supplements LLC, is also a reference to that film. All speculation about "Peter Pan complexes" aside, we do know for a fact that Nordean has repeatedly attacked activists who show up to oppose fascist activity at Joey Gibson's Patriot Prayer rallies.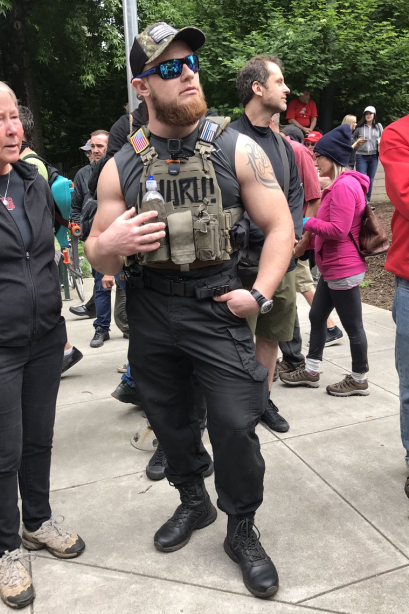 Ethan Nordean showed up to Joey Gibson's June 4, 2017 hate rally dressed in bizarre militia LARP gear. Note that he has arranged the velcro on his plate carrier to spell the word "UHURU"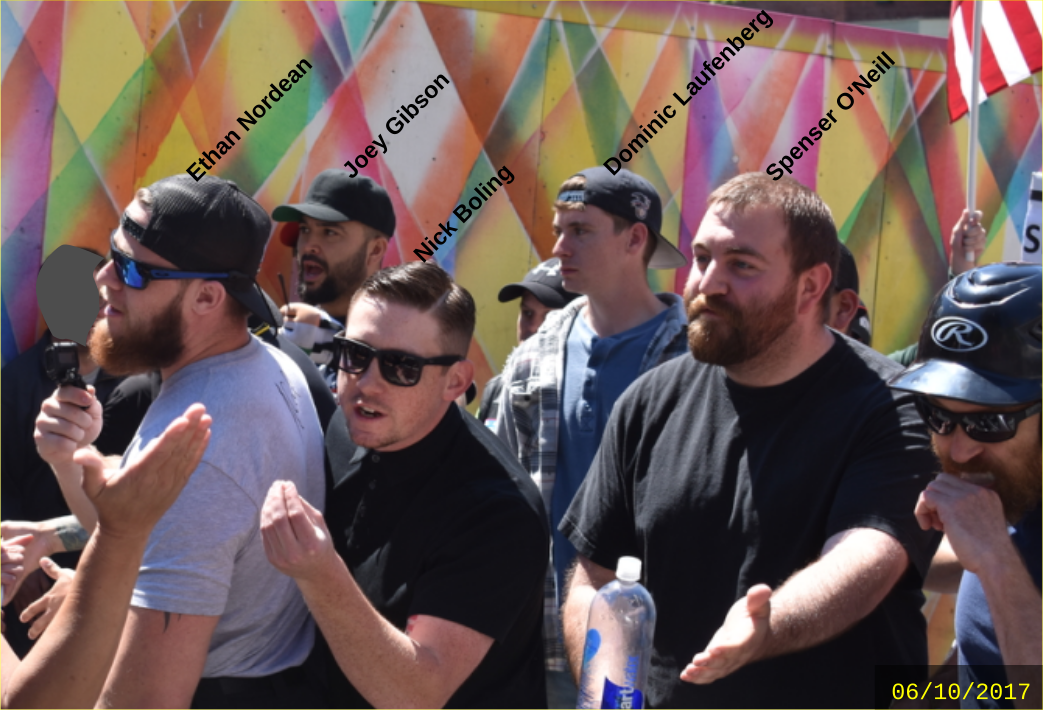 Ethan Nordean marches at an Islamophobic hate rally in Seattle, WA on June 10, 2017. The rally was put on by hate group ACT for America and co-sponsored by Joey Gibson's Patriot Prayer group. He is seen here marching with Patriot Prayer founder Joey Gibson, as well as with fellow Proud Boys Nick Boling, Dominic Laufenberg, and Spenser O'Neill.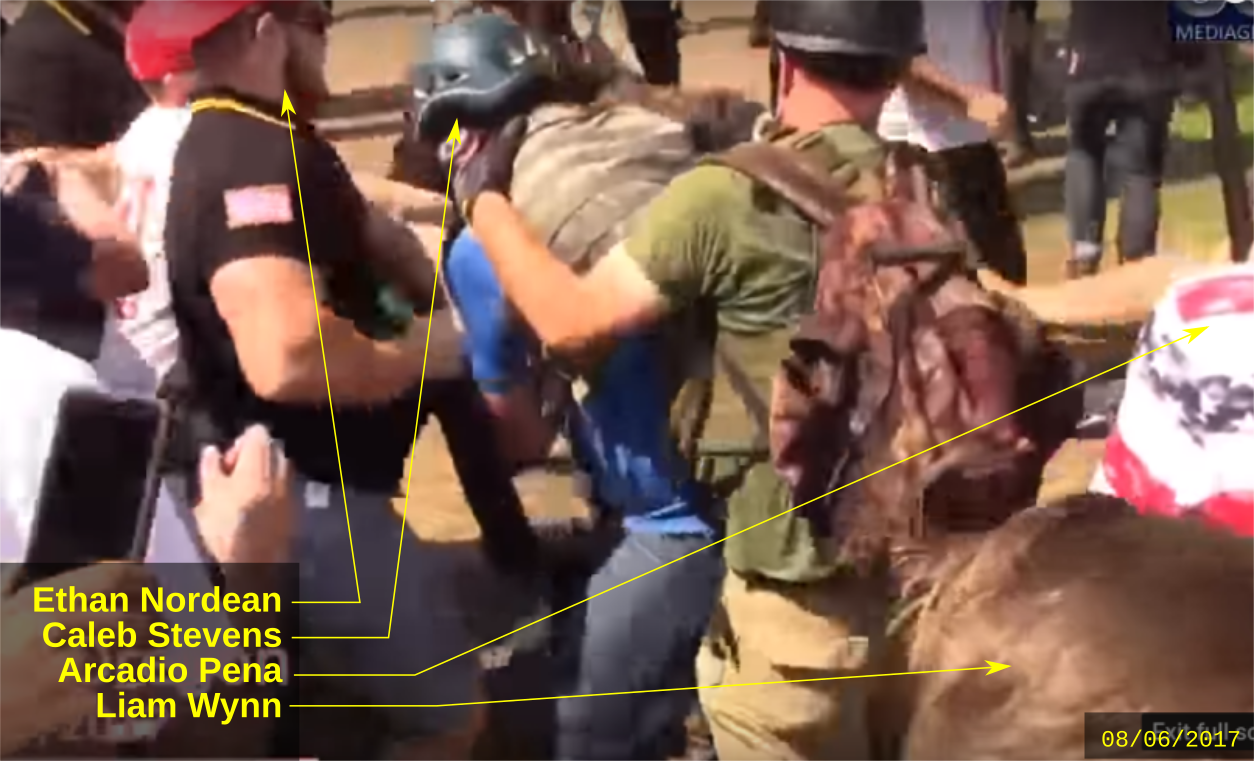 Ethan Nordean attacks a protester at Joey Gibson's August 6, 2017 waterfront rally. Note that Proud Boy Nordean is fighting alongside hate preacher Arcadio Pena, Identity Europa fascist Liam Wynn, and fellow Proud Boy Caleb Stevens.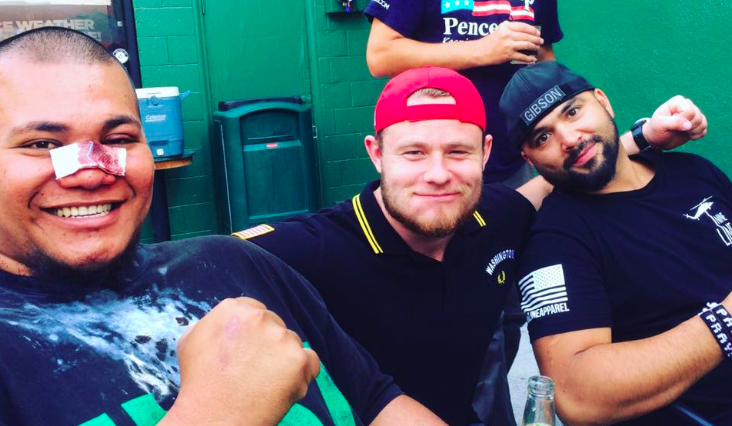 Ethan Nordean poses with Patriot Prayer founder Joey Gibson and Tusitala "Tiny" Toese after Joey Gibson's fascist-filled August 6, 2017 march on the Portland waterfront. Toese's nose had been smashed earlier in the day when Patriot Prayer member Mark Riche mistook him for an anti-fascist activist and beat his face with an axe handle.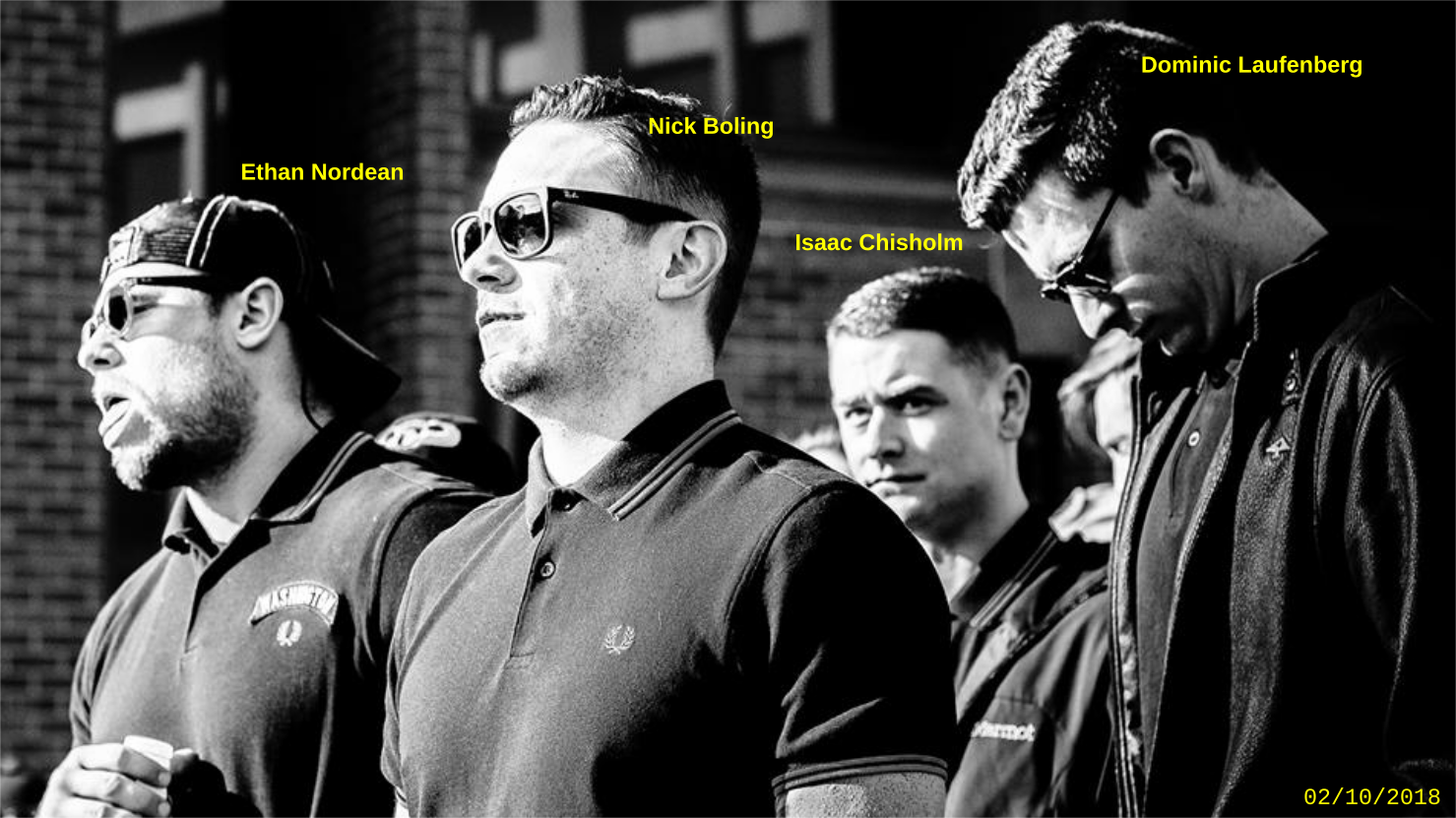 Ethan Nordean is pictured at Patriot Prayer's Feb 2, 2018 rally on the UW campus in Seattle, WA with fellow Proud Boys Nick Boling, Isaac Chisholm, and Dominic Laufenberg.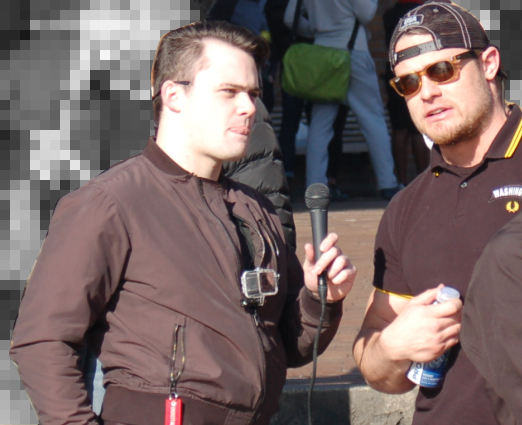 Ethan Nordean being interviewed by anti-semitic Identity Europa fascist and Charlottesville-attendee James Allsup at Patriot Prayer's Feb 2, 2018 rally in Seattle, WA.
Current Details:
Name: Ethan Michael Nordean
aka: Rufio Panman
DOB: June 8, 1990
Business Address: 31930 169th Ave SE, Auburn, WA 98092
Vehicle: Tan Ford F150, WA B87194U
Employment: Bangarang Elite Supplements LLC Registered: 10/17/2017 Governors: Ethan Nordean and Trevor Davidson Address: 31930 169th Ave SE, Auburn, WA
Facebook: https://www.facebook.com/ethan.nordean.7
Facebook: https://www.facebook.com/rufio.panman
Instagram: https://www.instagram.com/ethannordean/

Caleb Jordan Stevens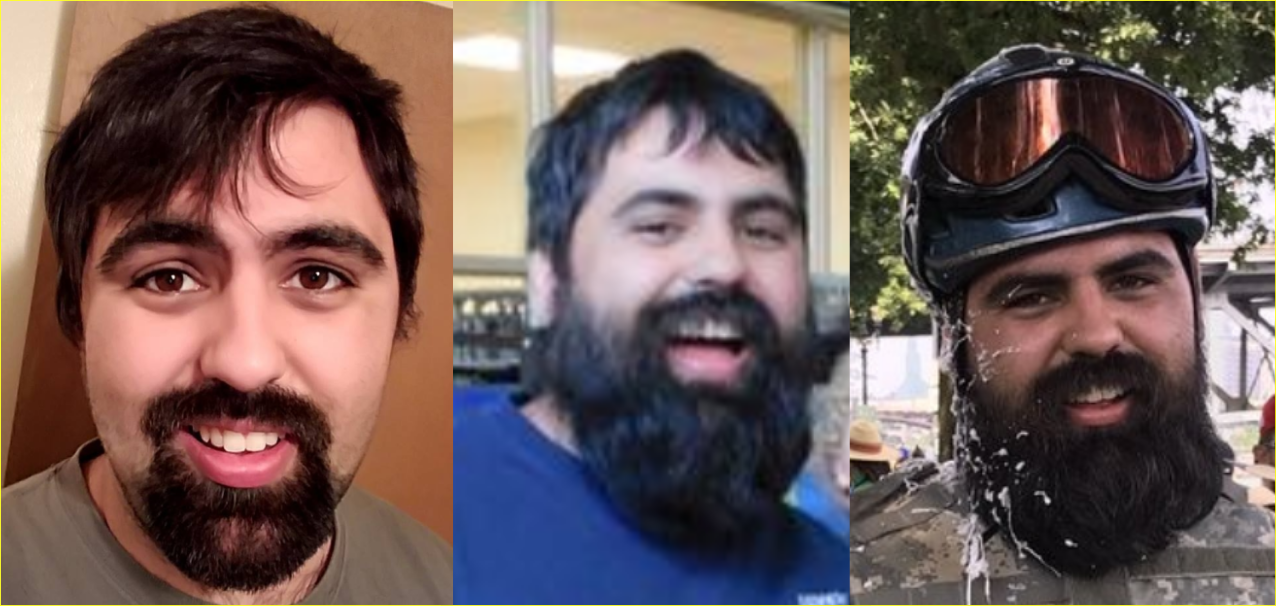 Caleb Stevens likes to pretend that he is a "peace keeper" while fighting on the side of fascists. Stevens typically likes to wear an undertaker-ish suit coupled with a brightly colored American-flag-themed power tie, but occasionally also puts on a too-small plate-carrier and dresses in the style of the "militia" LARPers who have become common at Joey Gibson's far-right Patriot Prayer events. Caleb Stevens works at Siemens Building Technologies.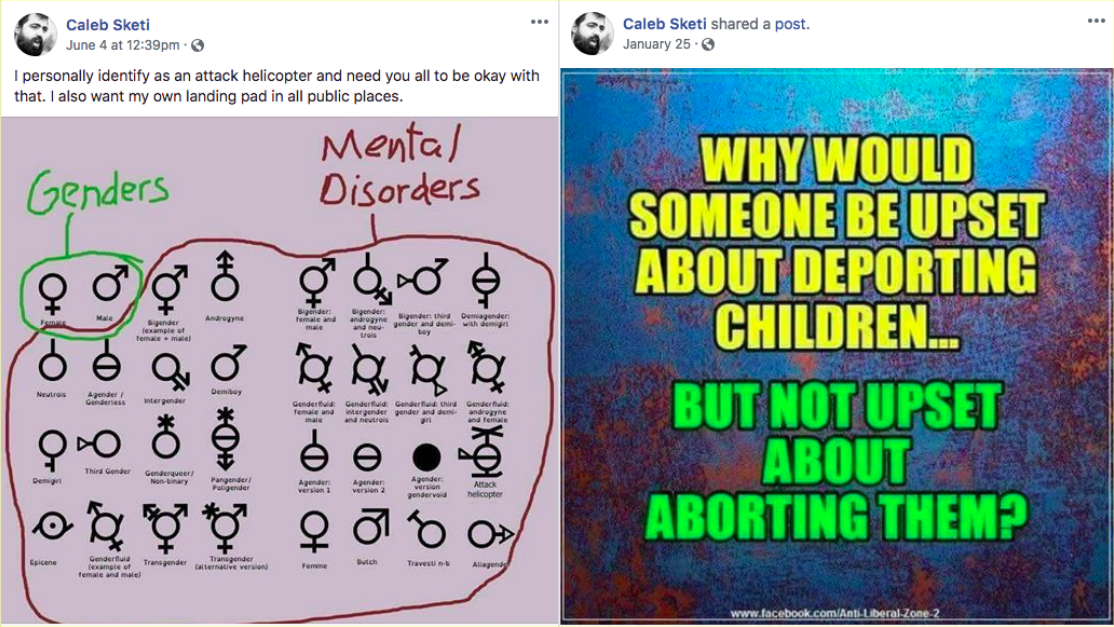 Caleb Stevens expresses the clichéd transphobia typical of the Proud Boy organization, as well as the misogynist desire to restrict women's reproductive autonomy.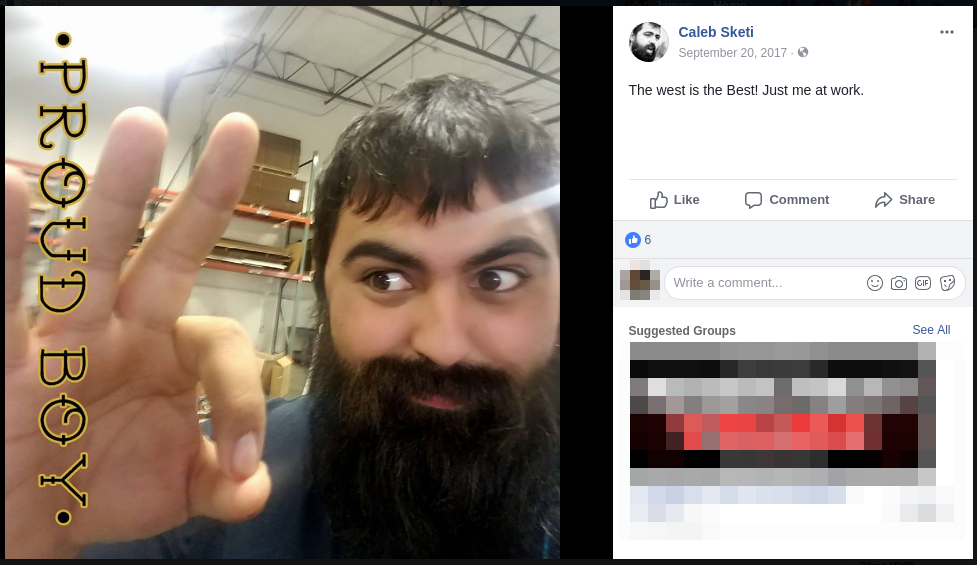 Caleb Stevens posts the Proud Boys' white nationalist dog-whistle.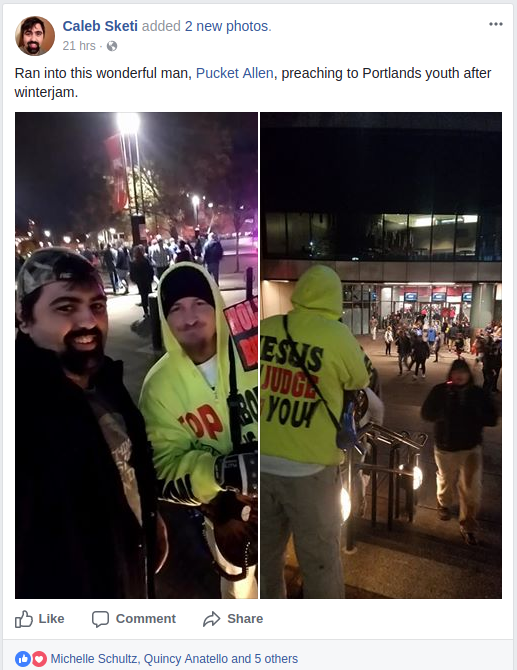 Proud Boy Caleb Stevens poses for a selfie with violent White Nationalist hate preacher Allen Pucket as Pucket hurls racist, homophobic, and misogynist abuse at youth attending a Christian music festival.


Proud Boy Caleb Stevens participates in Joey Gibson's December 9, 2017 anti-immigrant hate rally. He is seen here marching with fascists Matt Duffy, Identity Europa affiliate Liam Wynn, violent Patriot Prayer follower David Machado, far-right youtuber Deme Cooper, and PDX Stormers neo-nazi Alexander Becker.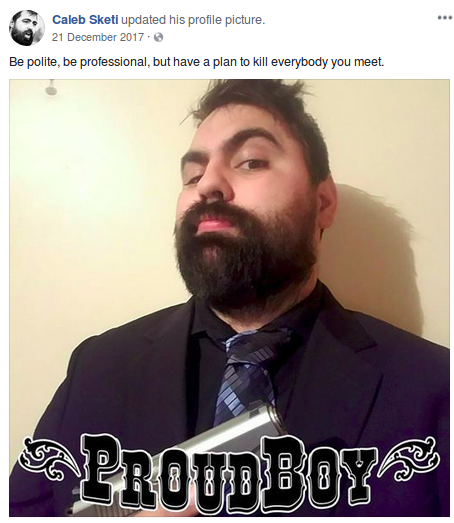 Caleb Stevens threatens violence on his Facebook page.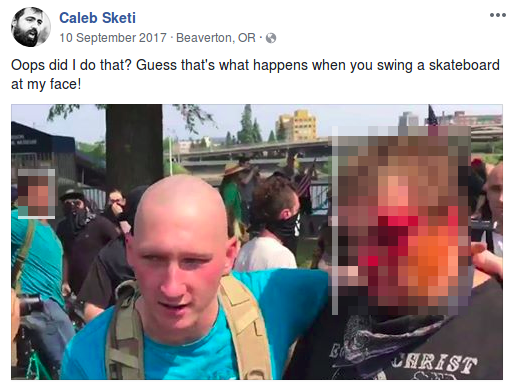 Caleb Stevens celebrates having beaten a protester at the Portland waterfront on September 10, 2017.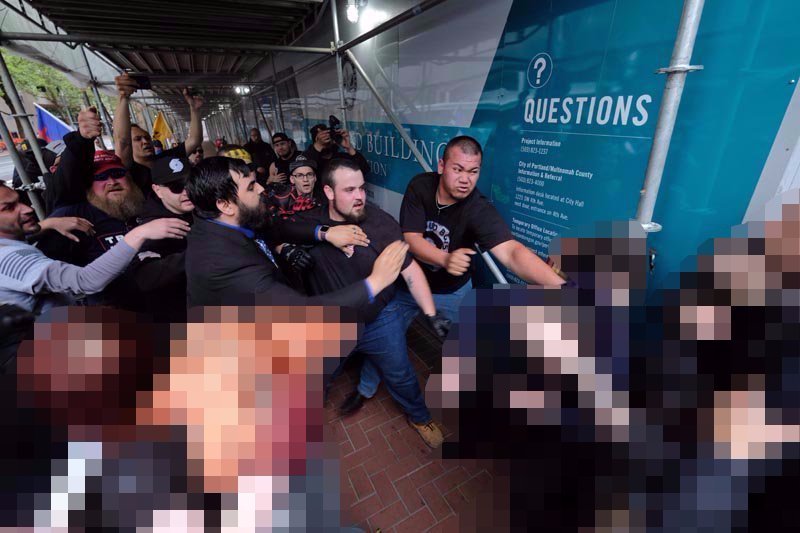 On June 3, 2018, Caleb Stevens, Tusitala "Tiny" Toese, and Donovon Flippo assault anti-fascist activists.
Current Details
Name: Caleb Jordan Stevens
aka: Caleb Sketi
Description: 6'2" 250 lbs.
DOB: March 7, 1990
Address: 3225 Sw 187th Ave Beaverton, OR 97003
Vehicle: Mid-90s Tan/dun Jeep Grand Cherokee. OR SWT603 Bottom left of the rear window has a decal of a black State of Oregon silhouette, with the snake from the Gadsden flag in white in it. On the bottom right is a black "baby on board" decal.
Employment: Siemens Industry Inc 23582 NW Clara Ln, Hillsboro, OR (503) 530-8978; sometimes at Siemens Building Technologies 15201 NW Greenbrier Pkwy, Beaverton, OR (503) 234-9995
Social Media: https://www.facebook.com/caleb.sketi

Proud Boys Are Not Welcome
The communities of the Northwest will not tolerate violent white supremacists like the Proud Boys on our streets. Over the next few weeks Rose City Antifa will be releasing information on many of the Proud Boys in Oregon and Washington, so that locals can stay safe from these violent bigots. The first installment will come tomorrow. You can follow along on our website and on Twitter, using the hashtag #DoxxAllYourBoys.
Rose City Antifa will continue to defend our city and our communities against any incursion by racists and fascists. If you have information about Proud Boy or other white supremacist organizing, please email us at [email protected]