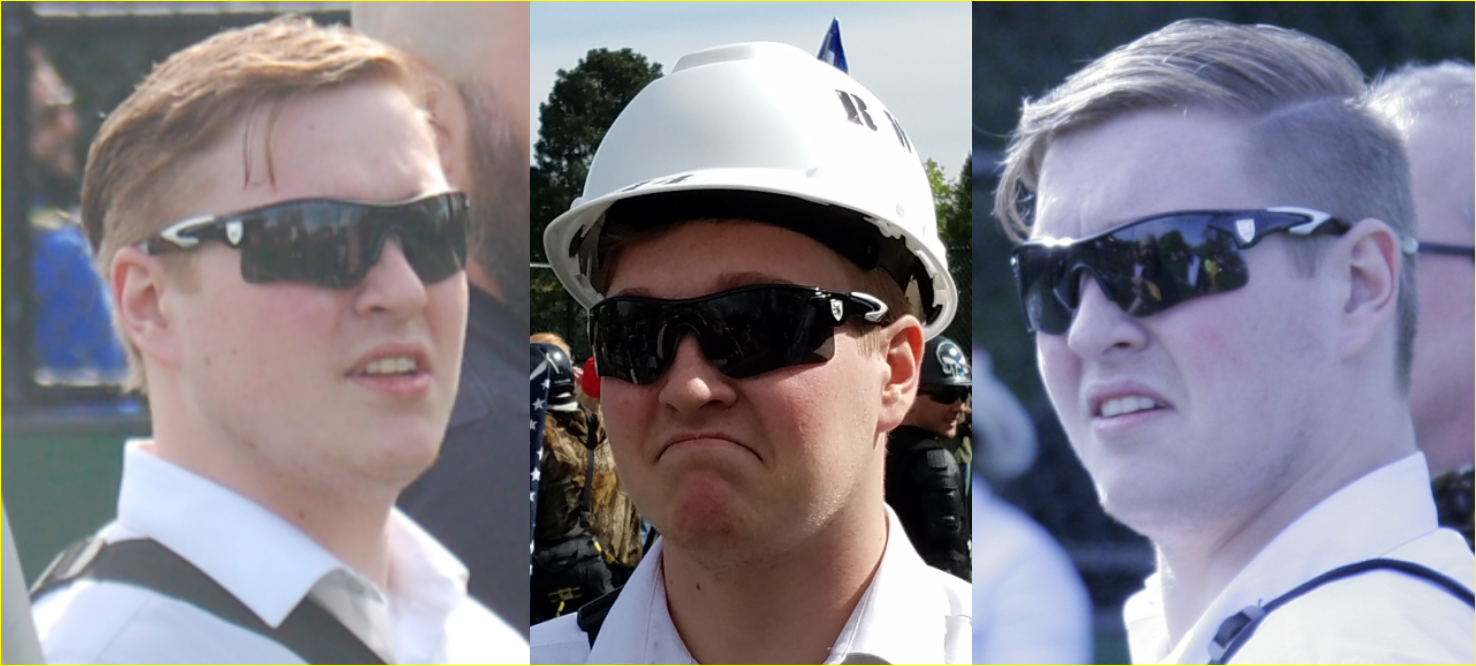 Matthew Blais and Bogdan Gerasimyuk, two neo-Nazis associated with the Portland Daily Stormer Book Club, are employed by Securitas in Vancouver, WA as private security guards. These individuals have a long history of posting racism, anti-Semitism, and threats of genocidal violence online, and have taken part in organized campaigns of racial intimidation in local Portland and Vancouver neighborhoods, and on college campuses. Having these two fascists licensed and employed as private security in our community is unacceptable. We call upon the community to call Securitas' office in Vancouver and inform them of this fact, as well as make an official complaint to the Washington State Department of Licensing.
Matthew Paul Blais - WA License # 115143
Bogdan Alexandervich Gerasimyuk - WA License # 112699
Washington State Department of Licensing Complaint Form
Securitas Vancouver Office: 7700 NE Parkway Drive Vancouver WA 98662, 360-604-5556

Rose City Antifa is exposing the identities of three neo-Nazis who are part of the local Daily Stormer Book Club (DSBC), known as the PDX Stormers. Since 2016, the PDX Stormers have harassed and threatened members of our community with anti-Semitic, white nationalist propaganda as members of the internet's largest community of Nazis and white supremacists, organized via the web forums of The Daily Stormer neo-Nazi website. Follow along with us using the hashtags #stormerbreaker and #debaseddoxx.
Articles about the PDX Stormers:
Introduction
Jarl Rockhill
Alexander Becker
Matthew Blais
Bogdan Gerasimyuk (this article)
Michael Dorsey (coming soon)

Today, we identify Vancouver, Washington neo-Nazi Bogdan Gerasimyuk: participant in the Cascadian Coffee Company (CCC) Discord logs (as "cos/sin-WA"), attendee of Patriot Prayer's incessant hate rallies, and member of the PDX Stormers branch of the Daily Stormer Book Club neo-Nazi franchise.
Prior to Gerasimyuk's participation in the CCC logs, he was affiliated with the group of young fascists who coalesced around the "PSU Students For Trump" formation, and was an active neo-Nazi shit-poster on twitter, generally under some variation of the username "chuck schoomer."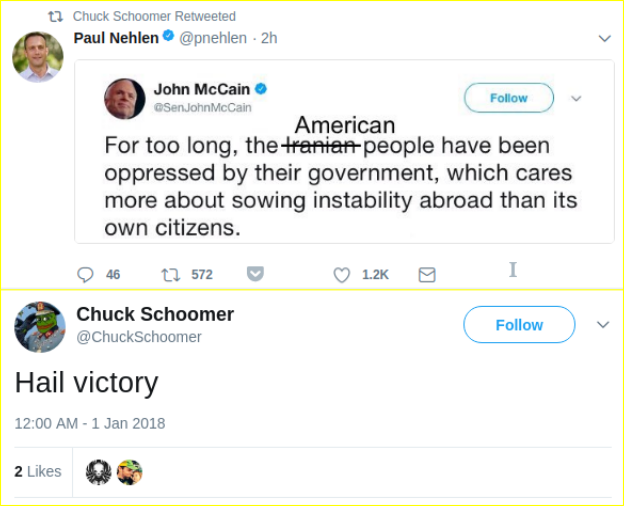 (Top) Gerasimyuk retweets neo-Nazi politician Paul Nehlen, and (Bottom) tweets the english translation of the Nazi salute "Sieg Heil".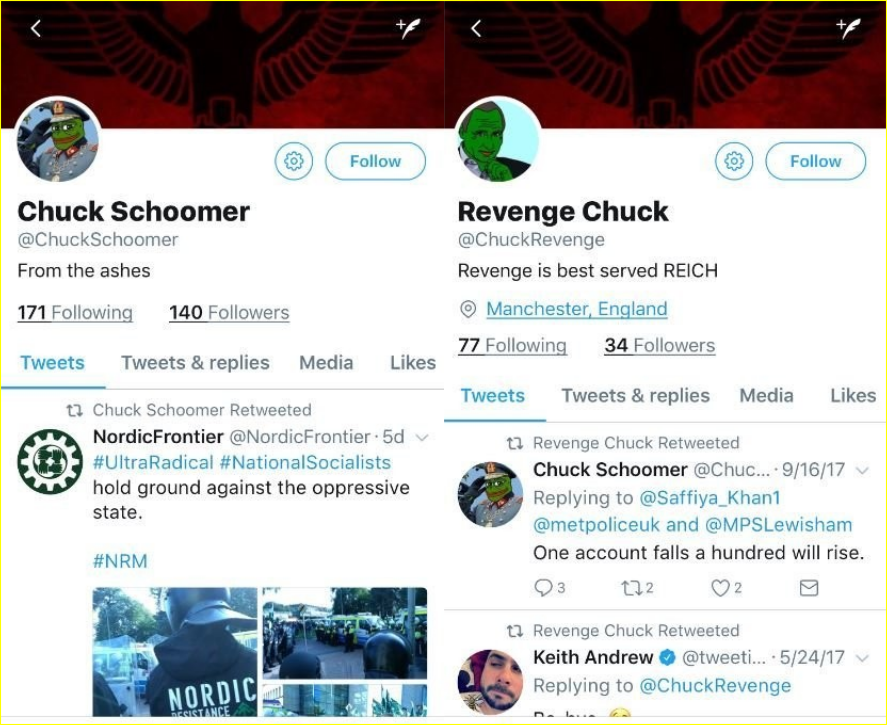 Two of Gerasimyuk's twitter accounts.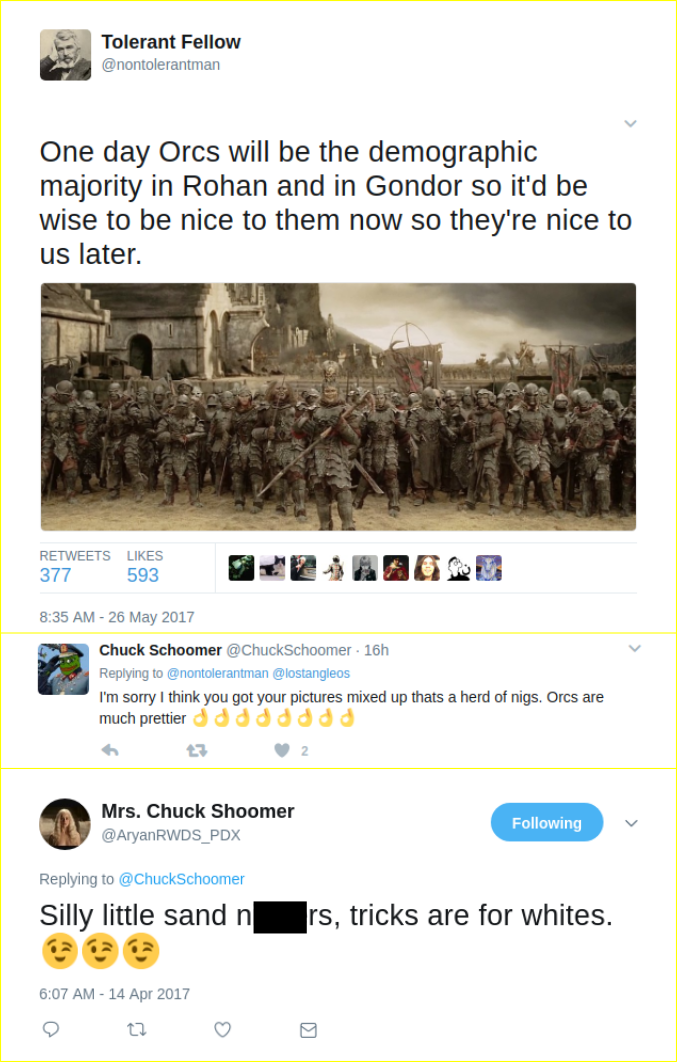 Gerasimyuk engages with a genre of Lord Of the Rings memes which were briefly popular with neo-Nazis on twitter in 2017. (Bottom) "Mrs. Chuck Schoomer" responds to a tweet by Gerasimyuk with horribly racist language.
During the interval covered by the CCC logs, Gerasimyuk appeared to be connected with a racist romantic partner who went by the username "Mrs. Chuck Schoomer" in the CCC logs as well as on a twitter account with the handle "AryanRWDS_PDX". Among fascists, "RWDS" is a common acronym for "Right Wing Death Squad". This user is also referred to as "Molly" in internal chat logs.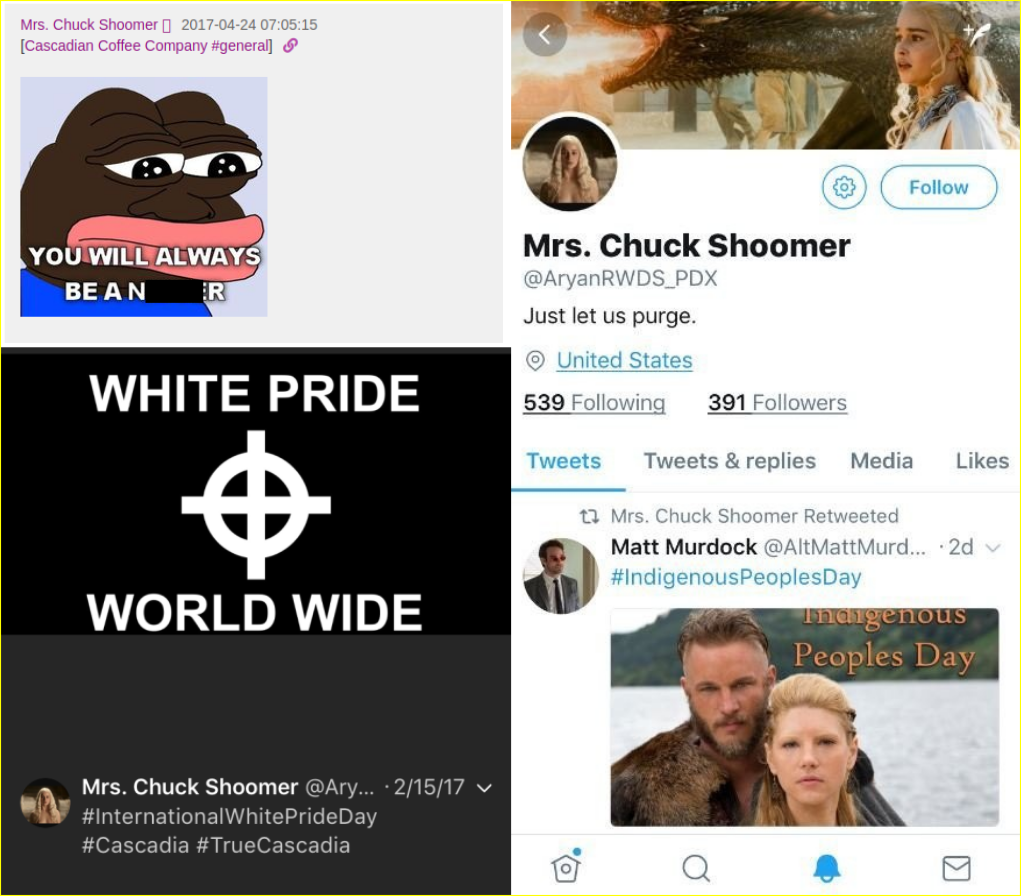 Racist discord and twitter posts by "Mrs. Chuck Schoomer".
We will be laying out Gerasimyuk's participation in certain events around the Pacific Northwest, but readers should keep in mind the high likelihood that he and other members of the PDX Stormers neo-Nazi organization also collaborated in racist propaganda intimidation incidents as detailed in our introductory article.
June 10, 2016
Before the election of Donald Trump, Gerasimyuk participated in actions undertaken by a group calling themselves "PSU Students For Trump" which turned out to be composed almost entirely of young fascists and neo-Nazis.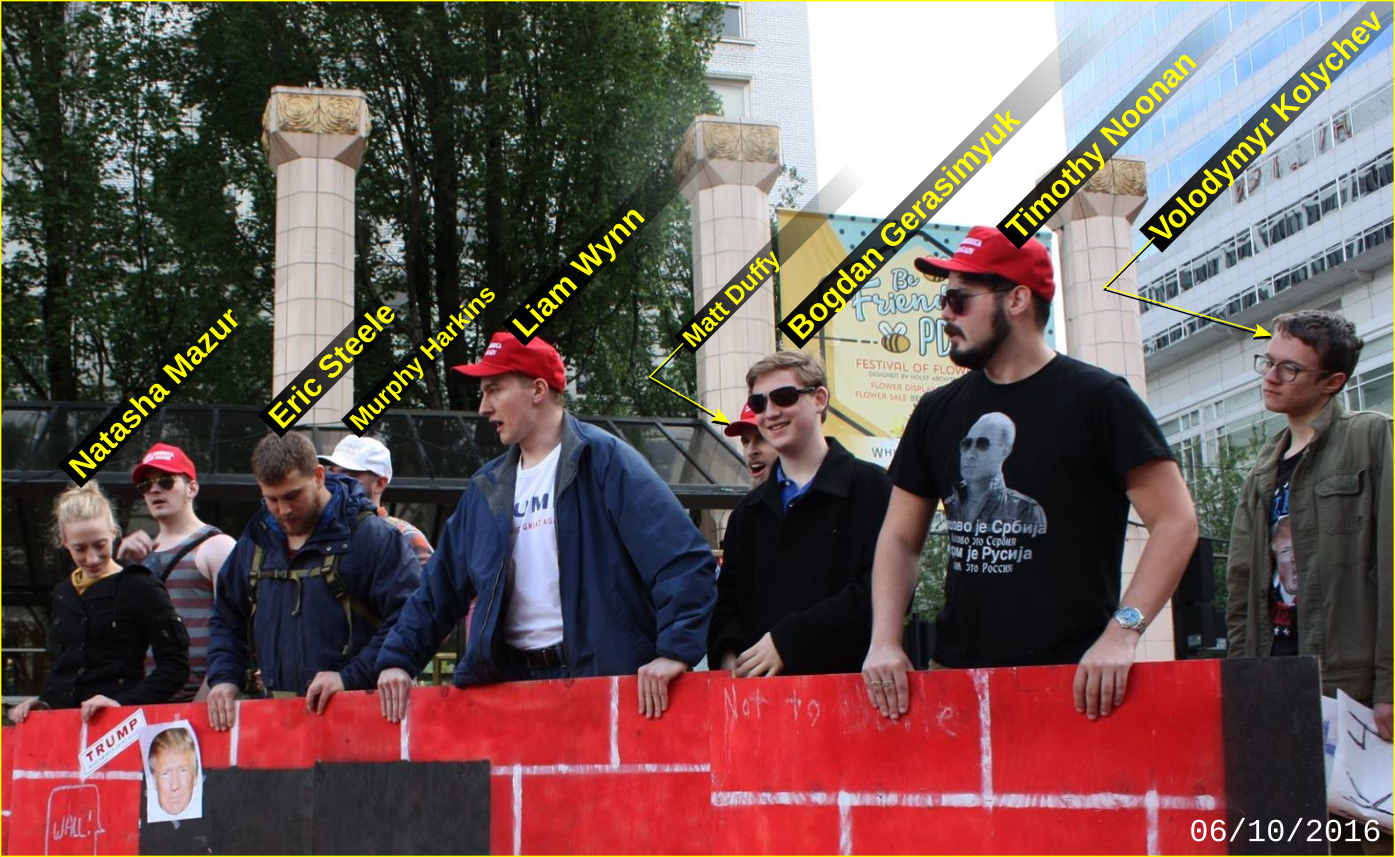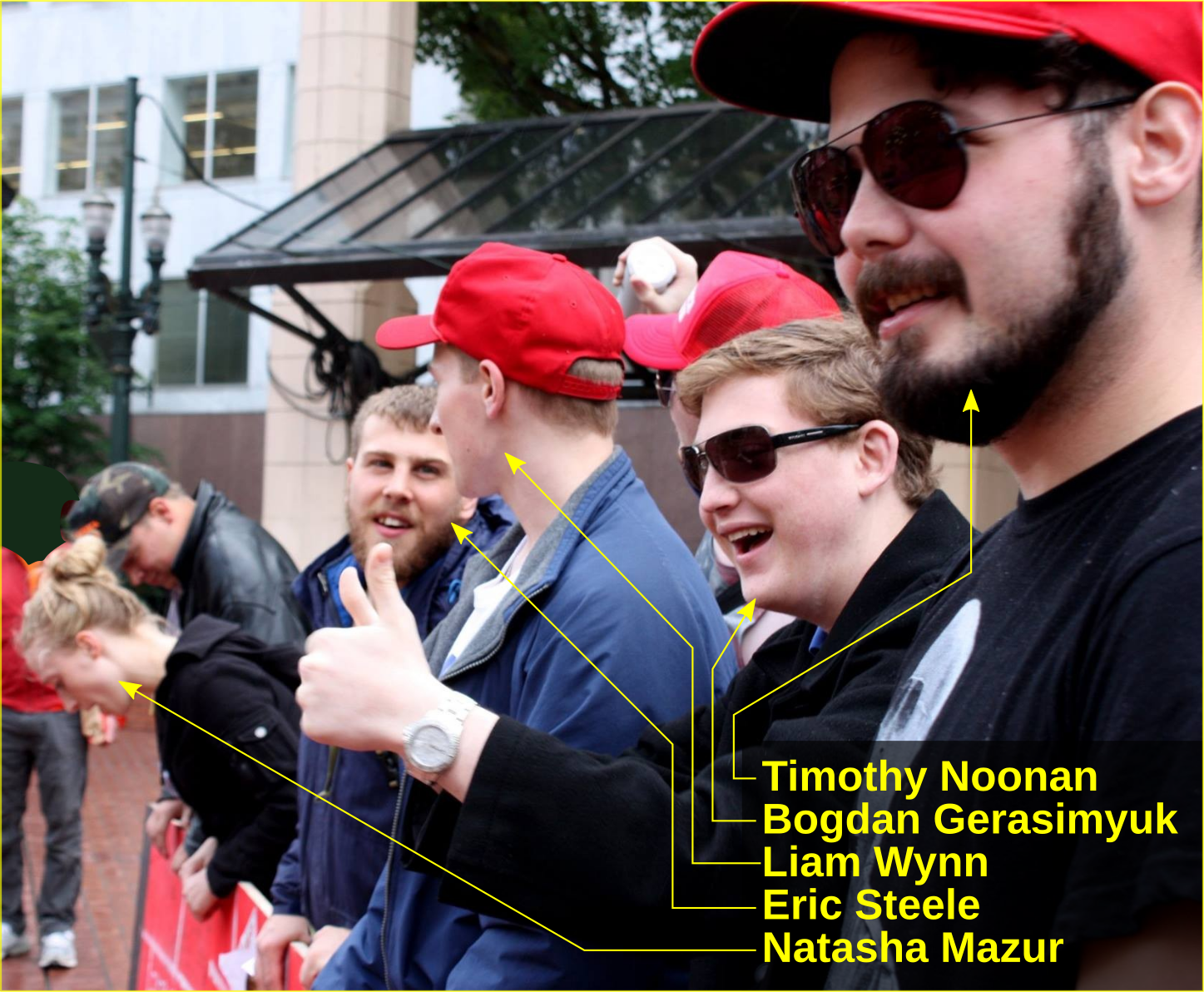 Gerasimyuk participates in a "PSU Students For Trump" demonstration with other young fascists such as Liam Wynn, Timothy Noonan, Volodymyr Kolychev, Matt Duffy, Natasha Mazur, Andrew Murphy Harkins, and Eric Steele.
March 12, 2017
Along with Matt Blais, Bogdan Gerasimyuk also appears to have been present at the altercation in the Lucky Lab which took place in early 2017.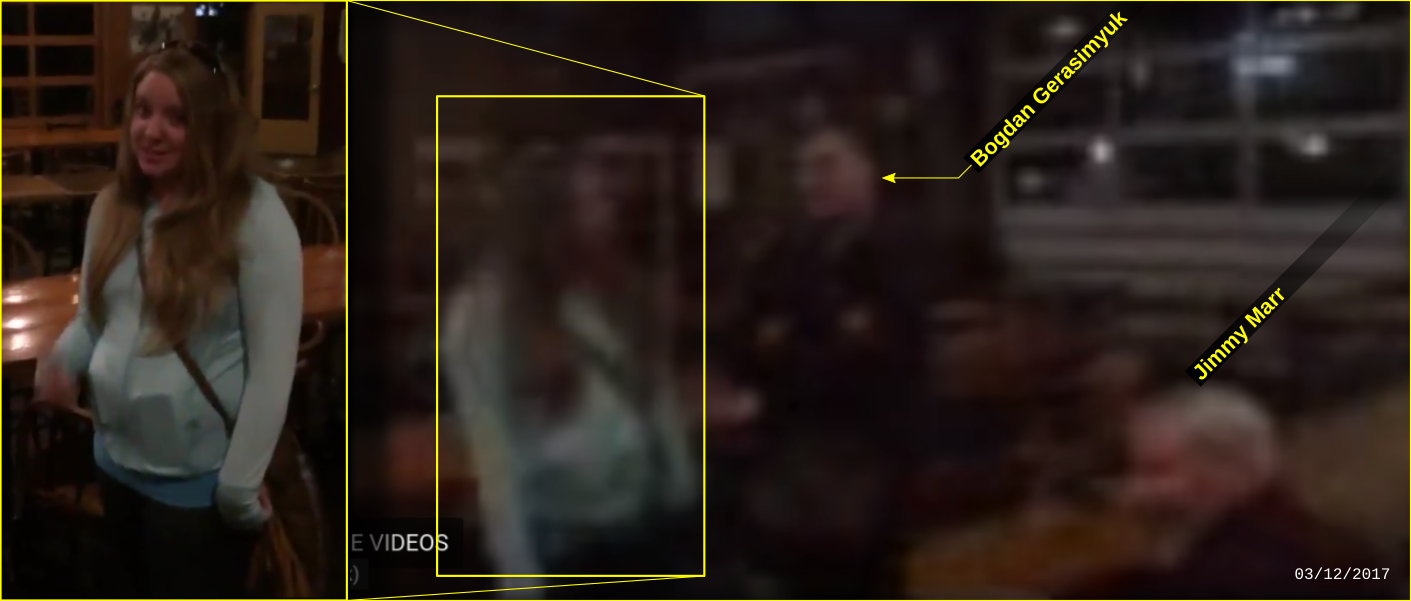 In low-resolution footage from the altercation, Bogdan Gerasimyuk can be seen standing next to another participant (Possibly "Mrs. Chuck Schoomer") during a neo-Nazi meetup at the Lucky Lab in Portland, OR. Springfield, OR Nazi Jimmy Marr can be seen in the foreground.
April 2, 2017
Gerasimyuk and other members of the PDX Stormers attended Joey Gibson's rally in Vancouver, WA as an opportunity to organize, network, and propagandize among Gibson's followers.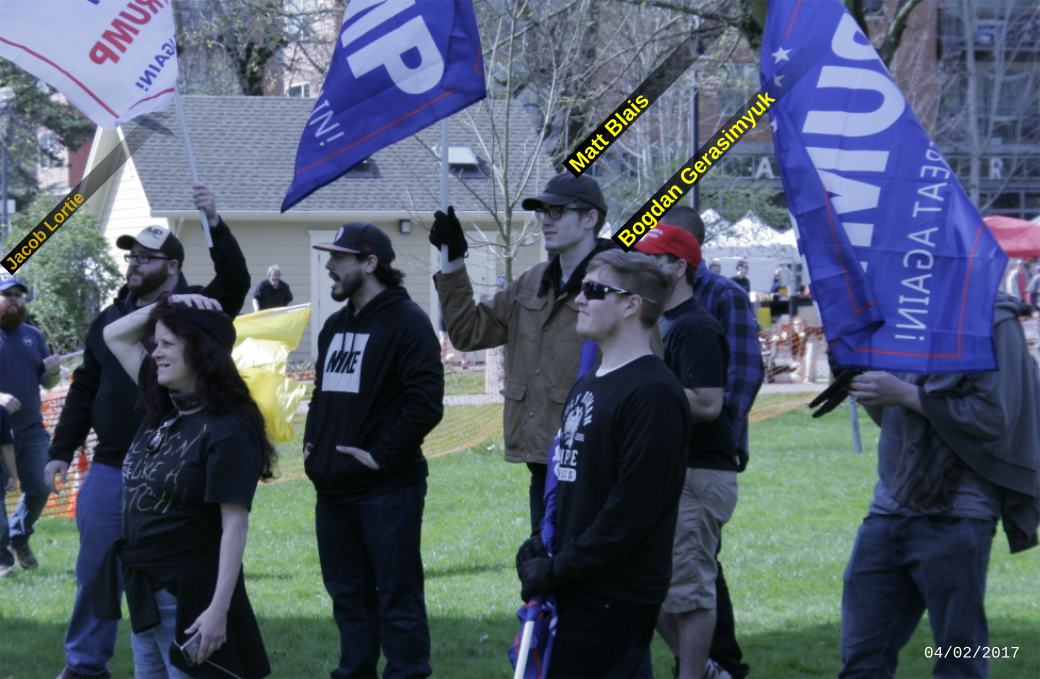 Bogdan Gerasimyuk mingles with Patriot Prayer followers.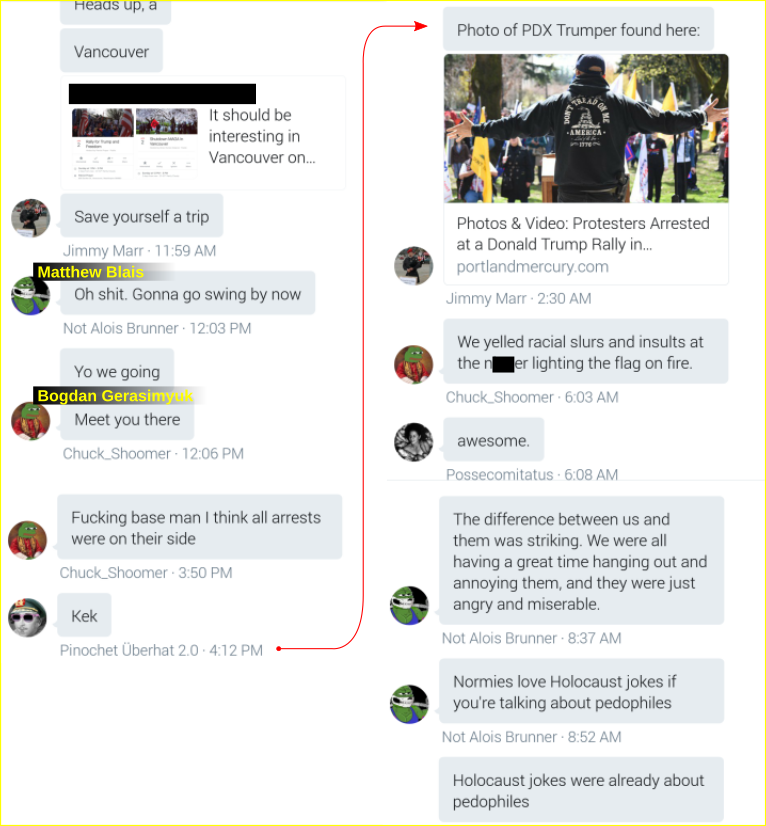 Leaked internal chats reveal Matt Blais (aka "Not Alois Brunner") and Bogdan Gerasimyuk (aka "ChuckShoomer") in coordination with other neo-Nazis such as Jimmy Marr prior to Joey Gibson's rally. It also gives a glimpse of the glee Gerasimyuk felt at being able to openly yell racial slurs while among Joey Gibson's racist followers.
April 22, 2017
On April 22, 2017, central Oregon neo-Nazi Jimmy Marr had a party to celebrate Hitler's birthday. A number of the members of the CCC Discord gathered there. In the screen image below, Gerasimyuk and "Mrs Chuck Schoomer" say that they will be in attendance. This is the same party for which Bethany "Weed Nazi" Sherman made cookies in the shape of a swastika.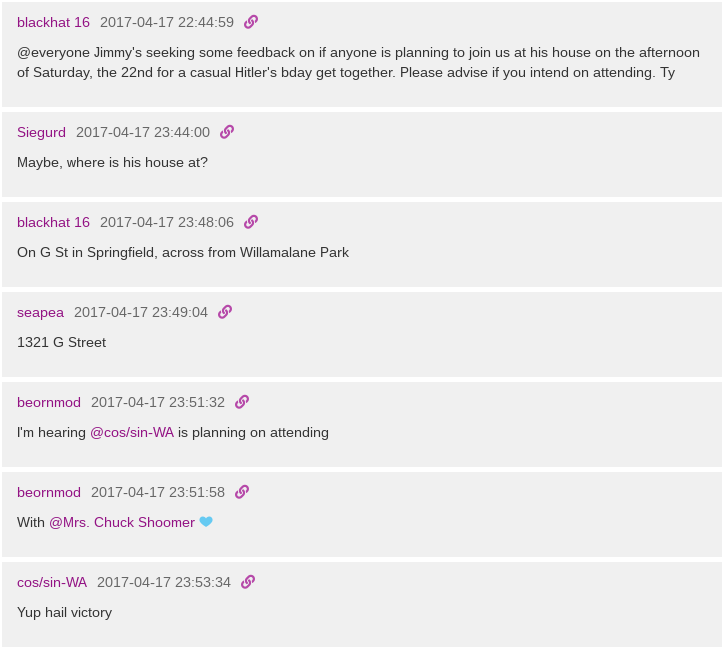 In the CCC Discord, Gerasimyuk (aka cos/sin-WA) and his partner RSVP to Jimmy Marr's Hitler birthday party.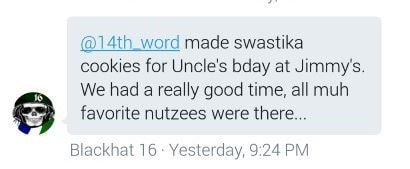 Matthew Combs (aka Blackhat 16) reports that Bethany Sherman (aka 14th_word) made swastika cookies for Marr's party.
April 29, 2017
On April 27, 2017 Bogdan Gerasimyuk alerted other members of the CCC discord to Joey Gibson's upcoming opportunistic far-right rally in the immigrant neighborhood of Montavilla. Notably, Gerasimyuk posted a screenshot of the event which had clearly come from the facebook account of Jake Von Ott, suggesting that the two of them had already been in contact for some time before these events. Gerasimyuk also reported that "some IE (Identity Europa) guys will also be there," and was photographed at the event associating Liam Wynn (affiliated with Identity Europa & the Daily Stormer Book Club) as well as Jake Von Ott (at the time, Ott was the "regional coordinator" for Identity Europa in Oregon).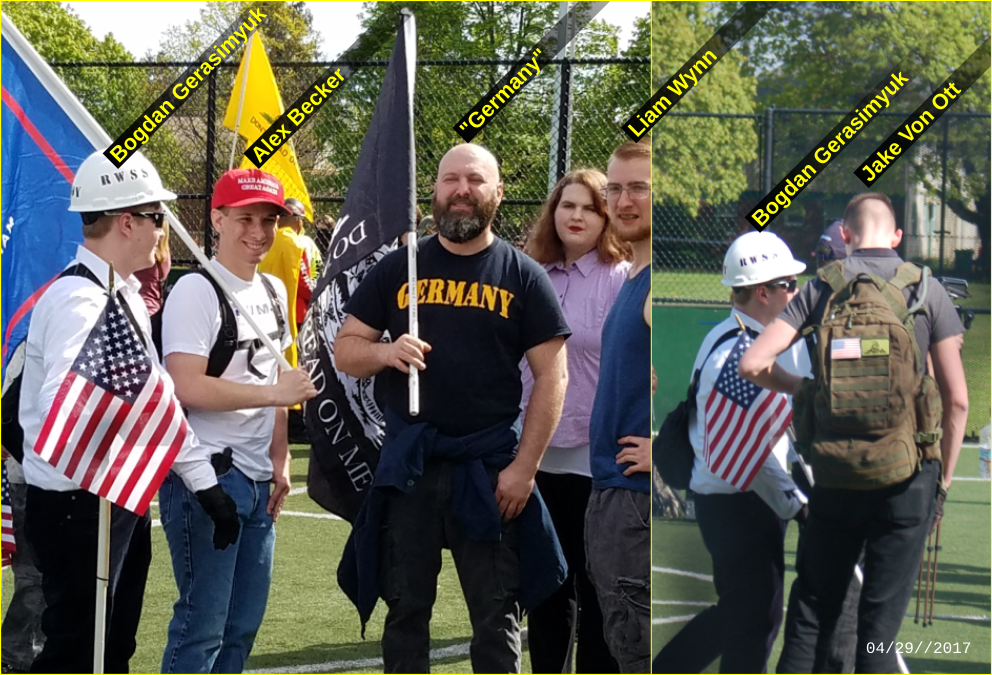 Bogdan Gerasimyuk associates with other fascists such as "Germany," Alex Becker, Liam Wynn, and Jake Von Ott while at Joey Gibson's far-right rally.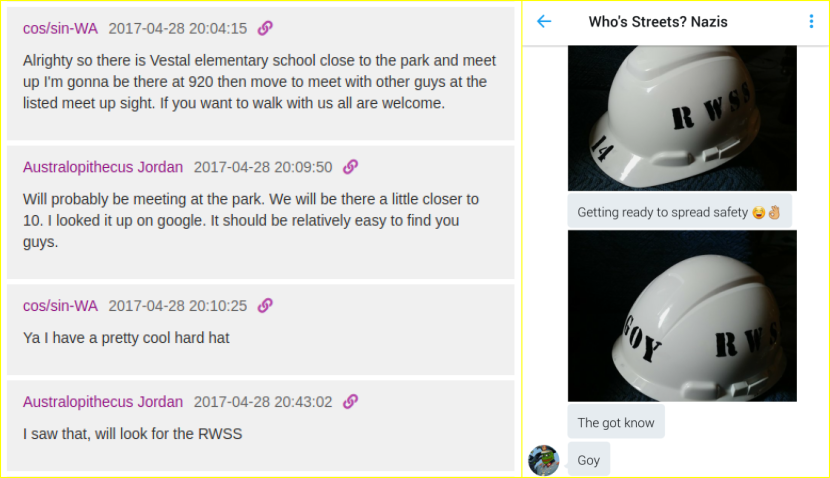 Gerasimyuk discusses his plans to wear a hard hat decorated with fascist slogans in the CCC logs (Left) and a private twitter chat (right). Note the "14" on the hat's front brim, signifying the infamous neo-Nazi "14 words" slogan. "Goy" is short for the Hebrew word "goyim," one of whose meanings is simply "non-Jewish". Contemporary neo-Nazis have adopted it as a self-descriptor to signify their ridiculous belief that they are persecuted by a Jewish conspiracy.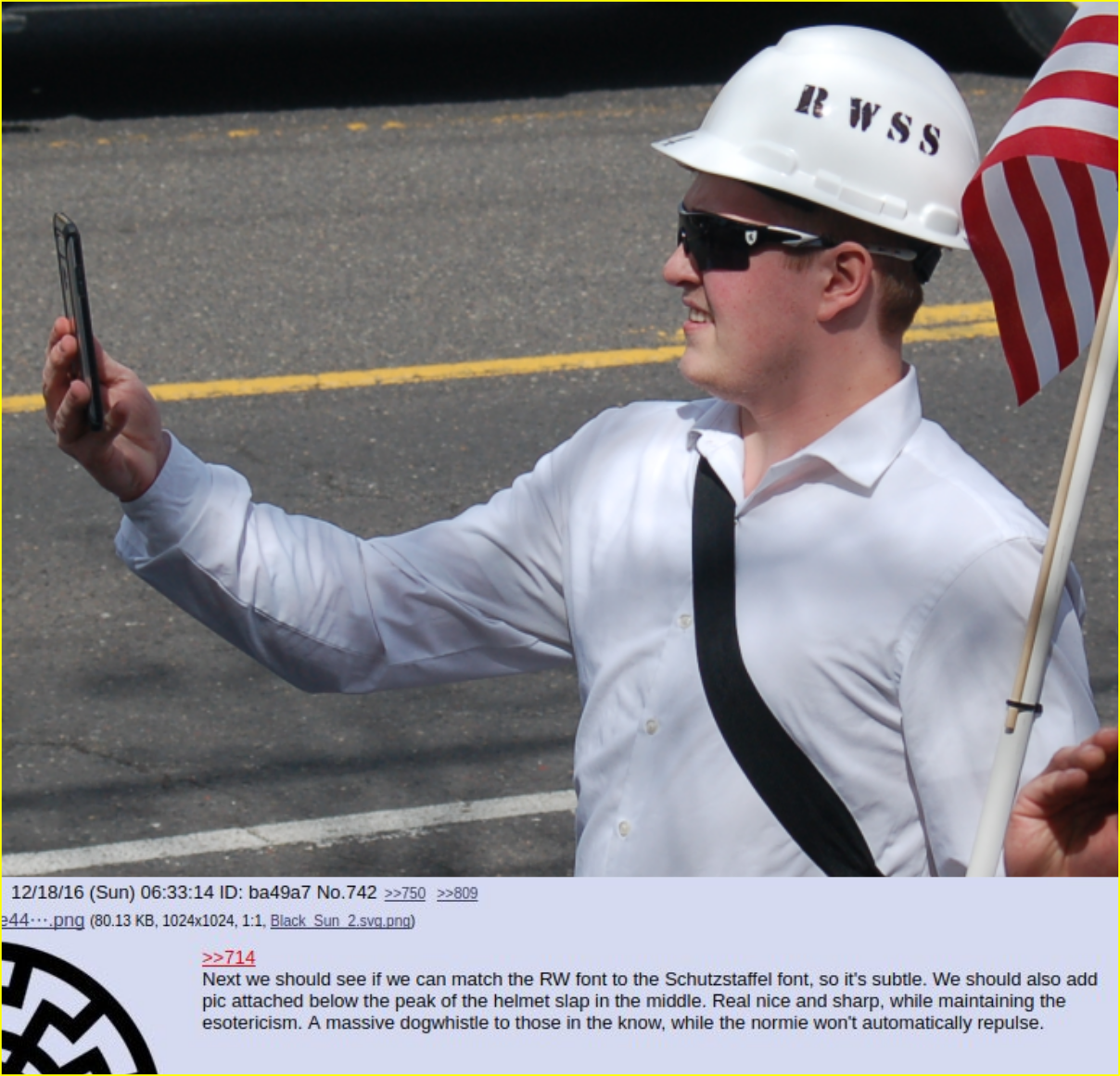 The sides of Gerasimyuk's helmet read "RWSS" at Joey Gibson's April 29, 2017 hate rally. Many internet Nazis claim that "RWSS" stands for "Right Wing Safety Squad," but in fact it is a reference to Hitler's SS, as demonstrated in the snippet of 4chan chatter included (bottom).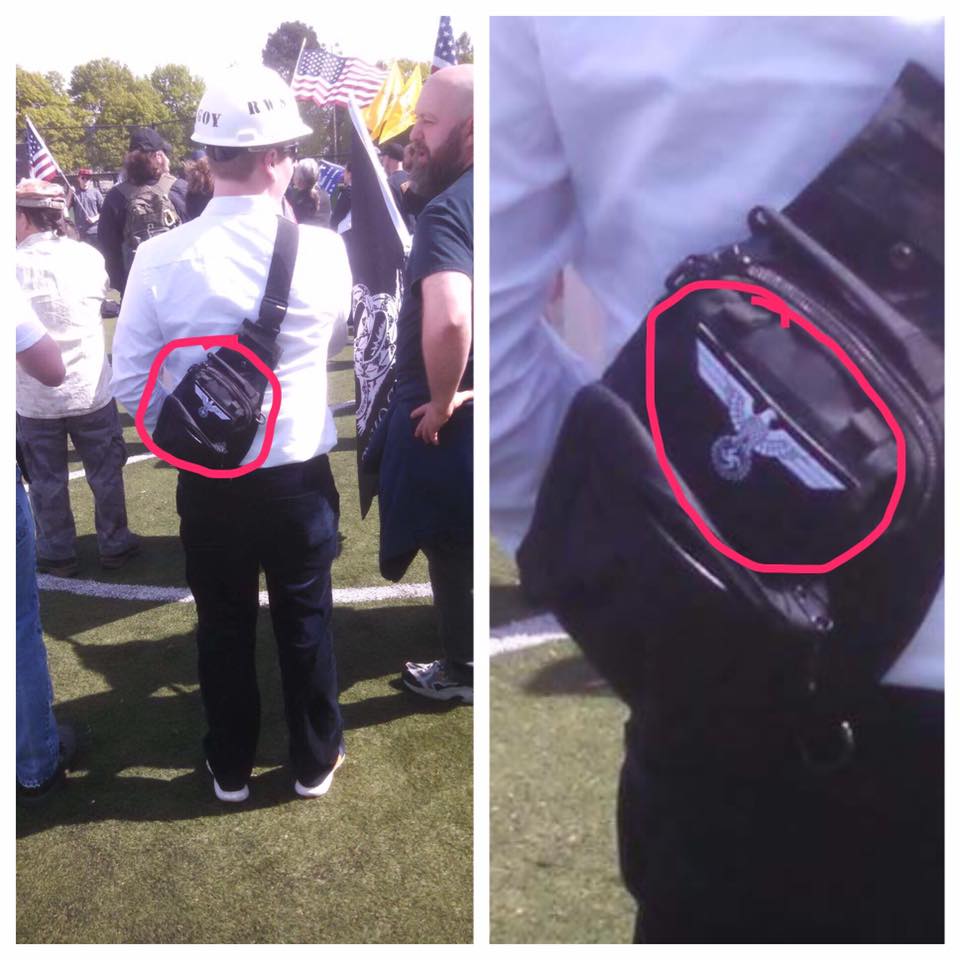 Gerasimyuk wore a "parteiadler" Nazi pin to Patriot Prayer's April 29, 2017 rally, when he attended with other PDX Stormers. Other attendees made him remove it because it made Gibson's event look bad, but the PDX Stormers were allowed to stay.
June 4, 2017
While it is unclear whether or not Gerasimyuk actually attended Joey Gibson's June 4, 2017 hate rally in the immediate aftermath of Patriot Prayer follower Jeremy Christian's double murder on the MAX train, he was active in discussions within the CCC logs in planning for an anti-semitic banner drop which was ultimately carried out by Matthew Stafford (aka My Name Is Hate) and a user called "seapea." In discussions leading up to this event, Gerasimyuk once again acted as an organizational conduit between CCC members and the Identity Europa white nationalist organization.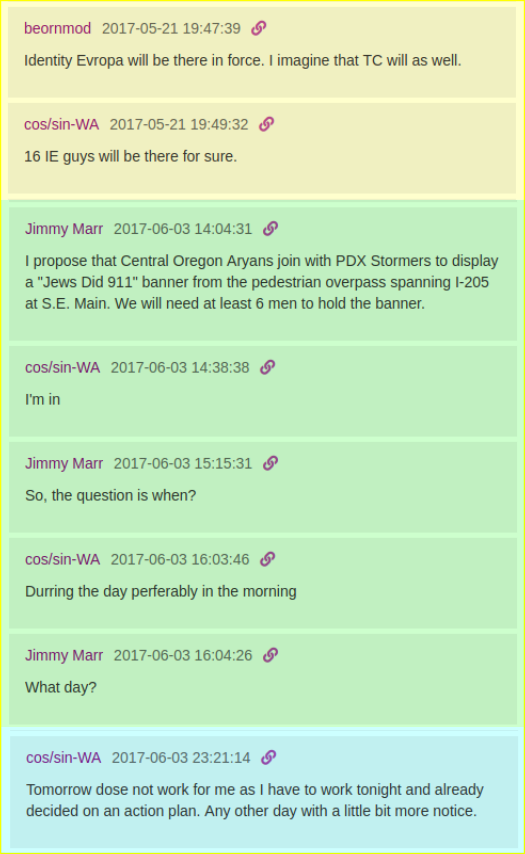 (Top) Excerpts from the CCC logs show Bogdan Gerasimyuk and Matthew Blais informing other participants regarding Identity Europa's plans for Joey Gibson's hate rally. (Middle) Jimmy Marr calls for fellow-neo-Nazis in the CCC discord help him display an anti-Semitic banner over the freeway in Portland. Gerasimyuk initially volunteers, but later (Bottom) bails out on the plan.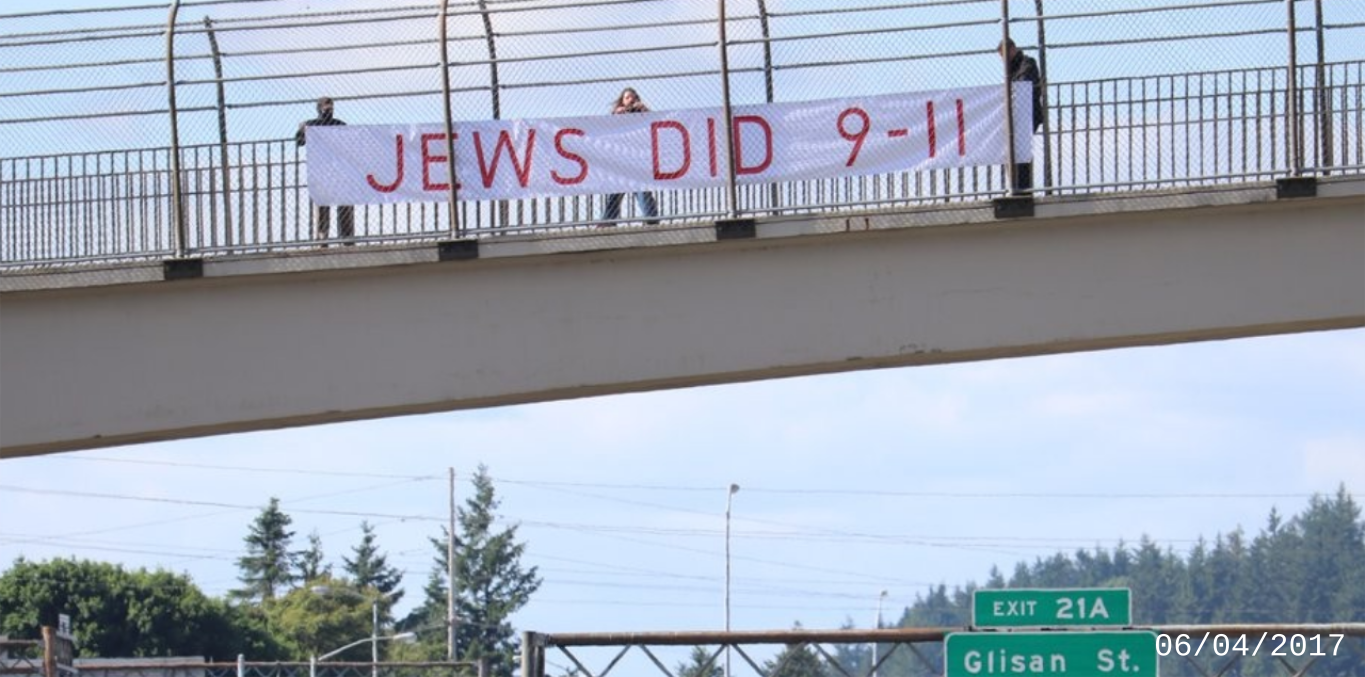 Members of the CCC chat hold an anti-Semitic banner over I-205 in SE Portland during Joey Gibson's hate rally downtown.
August 6, 2017
Gerasimyuk was one of a large number of fascists who attended Joey Gibson's violent hate rally on the waterfront in August of 2017. Members of the Proud Boys hate group assaulted Portland activists alongside fascists from Identity Europa as well as neo-Nazis from organizations like the PDX Stormers.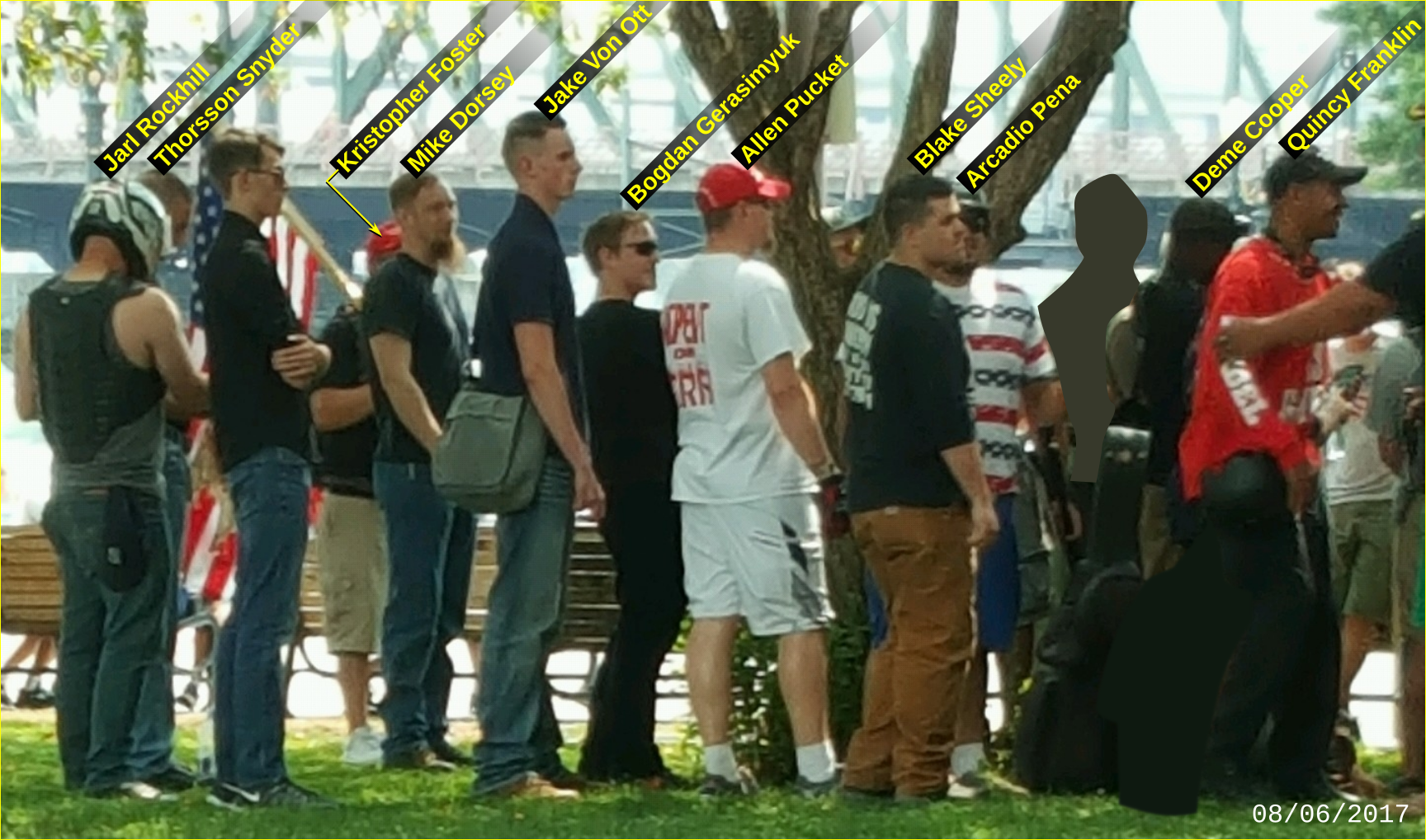 Bogdan Gerasimyuk is seen participating at Joey Gibson's Patriot Prayer hate rally in the company of hate preachers Blake Sheely & Arcadio Pena; Patriot Prayer anti-Semite Kristopher Foster; domestic abuser Quincy Franklin (aka Quincy Anatello); pedophile Patriot Prayer videographer Matthew "Deme" Cooper, violent white nationalist Allen Pucket; pedophile neo-Nazi Jarl Rockhill; and fellow neo-Nazis, Thorsson Snyder, Mike Dorsey, and Jake Von Ott.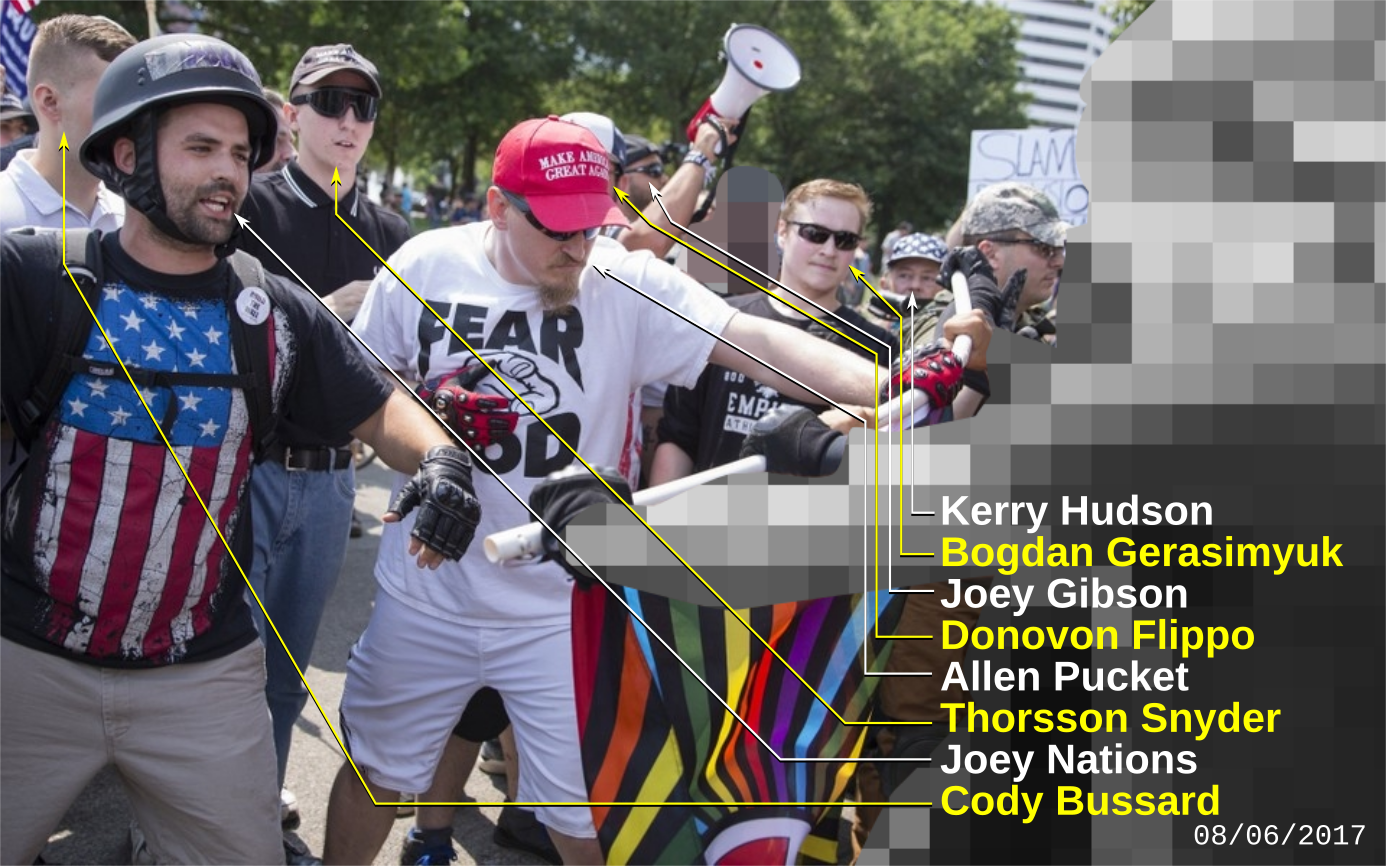 Gerasimyuk is seen with fellow fascists Cody Bussard, Thorsson Snyder, and Allen Pucket; as well as with failed Oregon congressional candidate Joey Nations, failed Washington senate candidate and disgraced Patriot Prayer founder Joey Gibson, Proud Boys hate group member Donovon Flippo, and violent Patriot Prayer videographer Kerry Hudson.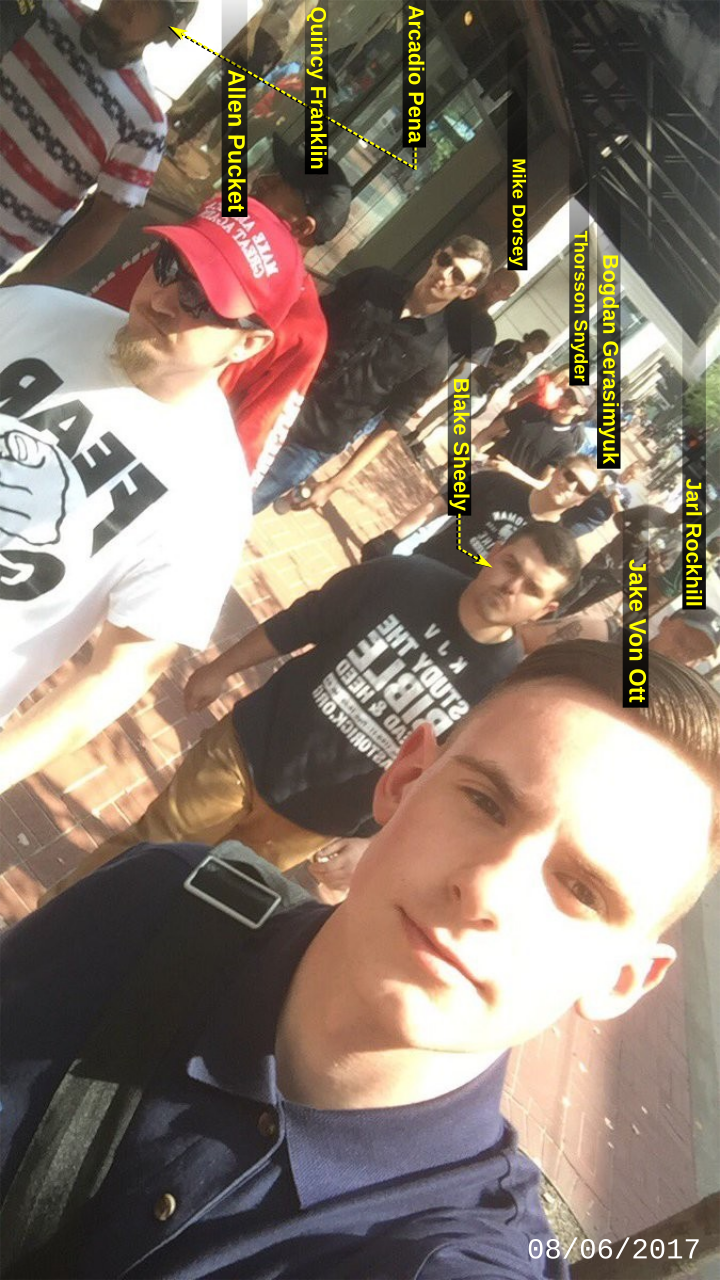 Gerasimyuk is seen in the background of a selfie taken by neo-Nazi Jake Von Ott while at Joey Gibson's Patriot Prayer hate rally. Also visible are white nationalist hate preacher Allen Pucket, hate preacher Arcadio Pena, hate preacher and domestic abuser Quincy Franklin, hate preacher Blake Sheely, as well as neo-Nazis Mike Dorsey, Thorsson Snyder, and Jarl Rockhill.
November 11, 2017
On the anniversary of the murder of Mulugeta Seraw by neo-Nazis in Portland, OR, the PDX Stormers collaborated with Joey Gibson's Patriot Prayer followers to hold an "It's Okay To Be white" rally on a nearby freeway overpass in Vancouver, WA. Many neo-Nazis were present, and among them Raul Gonzalez displayed a knife with a swastika on it. A large number of anti-fascists showed up to oppose the fascist display.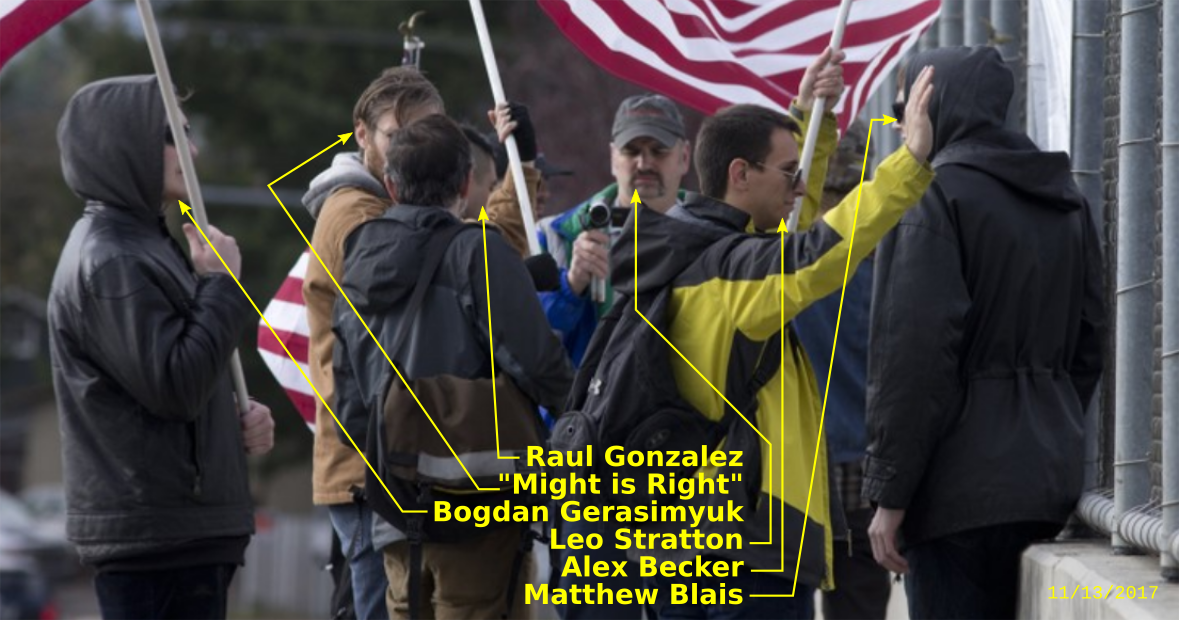 Gerasimyuk is seen with other neo-Nazis Raul Gonzalez, "Might is Right," Alex Becker, Matthew Blais, and deceased Patriot Prayer YouTuber Leo Stratton.
Clear Photos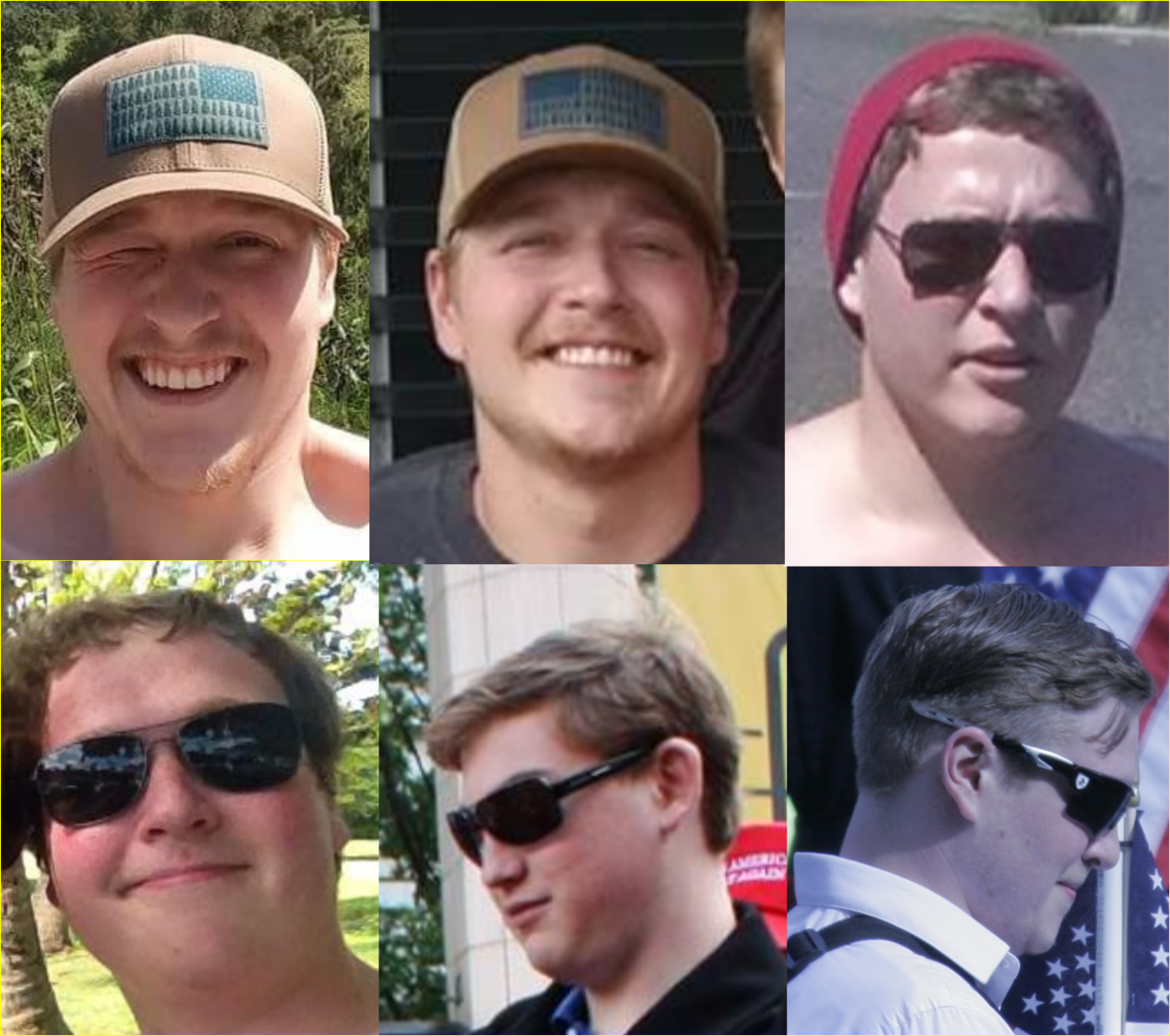 Current Details
NAME: Bogdan Alexander Gerasimyuk
AKA: Goy Helmet; cos-sin/wa; Chuck Schoomer; Chuck Shoomer;
DOB: 03/08/1994
ADDRESS: 2600 T St Apt 77, Vancouver, WA
EMAIL: [email protected]
EMPLOYMENT: Securitas (Vancouver), 7700 NE Parkway Drive Vancouver WA 98662; Phone: 360-604-5556
VEHICLE: Dark green Chevy 4-door sedan - WA AVH3143
Bogdan Gerasimyuk works as a professionally-licensed security guard and participates in neo-Nazi organizing as part of an international network of fascists.
Rose City Antifa is dedicated to the pursuit of a community free of anti-Semitic, racist, and homophobic propaganda, and to exposing neo-Nazis before their ideology manifests itself in action. In the coming weeks, we will provide additional information to publicly identify Michael Dorsey, a third member of the neo-Nazi PDX Stormers. Follow along with us here or through the hashtag #stormerbreaker, and join us in exposing fascist organizing in the Pacific Northwest.
If you have information on the PDX Stormers or any racist or fascist organizing in your area, contact Rose City Antifa at [email protected].