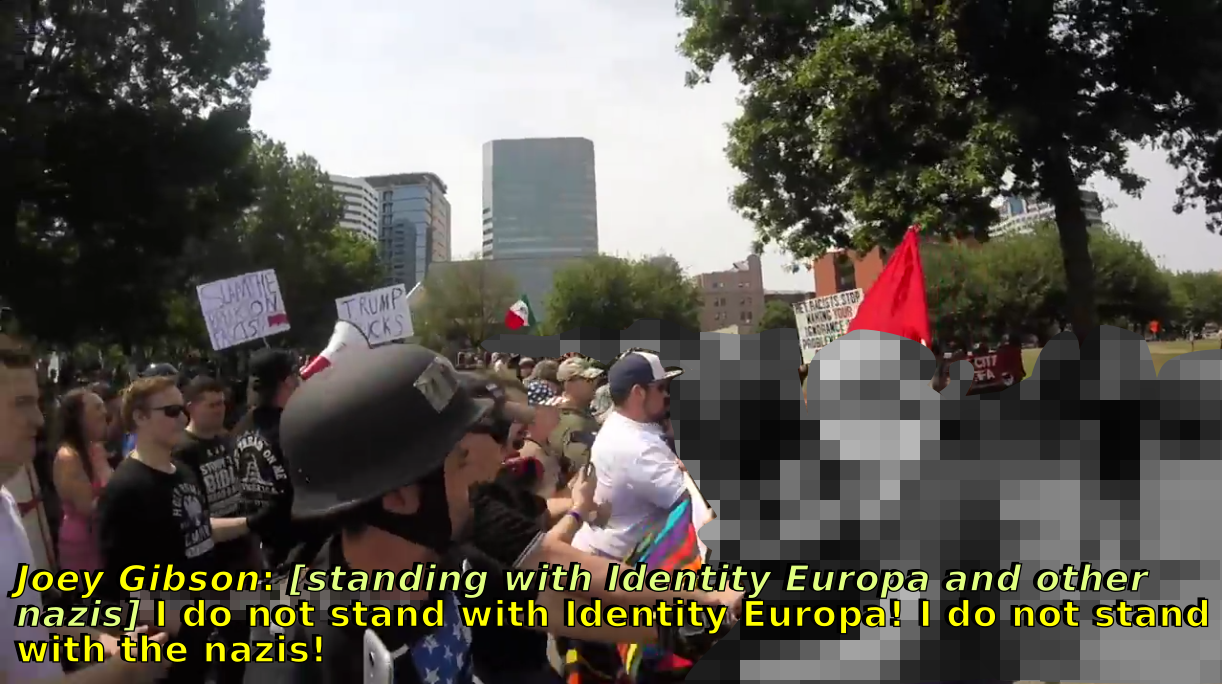 In this frame of video, Joey Gibson denies standing with nazis, while simultaneously surrounded by members of Identity Europa and the PDX Stormers
One year after the infamous June 4, 2017 far-right rally held by Joey Gibson, he and his group Patriot Prayer plan a return to Terry Schrunk Plaza in downtown Portland with a rally scheduled for June 3rd, 2018.
The 2017 rally– staged days after white supremacist Jeremy Christian murdered two people and critically injured a third who stood in the way of his racist tirade against two young women on a MAX train– drew a wide selection of racists, fascists, and far-right bigots into the city. The community answered, surrounding Gibson's group on three sides and demonstrating clearly that organized hate would not be tolerated in Portland. The Portland Police Bureau then attacked anti-fascist activists with chemical weapons and explosives to facilitate the racists' escape.
In the year that followed, the city of Portland has extensively witnessed just what sort of crowd Joey Gibson draws to himself:
It is no coincidence that Gibson is trying to come back into Portland on the anniversary of his previous defeat. As the widespread rise in far-right violence last year was met with fierce opposition from anti-fascists around the country, fascists and white nationalists have been forced into a retreat. While demoralized, they remain active. Many fascist groups have continued to grow in membership. Even now, white nationalists are planning to return to Charlottesville in August, on the anniversary of the fascist "Unite the Right" rally during which anti-fascist activist Heather Heyer was killed by a member of white nationalist group Vanguard America (since rebranded, they now operate under the name Patriot Front).
After being turned away from Portland time and time again by antifascists standing strong against his racist followers, Gibson began holding events elsewhere in Washington, and has begun a contentless campaign for the position of Senator in that state. While Gibson claimed he was done with rallies and ready to focus on "serious politics", he has apparently now forgotten his ill-fated ventures into our city, and is testing the waters in Portland once again. Despite the fact that his run for the senate has received little attention from mainstream media, his ambitions continue to to make space for fascists and other violent reactionaries to march and organize, in a transparent bid to stoke his own ego and meager celebrity. He may hope that the people of Portland have forgotten his violent carnivals of 2017, and that the community's guard has dropped and he might be celebrated by racists once again.
Joey Gibson and Patriot Prayer have short memories, but our community does not. Rose City Antifa knows now, just as we did last year: Gibson is a magnet for violent white supremacists and bigots. The time between then and now has only reinforced our resolve, and the evidence of Patriot Prayer's racist ties has accumulated to undeniable quantities.
We will not allow racists and fascists to parade through Portland's streets, threatening activists and targeting at-risk communities. No matter how many times they try to sneak back in, this city will stand united against them. We ask the community to join us at 4:00 pm on June 3rd in Terry Schrunk Plaza, to show Patriot Prayer, just as we showed them last year, that their violence and hatred has no place in Portland.
Signed,
Rose City Antifa
Pacific Northwest Anti-Fascist Workers Collective
Eugene Antifa
To sign on to our coalition, please email us at [email protected]](mailto:[email protected])