Portland and the Pacific Northwest have long been considered a sanctuary and viable recruiting ground by white supremacists and the far-right, and the default setting of the police and other agents of the state has always been to provide cover for them.
In Portland in the 1920's, Ku Klux Klan orgainizers set up shop in town to mobilize racists in the area, and engage them with Klan activities. Luther Powell and Fred Gifford, two Klan organizers, famously staged a photo with the Mayor and Chief of Police. And while George Baker, the Mayor at the time, repeatedly denied being a Klan member, historian Darrell Millner relates:
"I don't think [Baker] was a member himself, but he was certainly willing to carry water for the Klan, and it was politically expedient for him to do so at the time. Whether he was a card-carrying member is not really the most important question."
Recruiting in Oregon at that time proved very easy for Klan organizers, and "the Klan organizers directed their initial recruiting efforts at local law enforcement officials". In 1923, Klan membership nationwide exceeded two million people, with 35,000 of them in Oregon.
The cross-over membership in white supremacist organizations and law enforcement is a tradition that never went away. There is of course, one of the more famous cases - neo-Nazi cop Mark Kruger, who spent some of his youth "listening to Hitler's speeches and yelling racist and homophobic comments to people who were on the sidewalk" and, while employed by the Portland Police Bureau, built a shrine to honor Nazi soldiers, as well as spray painting "Heil Hitler". The only consequences for Kruger would be two weeks of unpaid "leave". This "discipline" would later be reversed, with the city paying him for his leave and expunging any record from his personnel file.
While law enforcement and city officials having overt membership in white supremacist organizations is certainly cause for alarm, it's by no means a necessary occurance for the two groups to help each other cause harm. Whether it's police targeting, attacking, and arresting antifascist activists opposing an incursion by the far-right, or it's the far-right attacking and assaulting activists gathered to opposed state-run concentration camps, agents of the state and the far-right work together to accomplish their shared goals time and time again. Darrell Millner, speaking about the Portland KKK in the 1920's, said "When you have [local officials] enforcing the kind of policy and objectives that drove the formation of the Klan, you don't need night riders anymore."
Some details of how this relationship between state agents and the far-right played out over the course of 2019 follow below.


In a pair of images that rhyme across eras, white supremacist organizers are pictured with the mayor of Portland and members of the Portland Police Bureau. LEFT: An image from 1921 picturing two Ku Klux Klan organizers with several city officials, including the Mayor, the Chief of Police, and the District Attorney. RIGHT: A 2017 image of Mayor Ted Wheeler walking with neo-Nazi Daily Stormer activists "Germany" and Bogdan Gerasimyuk, as well as white nationalist Identity Europa organizer Jacob Ott
February 2019
It was in February 2019 that we first learned of the several-year history of Joey Gibson's in-depth correspondence with the Portland Police Bureau. This took the form of text messages and emails, and included topics such as the Police Bureau giving Gibson the location of counter-protestors, giving Gibson advice on how Tiny could avoid arrest on outstanding warrants, and discussing individual antifascist activists by name.
We should also revisit the City of Portland's refusal to dismiss Gregory Isaacson and Quincy Anatello from employment after the city passed a resolution to condemn white supremacy and alt-right hate groups. Isaacson has engaged in holocaust denial, and Franklin is a homophobic and transphobic hate preacher and rape apologist. Both are staples of regional Patriot Prayer rallies, seen mixing it up with Identity Europa, Proud Boys and other white supremacist groups while threatening and harassing members of the LGBT+ community, Muslims, immigrants, and other members of the community at large.
Local government has a habit of speaking the language of eliminating white supremacy and protecting marginalized communities while taking no action when confronted with real instances of white supremacy and community harm. It is a consistent pattern that only worsens once police are involved. Demonstrating the continuance of a pattern older than events of 2019, when the state does intervene it's not to perform the simple act of terminating employment of bigots, but instead to launch violent attacks on activists opposed to them.
March 2019
Less than a month after passing the Feb 7th resolution, everyone's favorite failson Joey Gibson and his travelling toolshed - Steve Drury, Bob West, Haley Adams, and Alyssa Vinsonhaler - crashed the Womxn's March and immediately started assaulting and harassing attendees while the police acted as Joey's security blanket, protecting him from any consequences. A less effective way to condemn white supremacy and alt-right groups, to be sure.
May 2019
Shortly before the summer started, May Day 2019 marked a particularly violent incursion by Patriot Prayer followers and other assorted fascists. Several attended a "Liberty Day" event organized by Lincoln City neo-Nazi and Patriot Prayer member David Willis, which billed itself as "reclaiming May Day". After tatting along while Joey Gibson impotently attempted to harass activists protesting child concentration camps at the Portland ICE facility, Willis and his fellow Patriot Prayer bigots spent their day standing around Chapman Square waiting for someone to come fight them. When no one showed up, they rode the MAX to Holladay Park where they hoped to bait people attending the family-friendly May Day event into conflict. For a short while they mingled with Proud Boys, who were holding their own event attempting to provoke nearby activists into a fight by standing on the 12th Ave I-84 overpass, just south of Holladay Park, and waving flags and shouting slurs at passers-by. They were again unsuccessful in trying to force their false narrative of victimization.
One thing they did prove though, is that when fascists show up looking for a fight, they won't go home until they get one. That evening, attendees from the "Liberty Day" event, as well as Joey Gibson, Haley Adams, and Alyssa Vinsonhaler, made the decision to attack a different May Day event - a casual after-rally May Day gathering at a local cidery. The "Liberty Day" attendees and other Patriot Prayer supporters can be seen on video carefully planning their attack and comparing weapons they plan to use. They were led to Cider Riot by Joey Gibson, and spent more then 30 minutes spraying activists with mace and bear spray, throwing rocks, punching people indiscriminately, and swinging metal batons. During this attack, violent neo-Nazi Ian Kramer struck an antifascist activist with a metal baton, fracturing their vertebra. The following day, Islamophobic far-right grifter Andy Ngo, who was with the group as they planned, published the identity of the person who suffered the baton attack.
As the attack on Cider Riot was happening, Portland Police received several calls from other people in the neighborhood. But despite being made aware, no police showed up until long after the attack had been repelled by activists. All of those involved in that attack were identified by activists within hours, yet it would be months before there were legal consequences of any kind, which so far have been incredibly minimal. Ngo's deeper involvement in the attack on Cider Riot would also be revealed later in the year when video surfaced showing Ngo palling around with Gibson's crew while they planned their assault.
June 2019
On June 29th 2019, there were two events scheduled - one by Proud Boys and one by white nationalist Haley Adams' group, "Portland's Liberation". Activists rallied to oppose both of these violent groups holding events in town. The Proud Boys "marched" so quickly through town that many media outlets were unaware they had an event at all that day. The Portland's Liberation event enjoyed essentially a personal security detail of bicycle and riot police for their small gathering throughout the day. The attendees protected by the police included antisemite David Willis and violent neo-Nazi Ian Kramer - the same person who had struck an activist, fracturing their vertebra, on May 1st.
People in Portland who showed up to oppose these violent groups marching through town spent their day followed by police, who repeatedly tried to block them from moving. In what has become a nationally-known lie, Portland Police Bureau tweeted that there was "concrete" in the milkshakes activists had been providing to the counterprotest throughout the day, and which many had been drinking.
After that day, many in the media would question the rationale for police to tweet something so ridiculous, and many others would testify that they actually drank and enjoyed the milkshakes - the idea of concrete in them was entirely absurd. Portland police would double down and defend their decision "to bring attention to a potential hazard" - which is again obviously untrue since they made no announcements on their loudspeakers about it that day, or made any attempt at all to investigate. Instead, their tweet fueled the right-wing outrage ecosystem, and circulated as more "evidence" of the evils of Antifa, despite their claim being easily debunked multiple times.
One thing that is known is that antisemitic Patriot Prayer supporter Ladon Deatherage, who was at the Portland's Liberation event, threw an unknown white powder on several people, in full view of the public and police, getting some on herself in the process. She then immediately hid behind the police present, and would later appear in a Facebook Live video with Haley Adams and Alyssa Vinsonhaler complaining that her clothing smelled like "cement".
Another image that resonated in the wake of events on June 29th was that of an older-looking man with blood on his face. In a lie by omission, the story made its way through the right-wing outrage machine without any of the appropriate context. Immediately before that picture was taken, that man, Oregon III% member John Blum, advanced on activists with baton in hand, preparing to attack. Activists disarmed him, getting injured in the process, and repelled his attack. In yet another example of police collaboration with the far-right, there were no other consequences for that man, and police later arrested the person they think is responsible for defending themselves and other activists.
July 2019
On July 17th, anti-ICE activists held a quiet vigil for Willem van Spronsen, a person who was killed by police after attempting to damage ICE property and infastructure. In an overt example of how the far-right and state collaboration benefits both parties, far-right agitators showed up to harrass those present for the vigil, which took place near the Portland ICE facility. No reason for the state to disrupt and harrass the vigil if there are far-right goons to do the work for them. The group included white nationalist Haley Adams, Alyssa Vinsonhaler, violent neo-Nazi Ian Kramer, serial assualter Mack Lewis, Holocaust-denier Gregory Isaacson, and several others. They spent their time arguing with vigil attendees and "demasking" people there by pulling clothing off their bodies.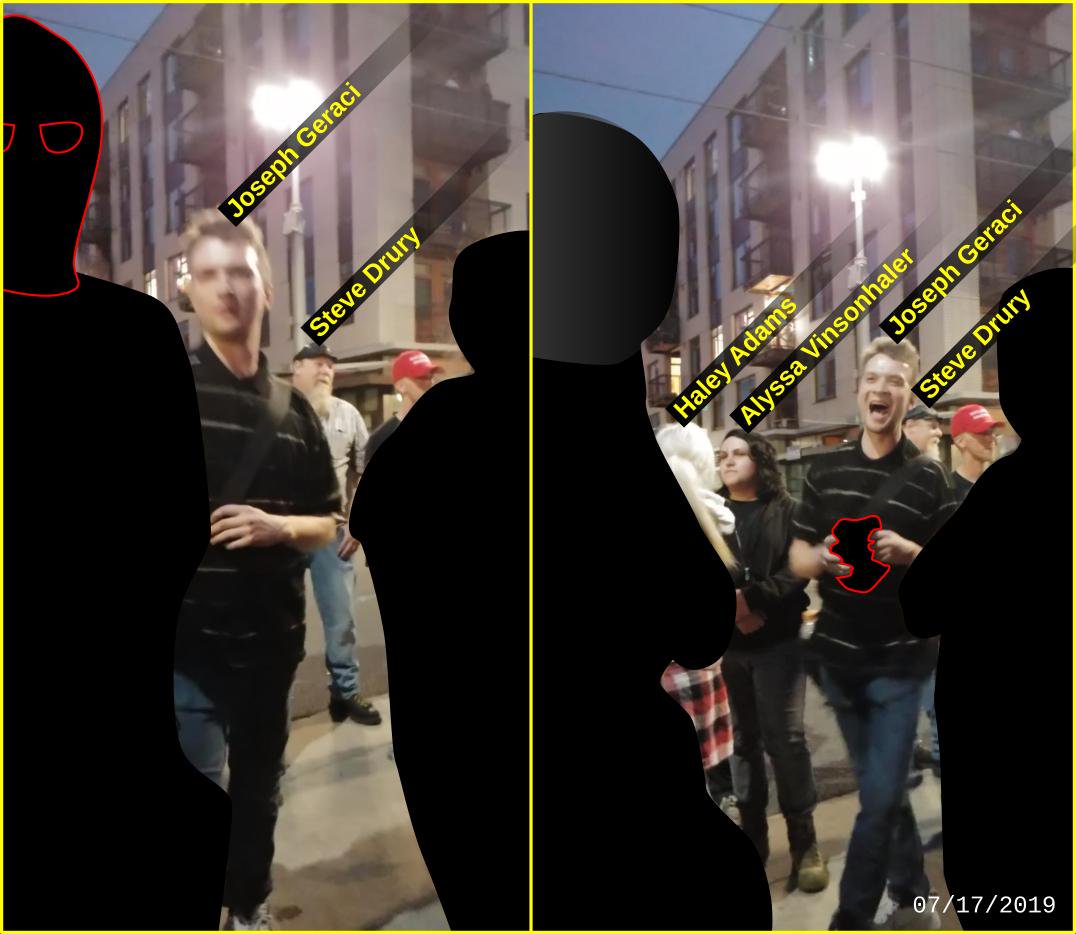 Joseph Geraci is among the group that showed up to accomplish the goals of the state - harrasing activists holding a vigil and assualting them by "demasking" them
Days later, deliberately ignoring well documented street violence and a steady stream of mass shootings from the far-right, Republican Senators Bill Cassidy and Ted Cruz aimed to take advantage of the right-wing media outrage industry's output and put forward congressional motions to declare antifa "a domestic terrorist organization" featuring language so vague and broad that almost anyone politically to the left of William F Buckley Jr could potentially be considered "antifa" and therefore flagged as fair game for 'enhanced' state repression. Perhaps shocking to some, Cruz was happy to pose for pictures with Proud Boy leader Enrique Tarrio despite Cruz' condemnation of the Unite the Right rally in Charlottesville - which Tarrio and other Proud Boys attended - less than a year earlier.
On July 25th, Rose City Antifa released a statement condemning the far right's attempts to criminalize protests and affirming the humanity and necessity of antifascist action:
The rationale for this resolution is a manufactured threat which only exists in the absence of critical thought and inquiry. The greatest domestic political threat in the U.S. today is the far-right. The far-right committed 98% of ideologically-driven murders in 2018. We have seen that death toll here in Portland. Larnell Bruce, a black teenager, was brutally murdered by a white supremacist outside a 7-11 in 2016. In 2017, Jeremy Christian, a Patriot Prayer rally attendee and white supremacist, fatally stabbed two passengers and seriously injured a third passenger on a Portland MAX train after they attempted to stop him from harassing two women of color. Proud Boys have driven around our city streets looking for people to assault. LGBT+ community members have been repeatedly attacked, and they have been called liars when they organize to defend themselves. The Portland Police Bureau has assisted the right at every turn. Stories like this are echoed all over the country. This is the true threat of our times.
By July 28th, Cruz decided that antifa is a terrorist group and organized crime ring, suggesting via tweet that the Attorney General and Justice Department should "hit them with RICO."
August 2019
In the weeks leading up to the August 17th Proud Boy hate-rally, the city and police bureau attempted to broadcast a declaration of force as broadly as possible. Portland Police Bureau Chief Danielle Outlaw even suggested that Oregon National Guard units may be involved in crowd control - a claim she later walked back. But the message from the police was clear: they wanted the Portland community to stay home so they could more easily provide a red carpet for the tourists flying in from around the country seeking a brawl. The Police Bureau even published a map of other events in Portland happening that day, to encourge locals to find something else to do.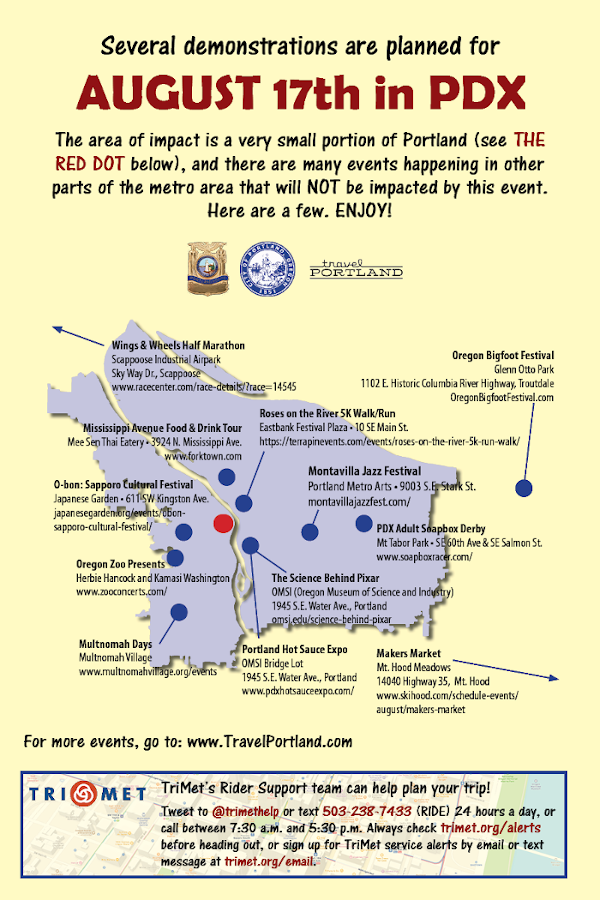 Portland Police Bureau encourages everyone to find something else to do, rather than show up to oppose violent, far-right bigots flying in to harrass Portlanders.
Joe Biggs also received some attention from the FBI shortly before the rally, as the threats of violence and torture from his supporters seemed to have gotten even too repulsive and alarming for them to ignore. Locally, several people responsible for the May Day attack on Cider Riot were arrested shortly before the 17th - and all but one were immediately released. Perhaps from pressure from outside the PPB, Portland Police arrested Joey Gibson, Russell Schultz, Mack Lewis, Ian Kramer, Deme Cooper, and Chris Ponte nearly three months after they showed up and attacked antifascist activists enjoying an otherwise quiet evening on May 1st, so the timing of these arrests was undoubtedly related to the policing strategy for August 17th.
On the day of the Proud Boys hate-rally, police acted as a private security force for the violence tourists, and were eager to arrest antifascists who showed up to tell these bigots and fascists that they were unwelcome in Portland. At one point a person walking by police alone, and dozens of feet away from them, spat in their direction. In a complete over-reaction, two dozen police on bicycles and in full riot gear immediately charged and surrounded this person to arrest them.
The city closed the Hawthorne bridge to all traffic for the day, and in a city split down the middle by a river, prevented the use of one of the city's most used bridges by the people who live here. However, when the Proud Boys and other assorted white nationalists decided it was time to retreat from their own rally, less than 30 minutes after it began, the police were happy to provide them with this piece of public infastructure for their own private, sad parade back to their vehicles. Enrique Tarrio even announced as he lead the march across that "maybe I was wrong about Ted Wheeler", then feeling well cared-for by the police and city government. As they arrived back on the east bank, they were warmly embraced by the American Guard members, including Brien James, who had stayed behind to wait for their return.
In the aftermath of 8/17, the state collaborated with local far-right chuds who appeared as witnesses in a grand jury convened to investigate antifascists, making it clear they consider a gaggle of white supremacists and antisemites to be reliable and credible sources of information. The grand jury resulted in indictments for five people including Alex Dial (aka Beta Cuck 4 Lyfe) whose alleged crime was very quickly shown to be hoax by multiple photos, videos, and eye witness accounts. Additionally, the grand jury "key witness" of the encounter, Patriot Prayer bigot Reggie Axtell, was nowhere near the incident when it occurred, but that poses no issue for the state as it finds any excuse it can to engage in repression of activists defending against far-right violence.
Andy Ngo, using his extremely legitimate journalism skills, crafted the hammer hoax as well as the hoax claiming that an "antifa mob" attacked "a young girl" who was actually Bianca Turano, the 24 year old daughter of costumed alt-right fascist John Turano aka "Based Spartan," both of whom had been antagonizing protest attendees and then been given a police escort when they decided they wanted to leave.The cops were not so friendly to journalists covering the event, threatening to deploy impact munitions for walking on a public sidewalk.
In late August, Joey Gibson had one of his persecution marches - where, after feeling the slightest legal consequences for leading the charge on the far-right attack at Cider Riot, he tried to use those consequences for a new grifting angle. In a video livestream from one of his goons, we see a Portland Police Bureau sergeant come over and shake hands with Gibson, and tell him "You know there's social media talk? Antifa's aware you're here," articulating the unspoken message that should already be clear from Gibsons previous text exchanges with Portland Police Lt. Jeff Niiya: 'We're looking out for you.'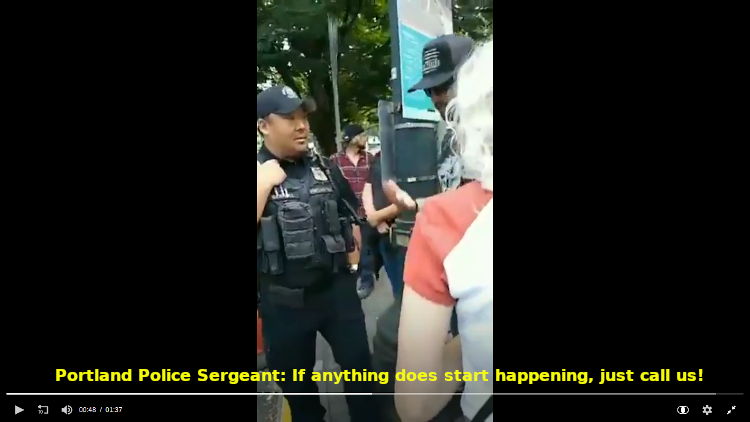 A Portland Police Sergeant, after telling Gibson "Antifa's aware you're here", shares a laugh with Gibson and encourages him to give him a call if "anything happens". We're sure he's got your number already.
October 2019
Notoriously violent brawler Tiny Toese was absent from his usual post at far-right rallies for most of the year, in no small part because he fled from assault charges brought in February. After learning of Tiny assaulting teens at a Vancouver mall in 2018, another man who was assaulted by Tiny in June of 2018 decided to press charges. Donovan Flippo, who aided Tiny's assaults in both cases, pled guilty, and Tiny quickly got on a flight to American Samoa. He returned on October 4th, and was warmly welcomed by law enforcement who arrested him, only to release him the next morning.
This all stands in contrast to the way community members who respond to and oppose far-right and fascist violence are treated by the police. We don't want more police. The events of this year make it clear that police involvement will always cause more repression for the people who stand opposed to fascism than for its advocates. Tiny, who is famous for his violence, has had nearly zero legal consequences in proportion to the harm he has caused. Alexander Dial/"Beta Cuck 4 Lyfe", who bravely disarmed a fascist that came from out of state to have a vacation hurting people, faces Measure 11 charges, which include mandatory minimums of several years. Gage Halupowski, who also defended the community against far-right violence, is now serving more than five years in jail. These two are just some of the more extreme examples - Portland Police Bureau has pepper sprayed, tear gassed, hit with batons and "crowd control" munitions, and arrested hundreds of people who have shown up to tell fascists and the far-right to get out. The soft touch and outright support given to Joey Gibson, Proud Boys, and other assorted far-right and fascist-enablers is certainly not available to groups or people who find fascists and their ideals revolting.
You can show support for Gage Halupowski by writing to him here:
Gage Halupowski
21894460
Snake River Correctional Institution
777 Stanton Blvd.
Ontario, Oregon 97914-83305

You can donate to Alexander Dial here.
As always, if you have any information about far-right and fascist organizing, please email us at [email protected].