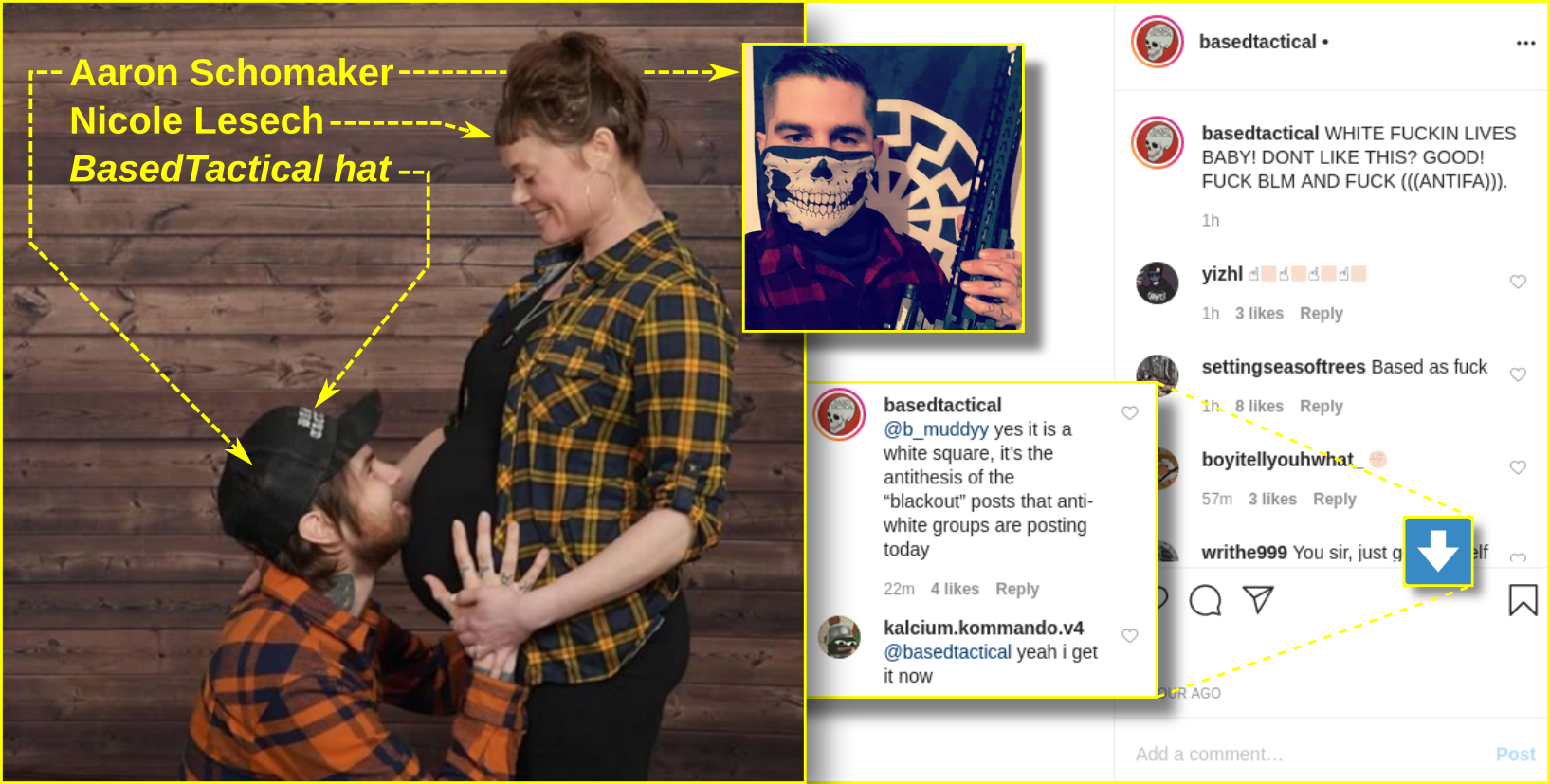 Since early 2020, when the familiar aggrievement fantasies of U.S. right-wing culture culminated in a massive armed rally in Richmond, VA, a violence-obsessed internet subculture organized around the concept of "Boogaloo" has increasingly been the subject of media attention. Most broadly, the term is a euphemism for civil war (ie. "Civil War 2: Electric Boogaloo"), and while the subculture surrounding it is not entirely ideologically uniform, its shitposting discourse consistently fetishizes killing and war as ends in themselves. The subculture also includes many neo-Nazis, for whom the concept represents something more akin to "race war" or "racial holy war".
Accelerationist neo-Nazis such as those associated with organizations like Atomwaffen Division, The Base, and with James Mason's "Siege" have also long participated in and recruited from Boogaloo-focused meme chatrooms and other online communities. One such participant is Portland-area neo-Nazi Aaron Schomaker. Schomaker currently operates an online store under the name Based Tactical, where he sells tactical combat gear & fascist propaganda to other fascists and "Boogaloo bois".
Read our prior reporting on Schomaker here: Aaron Schomaker - Hipster Nazi in Downtown Portland
BASIC INFO:
Name: Aaron Hast Schomaker

AKA: Bambi; Asch Hast

DOB: 02/04/1989

ADDRESS: 923 SE Dowsett Ln Gresham, OR 97080
Based Tactical accounts:

Based Tactical
In mid-December of 2019, Aaron Schomaker began selling tactical combat gear (plate carriers, gloves, holsters, scopes, knives, helmets, chest rigs, and camouflage fanny packs) via Instagram direct messages. The marketing language used throughout his early postings was peppered with slang from Boogaloo message boards and Facebook groups.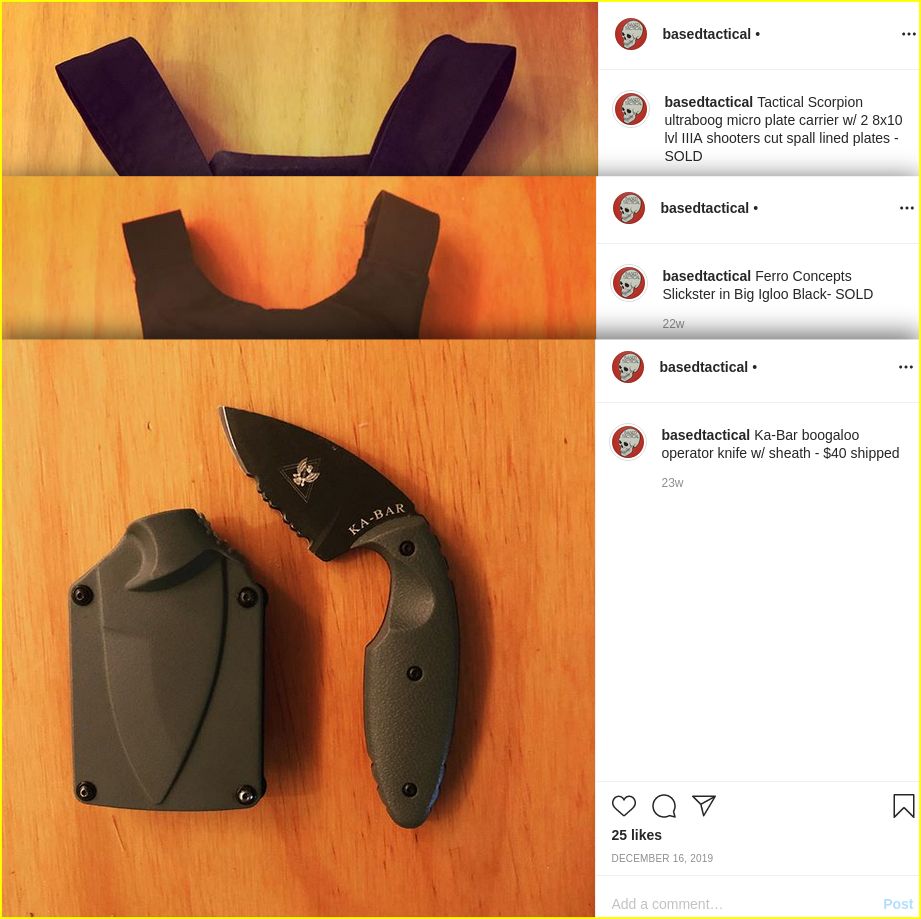 Schomaker advertises his merchandise with Boogaloo slang. "Big Igloo" is a homophonic dog-whistle for "Boogaloo".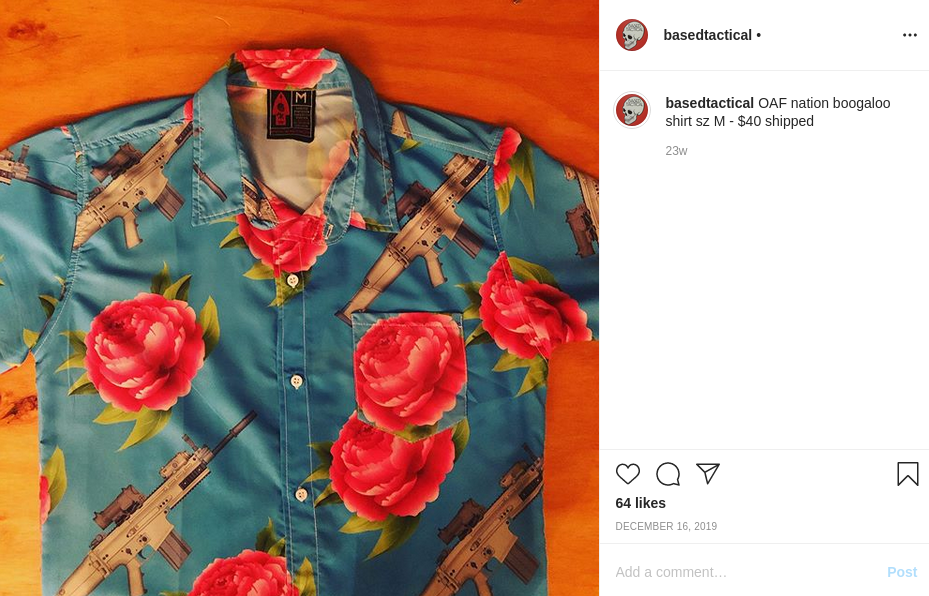 Neo-Nazi Aaron Schomaker sells a Boogaloo-themed Hawaiian shirt. "Big Luau" is another homophonic dog-whistle for "Boogaloo". Far-right and fascist agitators have thus adopted Hawaiian shirts as a symbol of their desire to shoot and kill people.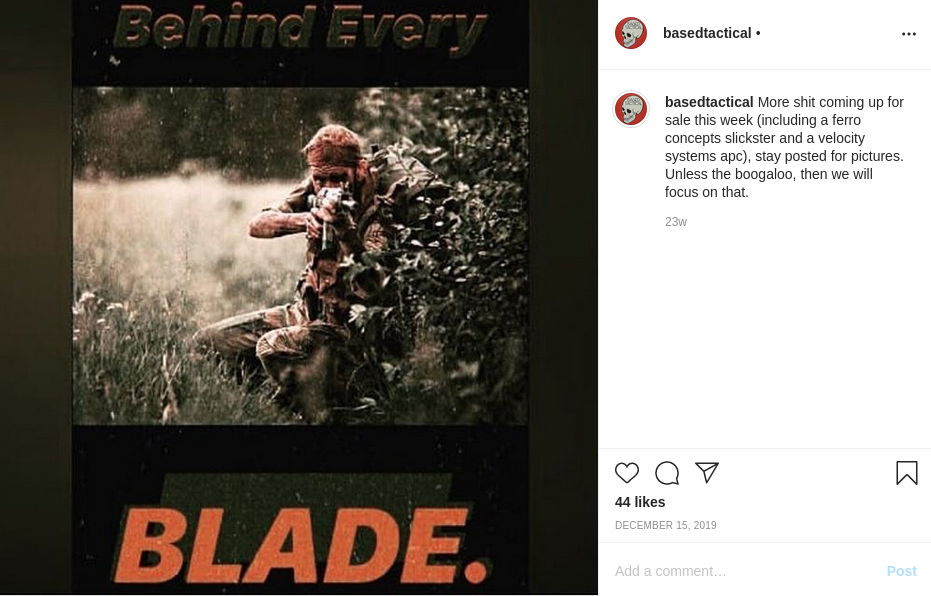 Neo-Nazi Aaron Schomaker posts more Boogaloo content to advertise his Instagram business.
In the process of advertising his products, Schomaker also made direct reference to the forthcoming far-right gun rally scheduled to be held in Richmond, VA in January 2020. Prior to the rally, members of the accelerationist neo-Nazi organization The Base were arrested and affidavits outlined plans for multiple mass murders, including at the rally itself. The Base, like Atomwaffen Division, adheres to James Mason's "Siege" as a foundational text. As we detailed in our previous reporting, Schomaker has also promoted Siege.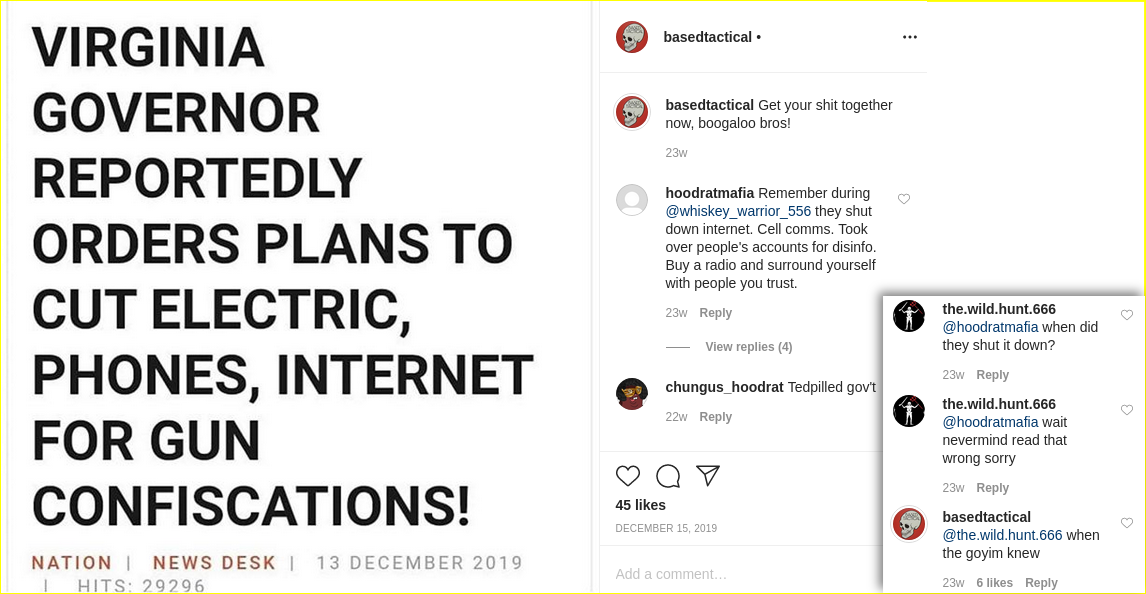 Schomaker directly references the far-right gun rally in Richmond, VA in order to hawk his wares. His customers also reference the "Whiskey Warrior" incident in which thousands of Boogaloo trolls became enthralled with the possibility of kicking off a civil war in defense of a man who had barricaded his house after being the subject of a domestic violence call. As usual, neo-Nazi Aaron Schomaker never misses an opportunity for an antisemitic remark.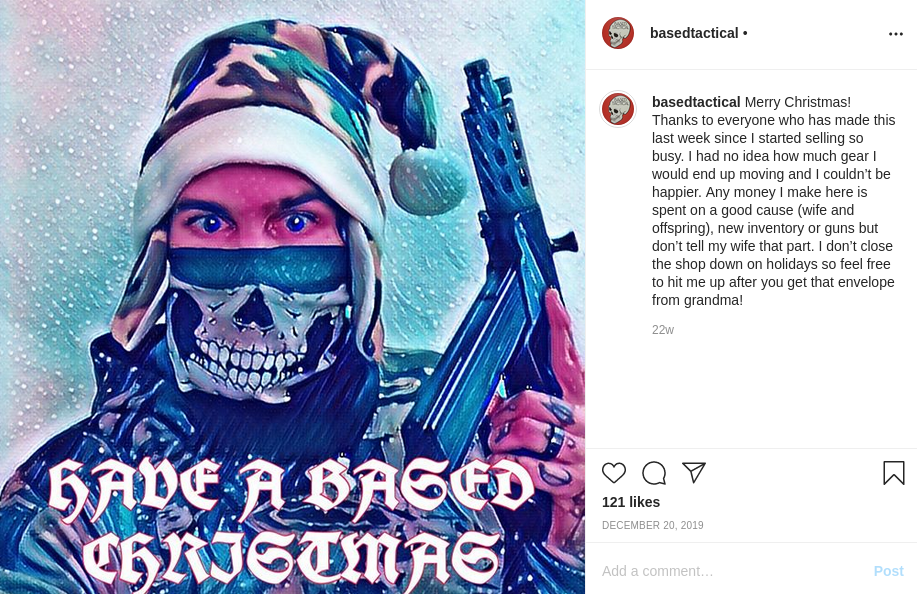 Neo-Nazi Aaron Schomaker thanks his customers with a Christmas-themed selfie after his first week of sales.
Branded Merch
In January of 2020, Schomaker introduced the first instance of Based Tactical branded merchandise on Instagram. Schomaker received graphic design support for his brand from Marrisa Hernandez (@bluntperspective), a young artist whose husband, Matthew Hernandez (@goopy.plac3bo), is a friend of Schomaker's and shares similar Booglaoo-themed content. Hernandez also promoted Schomaker's brand on her personal social media.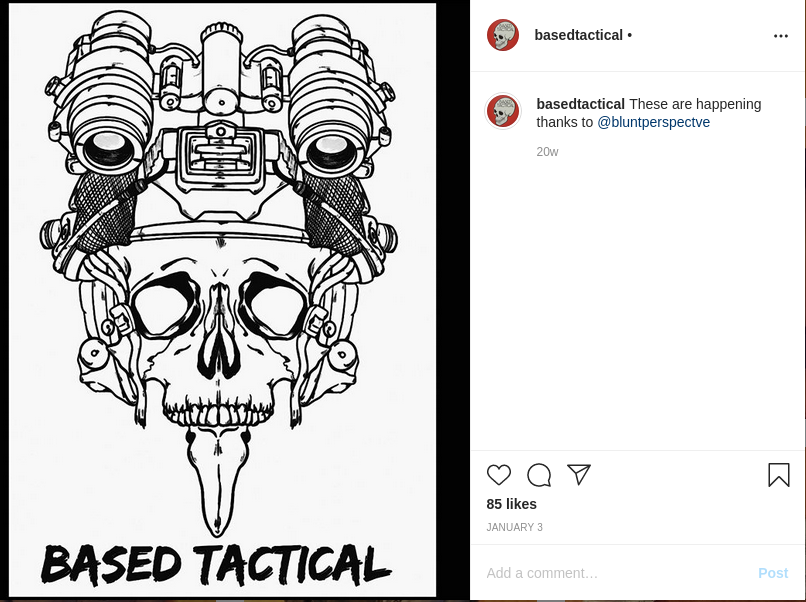 Schomaker reveals a design drawn for his neo-Nazi Instagram store.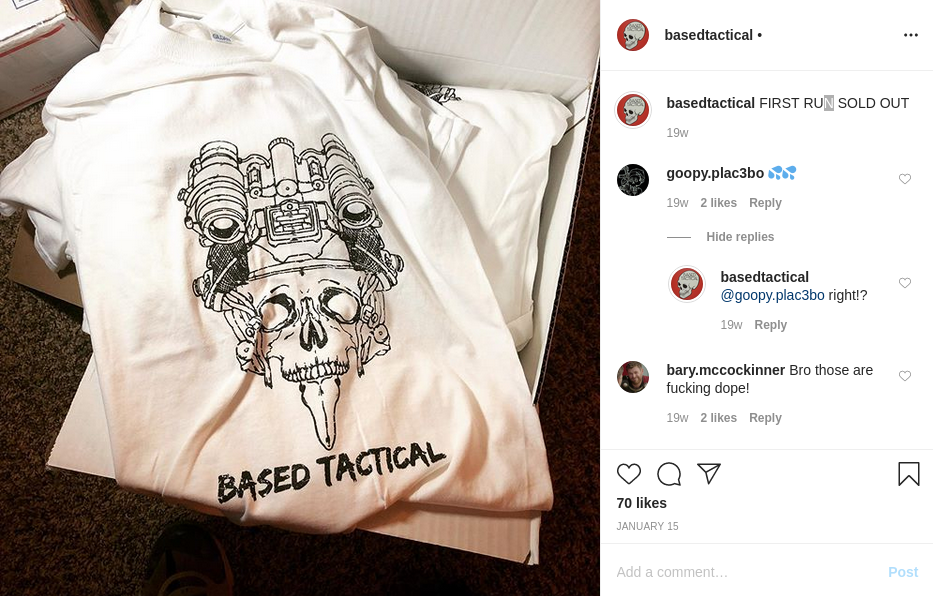 Schomaker sells branded merchandise for his neo-Nazi Instagram store. Matthew Hernandez aka goopy.plac3bo comments.
Schomaker also moved on to include other branded "Based Tactical" merchandise.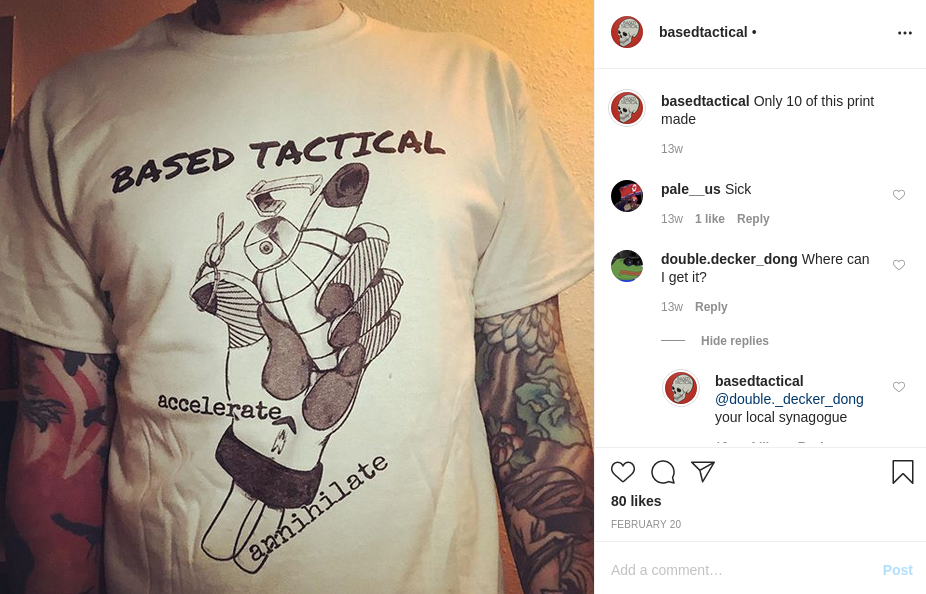 Schomaker models a Based Tactical T-shirt with a hand grenade design and the slogan "accelerate annihilate" in keeping with Schomaker's promotion of accelerationist neo-Nazi ideology. Schomaker also makes a threatening antisemitic joke in the comments.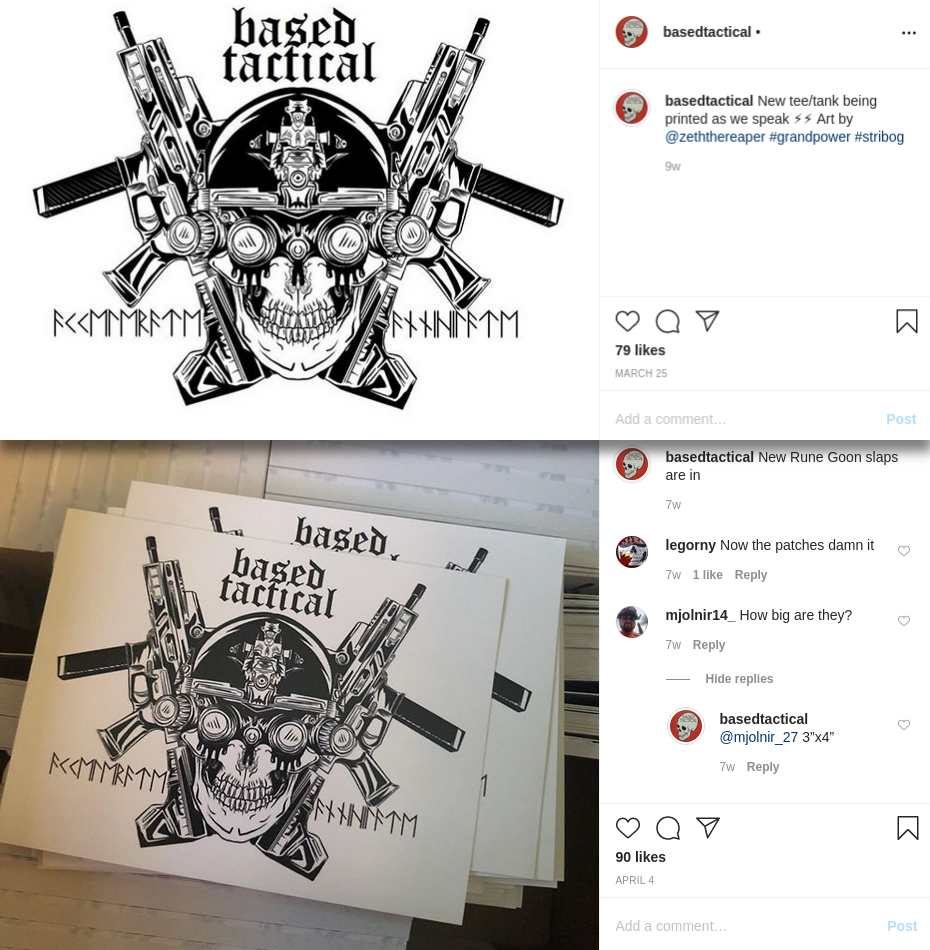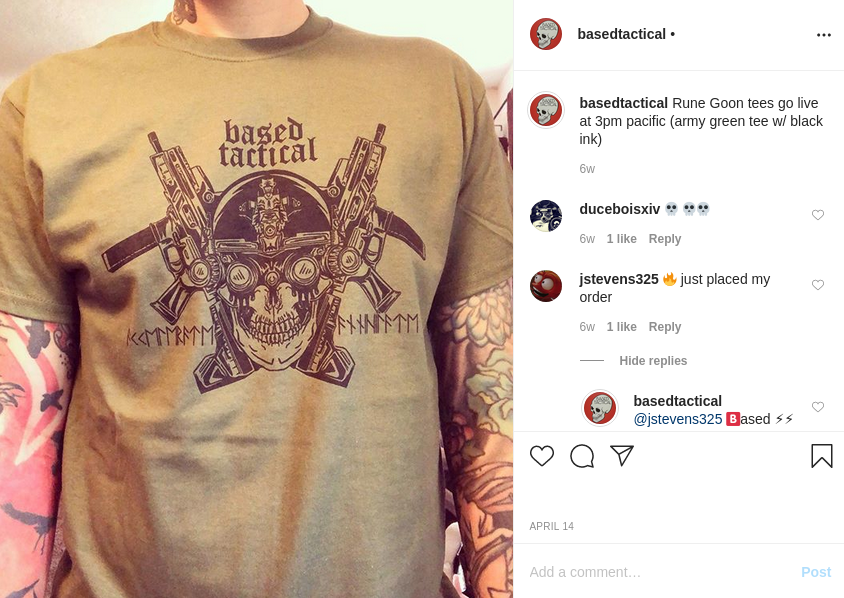 Neo-Nazi Aaron Schomaker models a Based Tactical T-Shirt designed by an Instagram artist called "zeththereaper," in his posts about the shirt he makes frequent use of the Sowilo rune, which was appropriated & altered by the Nazis into the "Sig rune," the eventual insignia of the SS. The runes at the base of the skull design spell out a clumsy English transliteration of Based Tactical's "accelerate annihilate" slogan.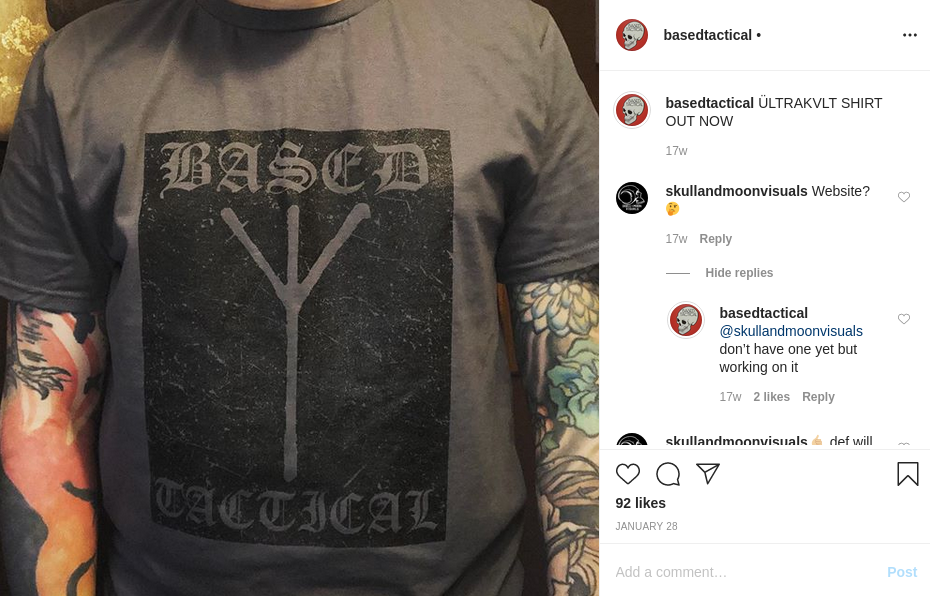 Schomaker models a Based Tactical shirt featuring the Algiz rune, which was widely adopted by the Nazi party & remains a prominent part of the symbology used by modern neo-Nazi gangs like Volksfront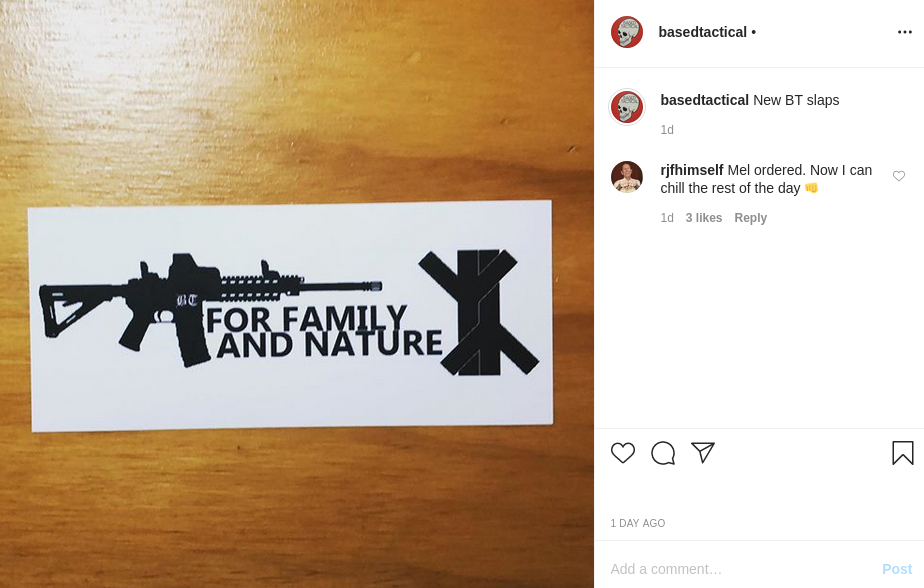 Schomaker advertises Based Tactical stickers for sale, also featuring the Algiz rune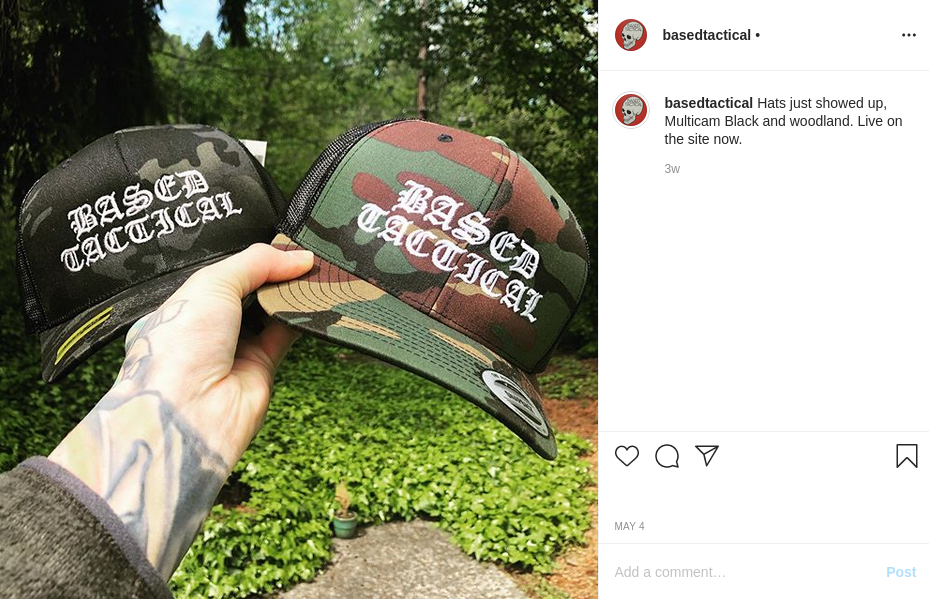 Schomaker advertises Based Tactical hats
Fascist Propaganda As Tactical Merch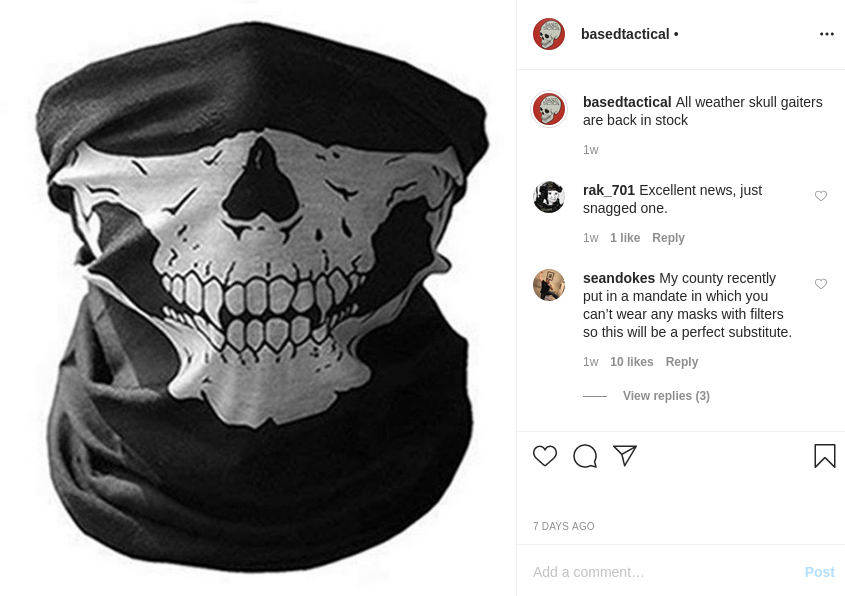 Schomaker advertises the "skull mask" wrap which has become popular with accelerationist neo-Nazis like Atomwaffen Division.
Based Tactical walks a line between appealing to fully "red-pilled" fascists, on the one hand, and avoiding content that could constitute an Instagram terms of service violation, on the other. Stopping short of swastikas or familiar slurs, Schomaker's wares have increasingly featured fascist symbols and propaganda alongside Boogaloo related content, thereby solidifying the link between the two within his ideological community. The runic symbols frequently appropriated by fascists figure heavily in Schomaker's aesthetic, and his use of the slogan "Accelerate Annihilate" is an unambiguous reference to both Boogaloo rhetoric and the rhetoric of violent neo-Nazi accelerationists. An SS-totenkopf, and the initials RWDS (Right Wing Death Squads) adorn Waffen SS notched shield patches. His use of the slogan "For Family and Nature", an exhortation arising from eco-fascist and traditionalist tendencies within the far-right, is ironic given that after a drunk Schomaker once allowed his two-year-old son to go missing he was found in a patch of blackberry bushes. Mel Gibson's face replaces the swastika on a sticker sold as "Based Mel," a somewhat heavy-handed visual reference to Gibson's own virulent and long-standing antisemitism. Other highlights include more examples of Schomaker's continued fascination with the Ukranian fascist paramilitary group Azov Battalion.
Included below are some instances of fascist propaganda from among Schomaker's merchandise.
Valknut
We've written before about the Valknut symbol's appropriation by neo-Nazis & white supremacists. As always, we must stress that this symbol does not always connote racism or fascism, but when neo-Nazis like Aaron Schomaker use it, you can be certain that it does.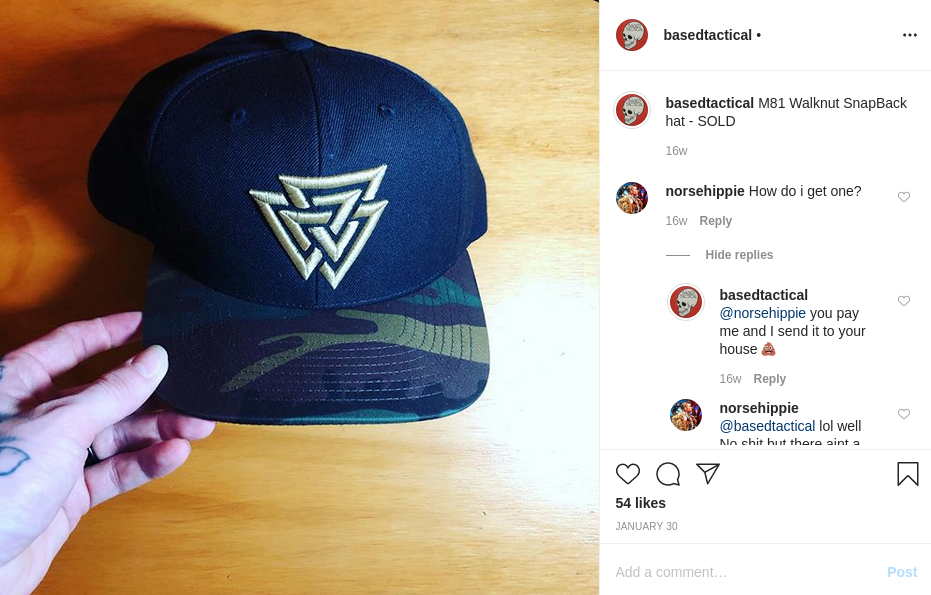 Eco-fascism
Eco-fascism has become a common political thread among many neo-Nazi accelerationists such as The Base.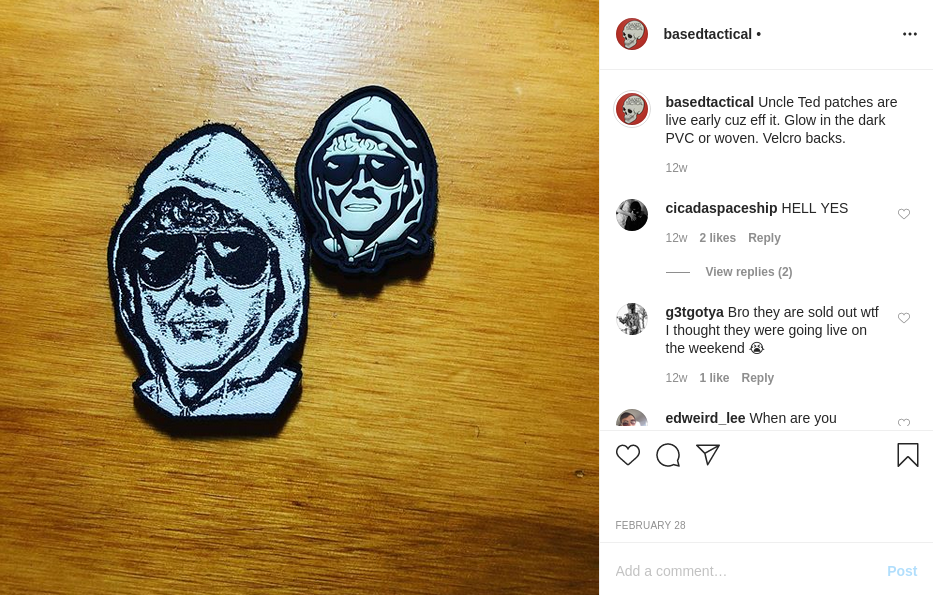 Schomaker sells patches featuring the police sketch of Ted Kaczynski aka the Unabomber, who has been adopted as a cult figure among eco-fascist groups.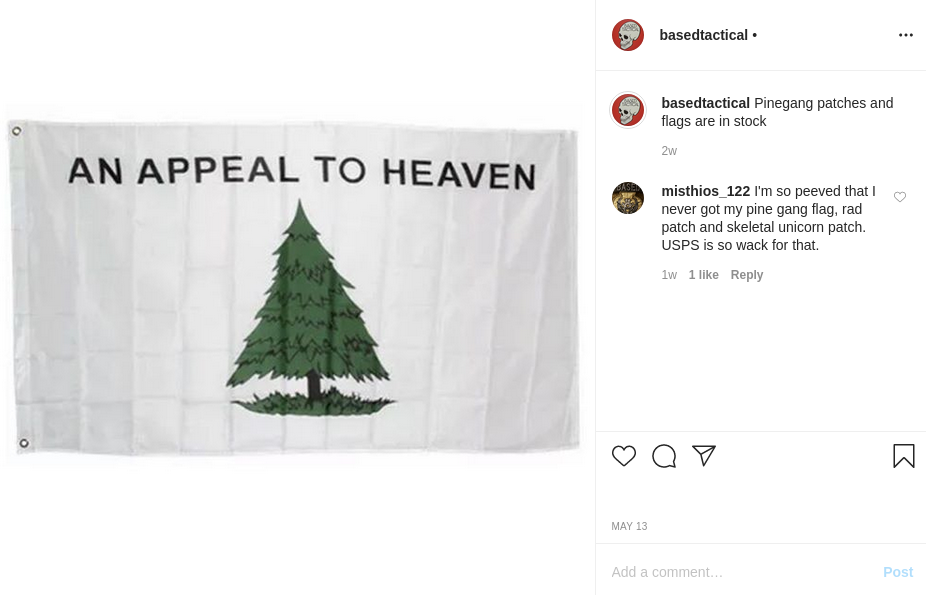 Neo-Nazi Aaron Schomaker has sold several items featuring the design of the US Revolutionary War era "Pine Tree Flag", which has also been adopted in eco-fascist circles. "Pinegang" refers to a neo-Nazi online subculture which embraces eco-fascist politics & uses pine tree emojis in screen-names.
Totenkopf and the SS
The Totenkopf is the skull and bones symbol used by the Nazi Schutzstaffel, also known as the "SS". The SS served as the Nazi police, violently enforcing Nazi policies within Germany, and among Nazi soldiers engaged in combat, and acting as guards at Nazi concentration camps. The Totenkopf depicted on the shield in this patch Schomaker advertises is specifically associated with a Nazi tank division well-known for committing war crimes.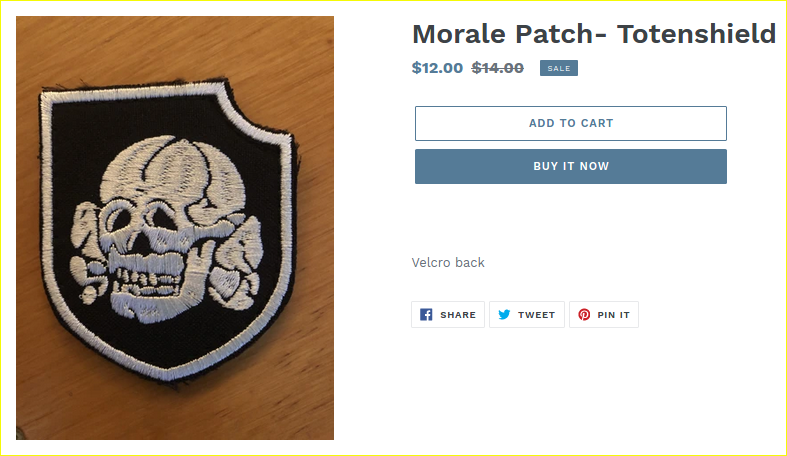 Schomaker also sells a patch celebrating the Freikorps, which were various volunteer Nazi paramilitary groups. This patch also makes use of the notched shield outline, a symbol associated with the Waffen SS. And if there was any doubt, Schomaker's Nazi store is also selling a "Hallowed SS" T-shirt, again celebrating the Nazi institution responsible for inflicting unimaginable violence. The shirt features a skeleton wearing a Wolfsangel patch, another common Nazi symbol.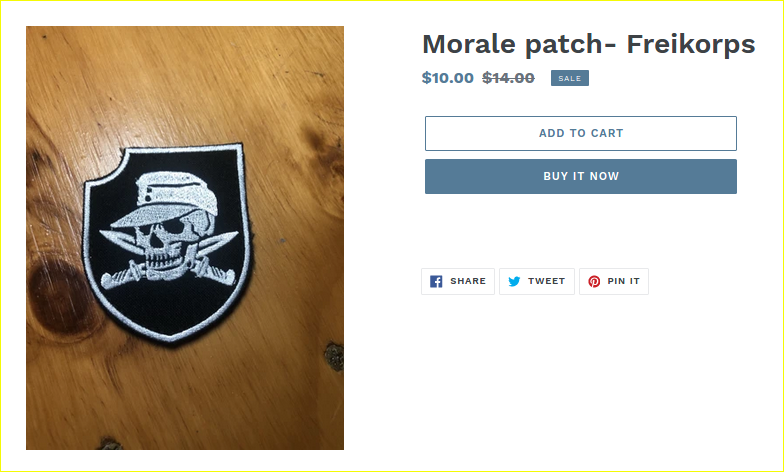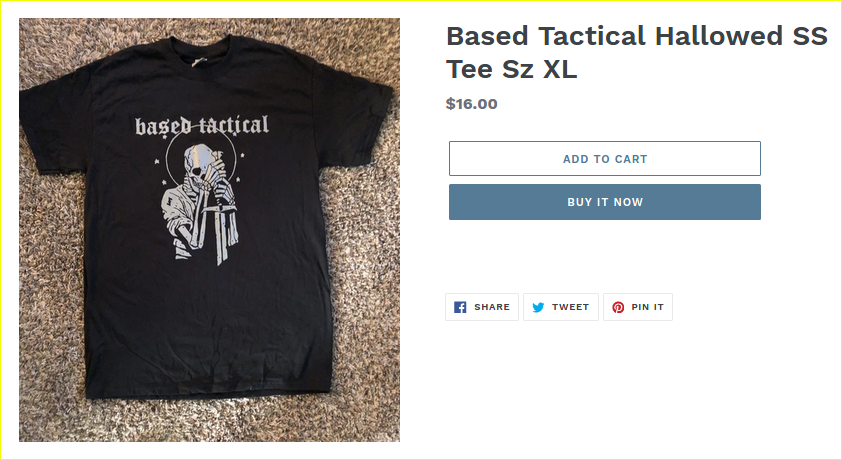 Italian Social Republic
Another item available in the Based Tactical shop was the flag of the Italian Social Republic, which was the Italian Fascist state led by Benito Mussolini. The Italian Social Republic formed in the latter part of World War II, and was thoroughly supported by the German Nazi party, which had Nazi soldiers occupying Italy at that time. The flag flew in Italy until the surrender of Germany during World War II.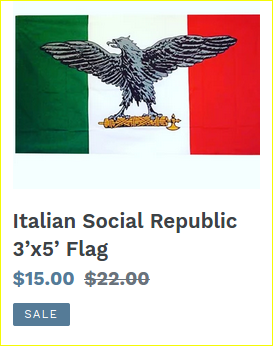 Right Wing Death Squads
Schomaker has also sold merchandise with the popular far-right "RWDS" slogan which calls for a resumption of state & extrajudicial fascist squad murders of political dissidents.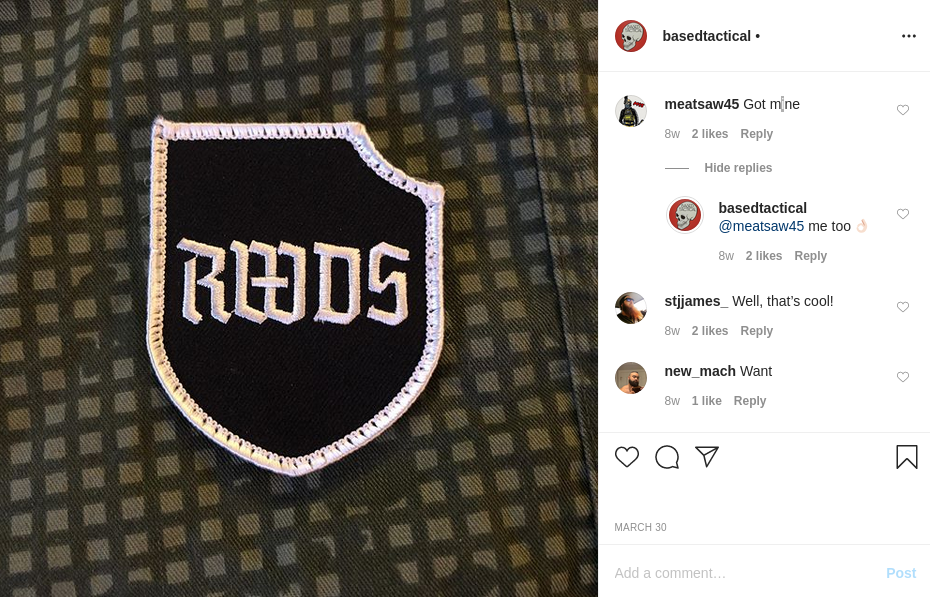 Schomaker sells a "Right Wing Death Squads" patch made in the notched-shield style of a Nazi SS Waffen insignia.
AZOV Battalion
Neo-Nazi Aaron Schomaker is also selling merchandise associated with the Ukrainian neo-Nazi militia AZOV Battalion.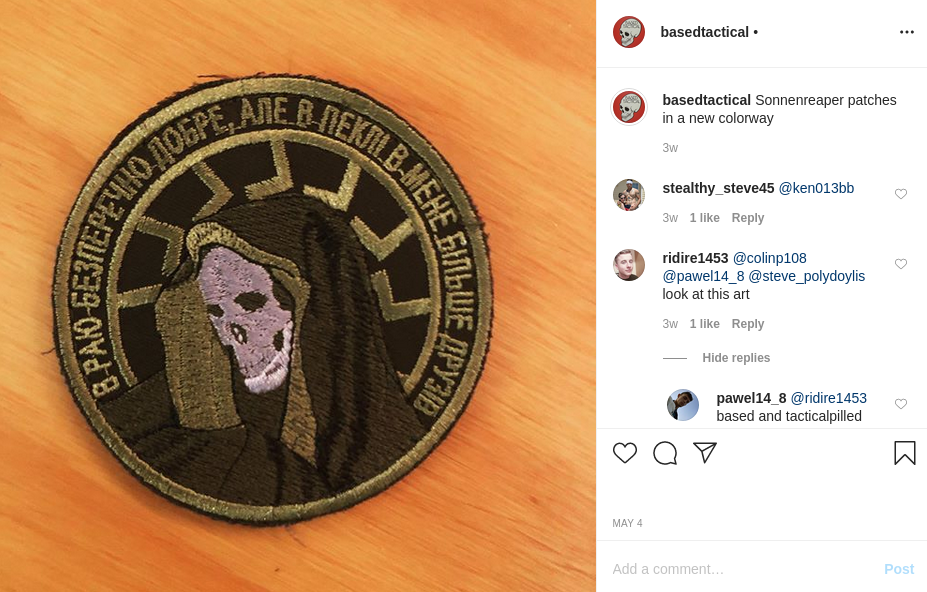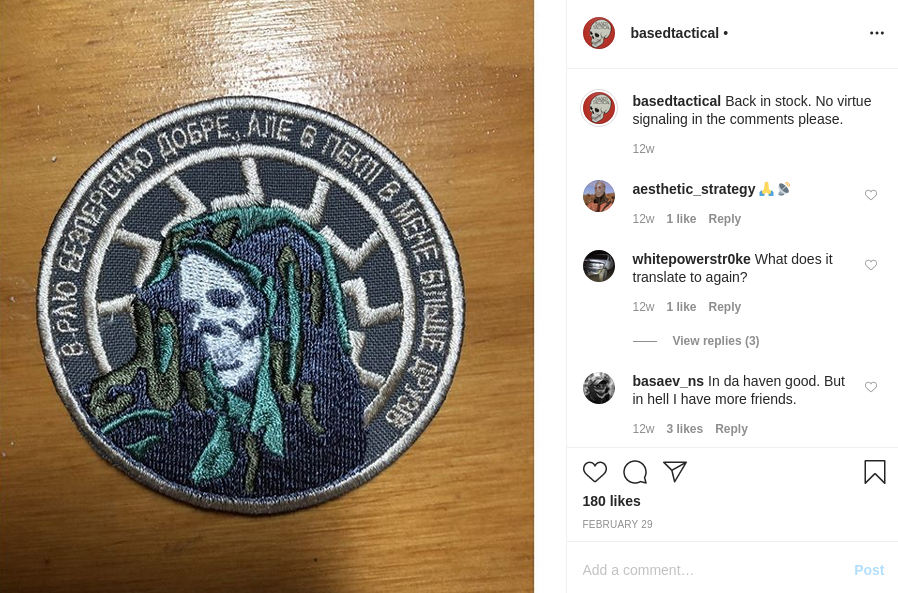 Schomaker sells a sonnenrad patch he has shown off in the past.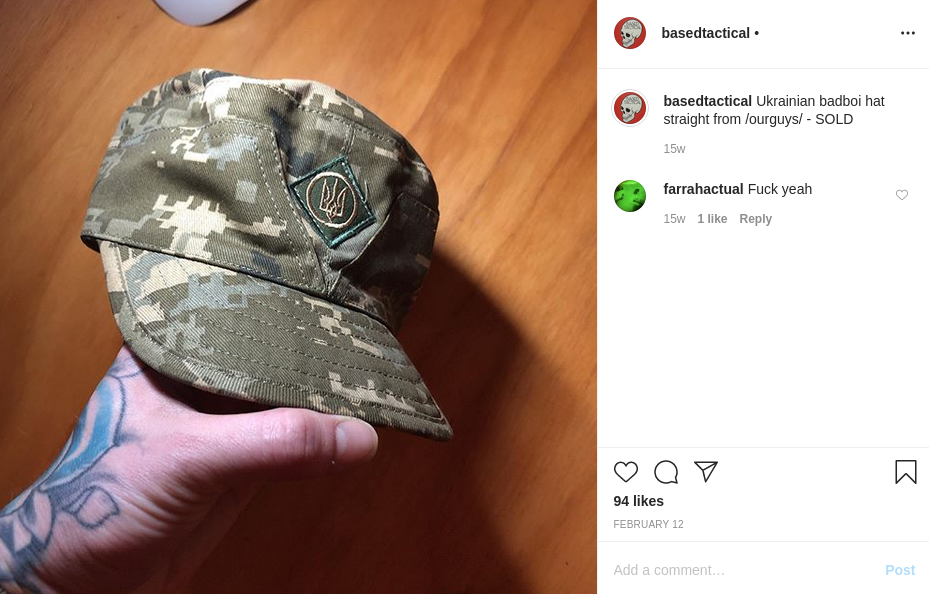 Schomaker advertises a hat featuring the Ukrainian "Tryzub" symbol with the slang /ourguys/ used by far-right and neo-Nazi internet subcultures to indicate a political affinity with other fascists or fascist organizations.
Odal Rune
Schomaker sells a number of patches featuring the Elder Futhark Odal (or Othala) rune, which was appropriated by the Nazi party, and more recently has been adopted as the symbol of the National Socialist movement.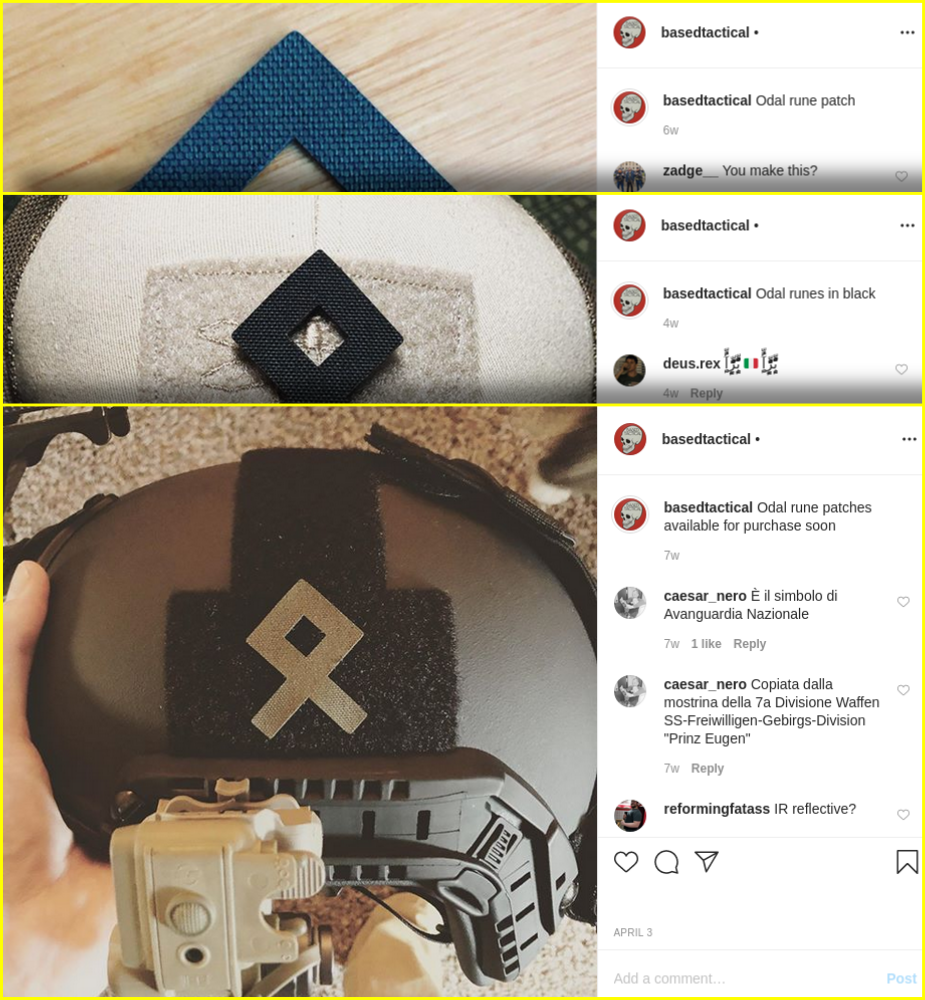 Neo-Nazi Aaron Schomaker advertises patches featuring the Odal rune, which has been adopted by neo-Nazi organizations.
Antisemitism
Schomaker has continued to promote his virulent antisemitism under the umbrella of his Based Tactical internet boutique.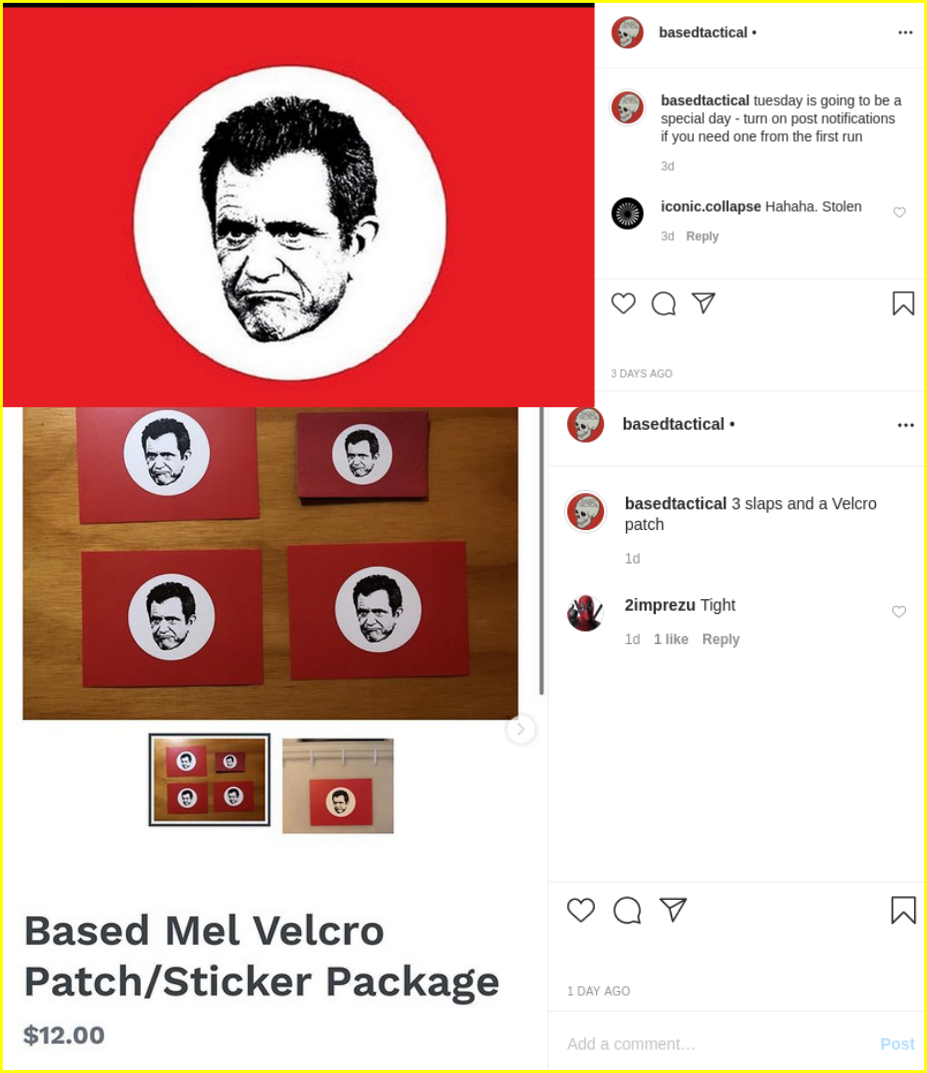 Aaron Schomaker advertises stickers and patches which are a facsimile of the flag of the Nazi Party, but with the swastika replaced by an image of actor Mel Gibson's face. Gibson has been adopted as a beloved celebrity by alt-right neo-Nazis specifically because of an antisemitic rant he spewed during a DUI arrest in 2006.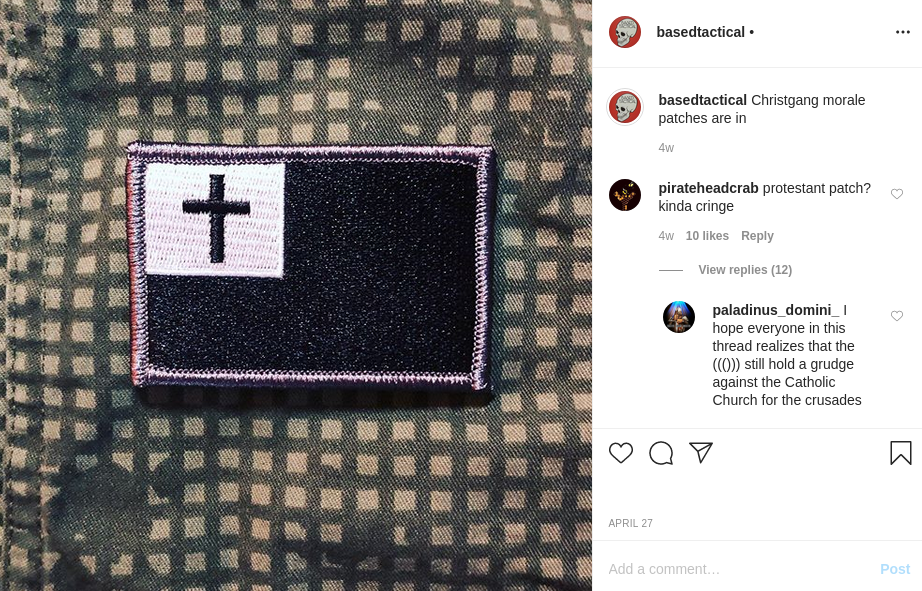 The customer base Schomaker has cultivated for sales of tactical weapons gear is aligned with his virulently antisemitic bigotry. Here Schomaker is selling a "Christian Flag" (not always a fascist symbol, but popular with Christian Identity adherents and Patriot Prayer neo-Nazis like Allen Pucket), and one of his customers uses the triple parentheses meme in an antisemitic comment.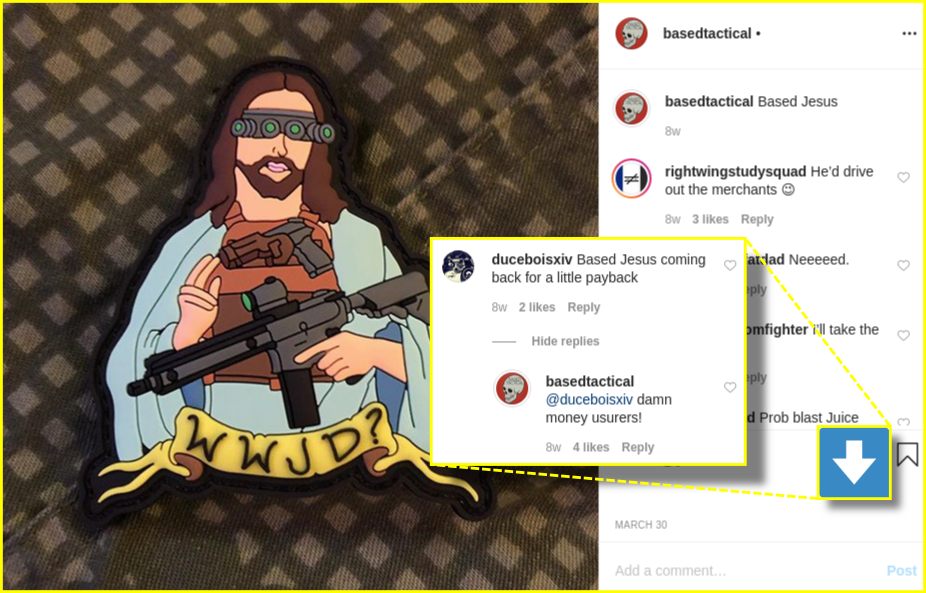 Schomaker and the customers who buy his tactical weapons gear celebrate an antisemitic interpretation of Christianity as part of an alt-right neo-Nazi movement which universally euphemizes Jewish people as "merchants"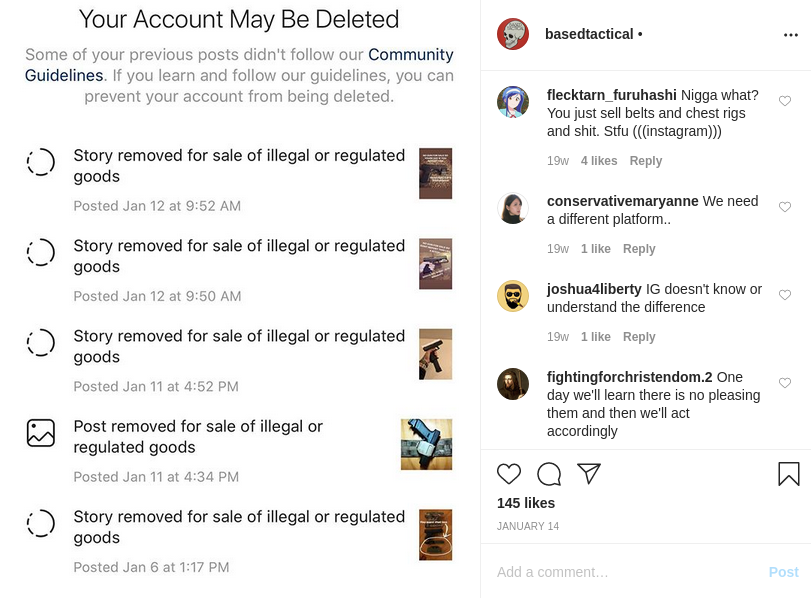 Schomaker posts a warning he received from Instagram that his tactical weapons gear boutique may be in violation of their terms of service. One of his many neo-Nazi customers uses the antisemitic triple parentheses meme to imply that the social media platform is controlled by a Jewish conspiracy. Schomaker's account was subsequently suspended, and he moved to his backup ban-evasion account @based_tactical
Boogaloo Merch
Alongside his explicitly neo-Nazi merchandise, Schomaker also sells symbols which have become popular among adherents of the Boogaloo subculture.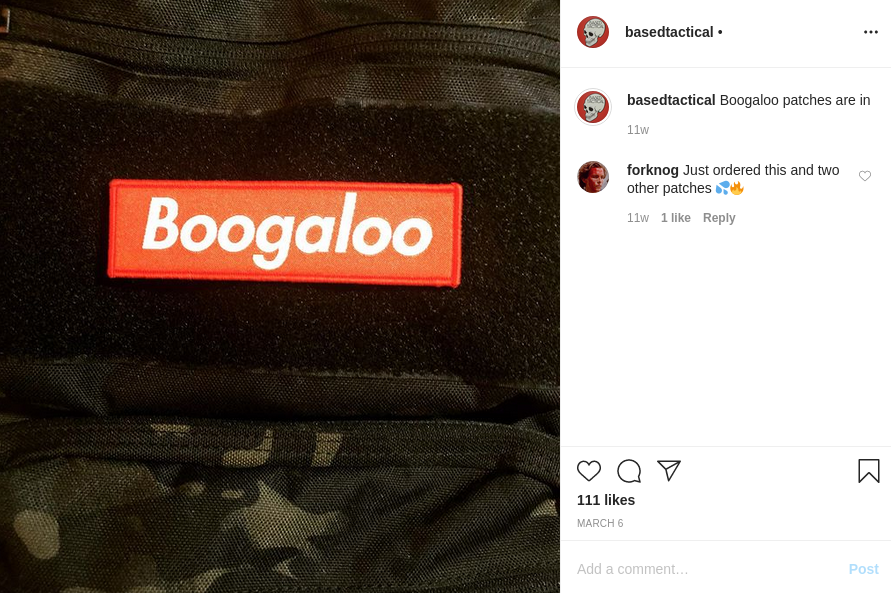 Neo-Nazi Aaron Schomaker advertises a stylized "Boogaloo" patch which has been seen at various far-right rallies in recent months.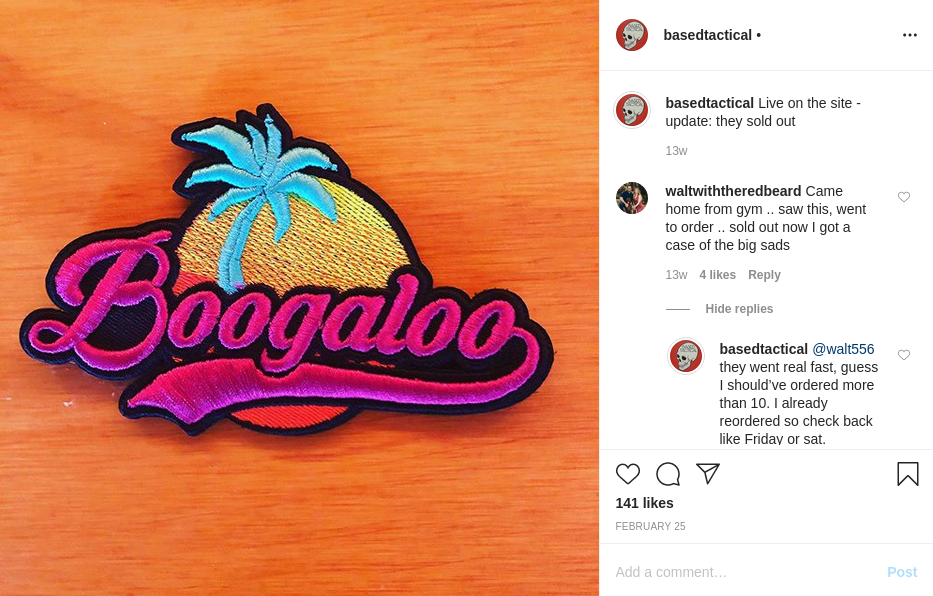 Neo-Nazi Aaron Schomaker advertises a "Boogaloo" patch styled in the alt-right "fashwave" aesthetic.
Nicole Lesech
Name: Nicole Lesech

DOB: 12/07/84

Instagram: @eskimote

Schomaker currently lives in Gresham, OR with his romantic partner Nicole Lesech. Based on her Instagram posts, it appears that their relationship has only intensified since we reported on his dangerous accelerationist racism in 2018. With full knowledge of his murderous neo-Nazi ideology and his past negligent disregard for the safety of his first child; she began to refer to him as her fiance, and earlier this year Lesech and Schomaker gave birth to a child together.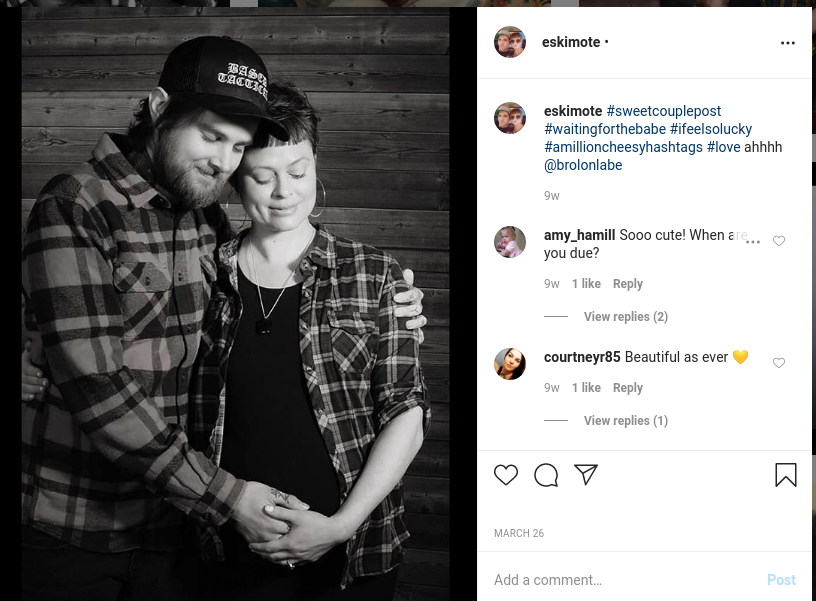 Schomaker wears a hat advertising his brand of neo-Nazi and Boogaloo themed tactical gear while posing with Lesech during her pregnancy.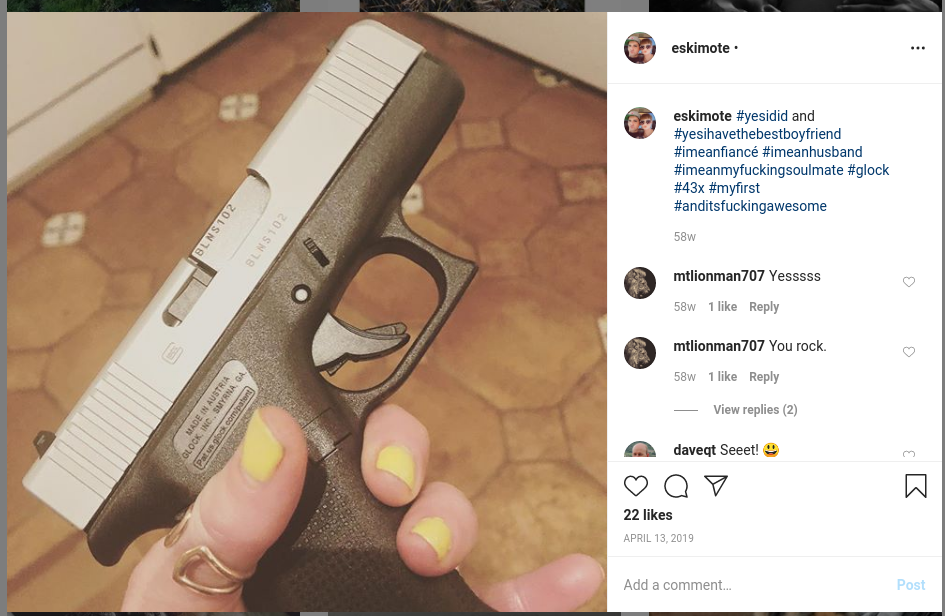 Long after we revealed court documents of Schomaker's history of domestic violence, including death threats against the mother of his first child, Lesech recieves a gun from him as a gift.
Fascists Are Unwelcome In Portland
When we as a community learned a disgusting neo-Nazi bigot like Aaron Schomaker was bartending at a popular downtown bar, we came together to tell the owners of that establishment that his continued presence would no longer be tolerated. Resorting to online sales to make a living creates the need for a different approach to undermining his abilty to spread neo-Nazi propaganda and equipment to young fascists looking to murder people. We are asking that community members report Schomaker's Based Tactical accounts as listed above, and that people keep an eye out for the fascist merch & propaganda sold through his platforms.
If you have further information on Aaron Schomaker, Based Tactical, or any other fascist organizing, please contact Rose City Antifa at [email protected].