UPDATED 02-26-2018: We received word this morning from RTI Services, LLC, Wade Mendisabal's employer, that Wade's employment with their company would be terminated effective immediately! We want to commend RTI Services for taking such a quick stance against this violent white supremacist!

UPDATED 04-06-2018: We can confirm that, since the publishing of this article, Wade has moved away from the address we had listed for him.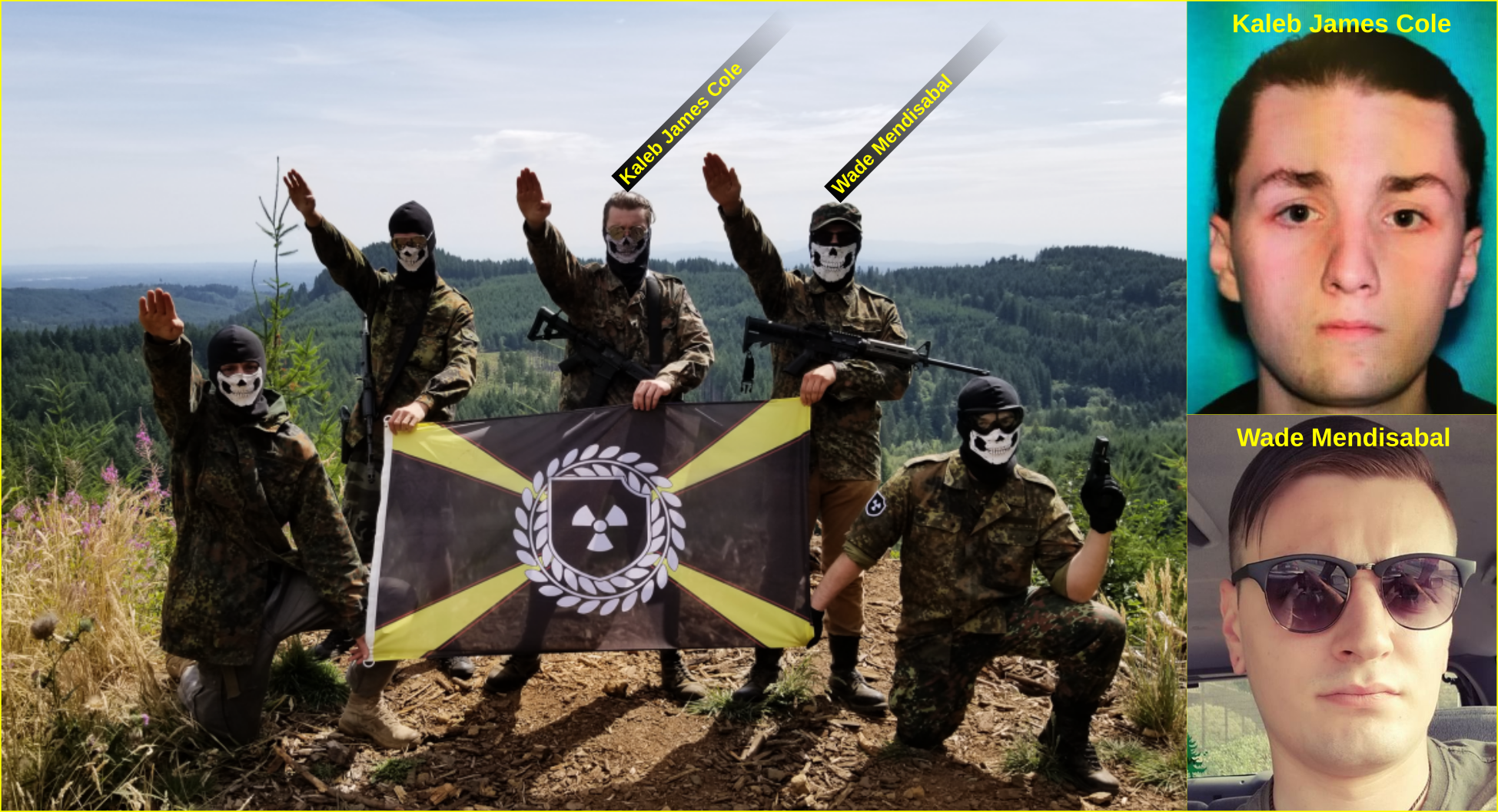 Kaleb James Cole and Wade Mendisabal identified in this group shot of the Washington State Atomwaffen Division cell.
Public interest in violent neo-nazi group Atomwaffen Division (AWD) is at an all-time high, after recent news reports have detailed the string of murders associated with members and former members of the group.
Atomwaffen coalesced among a number of online neo-Nazi individuals in 2015, all involved in posting extreme memes and ideology in the attempts to differentiate themselves from the general cesspool of white supremacist online forums. Gravitating to the now-defunct neo-Nazi site Ironmarch.org, the group began attracting new members. Typical introductions to Ironmarch ensured three qualifications of potential members: 1) they identified as national socialists, or at least fellow fascist travelers, 2) they believe homosexuality was depraved and degenerate, 3) they blamed Jews for the world's problems.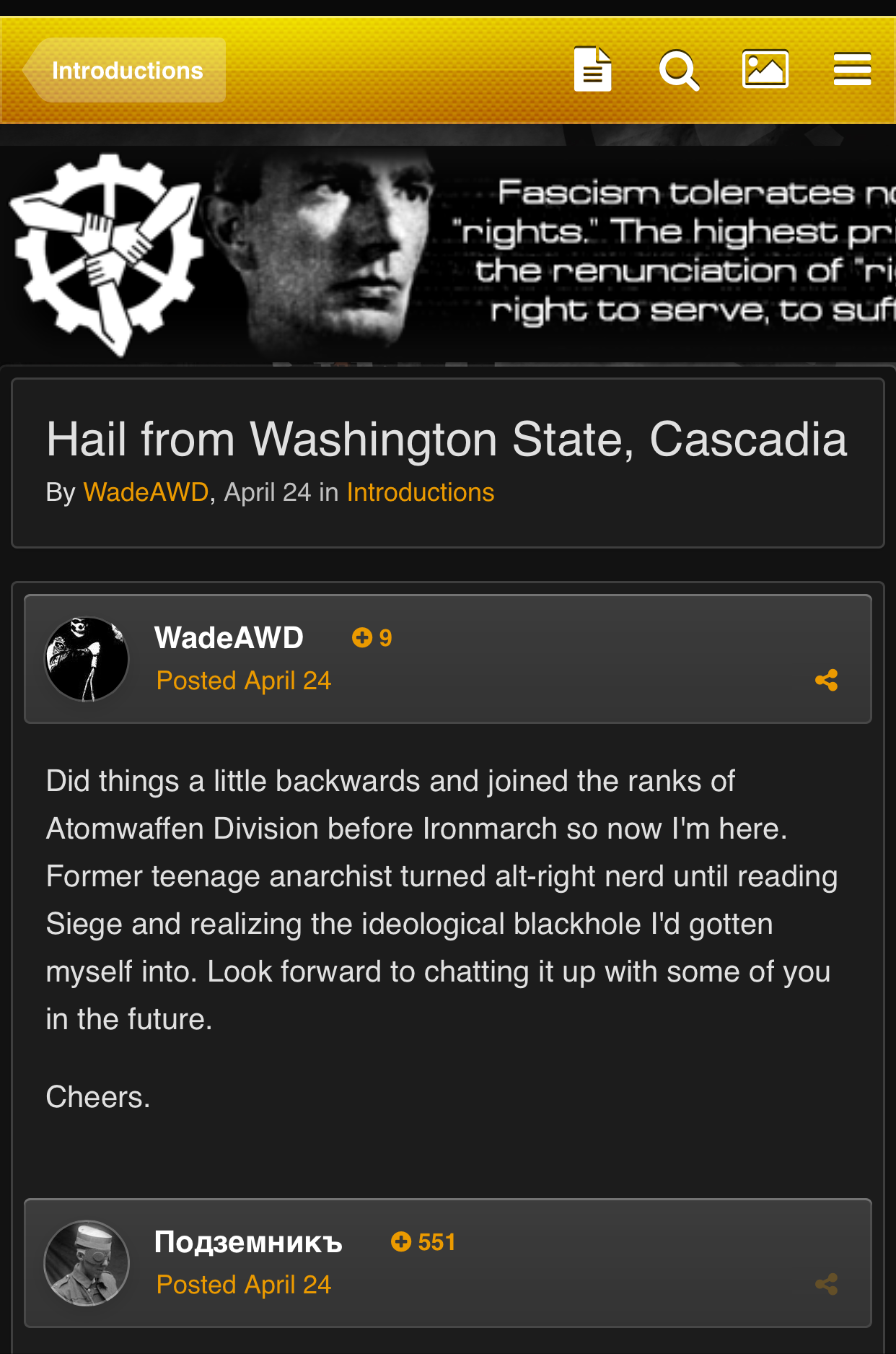 Wade Mendisabal introduces himself on Ironmarch.org
The group rallied around a book by former American Nazi Party member James Mason, called Siege. Compiled from years of Mason's newsletter, the book–and Atomwaffen itself–paint a picture of a world so corrupted by diversity, communism, and Jewish influence, that the only thing to do is destroy the world in nuclear flame, so that a white supremacist utopia might grow from the ashes.
AWD drew national attention in May of 2017, when Devon Arthurs, a member of AWD who announced his conversion to Islam, killed his two roommates and fellow members of AWD for mocking his religion. Later, during the trial, Arthurs claimed that he killed them to prevent a mass-terror attack. In the group's shared apartment, the FBI found bombmaking materials and radioactive compounds.
Despite this setback, the group continued to grow on Ironmarch. With a radiation-themed logo and an overused "lo-fi" video aesthetic, the group produced propaganda materials that stood out from the other poorly-produced Nazi videos on the internet.
Here in the Pacific Northwest, a group of Washington-based AWD members became one of the larger cells in the country. A recent ProPublica piece outed Blaine, WA resident Kaleb James Cole as "khimære," the main propagandist for the AWD. He is responsible for making most of the posters, online memes, and videos for the group. In order to create more propaganda content, the Washington AWD cell traveled to a number of college campuses during 2017, including Seattle University and the University of Washington, in order to film themselves putting up racist, swastika-laden fliers. The also participated in some of the solar eclipse themed banner drops that occurred in August 2017, working with Oregon Aryans.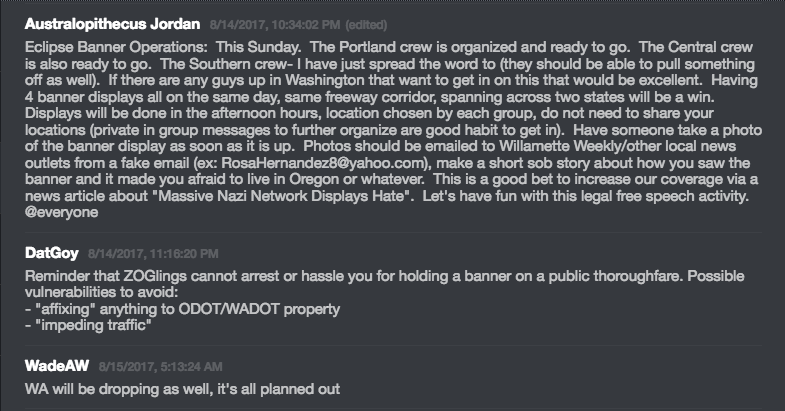 David Woods (Australopithecus Jordan), Andrew Oswalt (DatGoy), and Wade Mendisabal (WadeAW) discuss their plans for dropping banners the weekend before the solar eclipse in the Northwest United States.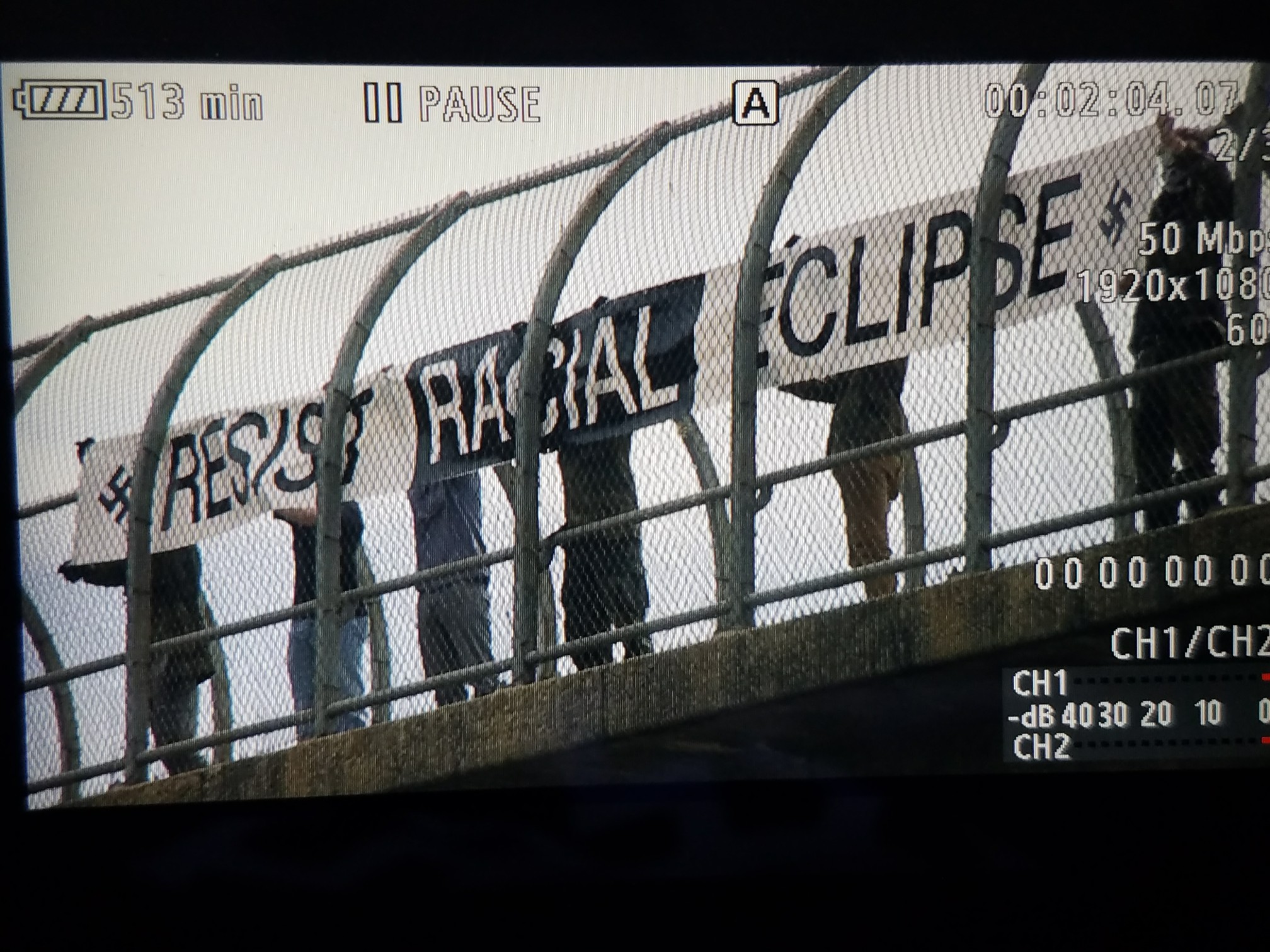 The Washington cell of Atomwaffen Division holds their banner above Highway 99 in Seattle.
They also took a number of field trips to rural areas, such as Concrete, WA, posing for photos and videos with assault rifles, all of which was then used for propaganda purposes. In these videos, they mime combat poses with their weapons as they "explore" one of the best-known abandoned builidngs in Western Washington. But although one might be tempted to mock these youtube antics, the racial violence expressed by a group of young white men storming a graffiti-laden, faux urban enviroment with assault rifles is clearly very real. The trail of murders committed by members of these groups show that as much as they desire media attention, Atomwaffen is not just an act.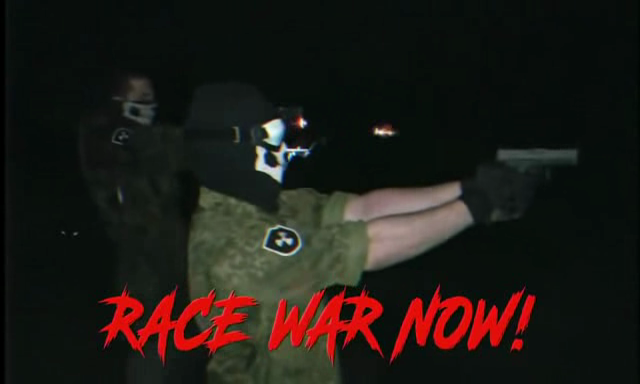 A still from one of Atomwaffen's propaganda videos, produced by Kaleb James Cole and the Washington Atomwaffen cell.
Rose City Antifa became aware of Kaleb James Cole (aka khimære) due to his inclusion in the Cascadia Coffee Company (CCC) discord logs. He was one of several AWD members that were present in the CCC discord, all of them in Western Washington. They corresponded amicably with the Central Oregon Nazis like Jimmy Marr, David Woods, Matthew Combs, and Andrew Oswalt for a while, until an argument about proper nazi flier design precipitated most of the AWD crowd ending transmissions. You can see the full details of this intra-nazi freakout at our article, here.
Another AWD member on the CCC discord was Wade Mendisabal, aka WadeAW. He didn't comment much on the discord, but he has featured heavily in Atomwaffen propaganda. He carries an assault rifle in several of the AWD videos, and has had a number of Twitter accounts (now removed) where he promoted AWD propaganda, and posted photos of himself with weapons, in the patented AWD look: flecktarn camo and skull mask. He also uses the common AWD motif of a SS totenkopf graphic to cover his face.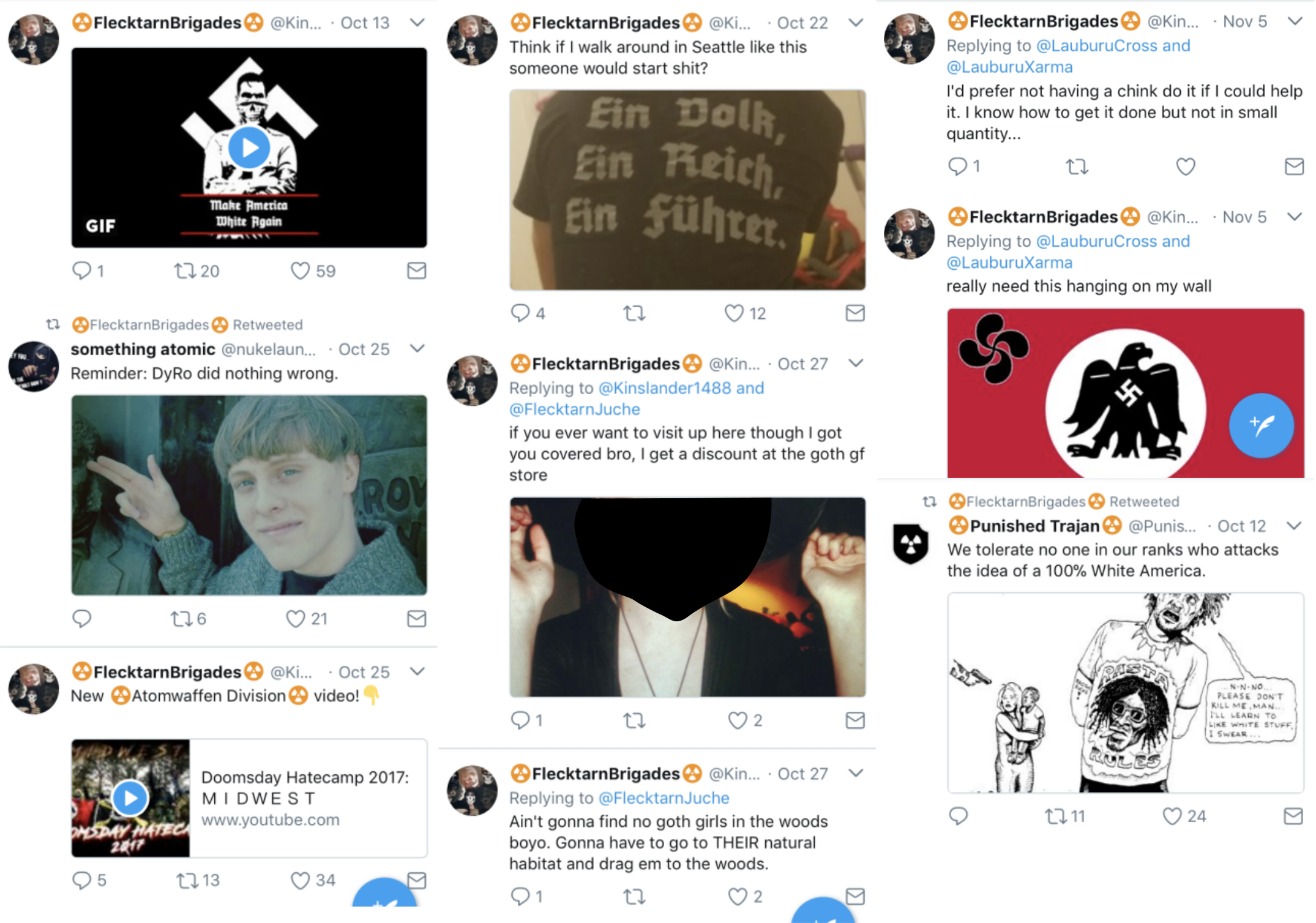 A selection of Wade's Twitter posts, showing his general themes of violence, misogyny, racism, and fascism.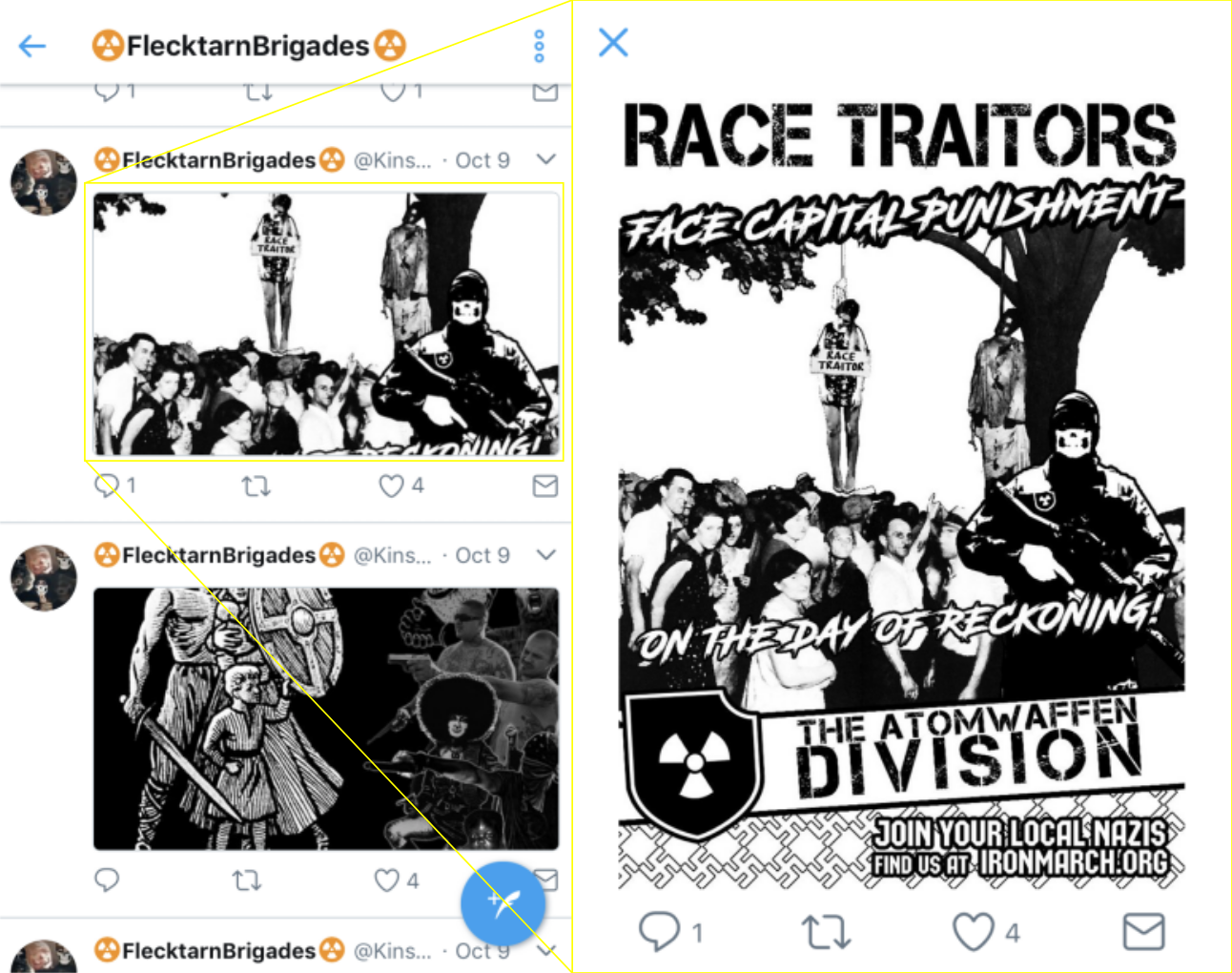 Some of Wade's posts of racist Atomwaffen propaganda.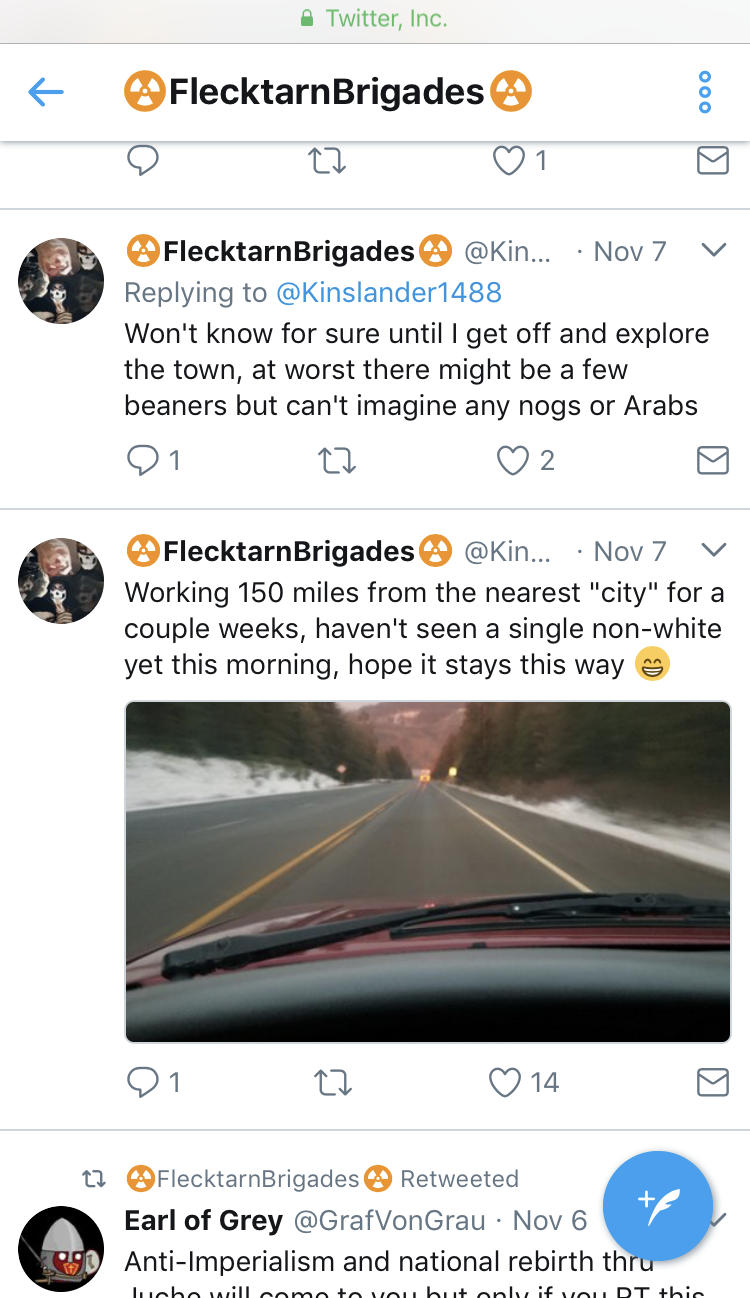 Wade posting casual racism, on his way to a construction job.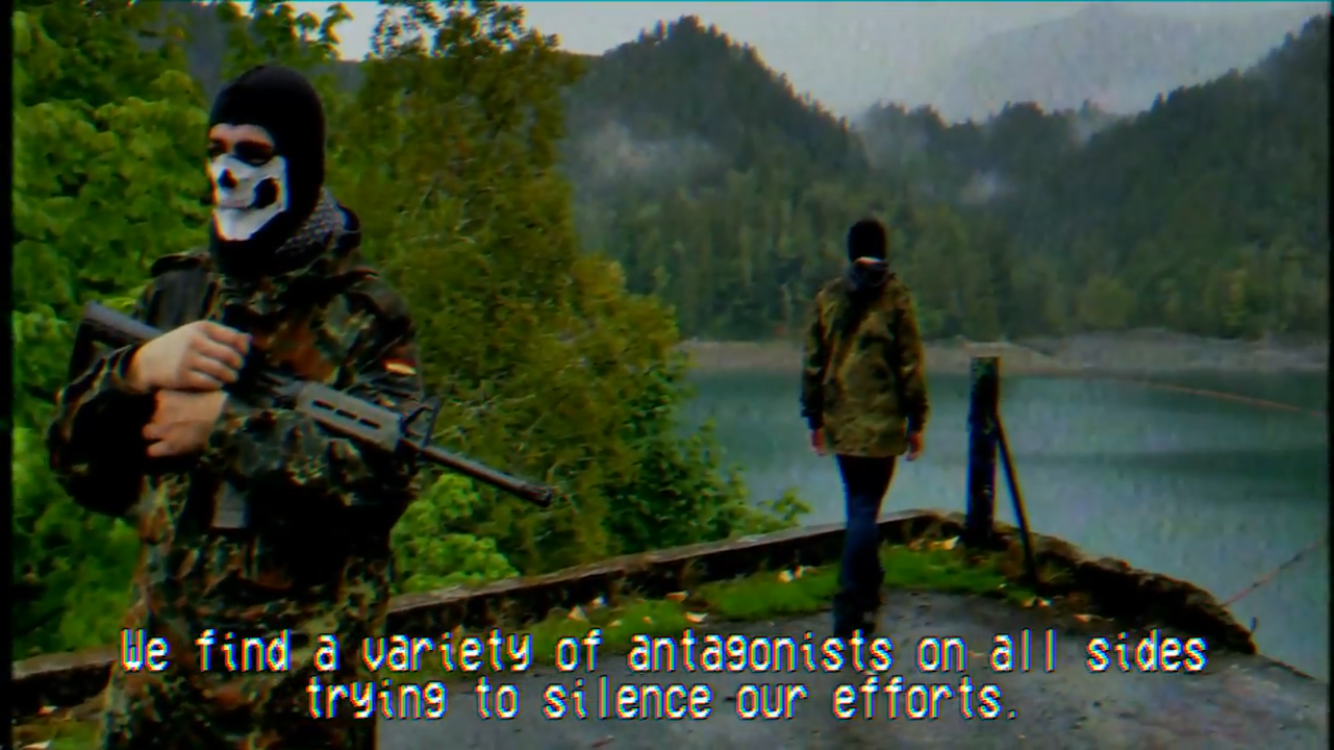 Wade holding a rifle, in one of Atomwaffen's propaganda videos, filmed in Concrete, WA
Mendisabal is of particular interest to Rose City Antifa because he used to be a skinhead, took part in Seattle Sounder events, and even posted antifa-related content on social media. Antifascist activism is very common among both soccer fans and skinheads (see groups like Red and Anarchist Skinheads and Skinheads Against Racial Prejudice for examples of this sort of activism). However,in the last few years he left this behind, becoming closer to acquaintances who lean decidedly towards the far-right, such as Morgan Hutchins, whose social media profile is a laundry list of far-right personalities in the Seattle area, including the many Proud Boys known for attending far-right rallies in order to attack anti-fascist activists. We can now definitively say that right-wing "tough guys" such as Hutchins are also friends with at least one member of Atomwaffen Division: Wade Mendisabal. It is clear that the violence of white supremacist and fascist ideology is appealing to Mendisabal and Hutchins, and that whatever gestures toward community self-defense they may have made in the past were not backed by a lasting commitment to justice. Those who are swayed by fascist ideas are generally drawn to greater bigotry, to fantasies of purity and renewal, and to increasingly fetishized violence as a means to achieving power.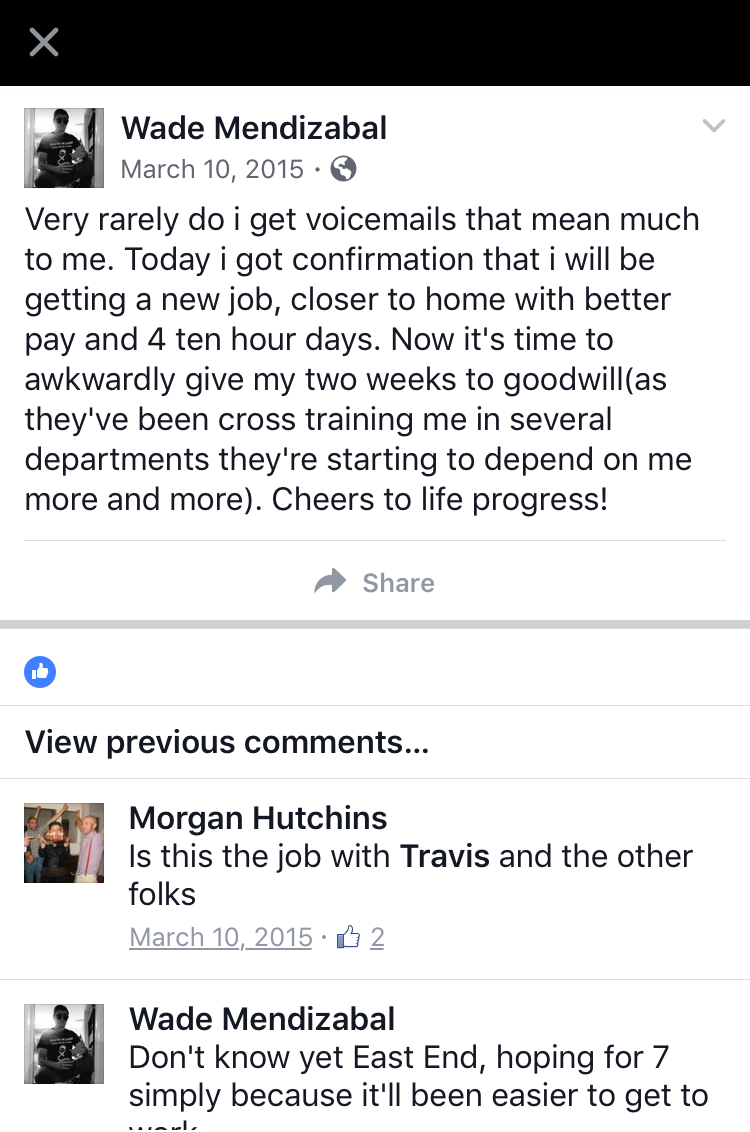 Wade converses with far-right bonehead buddy Morgan Hutchins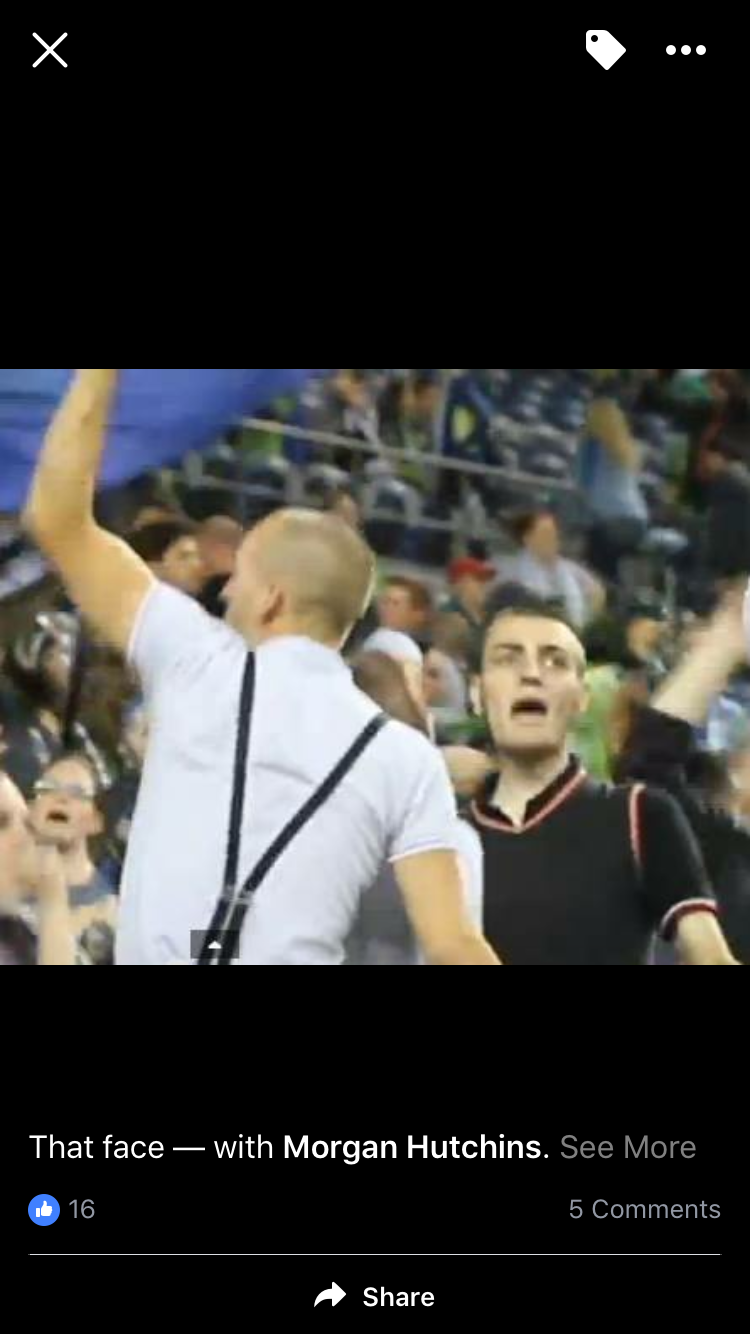 Morgan Hutchins at a soccer match with Atomwaffen member Wade Mendisabal
Personal Details of Wade Mendisabal
Date of Birth: June 5, 1992
Aka: Wade Mendizabal; WadeAW; Kinslander1488; Goy Division
Address: Unknown. If you have any insight into Wade's current whereabouts please get in touch.
School: Scriber Lake High School (class of 2010)
Vehicle: White Jeep Cherokee, Washington License Plate BEL5838
Second Vehicle: Red Ford Ranger, Washington License Plate 370XDX
Job: construction. It is not confirmed, but it is likely he works for his step-father's business, RTI Services.
Distinguishing characteristics: Mendisabal has a large tattoo of the The Misfits skull logo on the outside of his left forearm.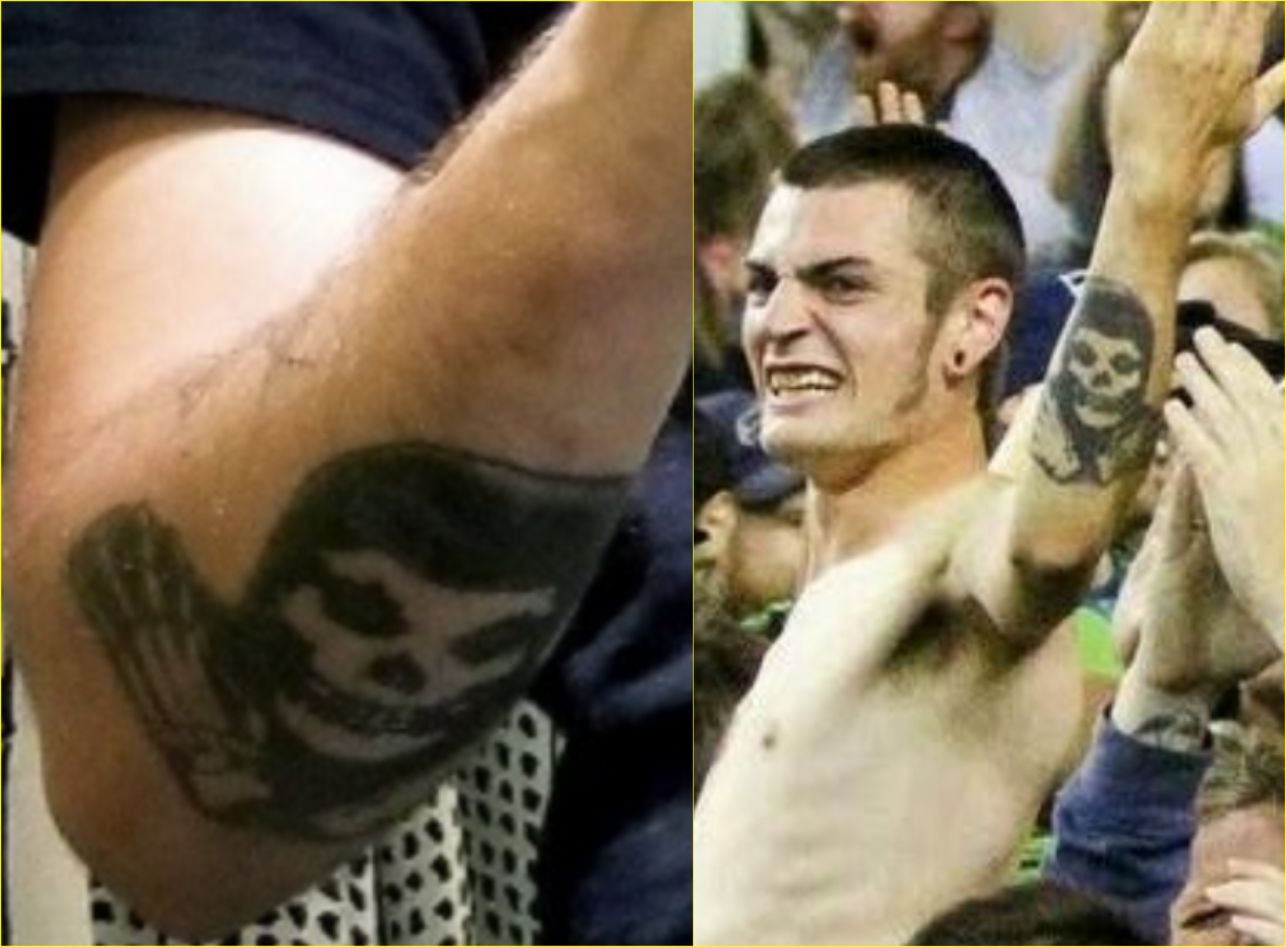 Clear photos of Wade Mendisabal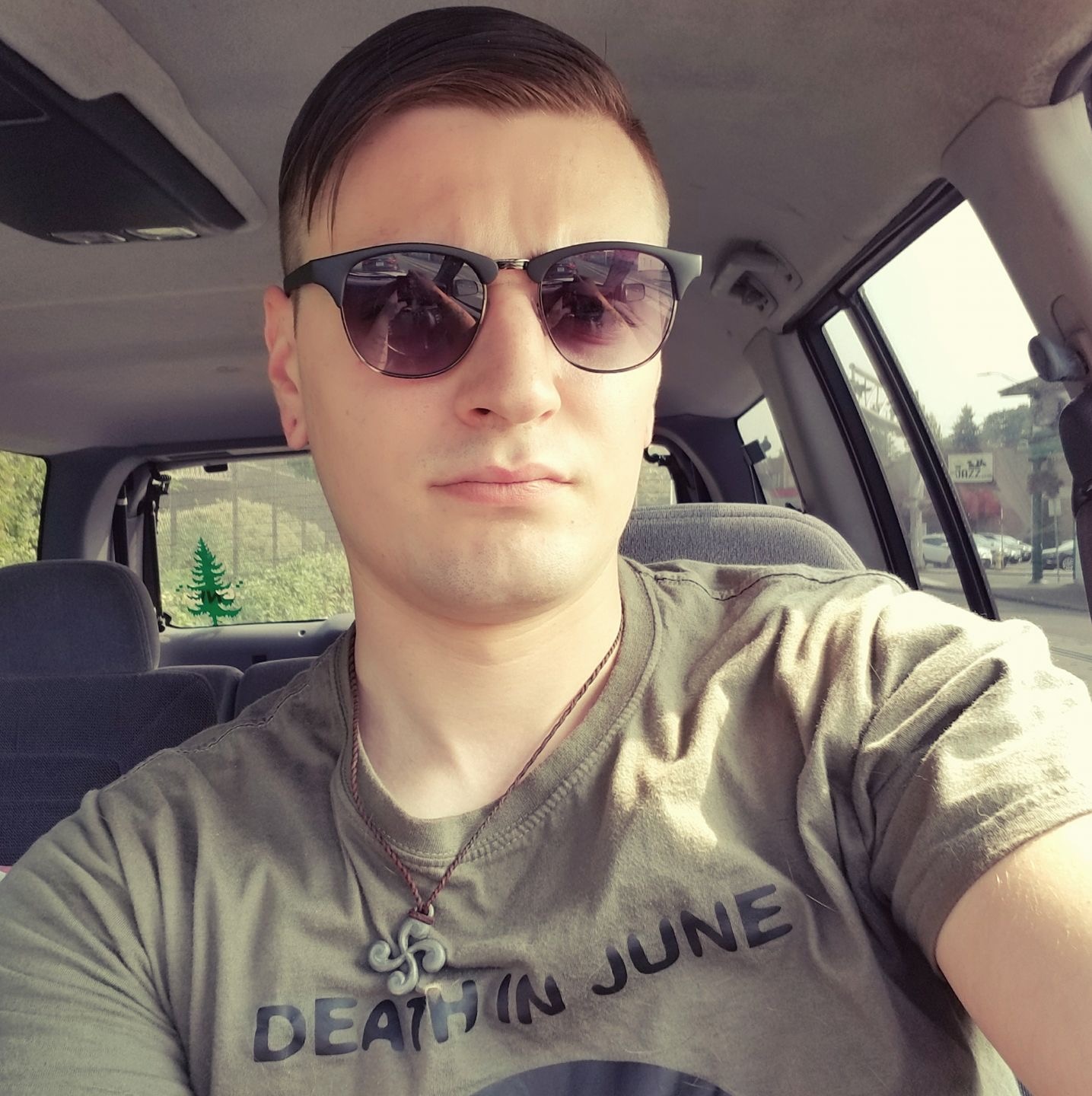 Wade Mendisabal, wearing a Lauburu necklace, a Basque symbol (Mendisabal's heritage is from that region) often appropriated today by fascists. If clarification is necessary, note he is also wearing a T-shirt for Death in June, a fascist neofolk band.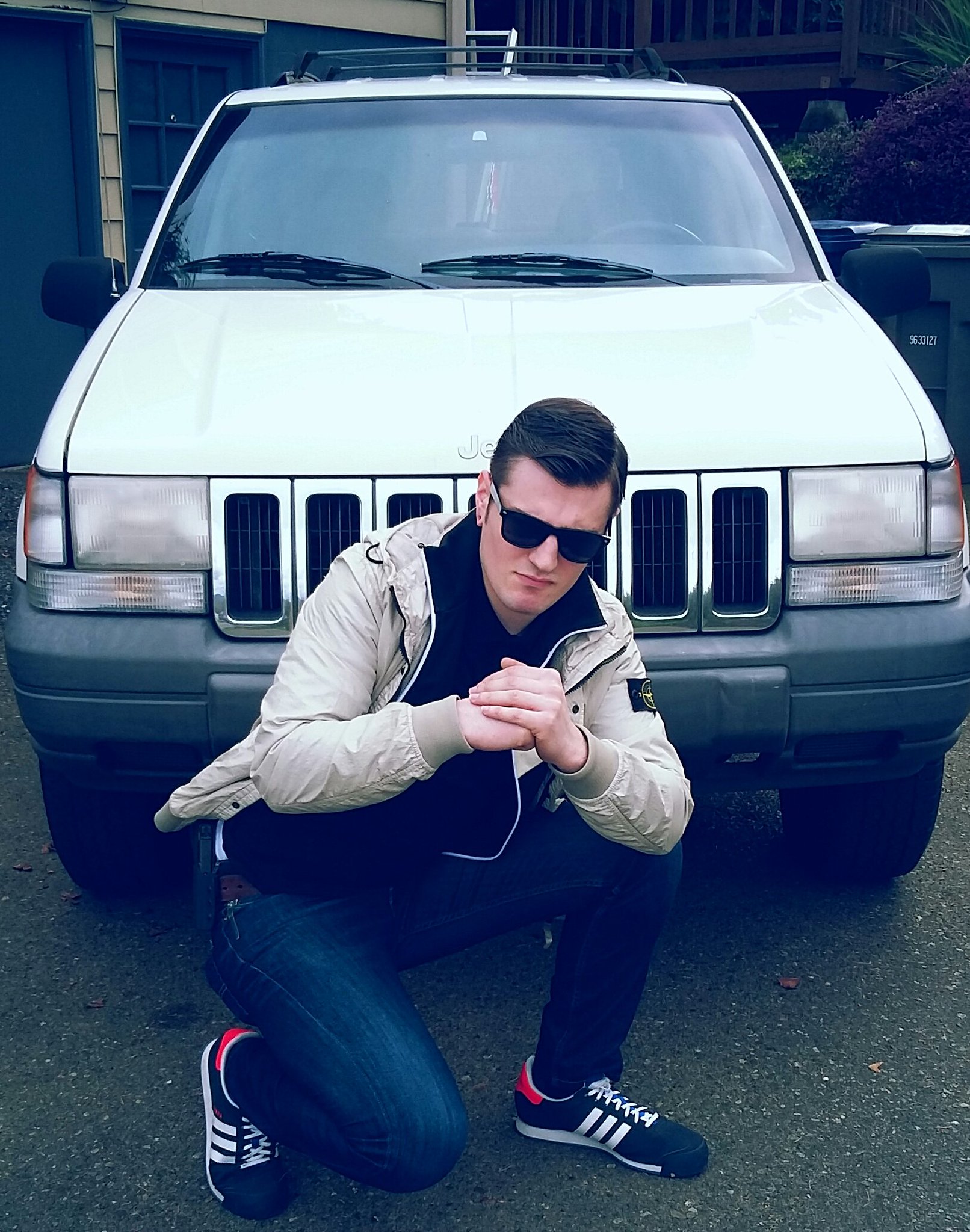 Wade posing with one of his cars.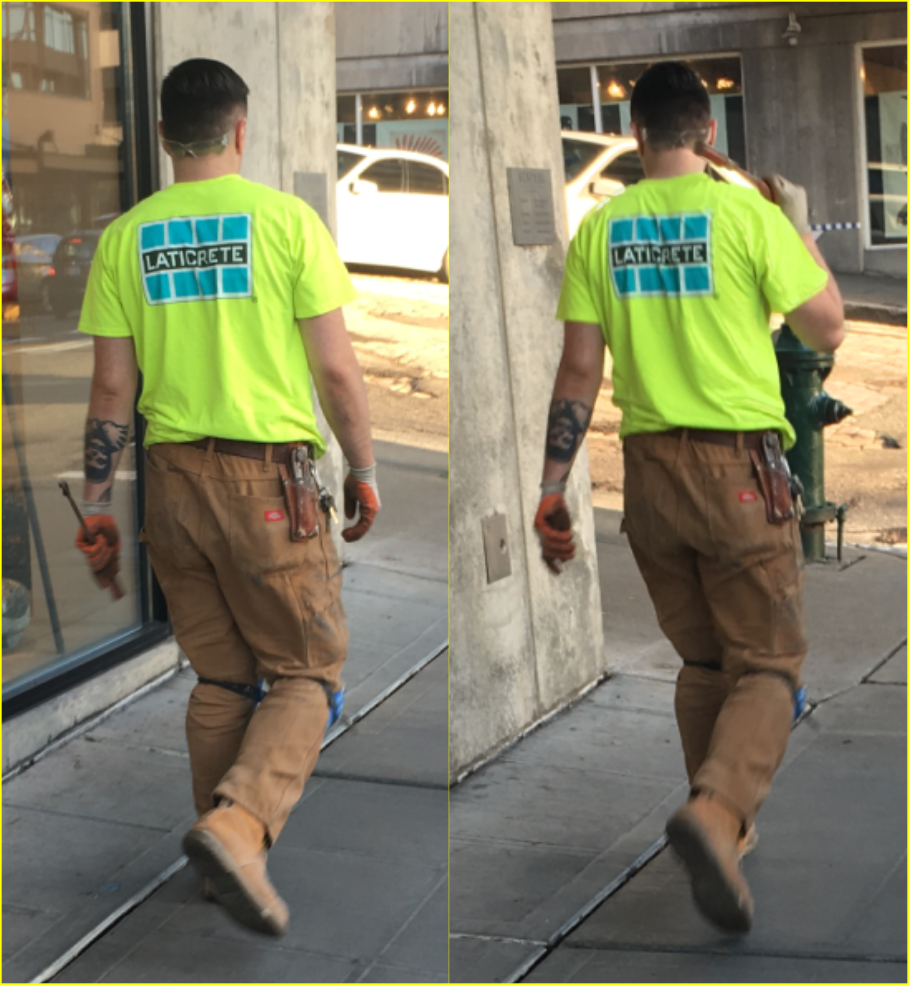 Wade working construction in the Seattle area.
Rose City Antifa is continuing to monitor Atomwaffen Division and other neo-nazi groups. If you have further information about any of the people mentioned in this article, or any other nazi and white supremacist activity, please contact us at [email protected]