Welcome to Part 6 of our series on Rose City Nationalists. This week we will be looking at Michael Garrett Dorsey of Gresham, OR. Based on Michael's membership in a white supremacist organization, he should be considered a threat to his community.
This project is a collaboration between several antifascist organizations across Oregon: Corvallis Antifa, Rose City Antifa, Stumptown Research Collective as well as several individual antifascists.
So far in the series we have introduced:
RCN and its founder Casey Knuteson;
RCN member Zachary Lambert;
RCN member Kurtis Jorgensen;
RCN member Erick Sturgill;
And RCN member James Nicholas Paine aka Nick Paine;
If you have any information about Michael Dorsey or any other members of RCN, please let us know at [email protected].
Update on Casey Knuteson
A quick update on Casey Knuteson, founder of RCN, before discussing Dorsey. Casey was recently spotted working at Northside Rock Products LLC in North Plains, OR. He was driving a 2007 Chevrolet HHR with Oregon plates 729 DAK. The vehicle belongs to someone else who lives on the same property as Casey.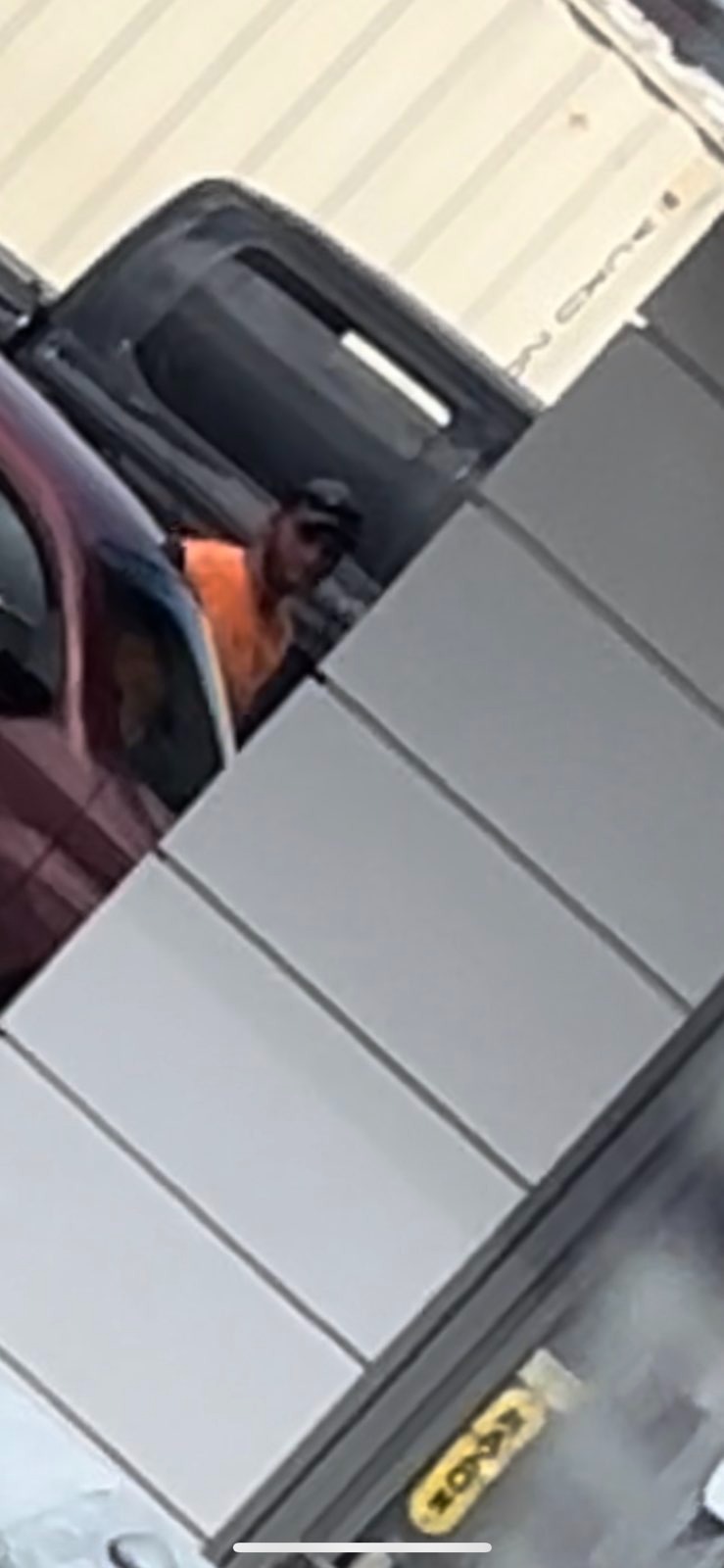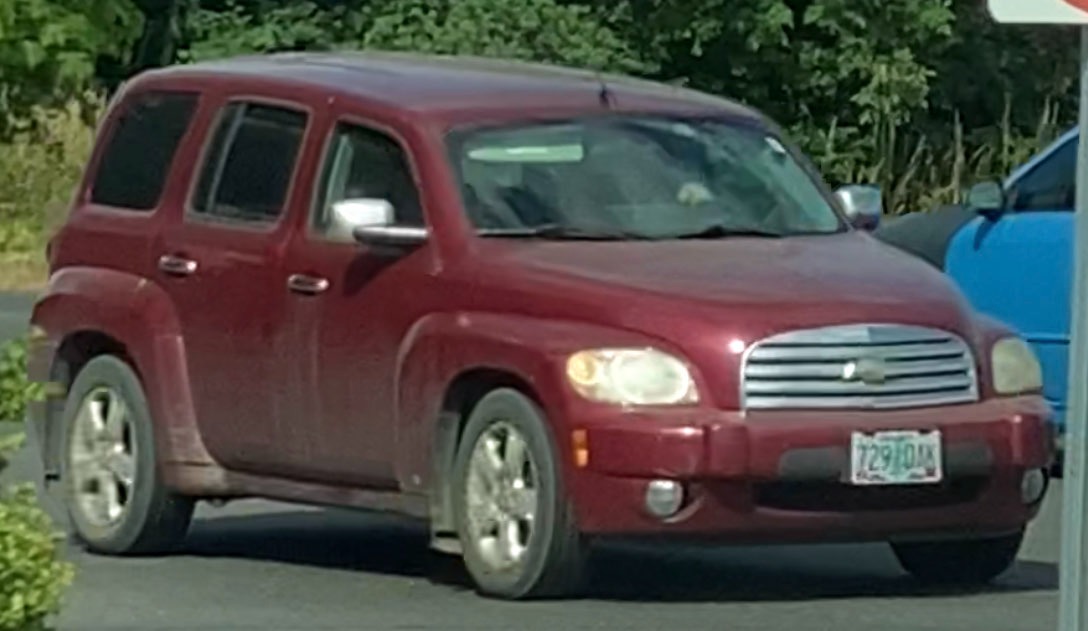 Feel free to contact Northside Rock Products LLC to let them know that it is unacceptable to have neo-Nazis working for them. Their website lists their phone numbers as 503-647-7741 and 503-647-7669.
Introducing Michael Garrett Dorsey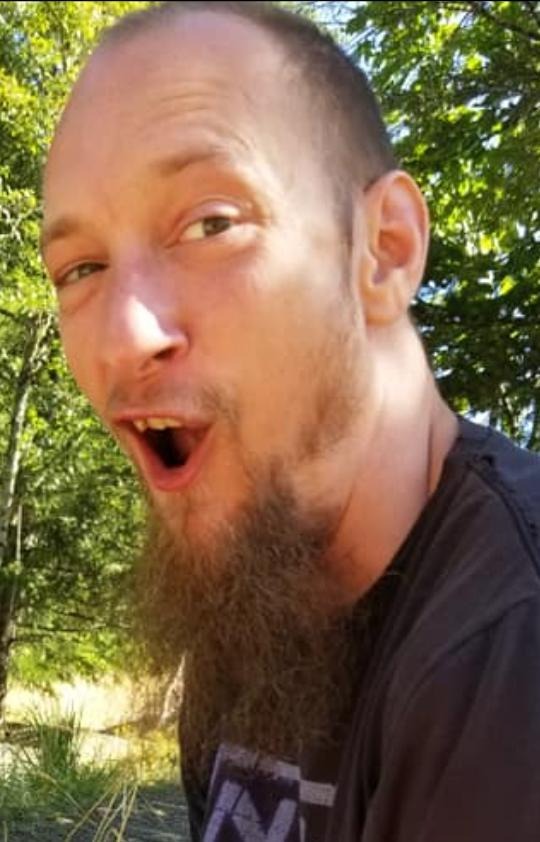 Michael Dorsey in the wild.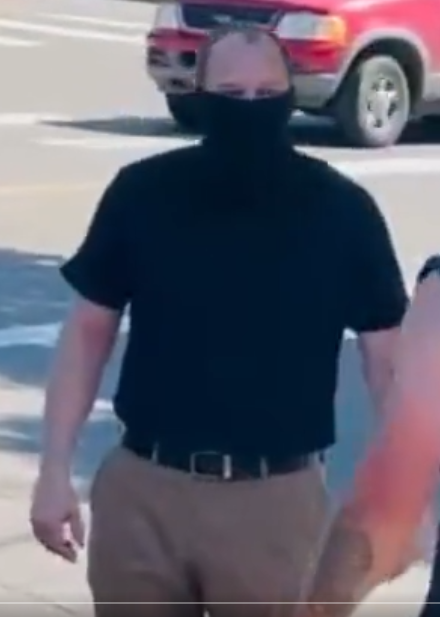 Michael Dorsey was partially unmasked during Oregon City Pride while fighting with the Proud Boys.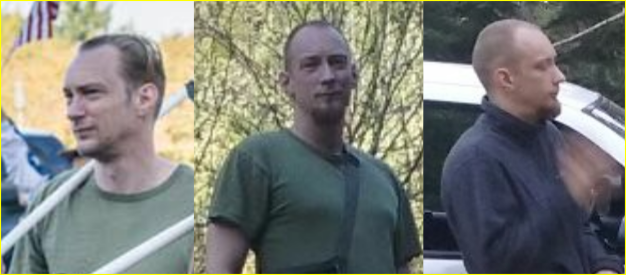 Dorsey's hairline in these old pictures from a previous Rose City Antifa article demonstrate an identical hairline to the picture from Oregon City.
Basic Info: Michael Garrett Dorsey
DOB: 4/17/84
Location: 3885 NE 2nd St., Gresham, OR 97030
Employment: Michael works as a machinist and we are hoping that someone can let us know who employs him.
Vehicle: White 2000 Dodge Dakota, Oregon plates 199 NNC
Social Media Accounts:
Old and inactive twitter - @Estahlbock
Michael Dorsey was first exposed in 2019 by Rose City Antifa as part of the local Daily Stormer Book Club (DSBC), known as the PDX Stormers. As outlined in that previous article, Dorsey is ragingly anti-Semitic and attended the disastrous Unite the Right event in Charlottesville, VA in 2017.
In 2019, charges were filed against Dorsey for Unlawful possession of a firearm, False information on transfer of firearm, and Unlawfully purchasing a firearm. The trial was pushed back and the court dismissed the charges "in the interest of justice". That phrase is occasionally used to indicate that the defendant has cooperated or provided information to some extent.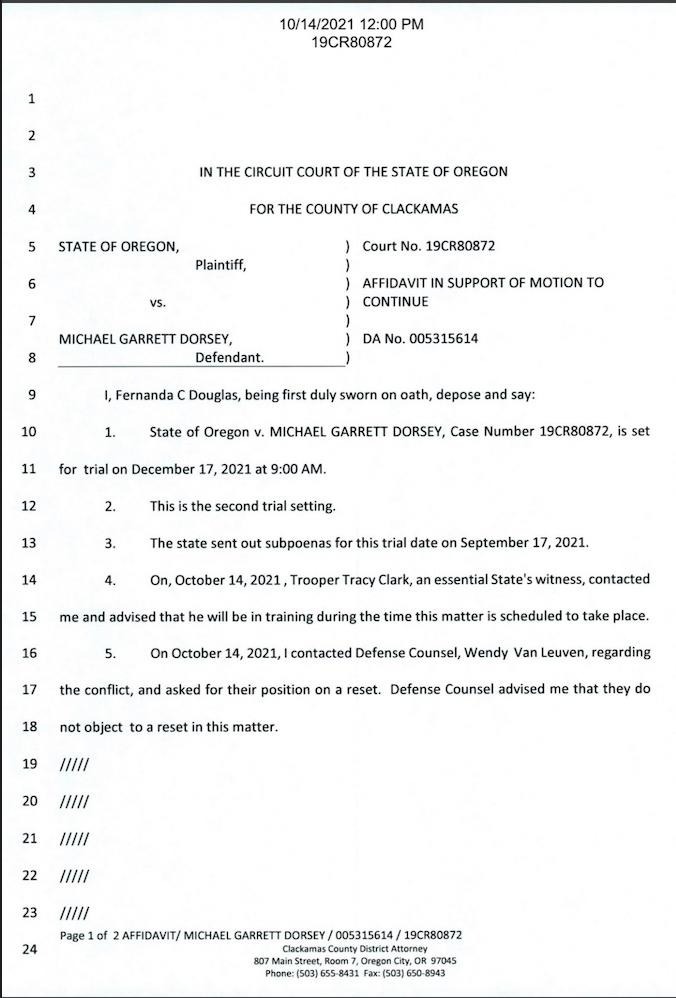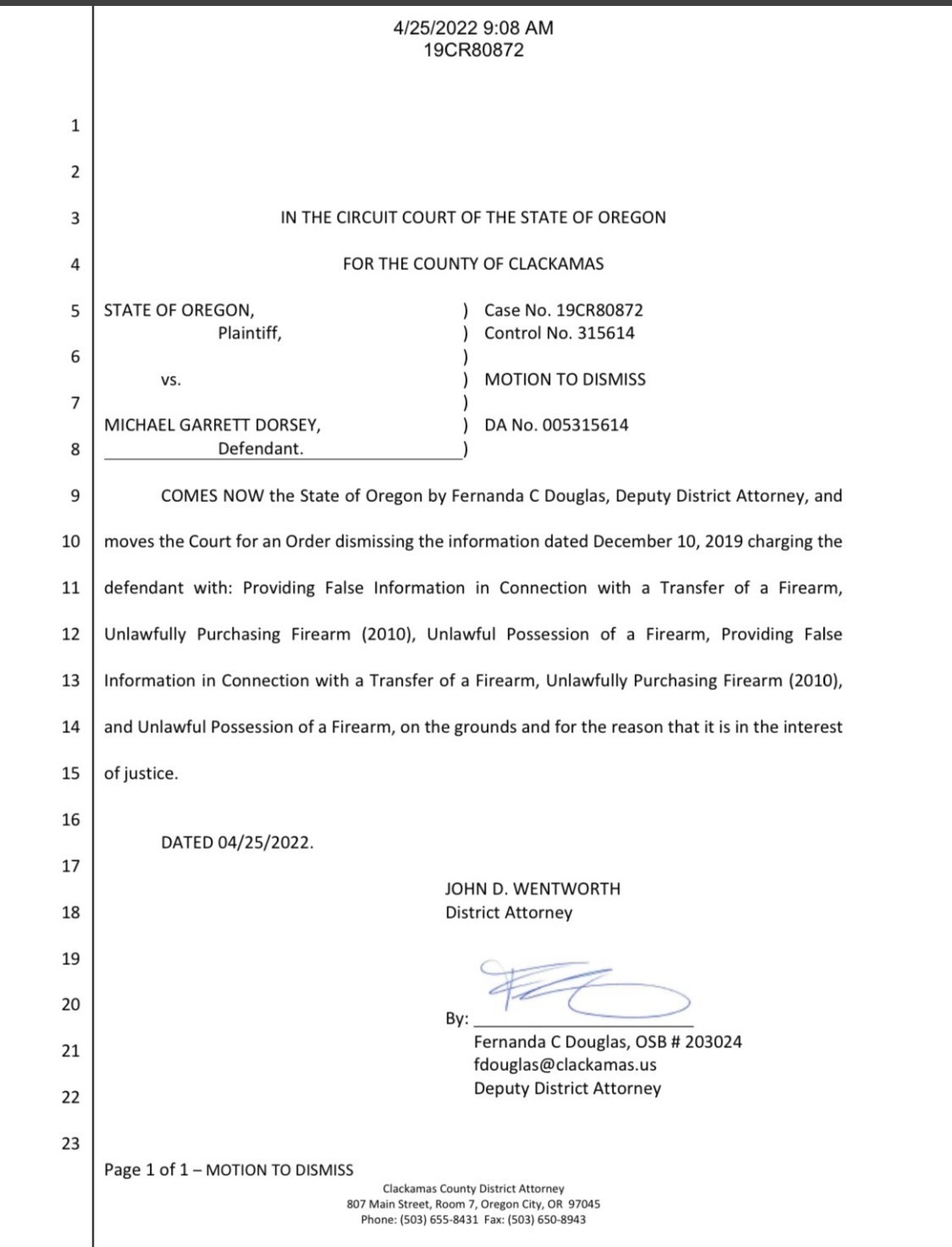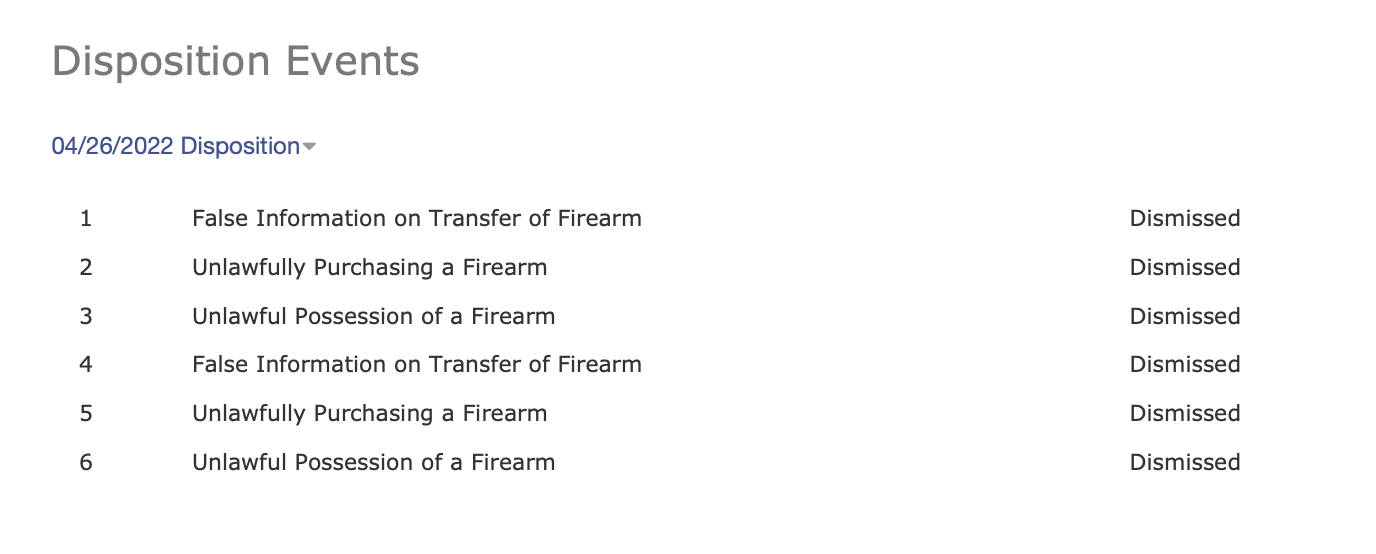 Dorsey's "Activisms" With Rose City Nationalists
Dorsey has more recently become a member of Rose City Nationalists and attended several events across Oregon over the last year. Dorsey was first spotted alongside RCN during their August 20, 2022 banner drop in Portland on SW 1st Avenue over the Eastbound side of I-405. The banner drop was coordinated to align with the national White Lives Matter schedule of "activisms".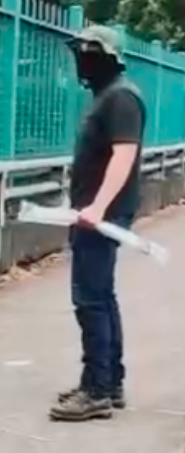 Two pictures of Michael Dorsey during the August 20, 2022 banner drop.
The two pictures above are from the August 20th banner drop and the image below shows Dorsey wearing a similarly goofy hat when he attended Unite the Right in 2017.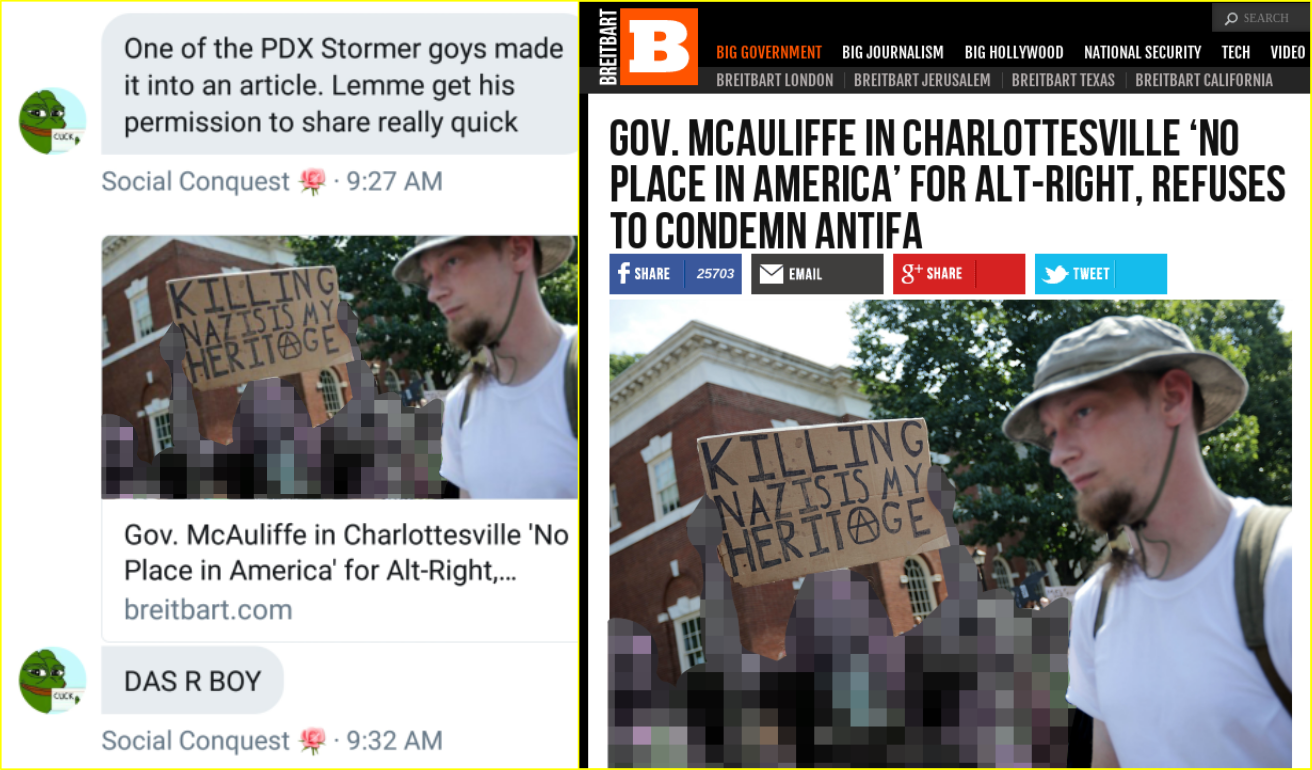 The following month Dorsey joined the rest of RCN for a flag wave in Newberg, OR on September 17, 2022. RCN members at that event included Dorsey, Erick Sturgill, Kurtis Jorgensen, Nick Paine, Zachary Lambert, and Casey Knuteson. The group held a banner reading "Gender Theory is Poison" and Dorsey held a Sonnenrad, or "black sun," flag that originated with the Nazis and has been used since by white supremacist organizers. This event was also scheduled to coincide with the national White Lives Matter day of action. The group was promptly run off by a few antifascists.

Dorsey holds a sonnenrad flag during RCN's flag wave in Newberg.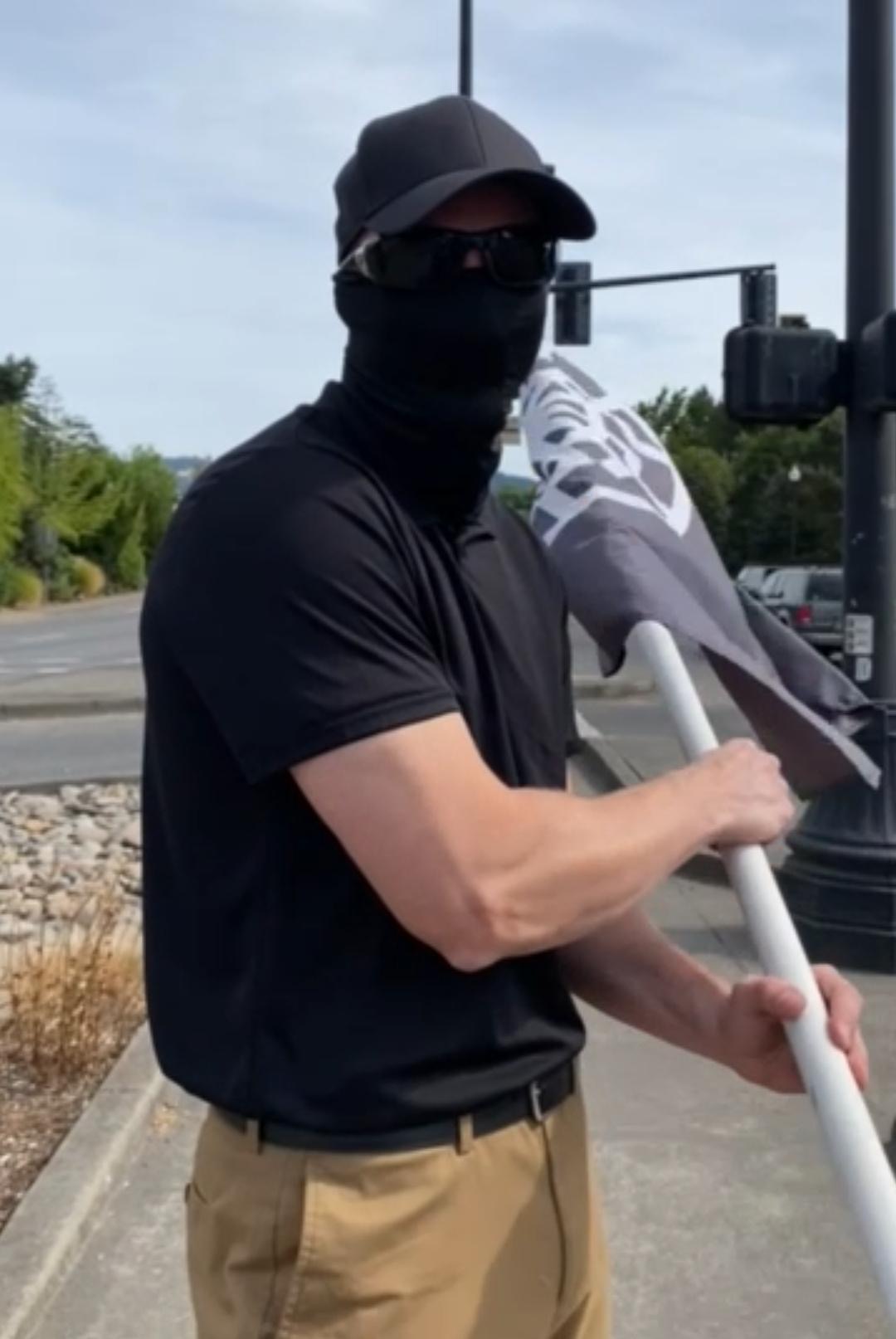 Michael Dorsey brandishes a Sonnenrad flag during RCN's flag wave event in Newberg, OR.
On October 23, 2022 Dorsey joined RCN in Eugene, OR where a variety of far-right individuals and groups protested in front of Old Nick's Pub because of a drag show that the bar was hosting. The protest included b-side celebrities like Audra Price, Quincy the hate preacher Franklin, David Willis, as well as Proud Boys from across Oregon. RCN members shied away from the handful of confrontations that day and quickly left when antifascists and community members began to move the crowd of far-right bigots away from the bar.

Michael Dorsey stands behind Dixie Bailey at the protest against Old Nick's Pub.
A few months later, on January 7, 2023, Dorsey resurfaced with a few RCN members for a banner drop and brief flag wave on I-205. The rest of the group held a banner while Dorsey held an "Appeal to Heaven" flag.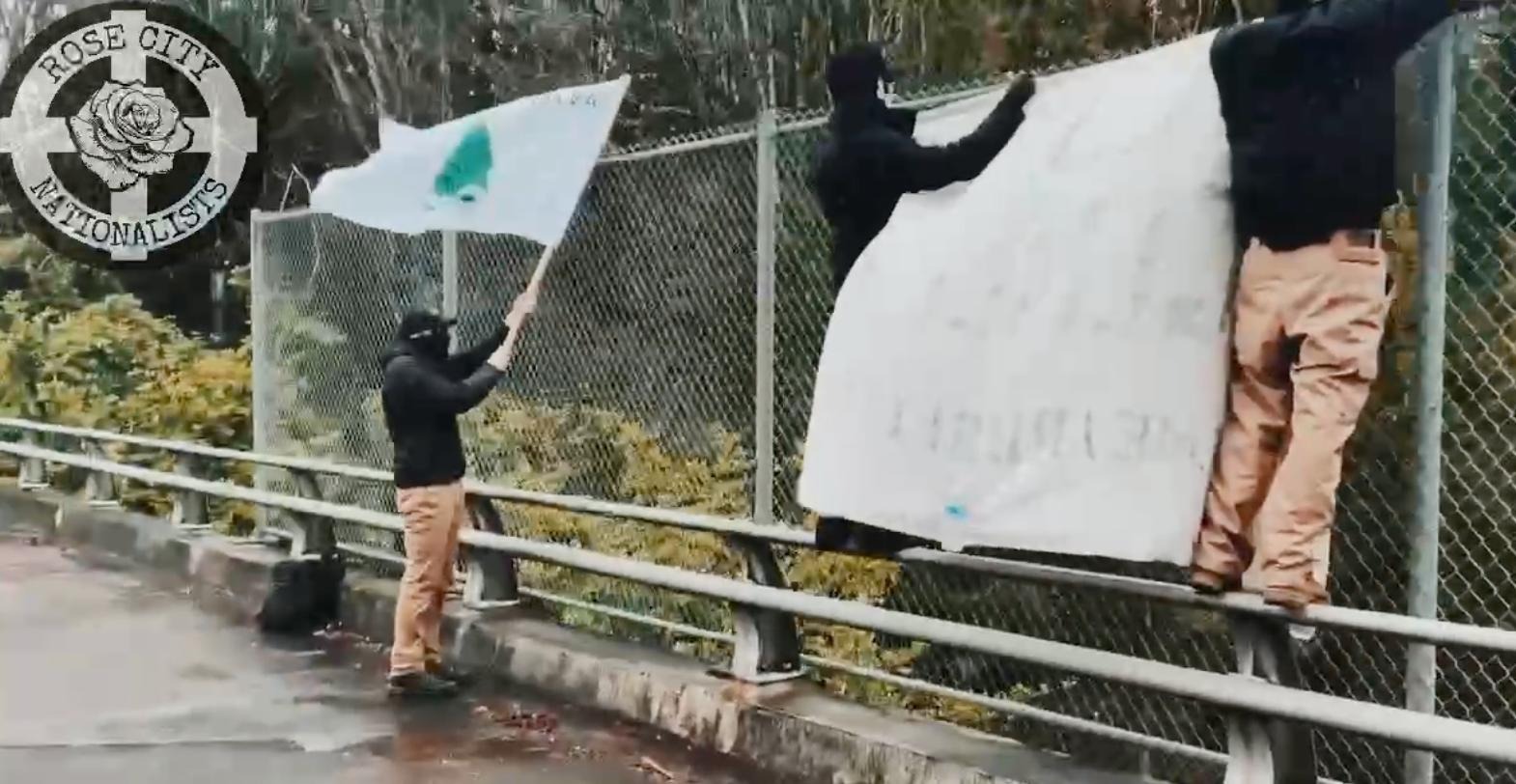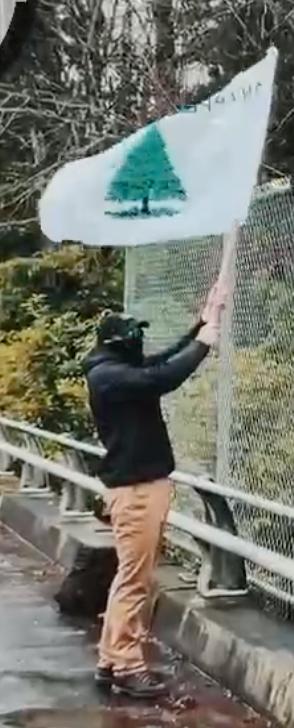 Later that month, RCN joined a larger anti-choice march in Salem, Oregon on January 28, 2023. Organizers and attedees of the event did not push back against the visible presence of neo-Nazis at the rally. A short summary of the event is included in a recent article by Sunlight Anti-Fascist Action.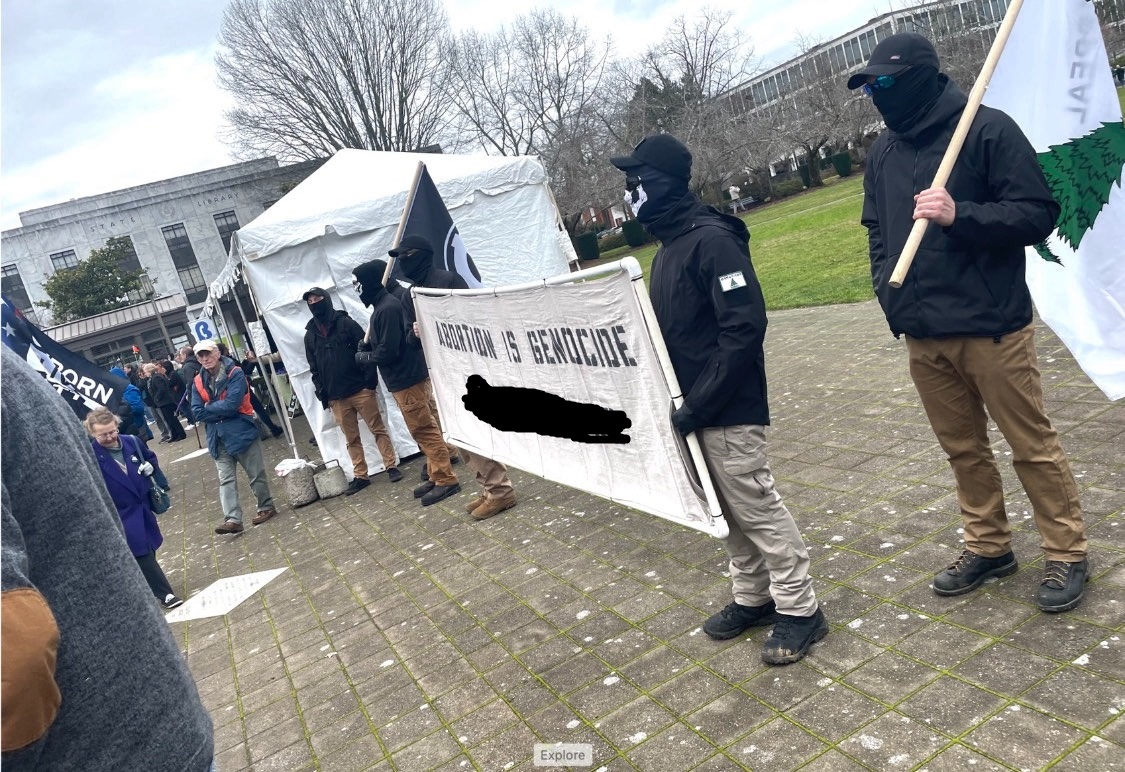 RCN members hold a banner reading "Abortion is Genocide" while Dorsey holds an "Appeal to Heaven" flag.
Things came to a head on June 24, 2023 at the Oregon City Pride celebration when RCN briefly fought with local Proud Boys. Both groups were present to intimidate the Pride celebration but they wound up fighting each other. Video of the brawl exists here and here (content warning of hate speach in the videos). During the fight, Dorsey's mask was partially removed.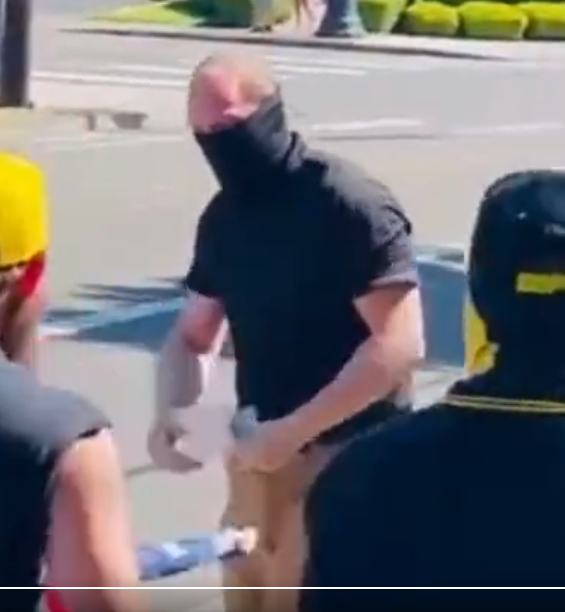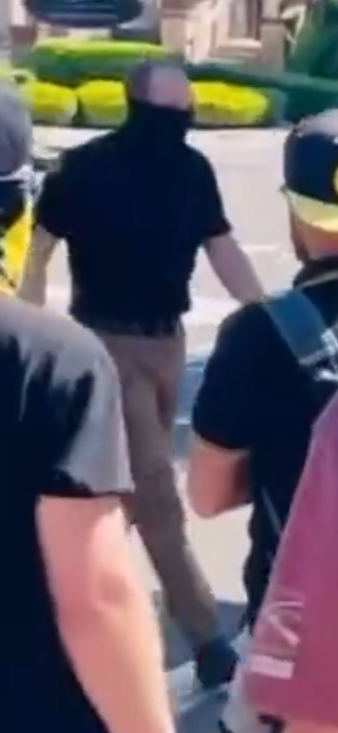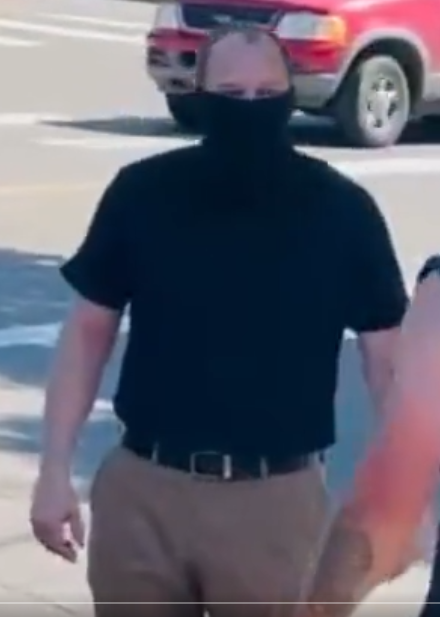 Multiple angles of Dorsey, partially unmasked, during RCN's fight with Proud Boys at the Pride celebration in Oregon City on June 24, 2023.
The pictures above all show a notable receding hairline that matches the hairline in RCA's previous article about Dorsey. Below are comparisons of him.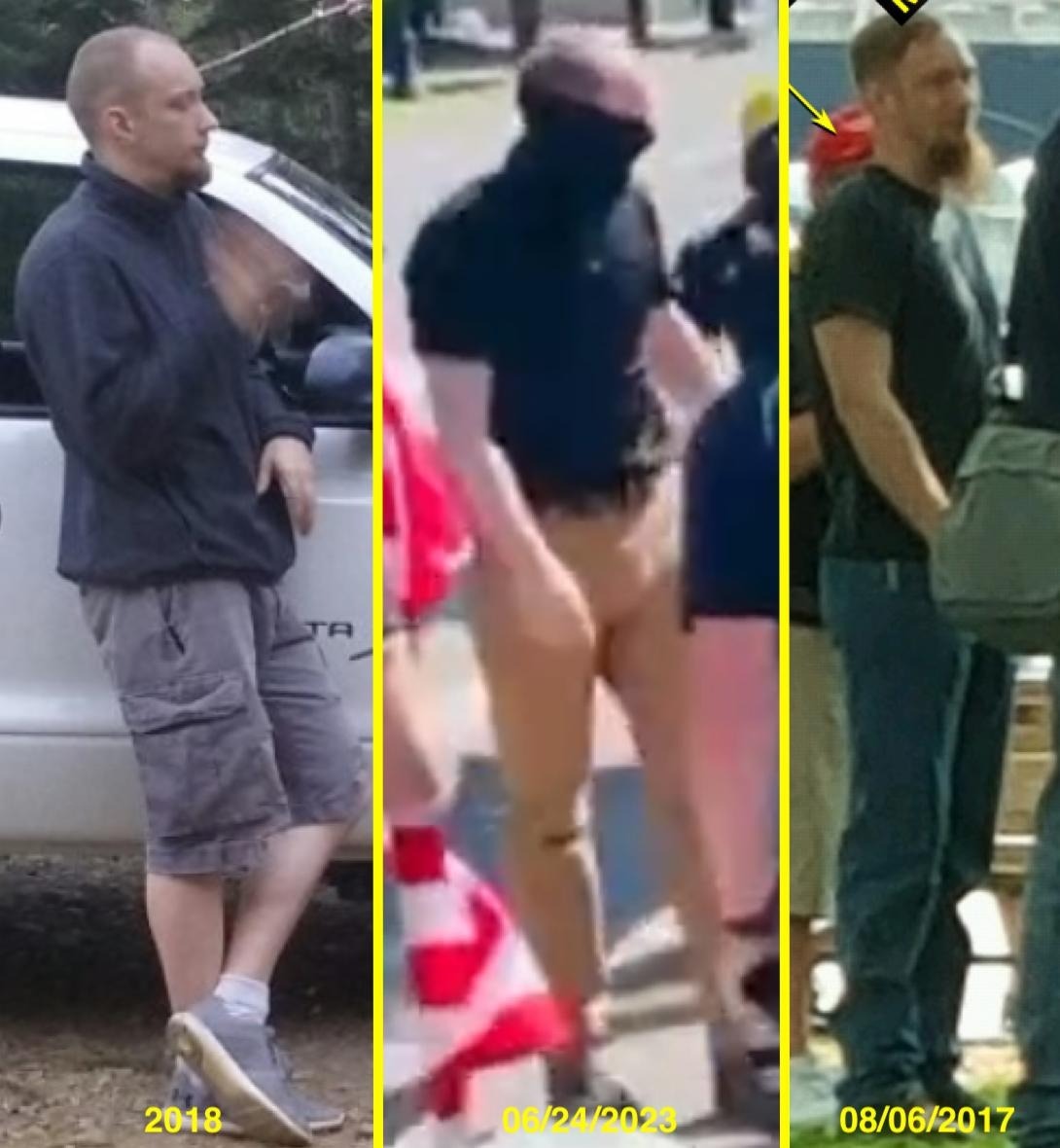 Side by side comparisons of Michael Dorsey from different years demonstrating a similar distinctive hairline.
The pants and belt worn by Dorsey in the Oregon City pictures also match the pants and belt from previous RCN events, most notably the September 17, 2022 flag wave in Newberg.
Dorsey's Other Friends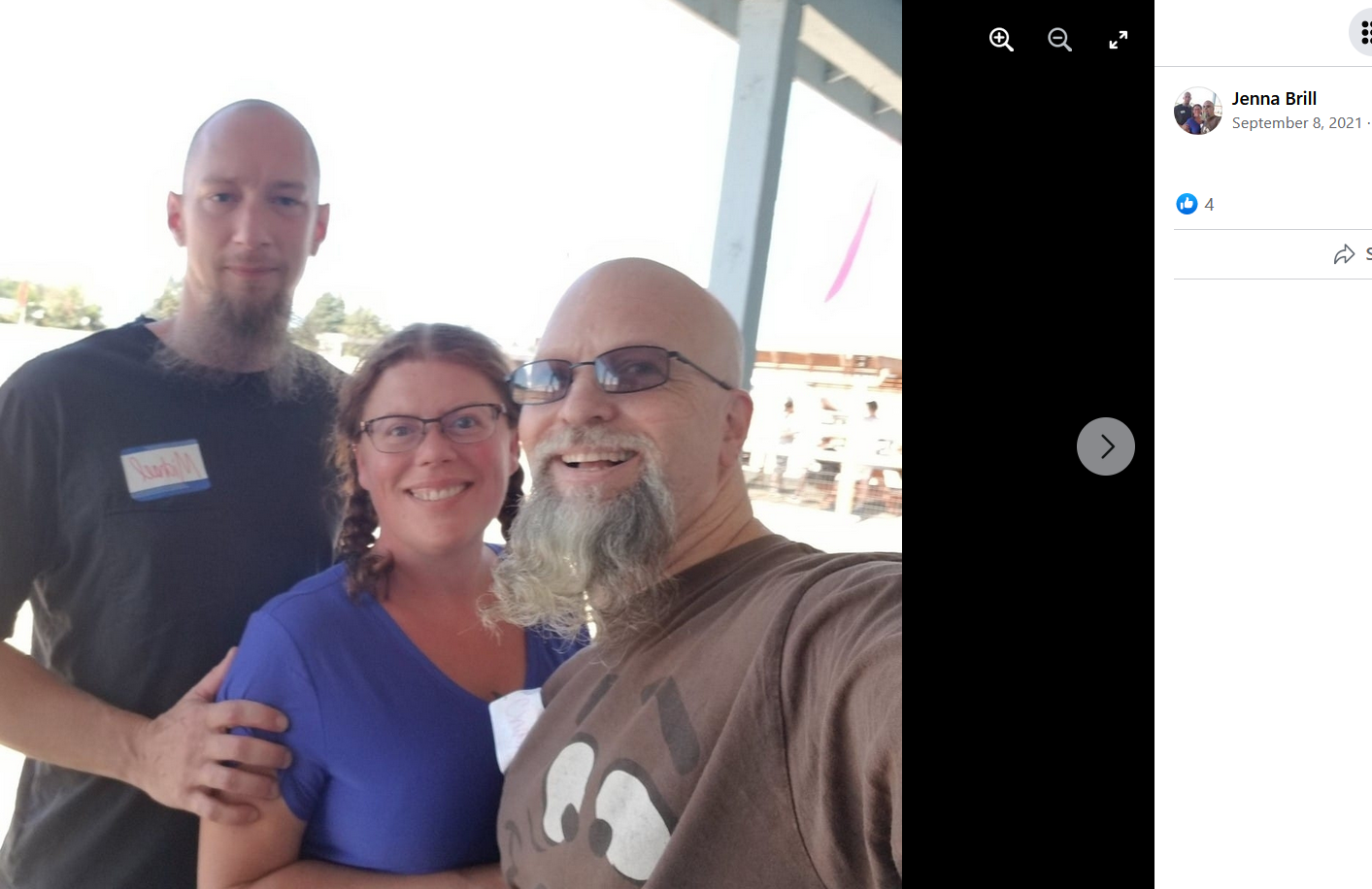 Dorsey currently dates Jenna Brill and the two enjoy an open relationship where Jenna also dates Chuck Reynolds. This is of note considering that Jenna attended the Proud Boys event on September 26, 2020 at Delta Park with Reynolds.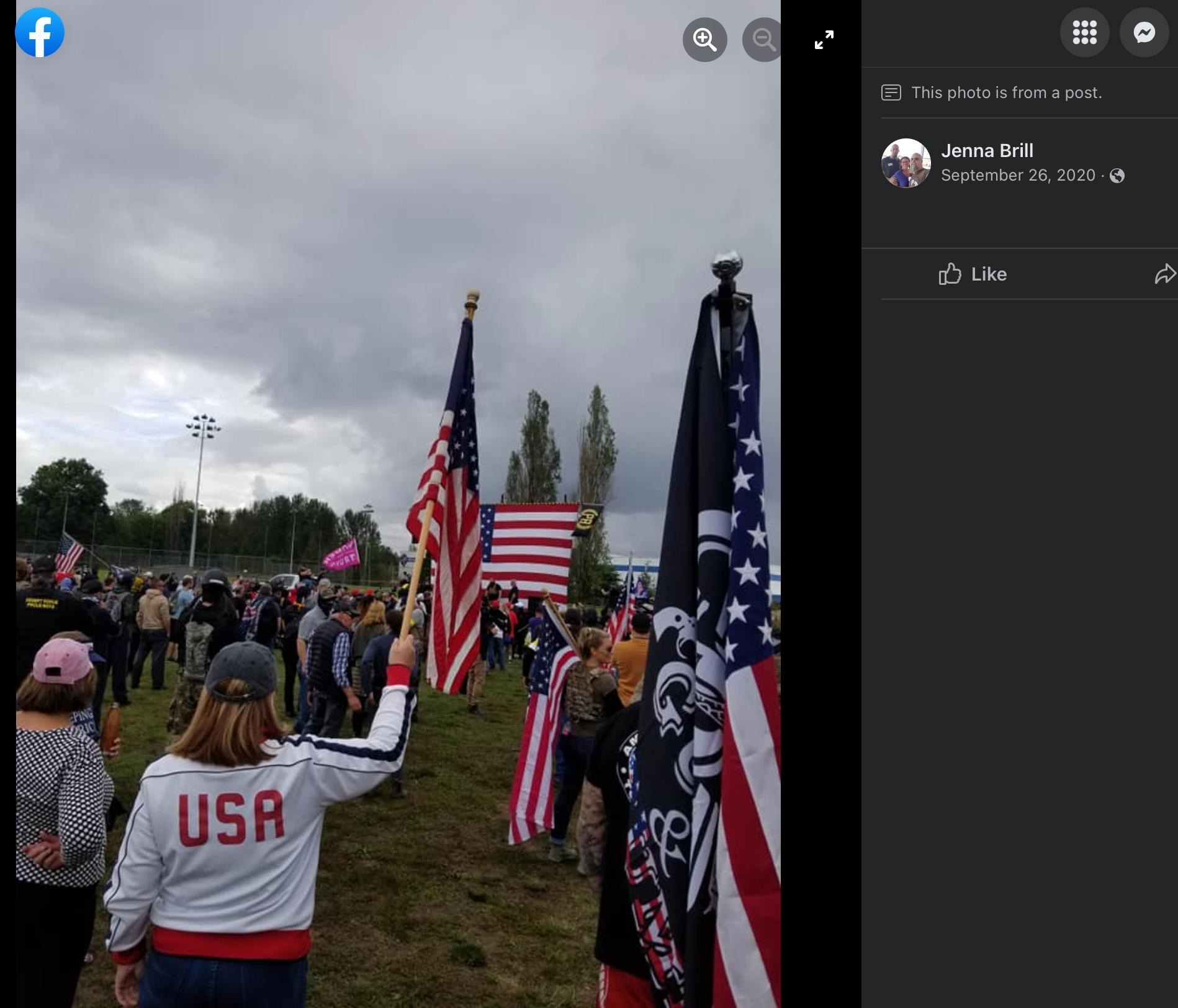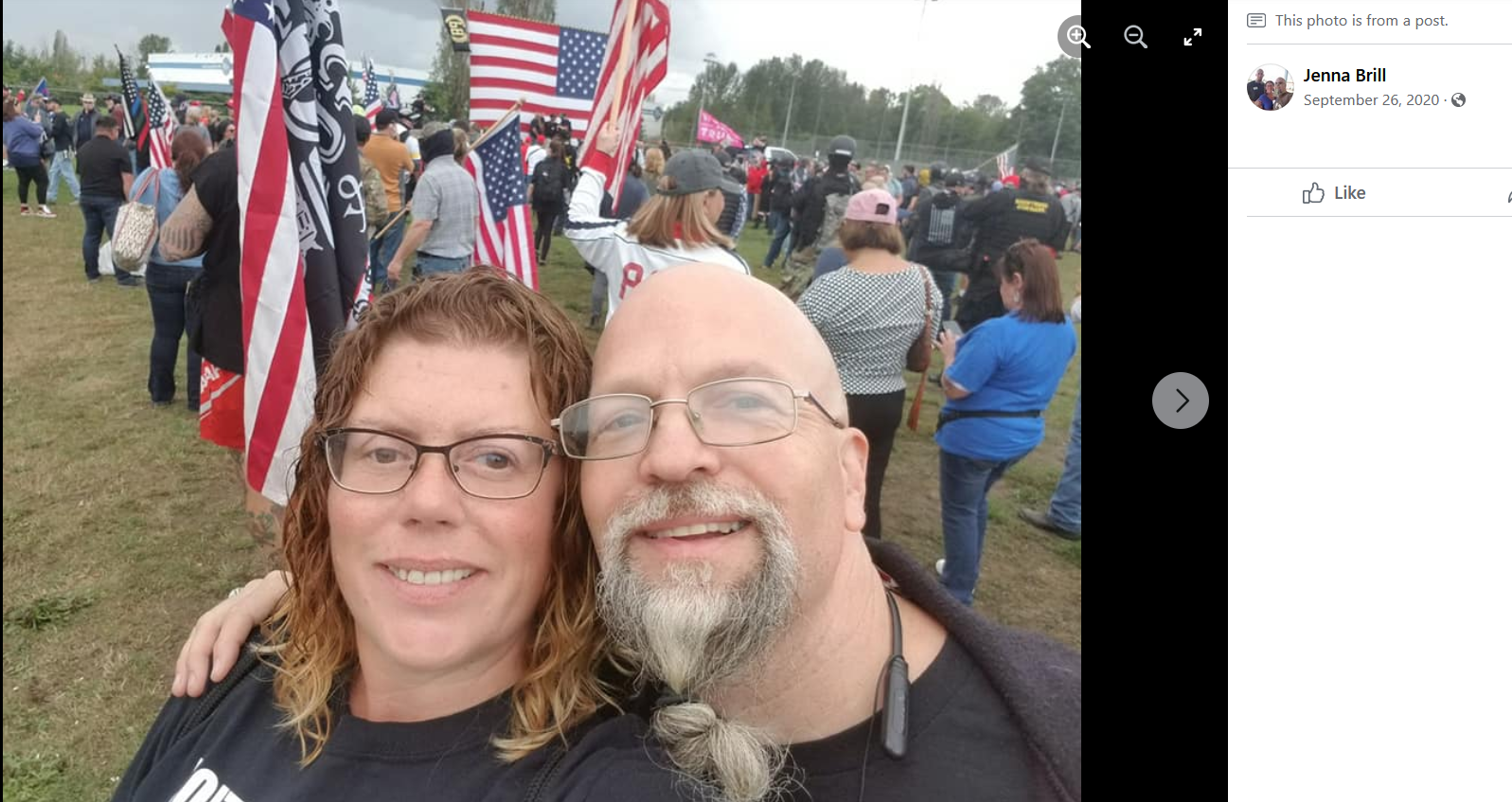 Jenna Brill and Chuck Reynolds both attended the September 26, 2020 Proud Boys event at Delta Park.
Reynolds posts a lot of generic Republican memes on his page but makes time to include some transphobia as well. He also pretends to believe that Nazis aren't real. Hopefully he finds this article illuminating.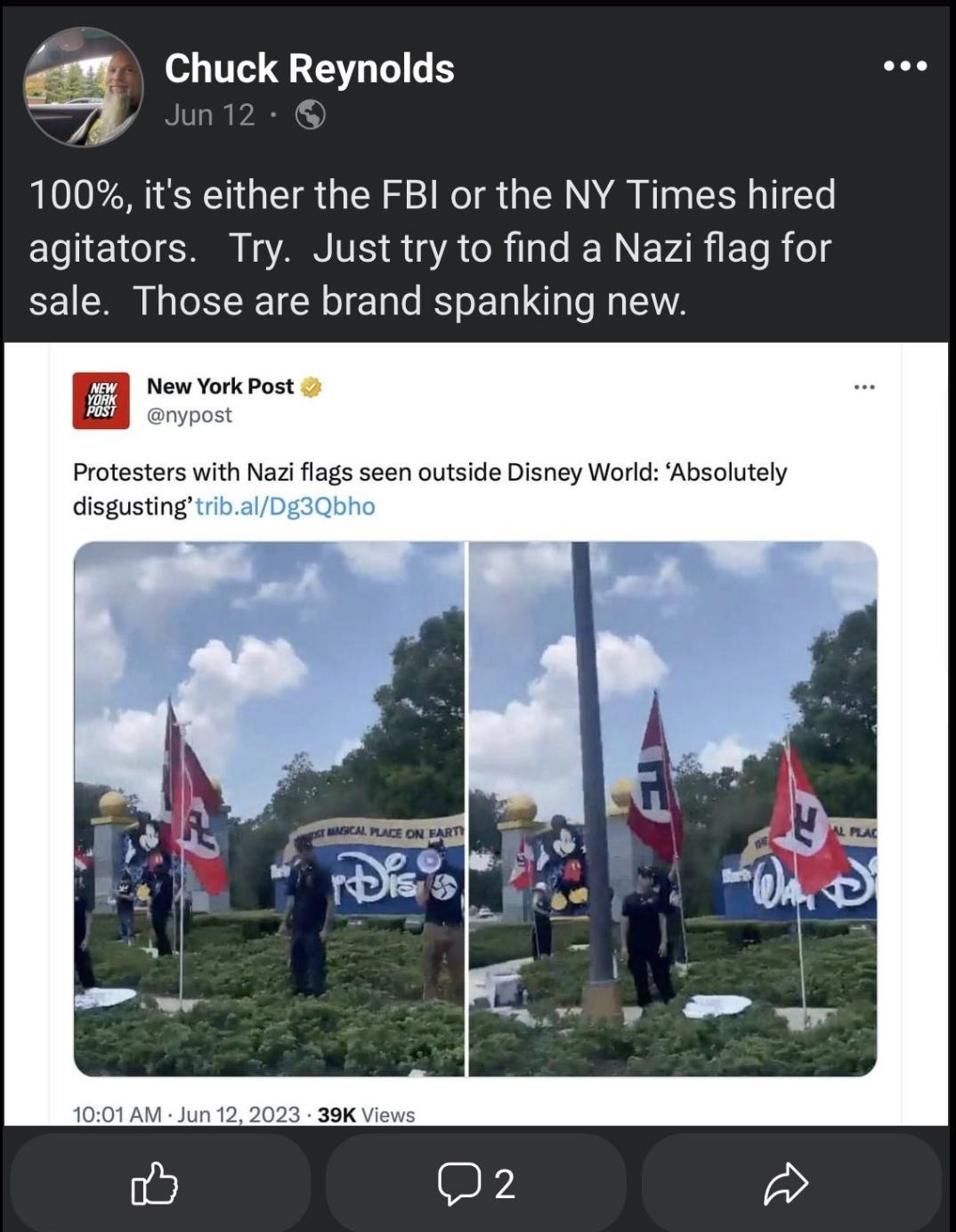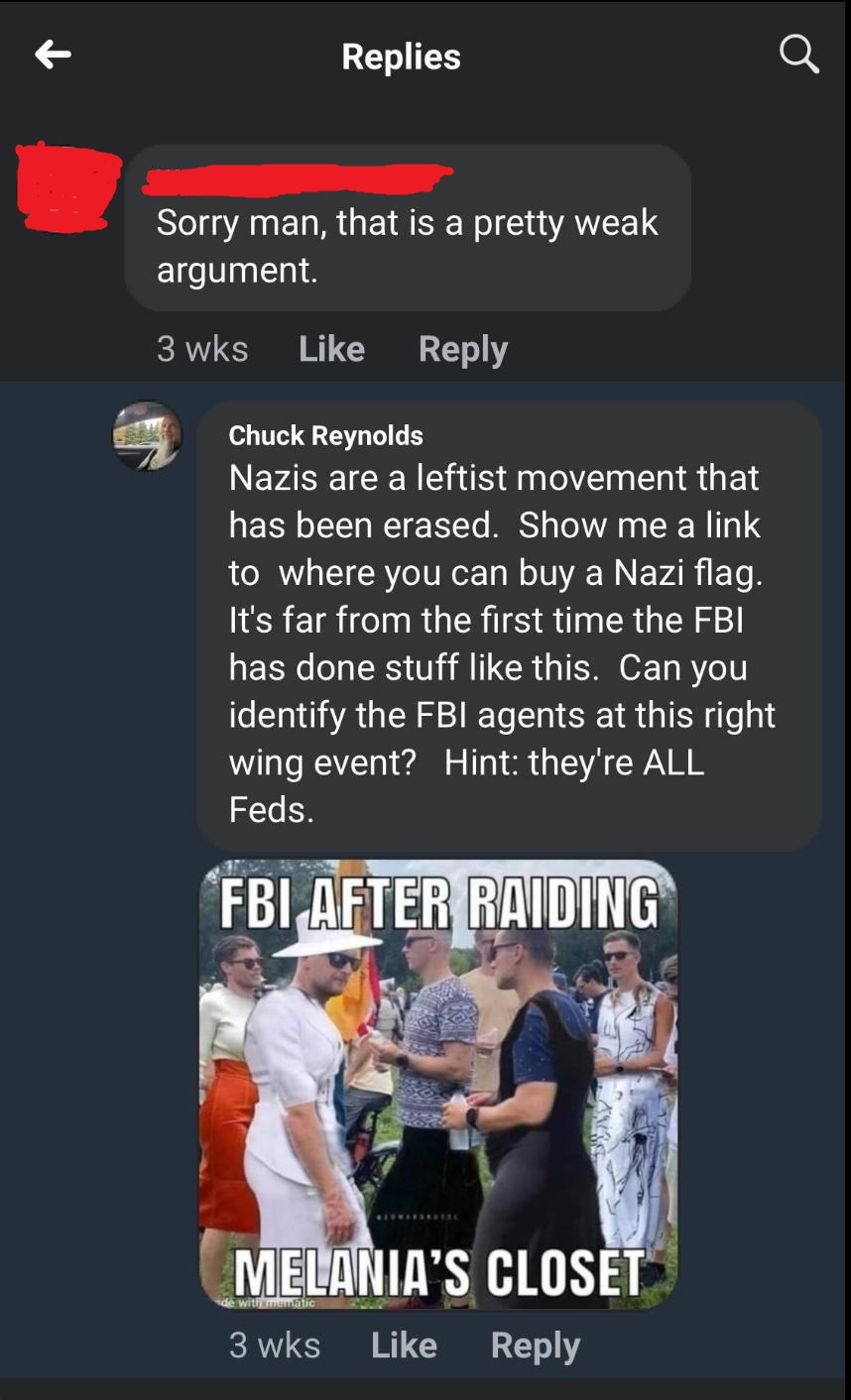 Conclusion
Dorsey has a long history of organizing within far-right fascist movements, previous gun-related charges, and is currently a member of a neo-Nazi organization. As such, he should be considered to be a threat to individuals and to our community.