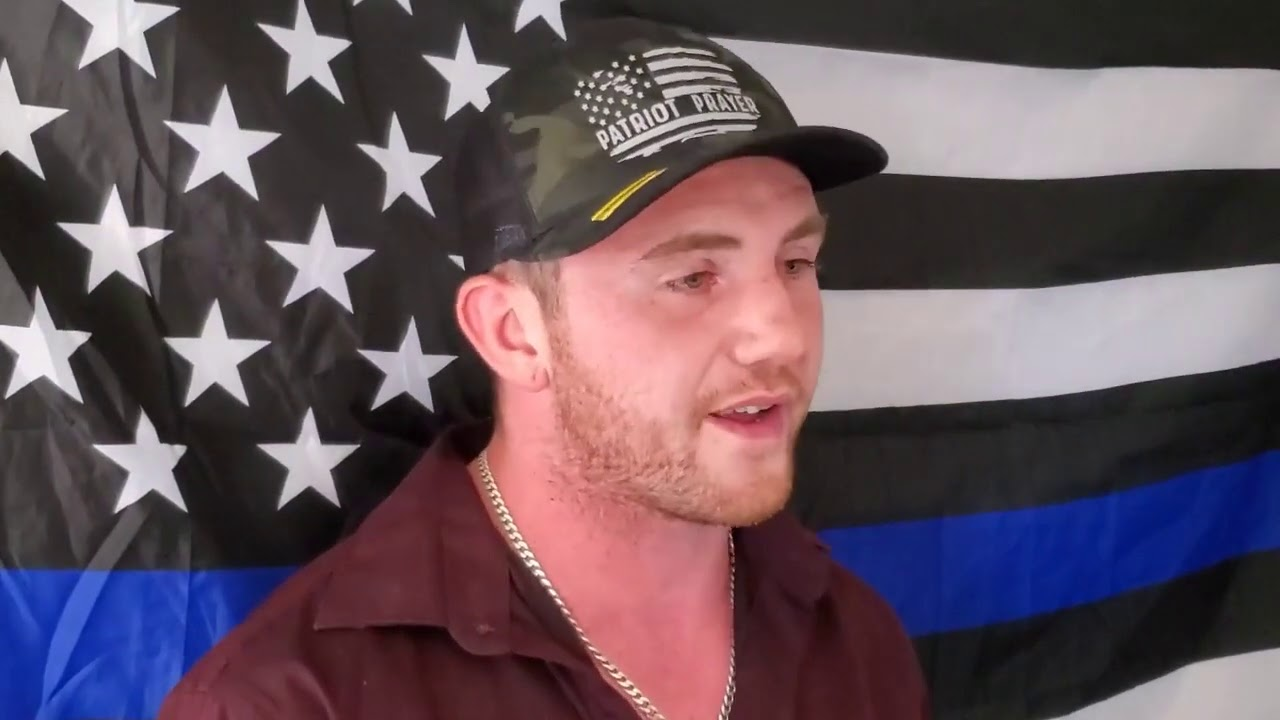 Chandler Pappas.
On July 13, 2021, Chandler Preston Alexander Pappas had a court hearing for a felony charge of unlawful possession of a firearm. He has been banned from purchasing or possessing firearms since a restraining order was issued against him on August 11th, 2020. Although Rose City Antifa is unaware of the particular incident which led to these charges, we have observed him brandishing firearms on numerous occasions after the restraining order was issued.
Chandler spent much of 2020 intimidating attendees of Black Lives Matter protests and vigils for Black men murdered by police by brandishing weapons, including paintball guns and firearms.
Chandler, as well as Alan Swinney attended a BLM protest in Gresham on August 26th, 2020 where both men open-carried firearms and zipties and threatened to shoot people with paintball guns.
On August 29, 2020, massive numbers of Trump supporters attended a "cruise rally" which quickly devolved into participants assaulting protesters and pedestrians with mace, paintballs, and pellets, as well as at least one incident of attempted vehicular assault. Chandler attended to "perform security services" armed with paintball guns, knives, and mace.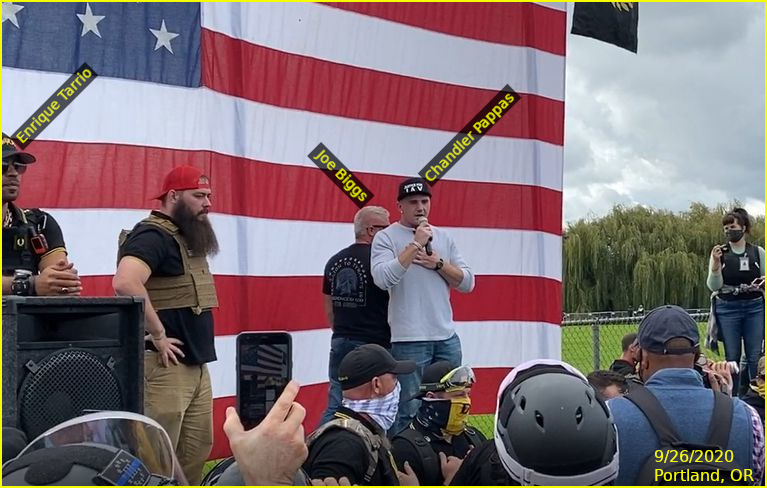 Chandler Pappas appears on stage at the September 26th, 2020 Proud Boys rally in Delta Park. Joining him on stage is Proud Boys chairman and FBI informant Enrique Tarrio, as well as Proud Boys organizer Joe Biggs.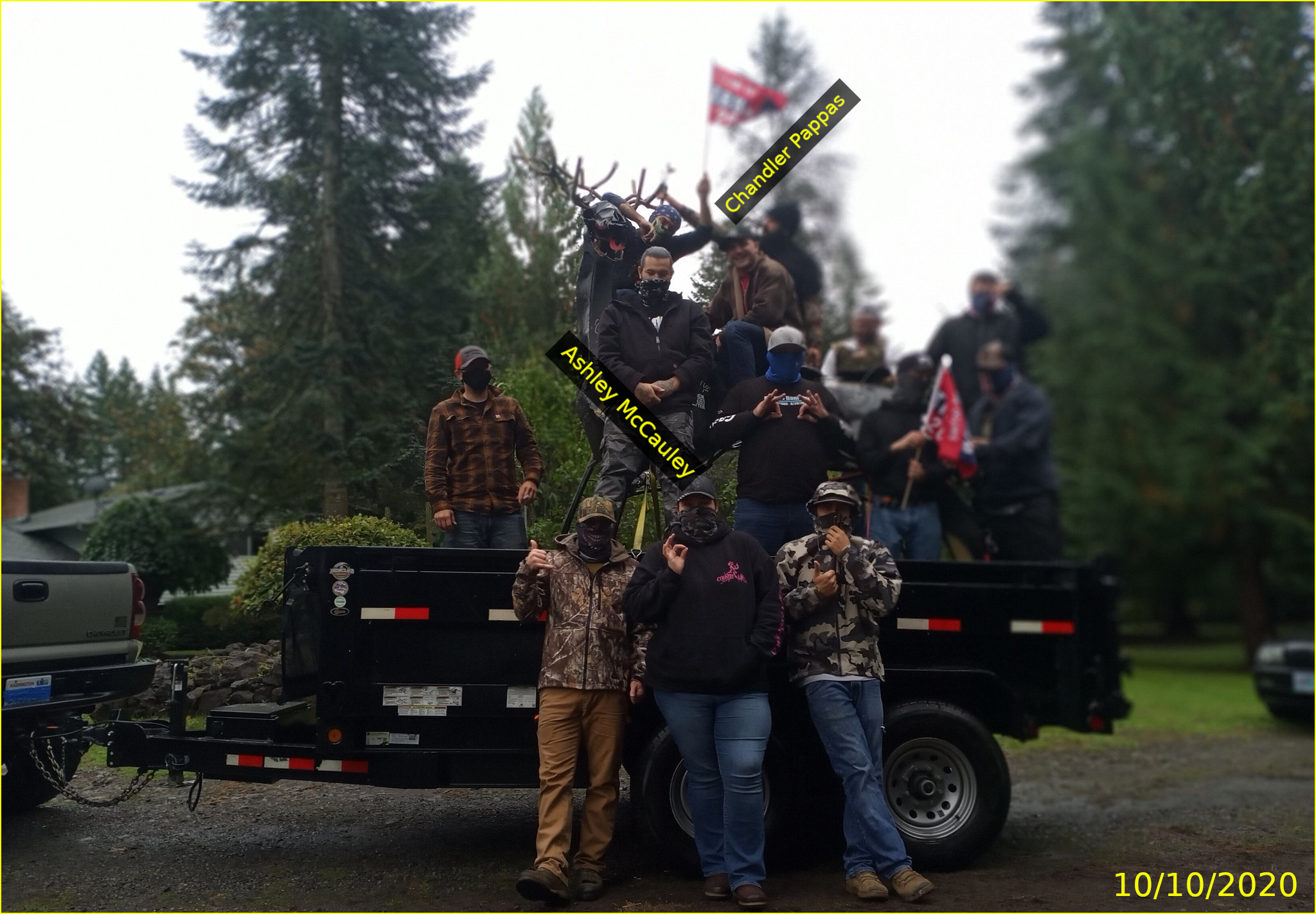 In October, Pappas, with assorted Patriot Prayer, COPS NW, and Proud Boy members, stole the Nightmare Elk, which had become a symbol associated with abolitionist protests occuring in 2020. Included in the group was Ashley McCauley, who famously destroyed children's artwork outside of a school in Portland.
On October 30, 2020, Chandler disrupted a vigil for Kevin J. Peterson, a Black man killed by Police in Vancouver, WA. While open-carrying a loaded AR-15 rifle, Chandler verbally and physically threatened Peterson's mourning family, friends, and community members.
Chandler is also facing several felony counts stemming from a right-wing assault on the capitol building in Salem, Oregon on December 21, 2020.
Chandler was one of many far-right agitators present that day - including Ryan Lyles, Ronald Vanvlack, Jerry Dyerson, Jeremy Roberts and Jeremiah Pruitt - who attacked bystanders, protesters, members of the press, and police. They demanded entrance into the capitol building, and broke through doors and windows until Republican Representative Mike Nearman let them in. Nearman has since been expelled from his position after it was revealed that he coordinated letting rioters into the building in advance, dubbing the action "Operation Hall Pass".
Rose City Antifa has written both on the danger Chandler poses to the community at large, and also the violence he enacts on family and intimate partners. Chandler has multiple instances of domestic violence and stalking against at least one former girlfriend as well as his own uncle.
While investigating Chandler's involvement in far-right organizing, RCA discovered that his father, Alexander Andreas Pappas, not only also participated in the December 21, 2020 attack on the Salem capitol building, but has his own long and disturbing history of domestic and sexual violence against partners and family members.
The man we have identified as Alexander Pappas is seen in footage from December 21, 2020 forcing his way into the capitol building and is later seen in the crowd with Chandler.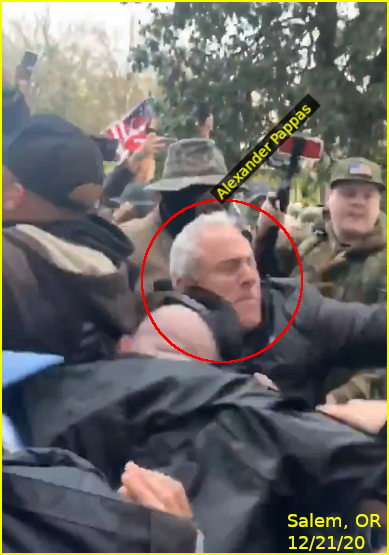 Alexander Pappas entering the Oregon State capitol building in Salem, OR on 12/21/2020.


Alexander Pappas is seen holding a gas mask outside the capitol building in Salem, OR (left). Pappas is seen wearing the gasmask after forcing his way into the building (right).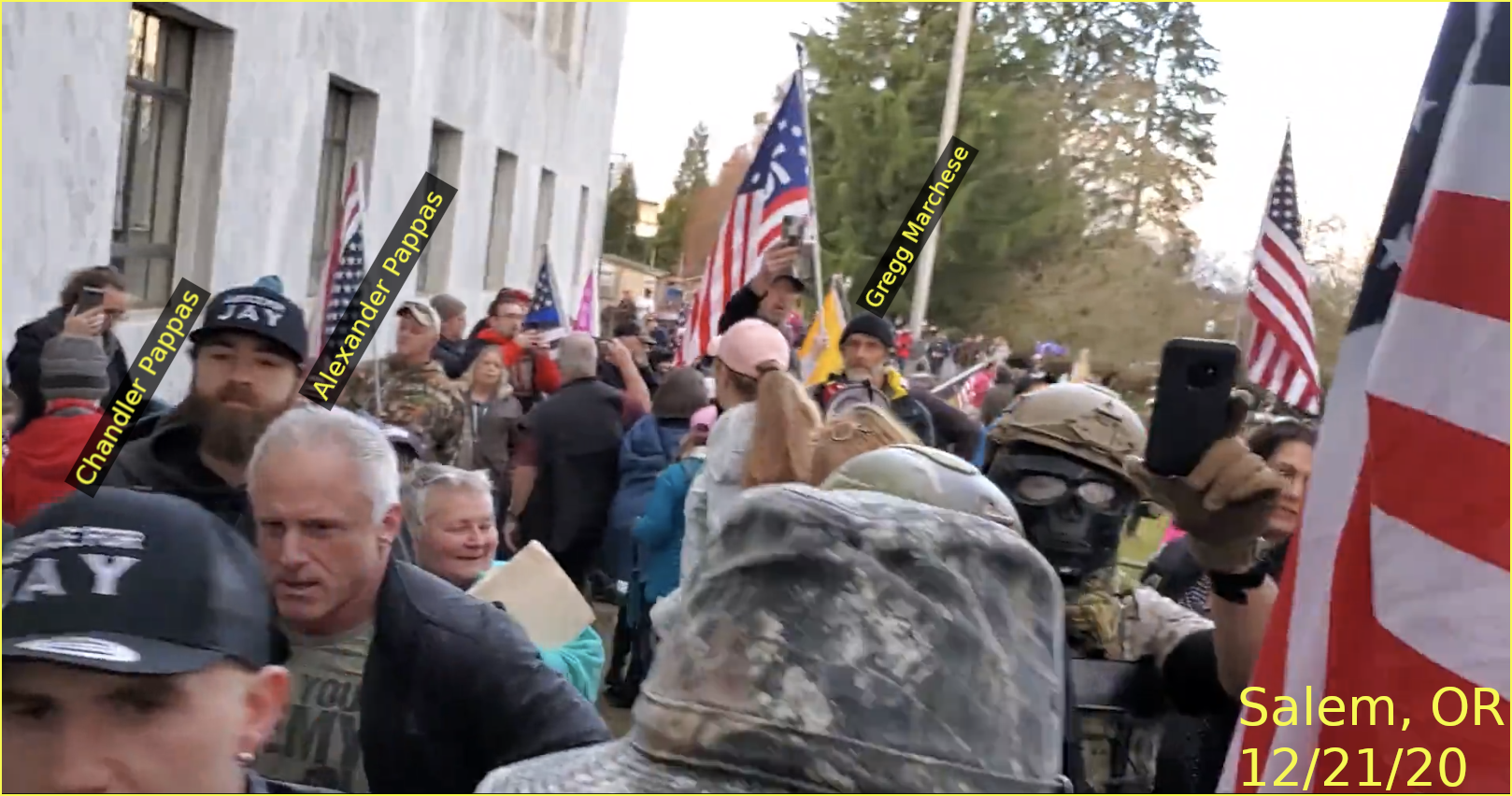 Chandler Pappas and Alexander Pappas, present together on December 12, 2020 in Salem, OR. Also present in the same crowd is open neo-Nazi Gregg Marchese.
Our investigation of Alexander Pappas revealed Alexander had a restraining order filed against him in August 2020 by a long-time partner alleging years of abuse against her and the child they have together. The following court documents graphically describe physical, sexual, and psychological abuse. Reader discrection is strongly advised.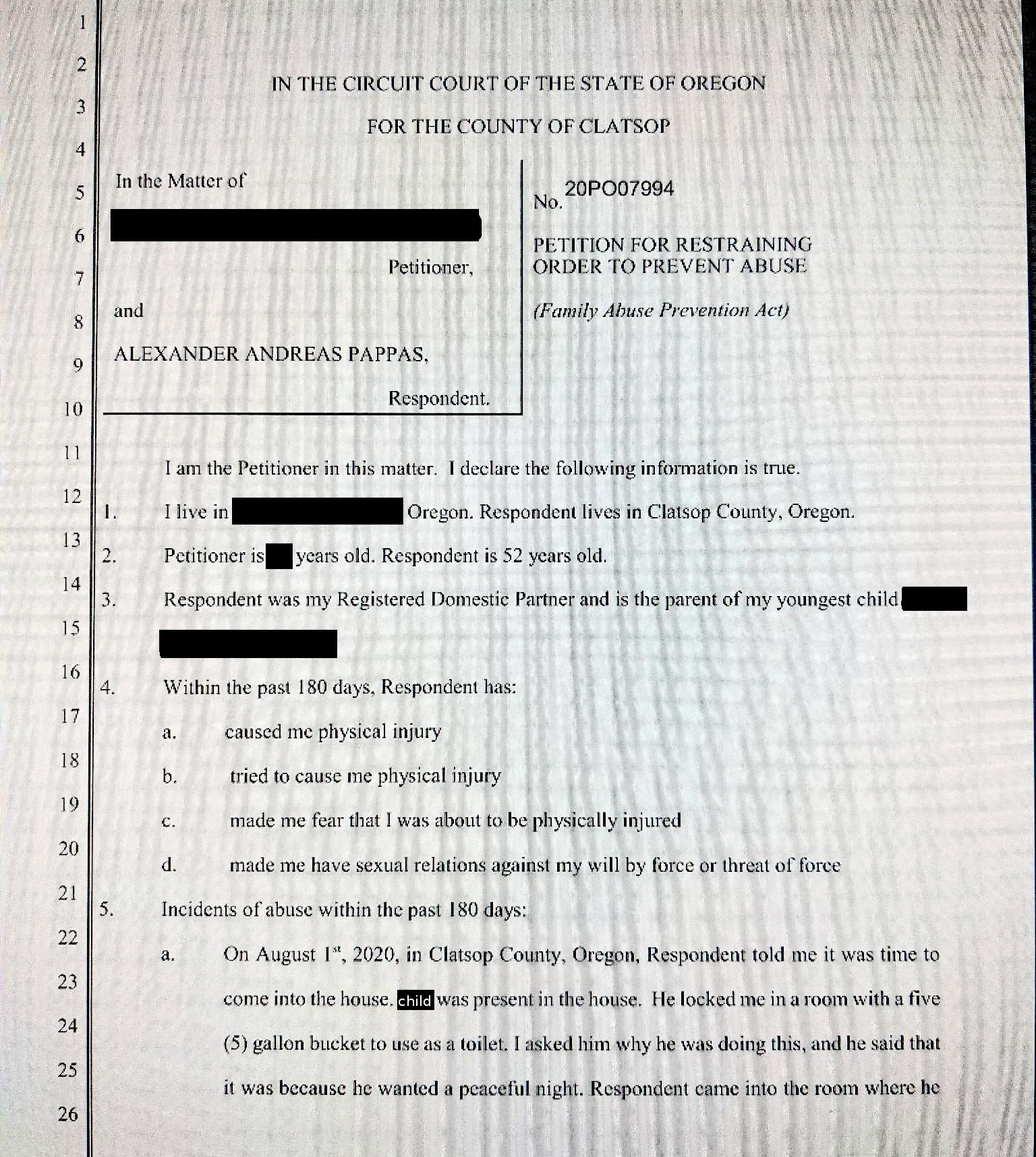 Page one of Court document detailing Alexander Pappas' physical, sexual, and psychological abuse.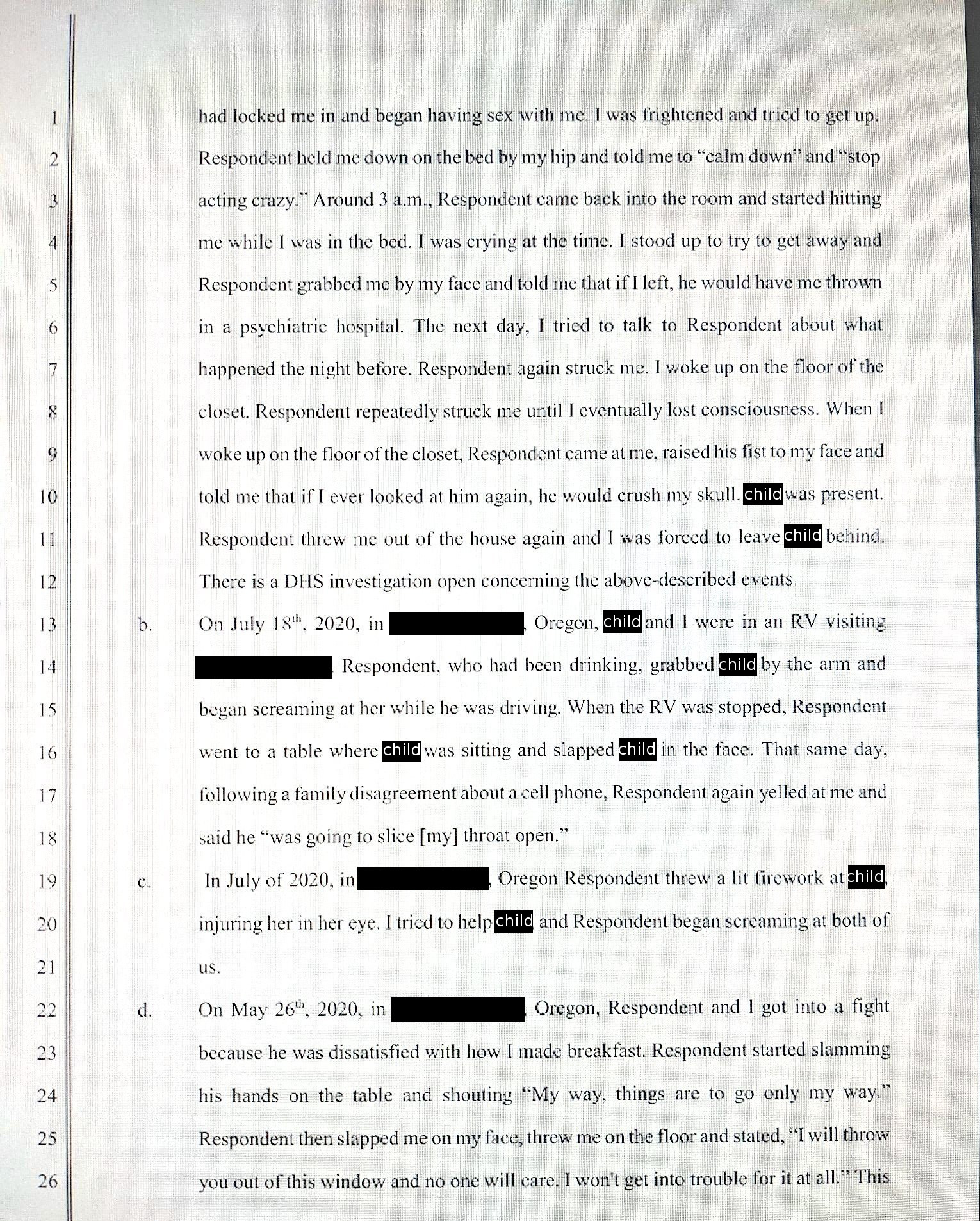 Page two of Court document detailing Alexander Pappas' physical, sexual, and psychological abuse.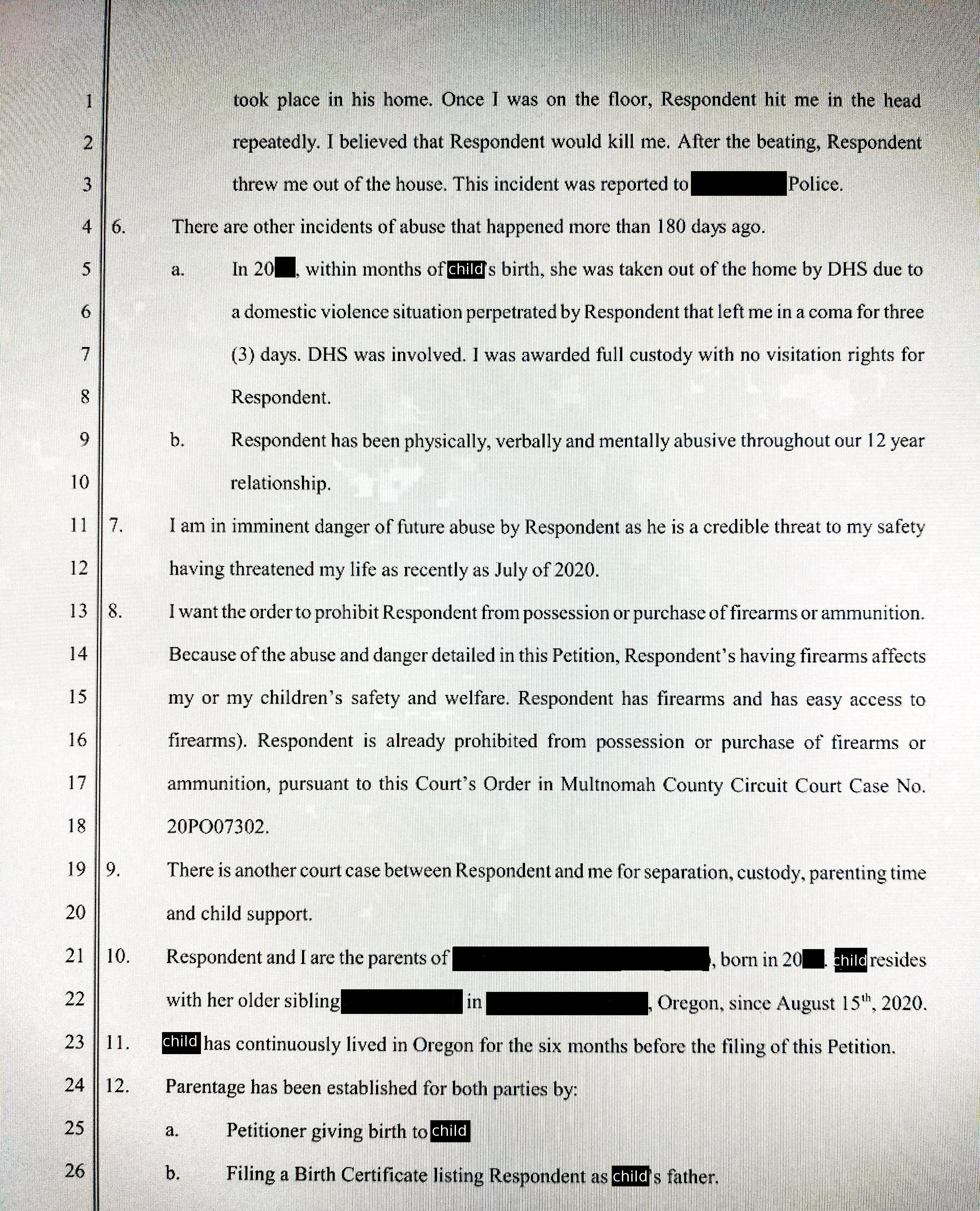 Page three of Court document detailing Alexander Pappas' physical, sexual, and psychological abuse.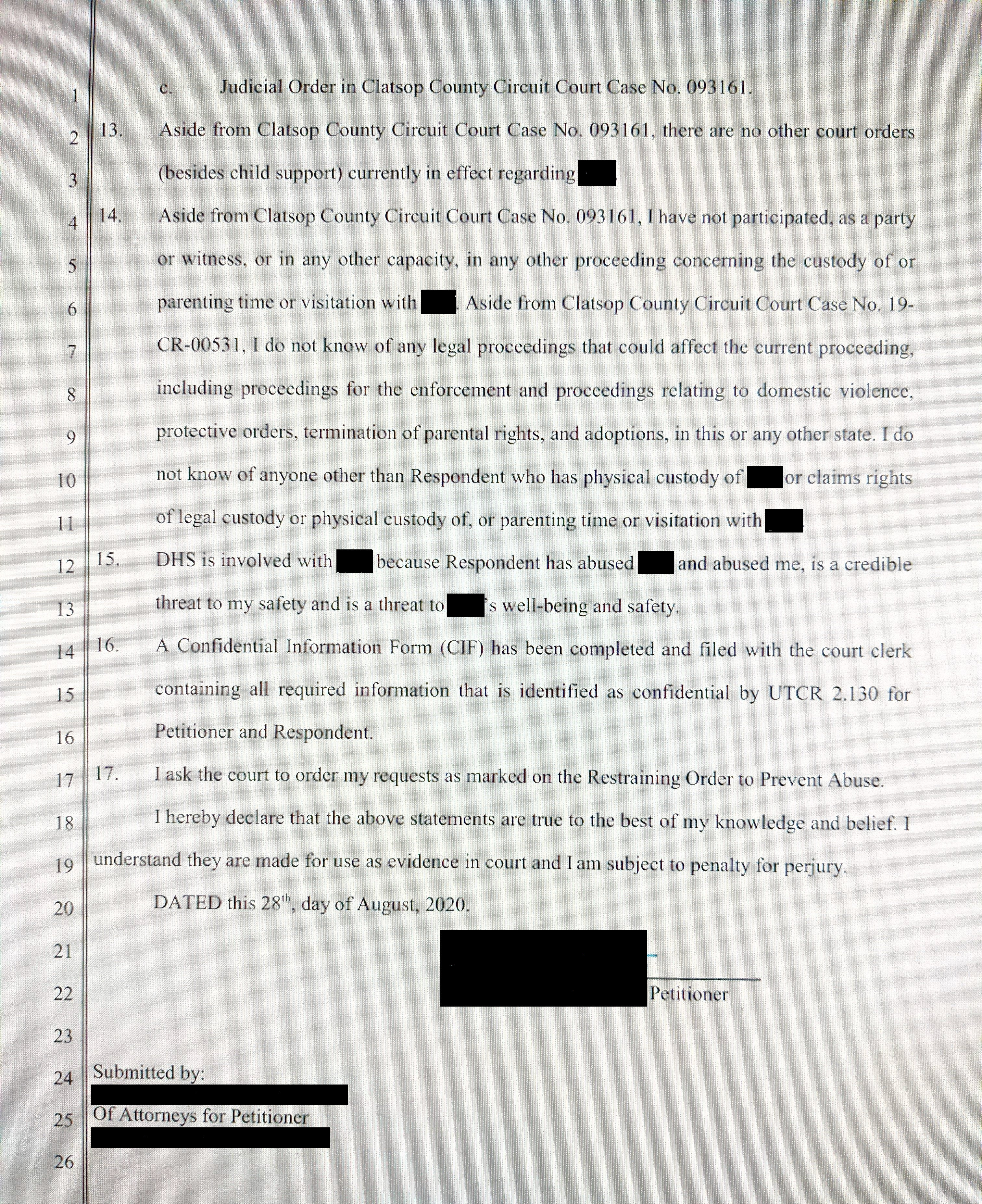 Page four of Court document detailing Alexander Pappas' physical, sexual, and psychological abuse.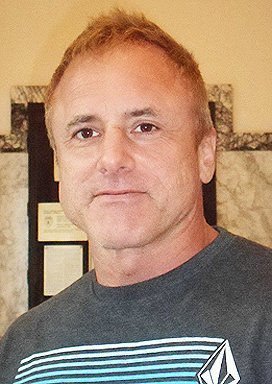 A clear photograph of Alexander Pappas.
Both Chandler and Alexander Pappas pose significant danger to those close to them and the community as a whole. If you have more information about Chandler Preston Alexander Pappas or Alexander Andreas Pappas and their involvement in far-right organizing, please email: [email protected]