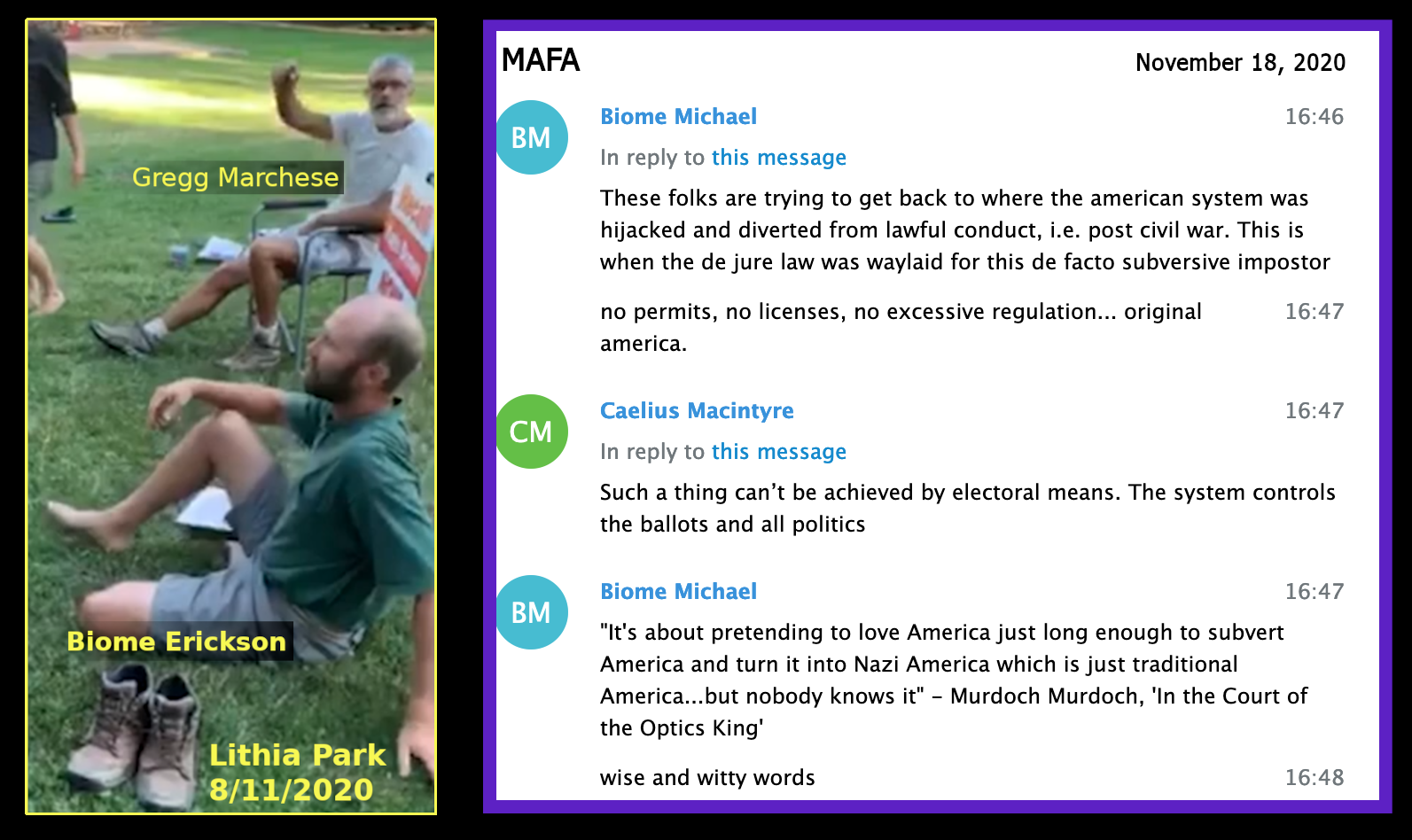 Two Ashland-area men with well-documented antisemitic and fascist beliefs—Keith "Biome" Erickson and Gregg Marchese—have been using COVID-denial and anti-mask protests as a platform for recruiting and radicalizing other like-minded people in Southern Oregon. Rose City Antifa discovered posts from both men across two different Telegram channels, one a national-level neo-Nazi channel, and the other an Ashland-area channel run by Erickson and Marchese which they used to share COVID-hoax propaganda, antisemitic conspiracy theories, and further organizing plans with their followers. Both men brag about connections with Southern Oregon local Republican officials and mainstream right-wing organizations. RCA and Corvallis Antifa have done intensive investigation into these relationships and the nature of their organizing, the results of which are being published in this series of articles.

This article is the first of two from RCA, covering Biome and Marchese's previous neo-Nazi organizing, their current activities, and some of their closest associates during the first six months of the COVID-19 pandemic.
Current Details
Keith Michael Erickson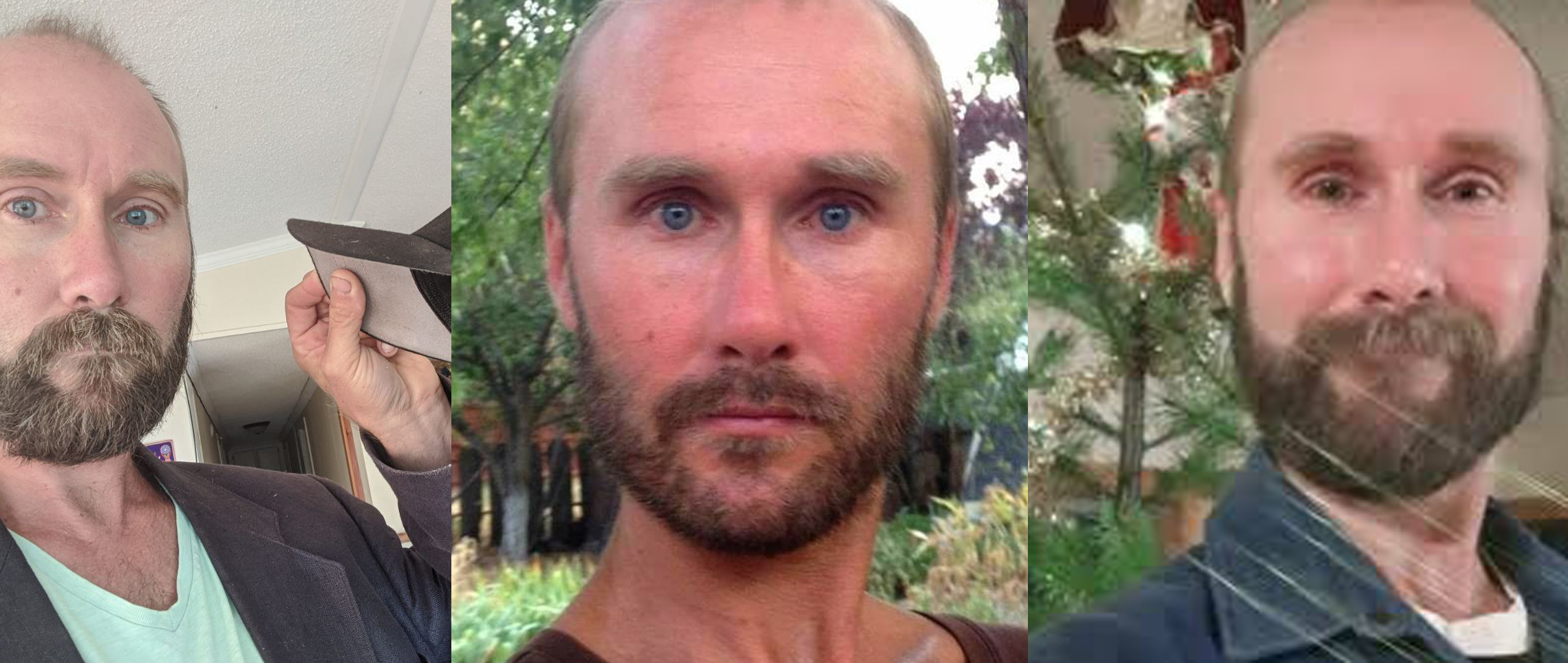 DOB: 08/30/1975

AKA: Biome; Biome Michael; rawbiome

Location: Grants Pass, OR

Gregg D Marchese

DOB: 12/31/1964

AKA: RogueOp NS; George Mackenzie

Address: 211 3RD ST PHOENIX, OR 97535

Over the past year, the COVID-19 pandemic turned into yet another culture war. An array of conspiracy theories regarding the pandemic's origins and existence arose early on and Republican politicians frequently supported "re-open" rallies and protests, especially in states with Democrat governors. In Oregon, many of the rallies occurred in front of the Capitol building in Salem, though there has been significant organizing in more rural counties. These events were frequently organized by Facebook groups with connections to anti-mask and COVID conspiracy groups. These groups have been shown to provide opportunities for far-right entryism, leading to acceptance of fascism and antisemitism within these communities.
Conspiracism relies on antisemitic tropes which are made more palatable by layering other seemingly innocuous topics over an antisemitic core. Social media has allowed for unprecedented growth of conspiracy theories both within subcultural communities and mainstream audiences. The normalization of far-right talking points and conspiracy theories on social media and mainstream culture in general alerts us to alarming trends, especially in the era of COVID-19.
"Make America Fascist Again" and "FreeJaCo"
At the end of 2020, Rose City Antifa researchers came across a known Ashland-area neo-Nazi, Keith Michael "Biome" Erickson, posting in a Telegram channel titled "Make America Fascist Again." In that channel, Biome and a local compatriot with the username "RogueOp NS" bragged to other fascists about their successful infiltration of Southern Oregon COVID-denial circles, and discussed their efforts to further radicalize people they encountered there.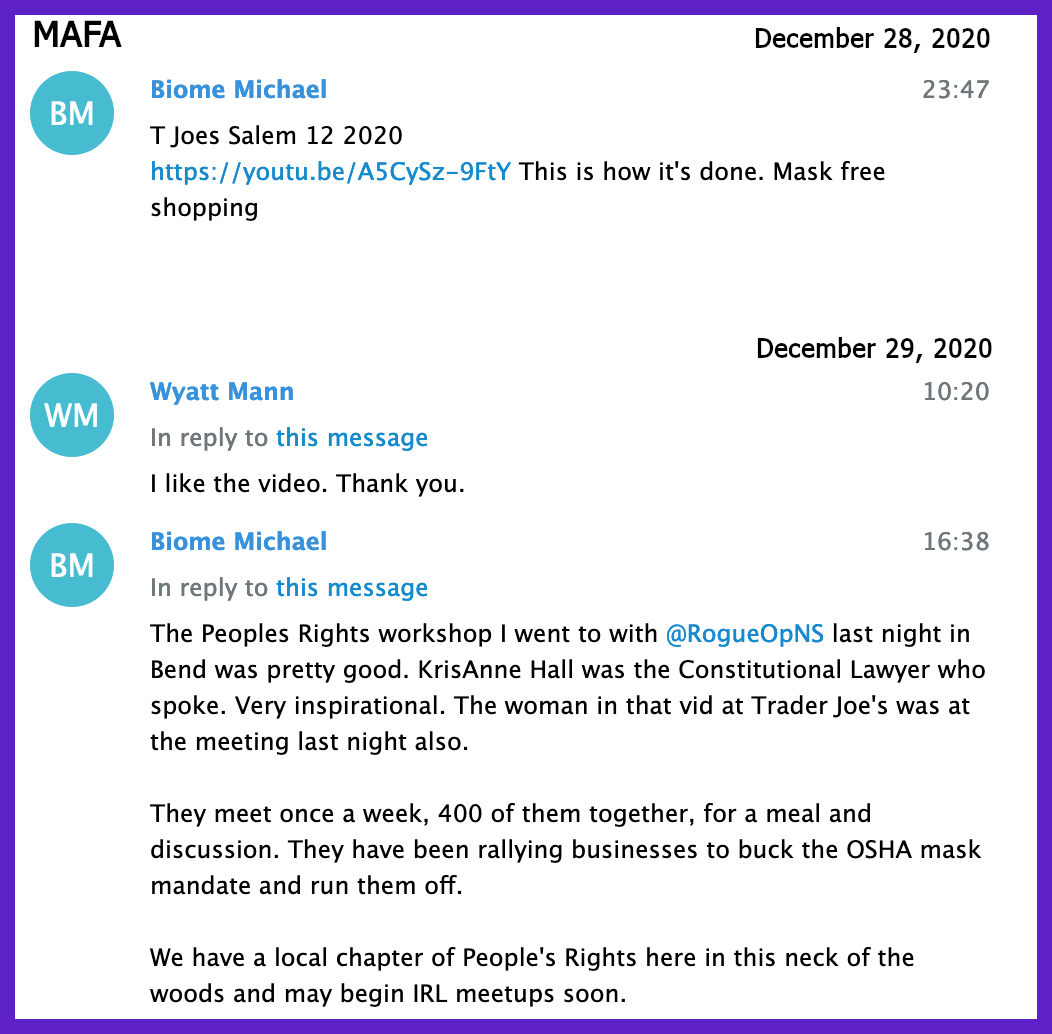 Erickson talks in the "Make America Fascist Again" Telegram channel about attending a "People's Rights" workshop with Gregg Marchese.
Investigation into messages from Biome and RogueOp NS—who was identified as Erickson's partner-in-fascism Gregg Marchese—alerted us to a Telegram channel titled "FreeJaCo." "FreeJaCo" (short for "Free Jackson County") was created by Erickson and Marchese and to share anti-mask action plans, COVID-denial conspiracy theories, and antisemitic, homophobic, and racist content with a larger group of like-minded Ashland and Medford-area residents. Marchese and Erickson spent much of 2020 orienting a group of COVID-hoax believers towards anti-COVID-restriction organizing and radicalizing them through repeated exposure to fascist propaganda.


Erickson explains to fellow fascists how he has been encouraging any anti-mask, or right-wing people he meets to join his Jackson-County-specific Telegram channel.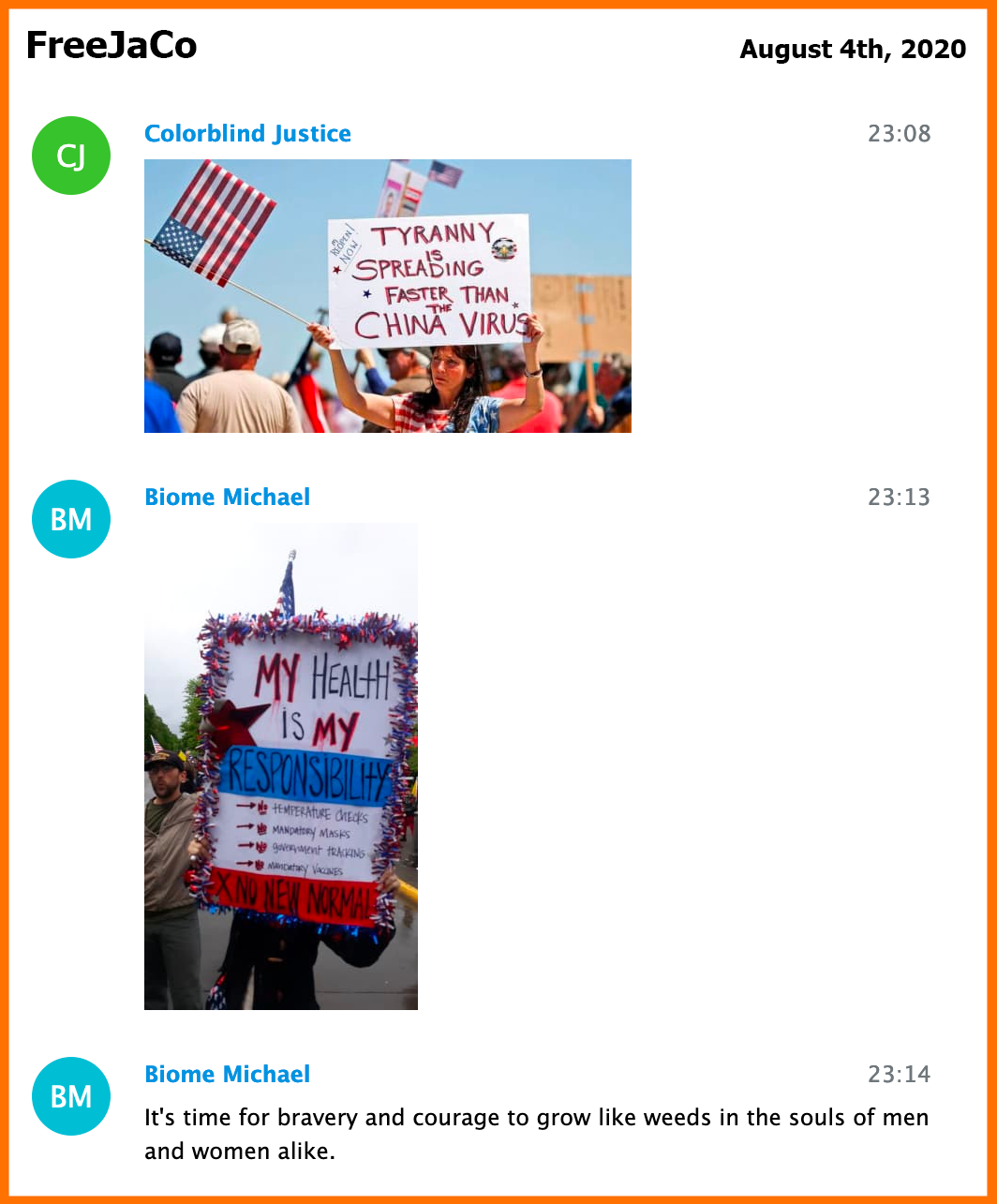 A sample of anti-lockdown protest propaganda shared during the first few days of the FreeJaCo Telegram channel's existence.
Although the "FreeJaCo" channel was deleted shortly before January 20, 2021, RCA researchers had already obtained full archives of the chat's content spanning from early August 2020 to early January 2021. Public records from Jackson County show that the same group of anti-maskers has continued to attend public political events and advocate anti-mask policies even after that channel was deleted. Biome Erickson ended up leaving the "Make America Fascist Again" Telegram channel (which promptly changed its name) approximately a week after January 6th, following a series of arguments with other channel members concerning his dedication to Ashli-Babbitt-trutherism. Gregg Marchese, or "RogueOp NS," left shortly afterwards as well.
Two known fascist antisemites developing a substantial local following and organizing network is concerning enough by itself. But, as indicated in their posts in the "Make America Fascist Again" ("MAFA") and "FreeJaCo" Telegram channels, Marchese and Erickson also gained access to resources and recruits by corresponding and collaborating with current Jackson County Commissioners, Bundy-affiliated Southern-Oregon "People's Rights" groups, and a newly-formed organization called the "Constitutional Law Group".
The contents of these Telegram channels paint a damning picture of fascist infiltration, entryism, and full-scale organizing within quickly radicalizing Oregon GOP networks. Although this kind of far-right indoctrination occurred before and during the Trump administration, the recent upswell of COVID-hoax, Q-Anon, and other conspiracy theories among right-wingers has caused even faster radicalization towards full-scale fascist and antisemitic beliefs.
Background on "Biome" Erickson and Gregg Marchese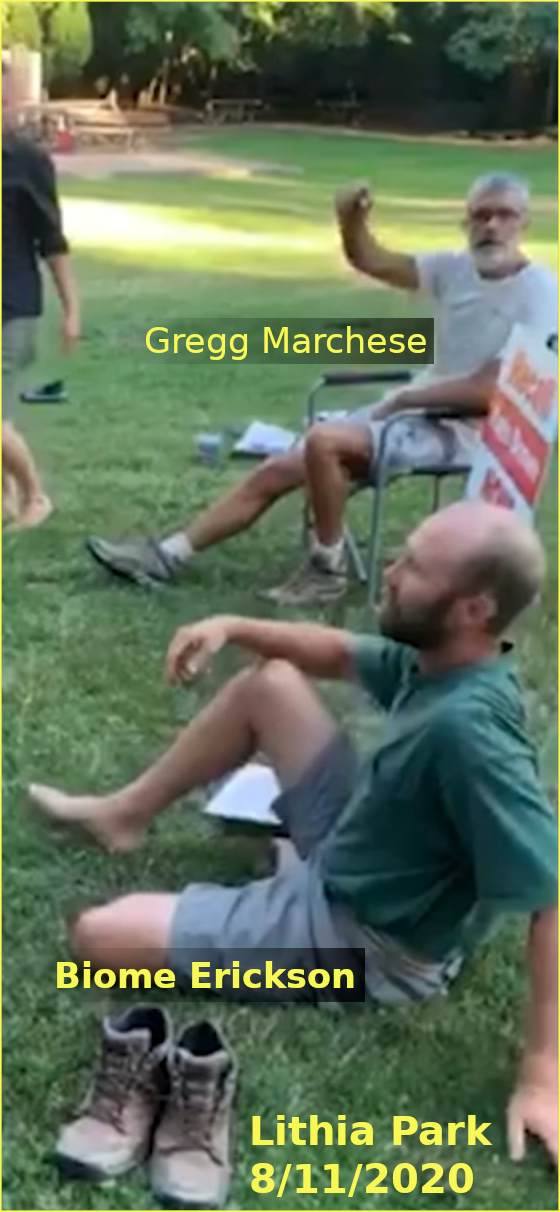 Biome and Gregg at one of their weekly outdoor COVID-conspiracy-discussion meetups in mid-August 2020. This image is a still taken from footage by a local Ashland activist who confronted the group that day to inform them about Biome's National Socialist politics. The group was…not particularly open to that information.
Keith Michael Erickson—or "Biome"— first came to public attention in 2012, when his outwardly environmentalist Ashland mayoral campaign attracted the notice of Jon Stewart and Comedy Central, who profiled him in a brief election-season video segment. Erickson unsuccessfully ran for local office again in both 2014 and 2016, and has since continued to frequent Ashland-area local public meetings and events. Discussions of Erickson's politics in local press during those early campaigns focused mainly on his zany, "organic" aesthetic, but statements made by "Biome" in the "MAFA" Telegram channel indicate that he traveled to Portland to attend a 2012 talk by infamous Holocaust-denier David Irving, suggesting he's been a virulent antisemite for over a decade.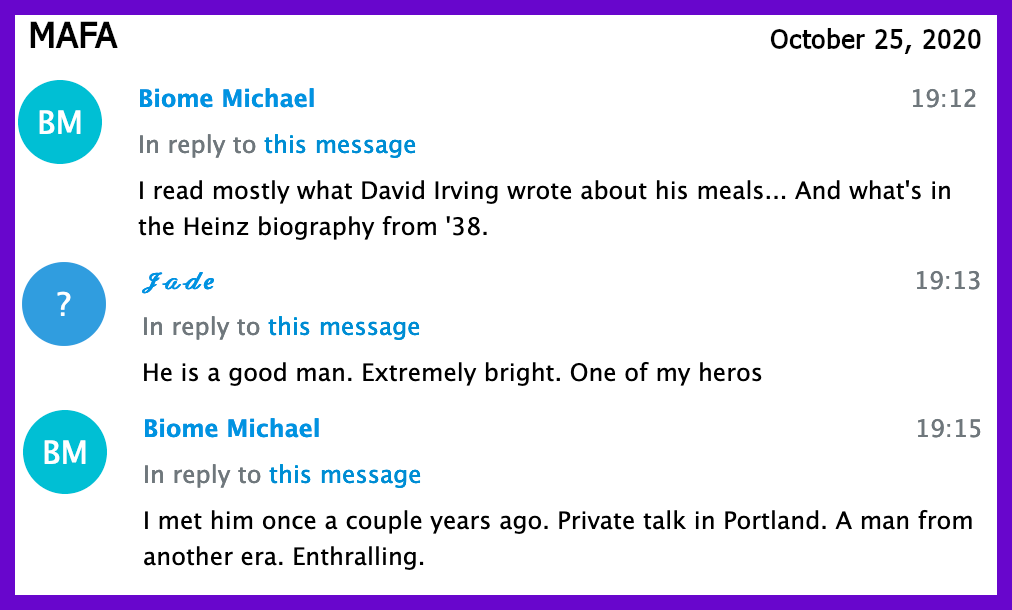 Erickson mentions seeing Holocaust-denier David Irving speak in Portland.
More recently, "Biome" has been southern Oregon's most infamous and publicly active neo-Nazi, putting up antisemitic, fascist, and white nationalist flyers around Ashland, as well as showing up at public events and progressive community spaces to antagonize attendees. Community leaders and leftists in Ashland have succeeded in getting Erickson banned from many spaces and events, but he continues to harass people with help from like-minded allies. In 2018, Erickson and Marchese were both publicly banned from three Ashland synagogues after Biome attempted to attend religious services barely a month and a half after the mass shooting at Pittsburgh's Tree of Life synagogue. About a month later, the two men interrupted an "anti-hate" community hearing put on by Oregon Attorney General Ellen Rosenblum, where Biome stated that he felt persecuted and victimized over his National Socialist ideology, and that Holocaust-denial literature should not be considered hate speech.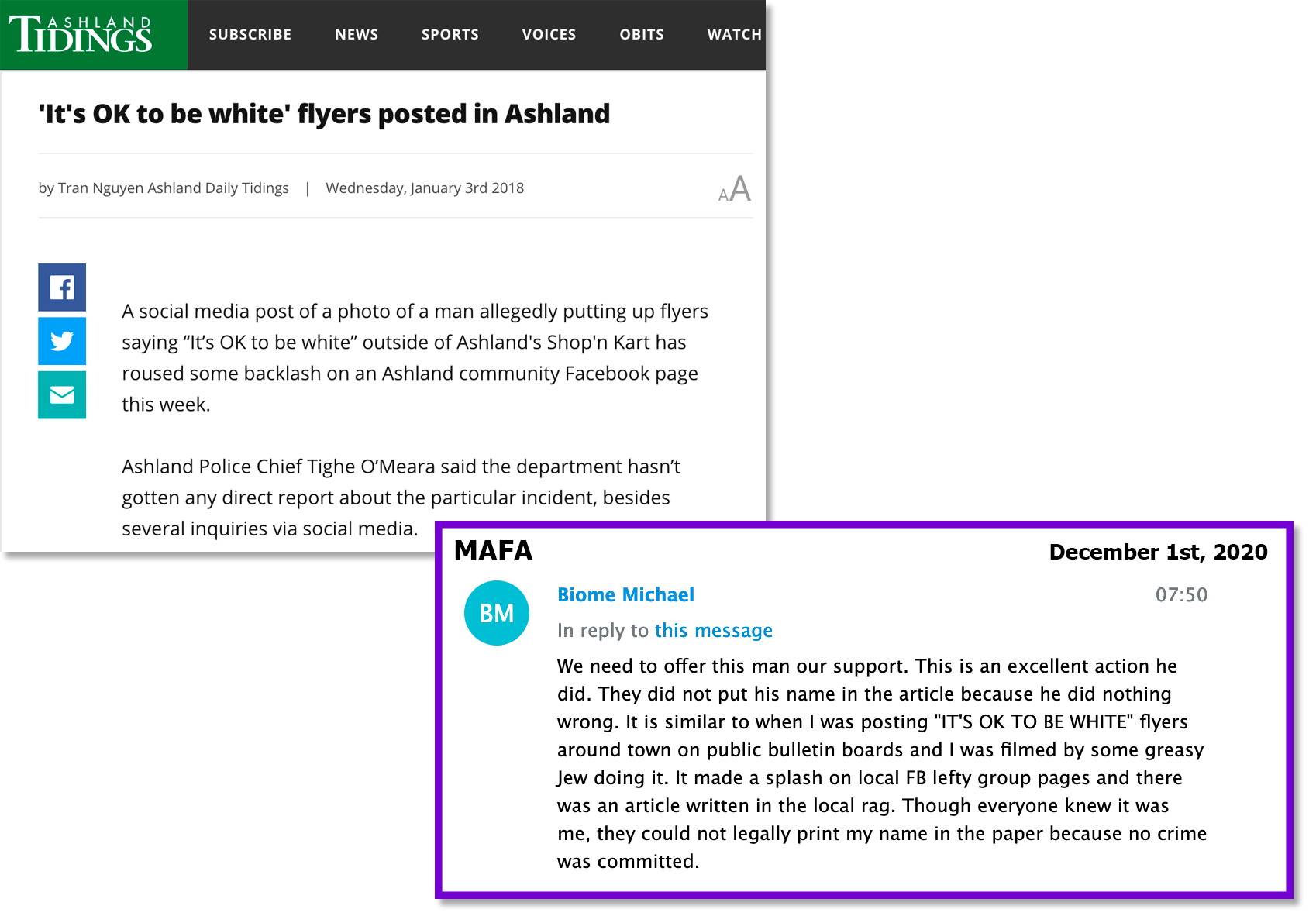 Erickson brags about posting racist "It's OK To Be White" flyers on public bulletin boards and getting away with it without being named in the press article shown alongside his post.

Erickson–with Marchese along for the ride, but out of frame–crashes an anti-hate hearing to complain about how he is 'persecuted' for being a National Socialist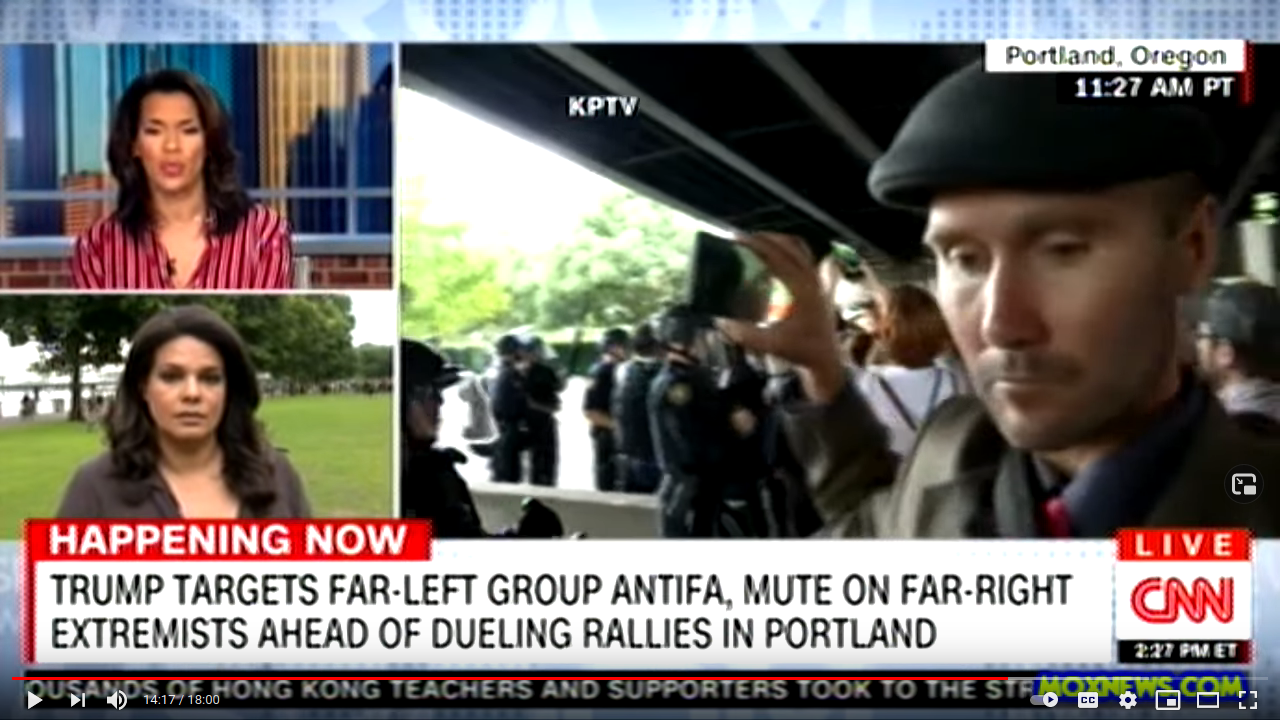 Erickson attended Joe Biggs' August 17 2019 fascist rally in PDX along with members of Patriot Prayer, the Proud Boys, American Guard, and others.
Gregg Marchese's radicalization within the last six years has taken him from permaculturist and woodworker promoting thinly-veiled antisemitism on a local public radio show ("Rogue GMO Watch"), to advocating for full-blown National Socialism and a violent fascist coup. His partnership with Biome dates back to at least 2018, not long after Marchese's show was cancelled by the local radio station for antisemitic rhetoric. In the last two years, Marchese has authored articles for white nationalist publications including the Renegade Tribune (under his real name), and Occidental Observer (under the pseudonym "George Mackenzie"). One of his pieces, featured in the January 2019 issue of Barnes Review (which has been described by the SPLC as "one of the most virulent antisemitic organizations around"), is titled "Hitler's Amazing Revolution: His Vision For Germany."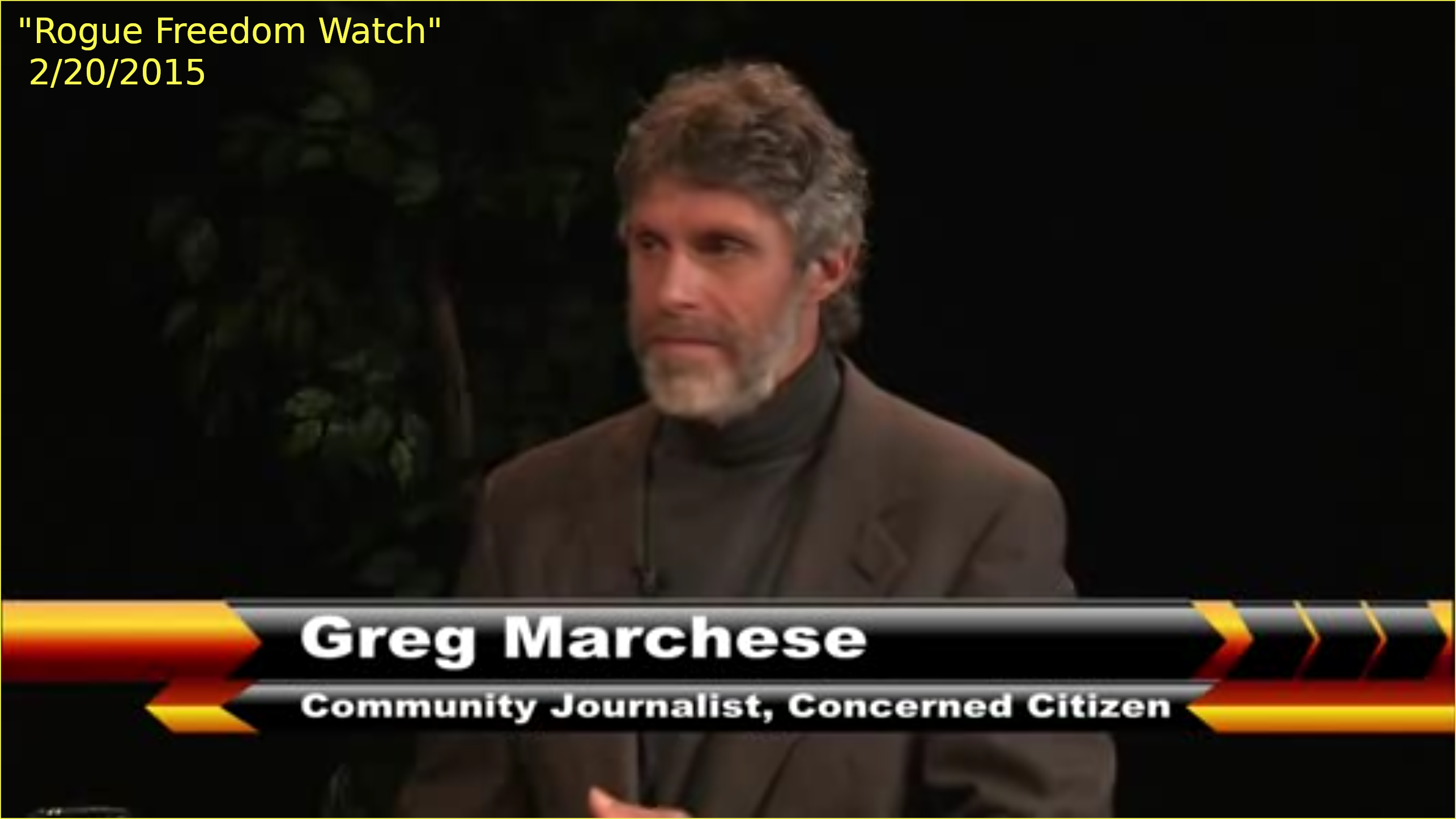 Gregg Marchese appears on a "Rogue Freedom Watch" public television segment in 2015.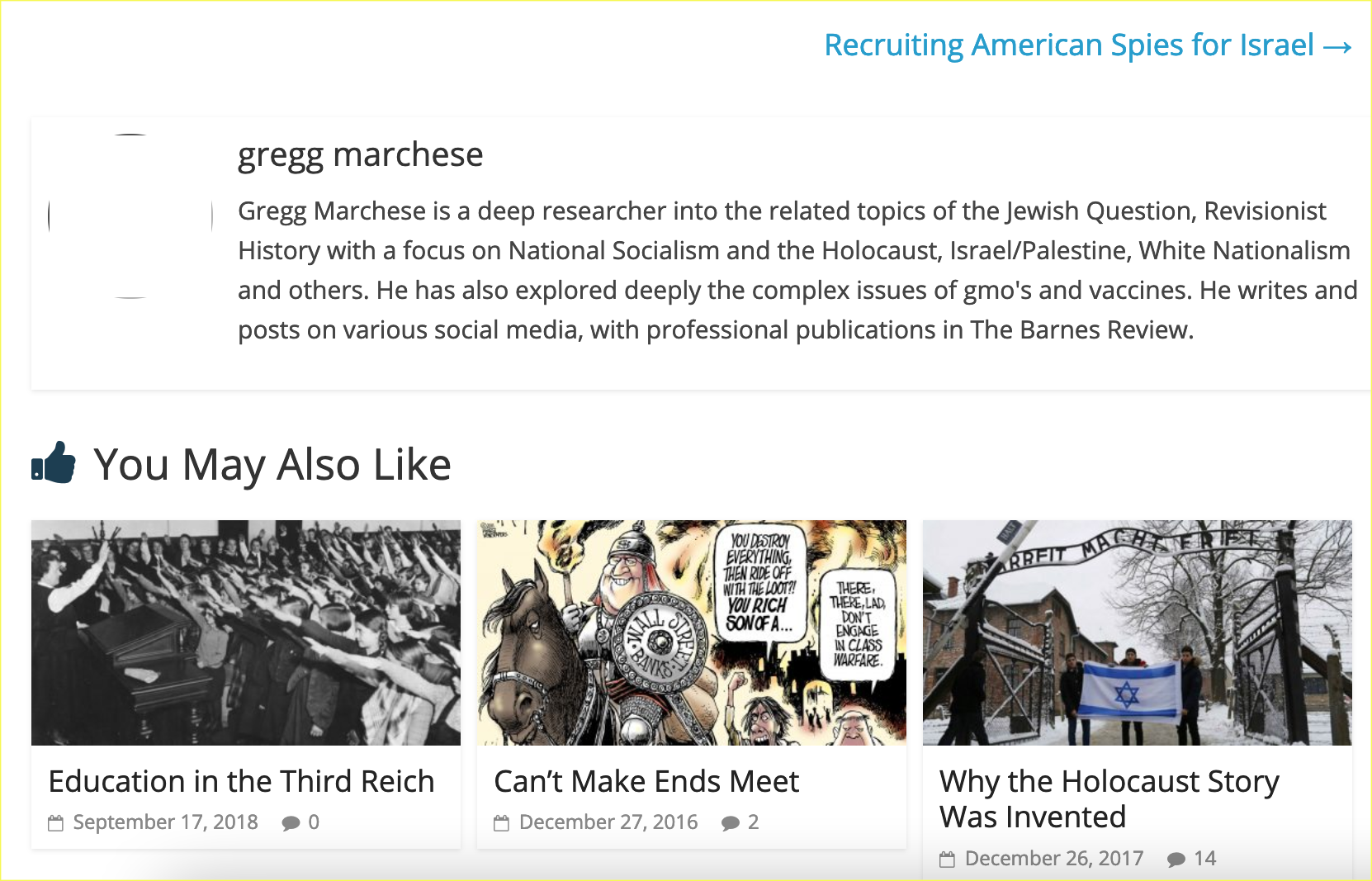 Gregg Marchese's Renegade Tribune author bio makes his affinity for National Socialism clear.
About three weeks after the WHO declared COVID-19 a pandemic in early March 2020, Gregg Marchese (under the pen name "George Mackenzie") replied to a comment on an Occidental Observer article he'd written, titled "Semitophobia," and stated the following about his and Biome's work together:

"A colleague and I have conduced(sic) about 20 direct actions of various kinds over the past two years. We write up pamphlets and hand them out on the sidewalk before various events. The 'Nuremburg' play and 'Good German' play, the 'Diary of Anne Frank' play, the 'Unite for Justice' event with a huge turn-out to see our federal senator speak, holding our own 911 truth presentations with Bollyn, attending public meetings and events and speaking to the Jewish question and white rights, including the 'hate crimes' hearing our state legislators held, and our latest, attending and asking pointed questions at the book signing of a Jewish professor selling his mother's 'survivor' memoires, and many others."


Under the pen name "George Mackenzie", Gregg Marchese discusses he and Erickson's years-long efforts to harass and demean marginalized people in their area, particularly the local Jewish community.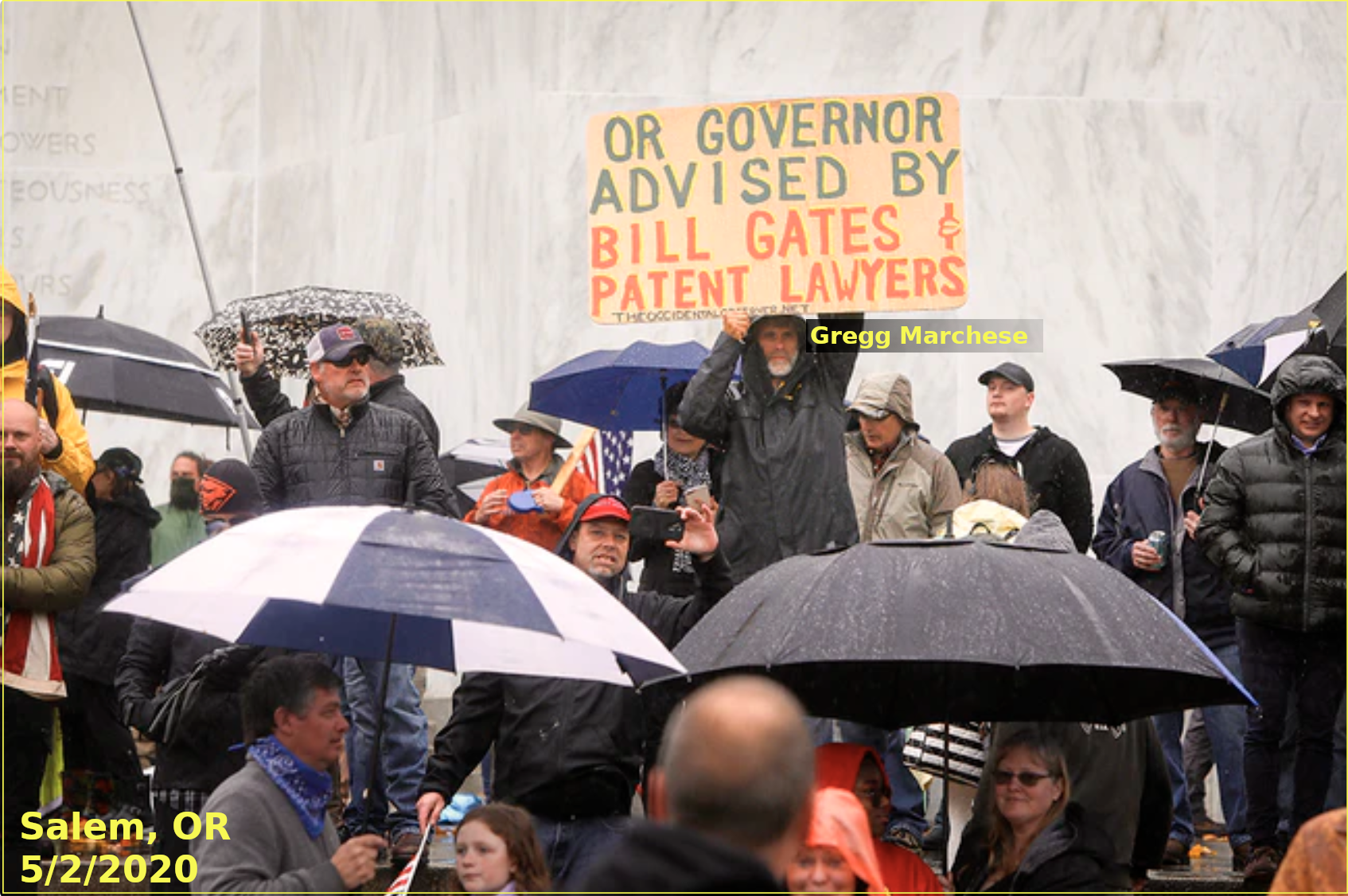 Marchese attends a May 2nd "Reopen Oregon" rally at the state capital building in Salem, carrying a cardboard sign bearing the title of his most recent Occidental Observer article, "Oregon Governor Advised by Bill Gates and Patent Lawyers," with the URL for the Occidental Observer website written immediately below.
Biome's long-term activity around Ashland, as well as public displays of fascism and antisemitism, have resulted in widespread awareness of his beliefs among the local community. Pressure from progressive members of the public within Ashland has resulted in him being banned from many community spaces and events. But over the last year, this public awareness didn't prevent Biome from participating and even leading anti-mask protest efforts, organizing public gatherings, and speaking during comment sessions at both county government meetings and right-wing events. And despite Marchese being only a little less public about his Nazism than Erickson, messages throughout the "FreeJaCo" Telegram logs indicate that Marchese has been able to maintain consistent contact and even active collaborations with Ashland-area far-right organizers and elected officials.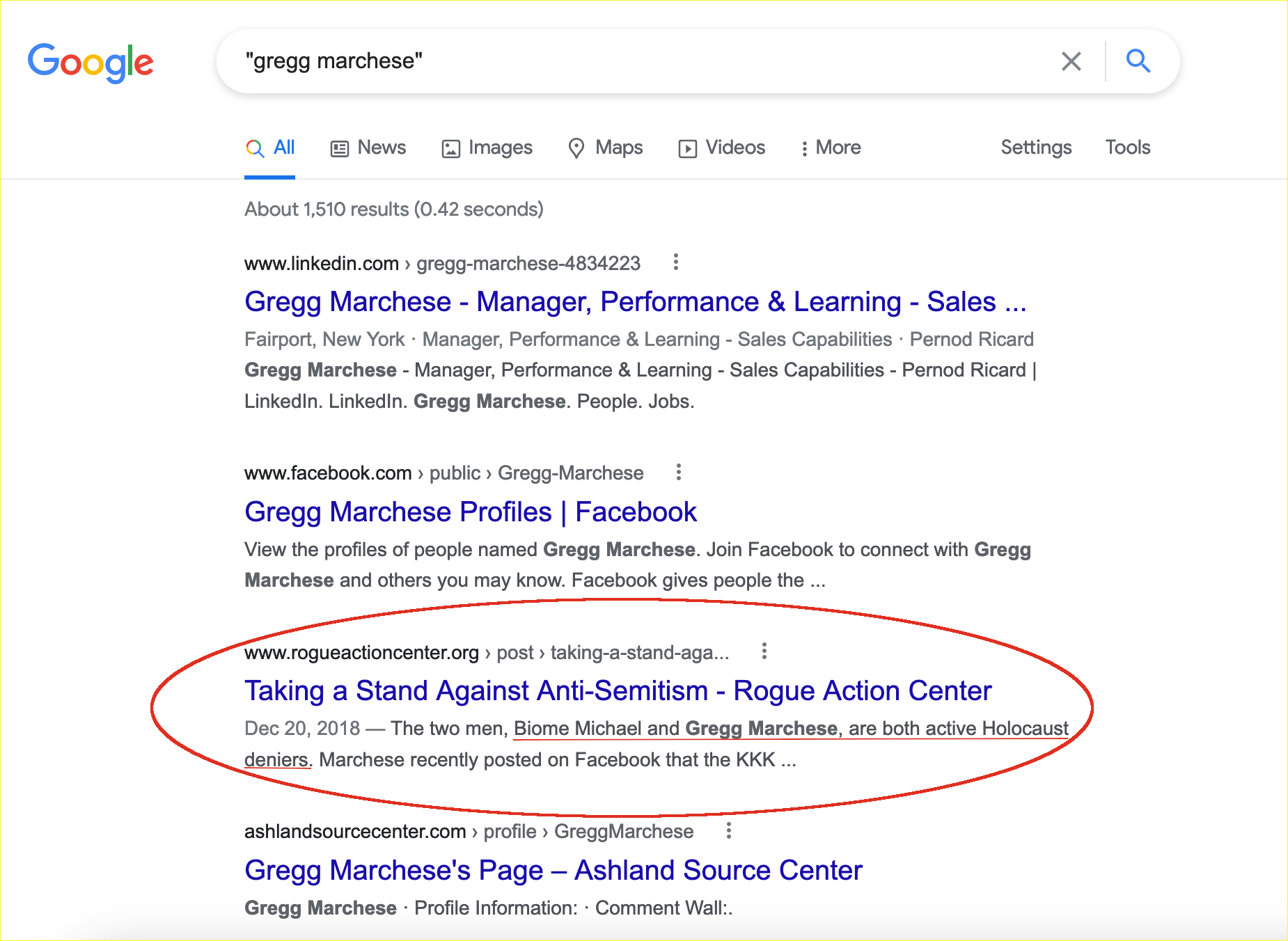 This shows the first page of Google results for the name "Gregg Marchese." As you can see, information about Gregg's (and Biome's) racism and Holocaust denial isn't hard to find.
"Freedom Rally" in Sweet Home
In 2020, Biome drew renewed attention from concerned community members and local press when he spoke on an open mic at a July 24th "Freedom Rally" in Sweet Home, OR, organized by a man named Jimy White. Five days after the rally, the "Sweet Home New Era" published an article revealing Facebook posts by Jimy White, sent in by a reader, including a photo of White and Biome "Sieg-Heil-ing" while holding both a stolen Black Lives Matter banner and a large photo of Adolf Hitler. White captioned the photo "Captured enemy flag from the front."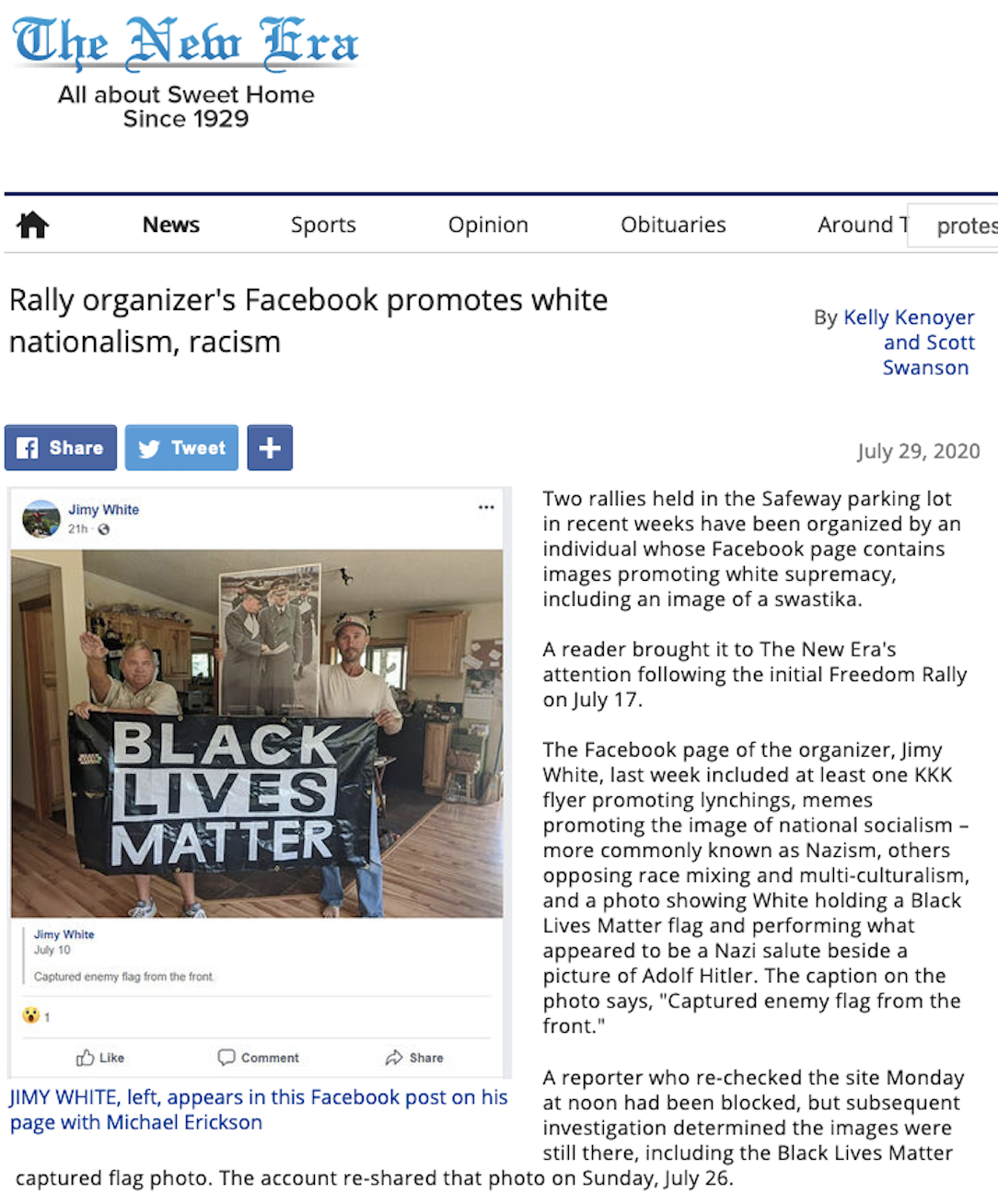 Coverage from the Sweet Home New Era of Biome Erickson's and Jimy White's fascist social media posting, and their attendance at a local "Freedom Rally".
When the reporter attended White's July 24th rally and questioned White about this social media post, Biome stepped in to defend White. Both men claimed their respective Facebook accounts had been hacked, and the content in question posted by the hacker. White claimed to have only met Biome one week earlier, and while Biome refrained from openly praising National Socialism at that particular rally, his comments to the reporter and to the crowd while on-mic were littered with fascist dogwhistles. According to the New Era piece, after their conversation, "Erickson then followed the reporter around the rally. He asked about the reporter's ethnic heritage, and whether the reporter was a member of the FBI." The Sweet Home New Era published two Letters to the Editor in early August which commented on the article about White and his "Freedom Rally." One praised the journalist and paper for their thorough coverage, and cited recent reports regarding the danger of white nationalism and white supremacist violence. The other, from a Freedom rally-attendee who "certainly doesn't agree with agenda of neo-Nazis," wonders "what the journalist's agenda is? Is she a Trump hater? Is she in Sweet Home to stir up trouble?"
Jimy and Theo White
Shortly after 11 PM on June 27th, 2020, Biome posted the following message in a small neo-Nazi Telegram channel:
"We took a trophy today…surgically removed a very high end well made vinyl Black Lives Matter ((((TM)))) banner hanging from a fence in a prominent part of town during daylight hrs. Didn't attract untoward attention and got away with it. I will post photo of the booty tomorrow."

The following day, Biome posted the same photo of him and Jimy White to the Telegram channel that White would post on his Facebook page fewer than two weeks later.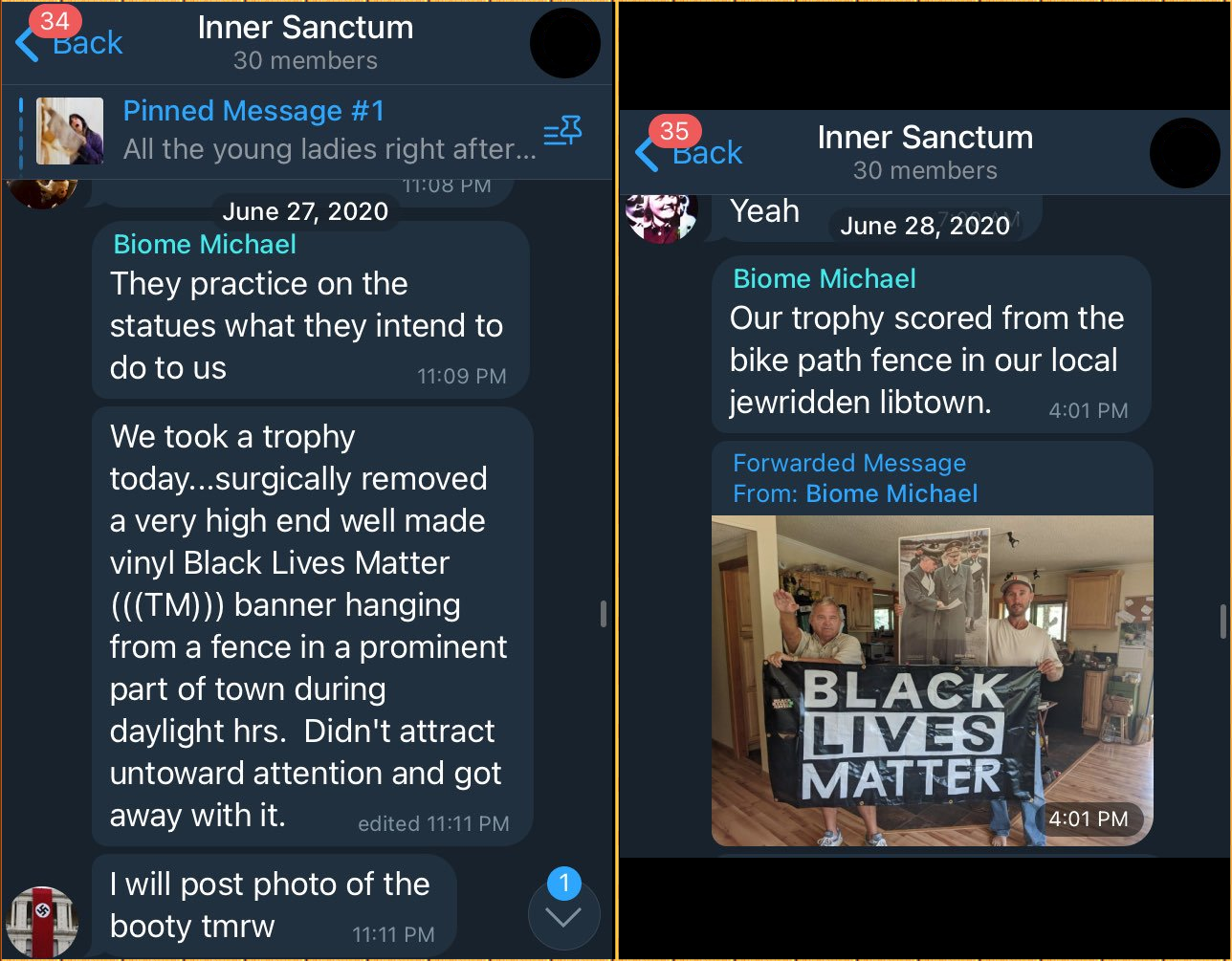 Erickson posts in a Nazi Telegram channel about stealing a Black Lives Matter banner with Jimy White.
When Biome and Marchese created the "FreeJaCo" Telegram channel at the beginning of August 2020, Jimy White and his son Theo were among the first people to be added. Theo, a Sweet Home resident, is a former MMA fighter who currently works as a Special Education teacher at the local high school. Over the next few months, both Jimy and Theo would share homophobic and antisemitic content in that chat. Theo White, perhaps emulating Biome, unsuccessfully ran for Sweet Home City Council in the fall of 2020. Biome shared the news of Theo's campaign in the "MAFA" Telegram channel, saying "COVID Truth is one of [Theo's] planks. He is one of ours."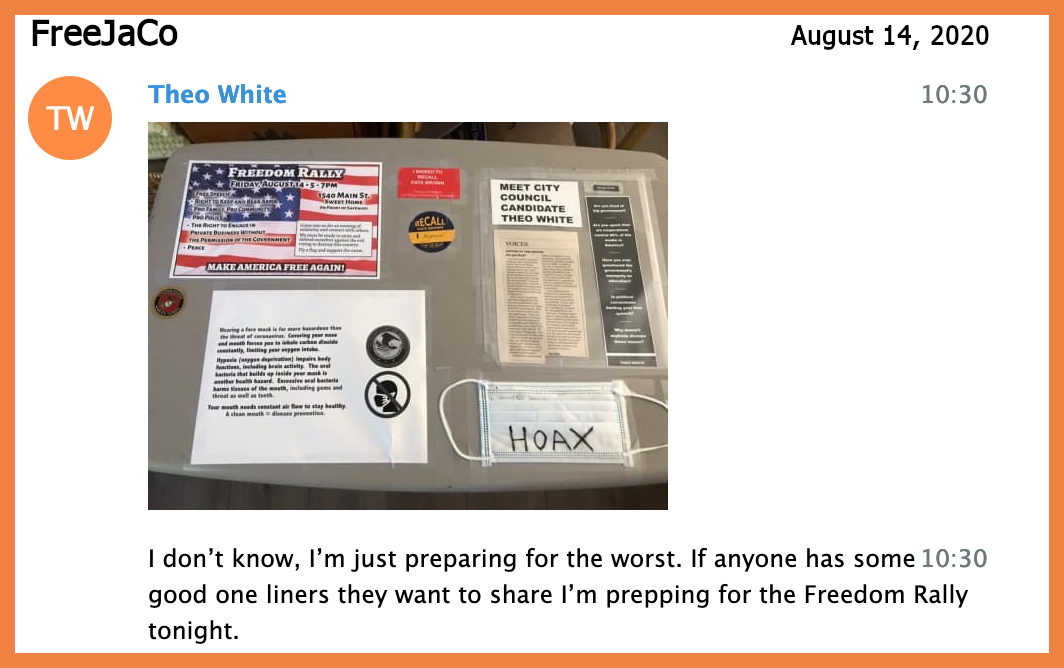 Theo White shares an image of his laptop computer, which is covered in COVID-hoax and other right-wing propaganda stickers.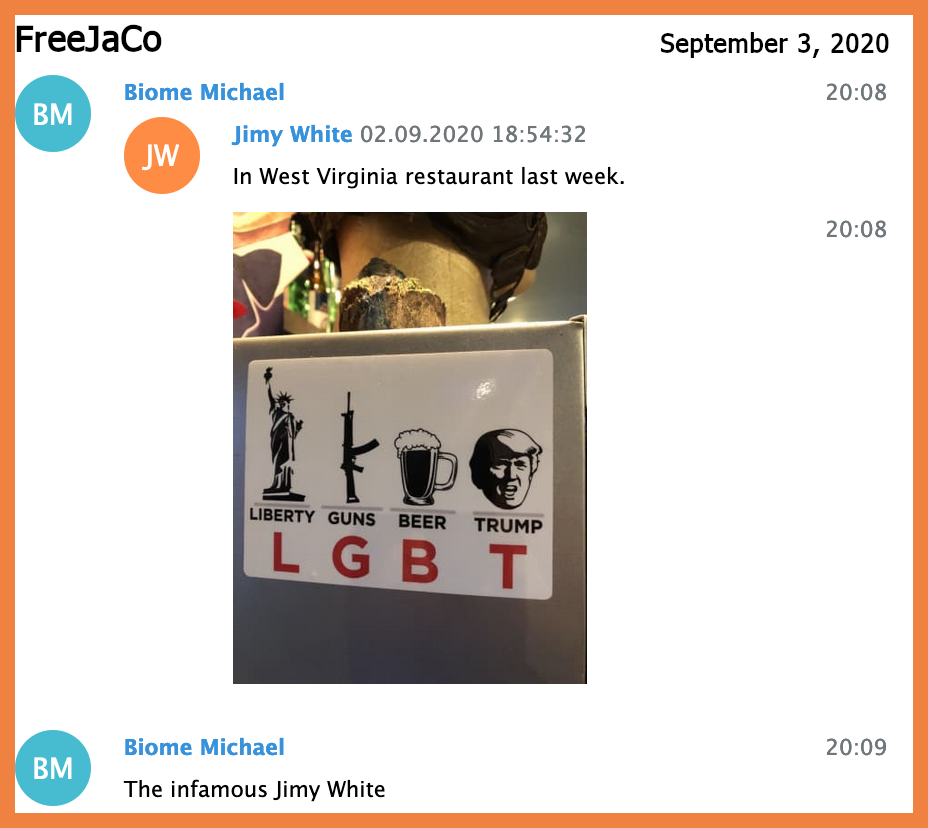 Biome Erickson shares a homophobic Telegram post from Jimy White.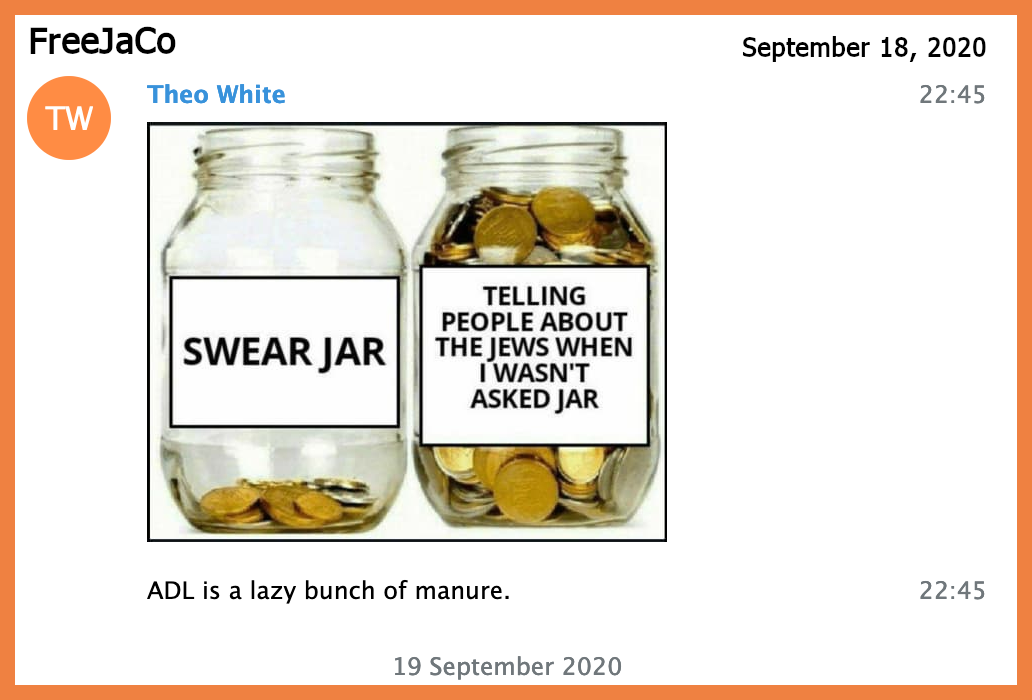 Theo White posts a meme to brag about his antisemitism.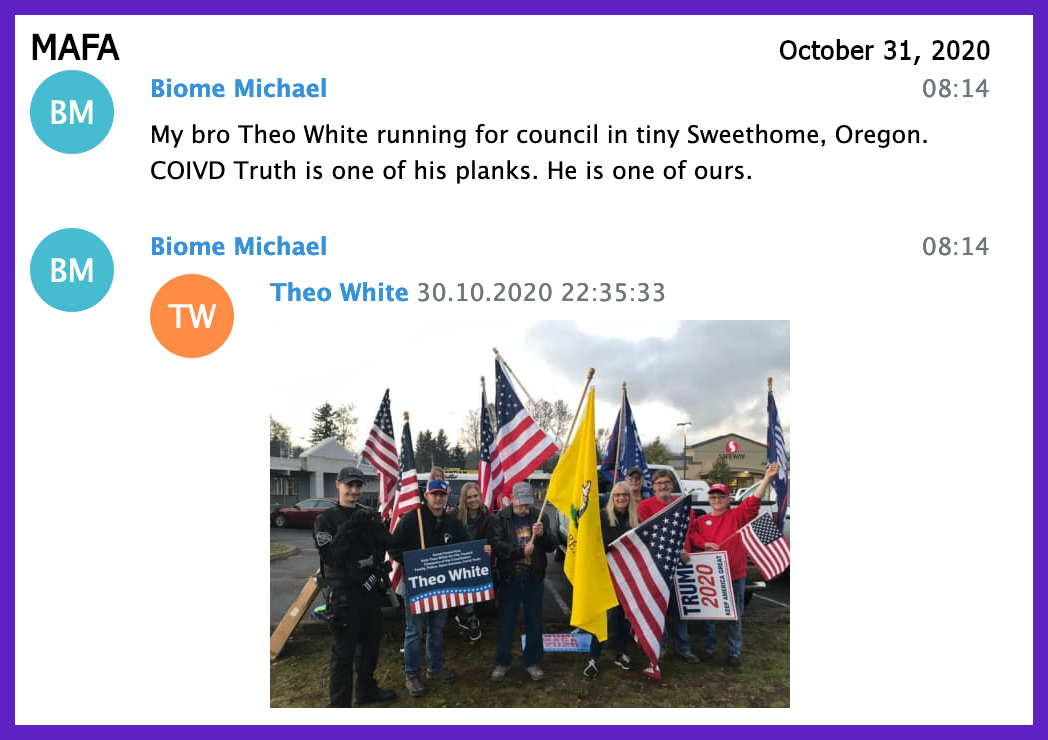 Erickson shares a post from Theo White about White's city council campaign, and calls White "one of ours" in the "Make America Fascist Again" Telegram channel.
In November, Biome reshared the photo of himself and Jimy White holding the Black Lives Matter Banner in the "MAFA" channel, and also claimed that Jimy "has stories galore from [Australia] and Rhodesia," and had "spent time with William Pierce at his compound in WVA." Biome shared multiple Telegram messages from Jimy in the "MAFA" channel, including an antisemitic meme so graphic that we decided it could not be shown in this piece even if substantially redacted.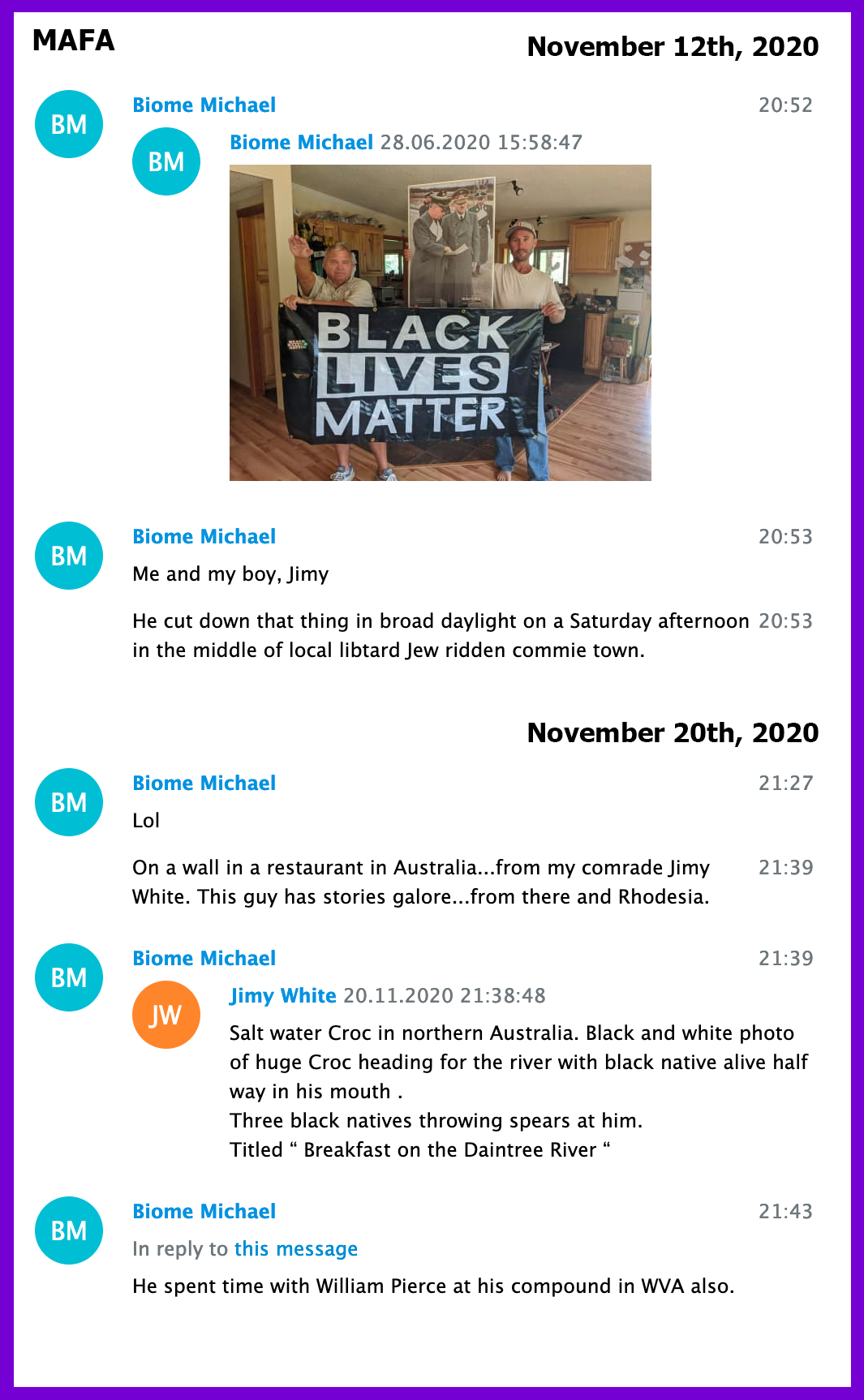 Erickson re-posts a picture of he and Jimy White posing with a stolen Black Lives Matter flag, and boasts about Jimy White's racist history.
Outside of the contents of White's Facebook page, there is little online evidence of Jimy White's activities or political beliefs during his lifetime that might substantiate Biome's claims. There are, however, a pair of local news articles from Astoria about an incident in the summer of 2017. According to The Astorian, in July 2017 Jimy White was arrested after firing over 20 shots into the air from "a German MP 20 World War II-era machine gun" while standing outside the front door of his home. When his home was searched by police, they found eight other guns, including a German Luger 9 mm pistol. White was eventually sentenced to 15 days with an ankle monitor, two years of probation, and a fine of $1,134. In a recent Facebook comment regarding his search for an English teaching job in Thailand, White (who did briefly teach in the Seattle Public School System years ago) claims that his 12-year-old misdemeanor conviction was for "throwing firecrackers in my yard."

Screencapture from a Daily Astorian article detailing some of the weapons possesed by Jimy White around the time of his arrest in 2012.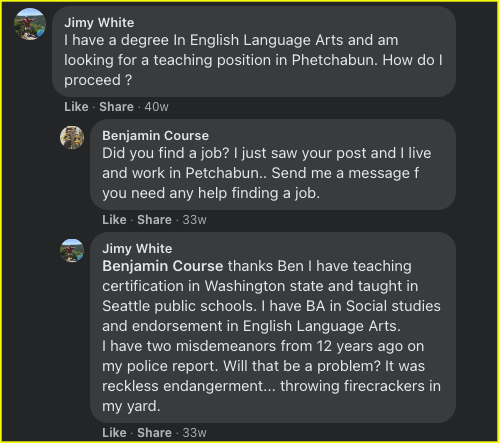 Jimy White on Facebook, looking for a teaching position, and misrepresenting his criminal history.
While Jimy White and Biome appear to have stayed away from further "Freedom Rallies" in Sweet Home, Theo White repeatedly mentioned preparing for and/or attending "Freedom Rallies" in Sweet Home in the FreeJaCo chat through the end of August. Based on Biome's repeated reference to Jimy and Theo as "my boy," and "one of ours" in the MAFA chat, as well as their antisemitic posts, it's likely that both men (along with Marchese and at least one other) were part of the small, core group of fellow white nationalists that Biome would often brag about throughout the fall and winter of 2020.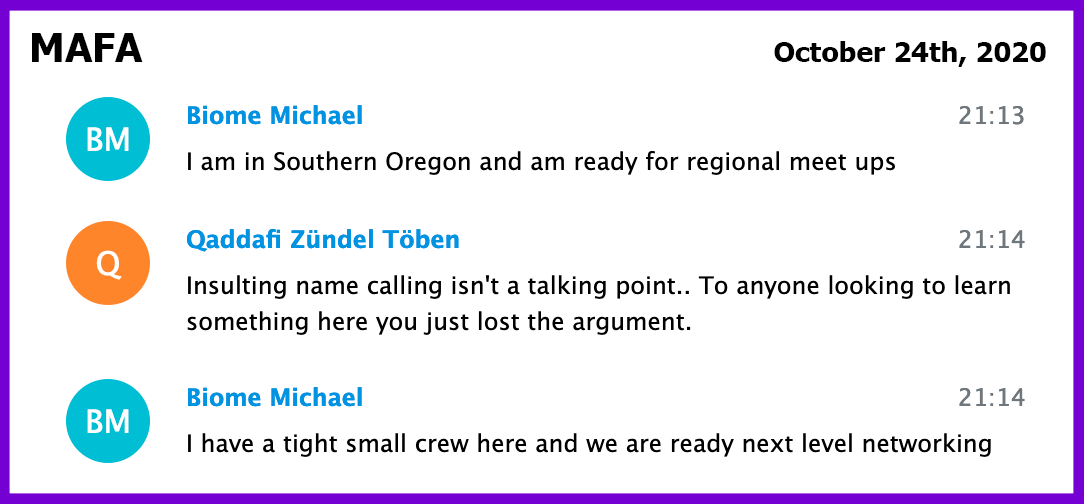 Biome Erickson brags about his "crew" in the Make America Fascist Again chat.
The FreeJaCo Telegram Channel and Early Board Meetings
By mid-July, around the same time that Jimy White began holding "Freedom Rallies" in Sweet Home, Biome and Marchese began to hold outdoor meetups with local people interested in anti-mask action and COVID-hoax conspiracy theories. Many of the people in attendance at these meetings who didn't know Biome or Marchese learned about the meetings via word of mouth, after conversing with them while they traveled around Ashland or Medford unmasked. Soon after the meetings began, Biome and Marchese also created an email list for annoucements, meeting scheduling, and sharing information with meeting attendees.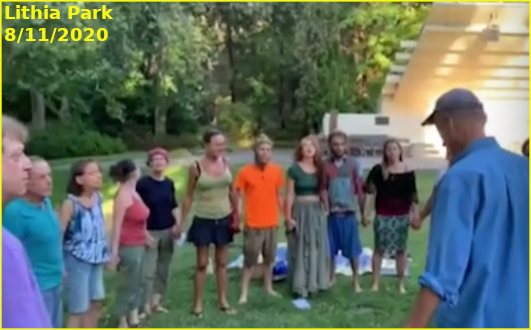 Attendees at one of Biome and Gregg's COVID-conspiracy-theory related meetings hold hands in a circle in Lithia Park.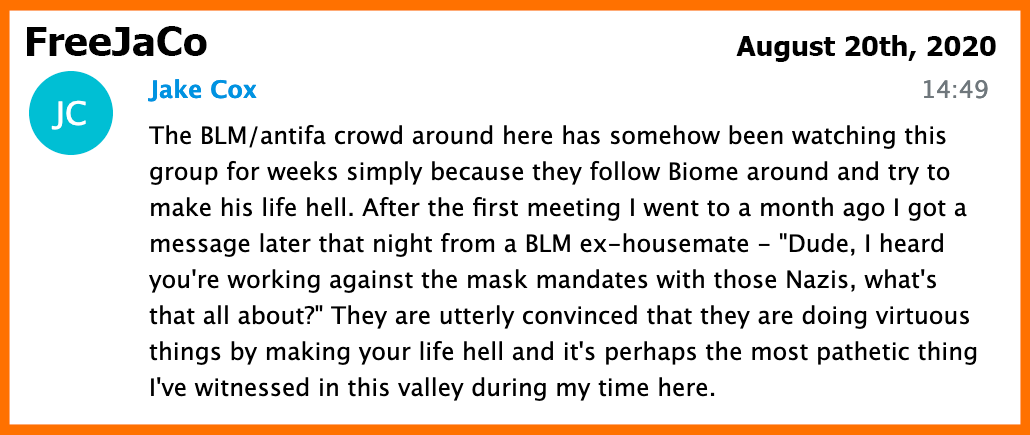 Jake Cox thinks that it's ridiculous that local anti-fascists consider it a good thing to track local fascists like Biome.
One of the group's initial strategies for countering mask rules and COVID safety restrictions involved signing up to speak during the "Public Comment" periods at Jackson County Commissioners' meetings in Medford. There they would share COVID-related disinformation and make their demands to the commissioners directly. Marchese alone spoke during the July 22nd Commissioners' meeting, but both Biome and Marchese attended the next one, on July 29th, along with three of their fellow COVID-deniers. Their testimony repeated common COVID-hoax conspiracy theories and talking points drawn from the "Constitutional Sheriffs" and "People's Rights" movement concerning the need for county-level governments to reject the authority of state and national officials.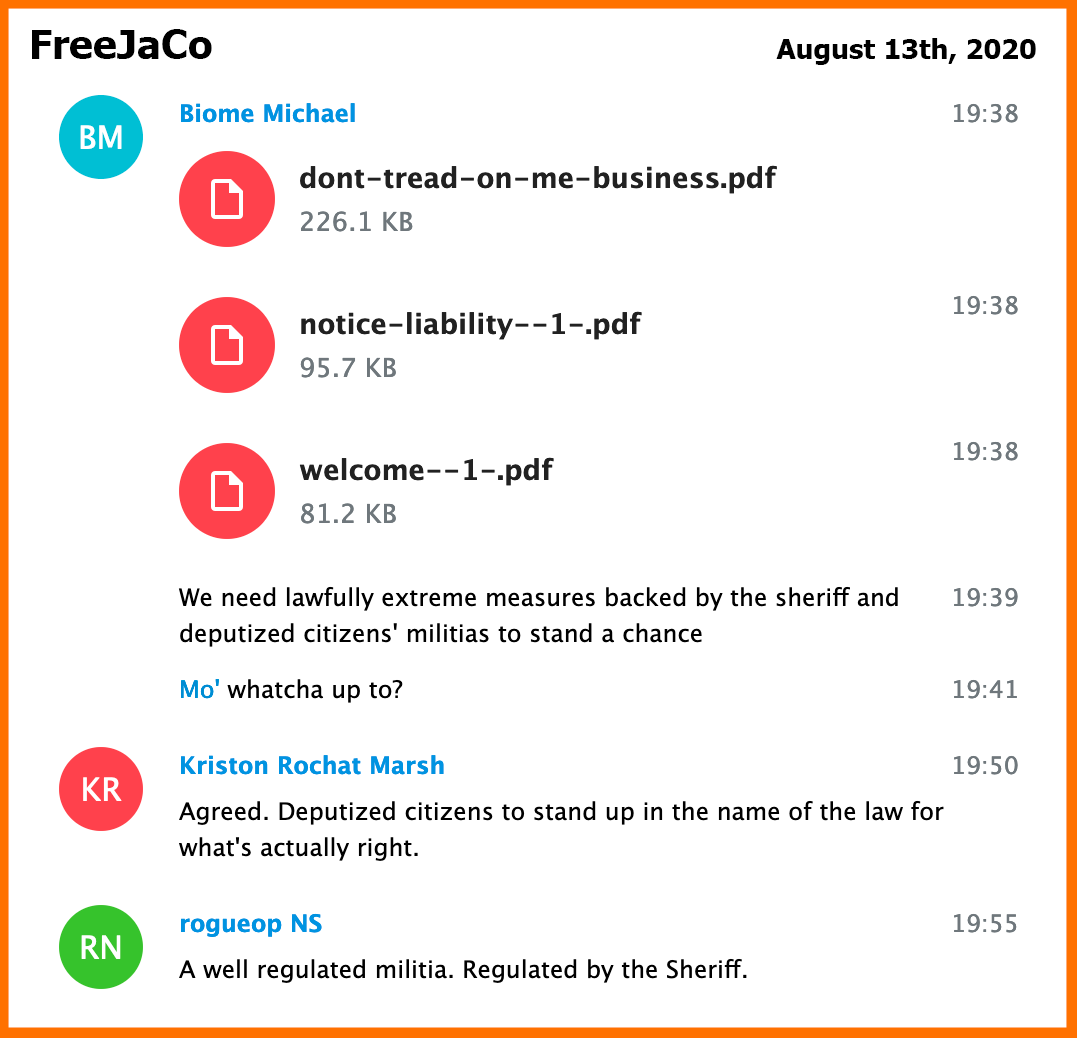 Biome and Gregg Marchese share Constitutional Law Group anti-mask resources with the FreeJaCo chat and discuss Sheriff-run militias.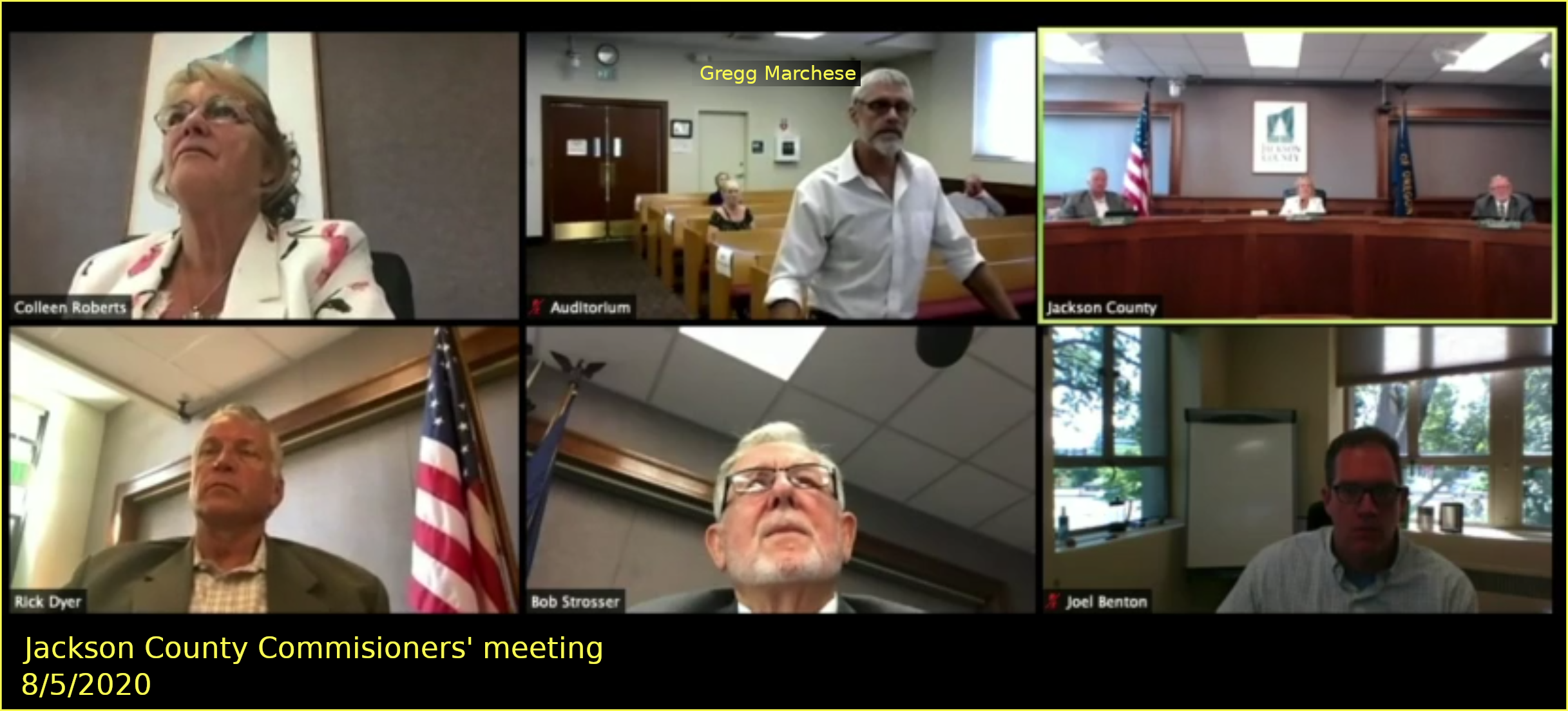 Gregg Marchese spews COVID-19 disinformation at county commissoner's meeting.
On August 4th, Biome created the Telegram discussion channel titled "FreeJaCo" and began inviting regular meeting attendees to join. His initial post in the channel included the link for information about the next day's Jackson County Commissioners meeting, which he said would be "a great opportunity to reclaim control, power and authority over our political, economic and cultural landscape." Two of the next links he shared to the channel less than 15 minutes later were to COVID-19 conspiracy-related articles from the Renegade Tribune, an openly white nationalist and antisemitic news platform where Marchese authored anti-vaccine content for 2019.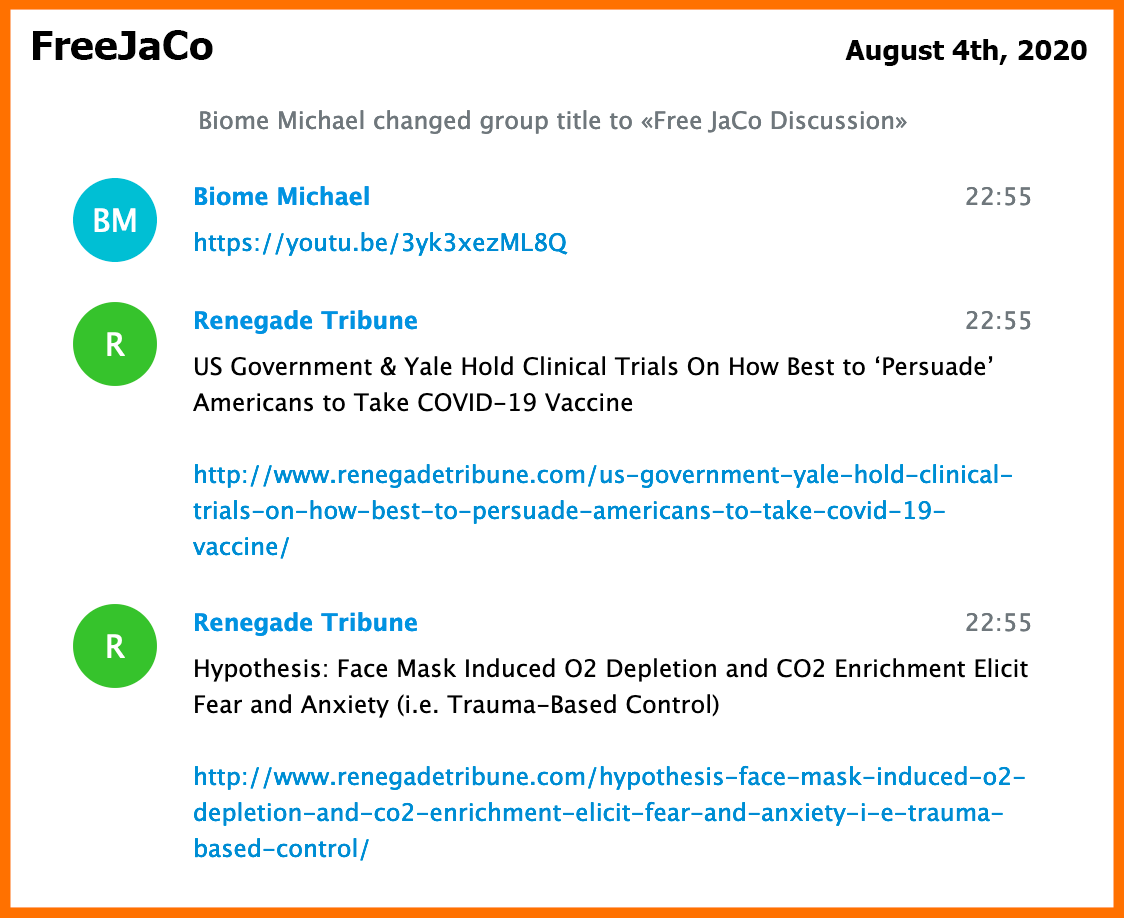 Shortly after creating the "FreeJaCo" Telegram channel, Biome Erickson shares multiple links from antisemitic and white nationalist platform "Renegade Tribune".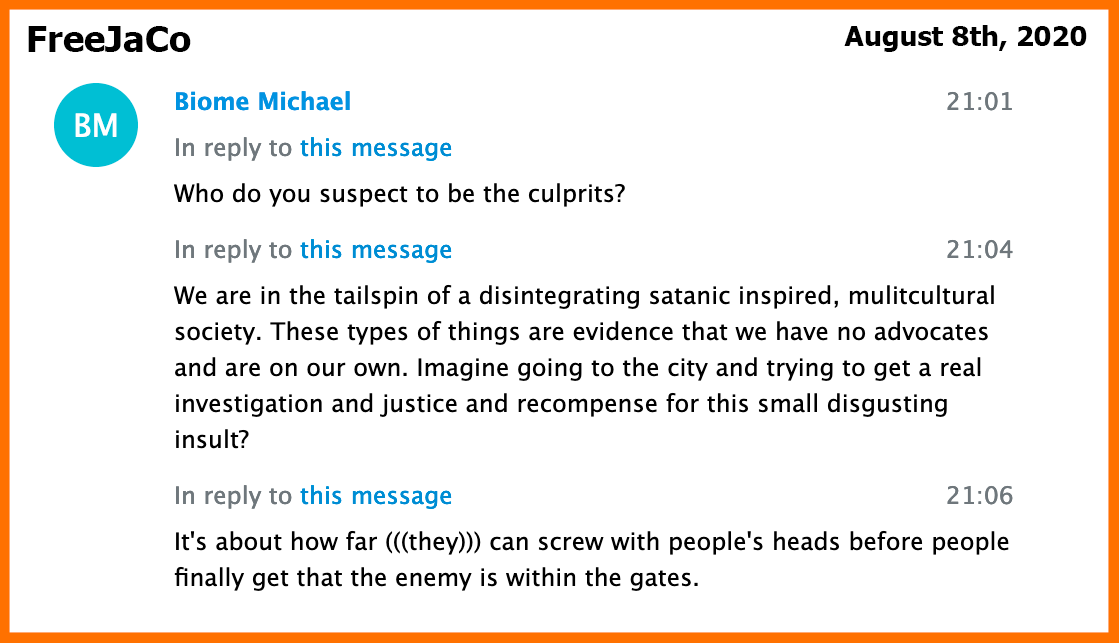 Four days after creating the FreeJaCo Telegram channel Biome is already dropping overtly antisemitic dogwhistles like the "three parentheses".
The next day, after Biome, Marchese, and a collection of their fellow "FreeJaCo" channel members gave testimony in front of the Jackson County Commissioners, Commissioner Colleen Roberts approached them in what Biome described as a "more informal non-session setting out from the auditorium" and told them about what she believed were inconsistencies in COVID-related "Executive Orders" from the Governor that might make those orders vulnerable to legal action from right-wing advocacy groups. Commissioner Roberts, who was first elected at the end of 2014, was a featured speakers at a May 16th rally in Medford against coronavirus restrictions, where she at one point addressed the crowd by asking "Why couldn't you have an elective surgery, but I understand an abortion can be done, which is elective?!…It comes down to this: Are we a free state, or are we a police state?"


Erickson mentions speaking with Jackson County Commissioner Colleen Roberts.
After she spoke briefly with Biome, Marchese and their associates outside the August 5th Board meeting, Roberts sent Marchese the link to the state orders she had mentioned earlier. According to Marchese, he planned to pass those links and Colleen's thoughts along to a local far-right legal consultant associated with the "Constitutional Law Group," so that "he and his team will be able to examine [them] …and tell Colleen what can be done about them."


Jackson County Commissioner Colleen Roberts sends links to Gregg Marchese's and Biome Erickson's group after speaking with them.
This interaction is just the start of what would become a months-long pattern of collaboration–including emails, phone conversations, and in-person meetings–involving, at different points, Commissioner Roberts, Gregg Marchese (plus other "FreeJaCo" Telegram channel members), the "Constitutional Law Group," and Oregon "People's Rights" figures, all geared towards opposing COVID safety restrictions ordered by the state government. From August, through the fall and winter of 2020, Gregg, Biome, and their core group of local allies were able to consistently share COVID disinformation both with, and through, their allies within the Jackson County Board and Constitutional Law Group. At the same time, Biome and Marchese were using everyday conversations about mask laws and widespread COVID-denial to expose attendees at local political events to antisemitic and fascist propaganda.


Gregg discusses his intent to contact and coordinate with the administrator of the Open Oregon Facebook page.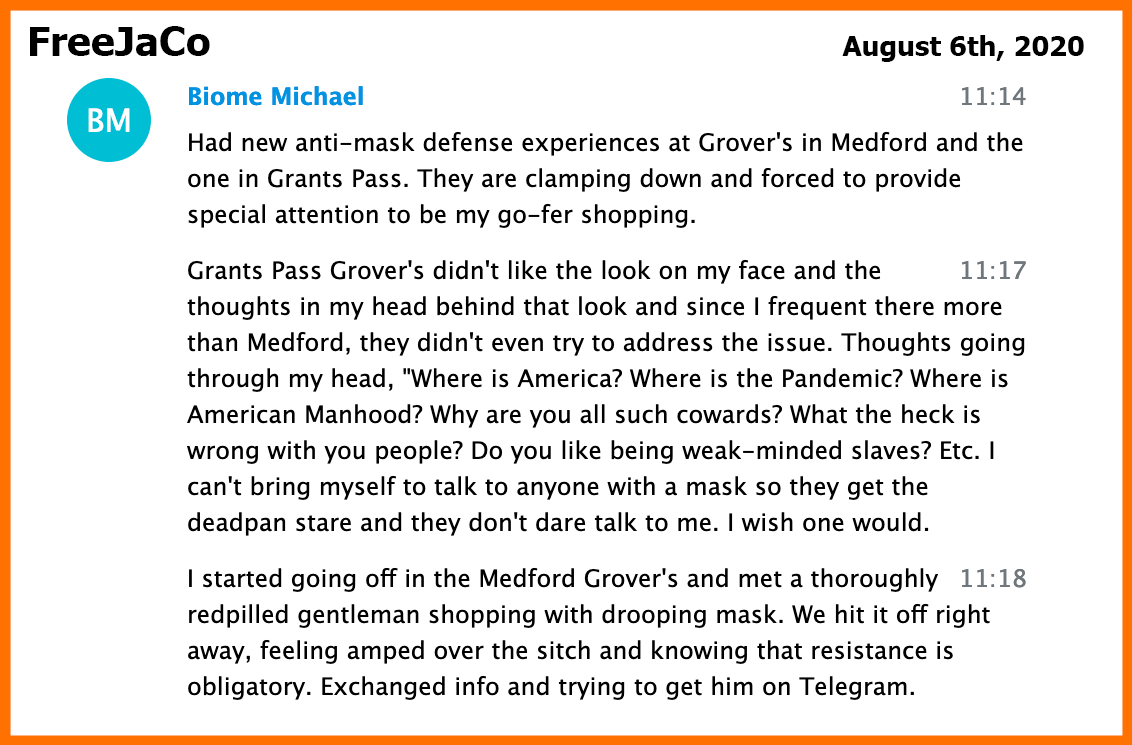 Biome describes how one instance of him refusing to wear a mask while shopping turned into a conversation with another right-wing anti-masker who he is planning to invite to Telegram.
Stay Tuned!
Our second article, covering the rest of Biome and Marchese's activities in 2020, will be coming soon, as will important coverage from our friends at Corvallis Antifa. Keep an eye out so you don't miss out on:

Local Ashland leftists make flyers with the photo of Biome and Jimy Sieg-Heil-ing, and try to give them to people meeting with Biome in the park, who promptly Are Outraged At This Disruption Of Their Peaceful Circle With Two Nazis In It.

Gregg Marchese tries to challenge a trans teenager to a fight while antagonizing a Medford Black Lives Matter event!

Biome repeatedly makes overtly antisemitic comments and praises Nazism in the FreeJaCo chat for months and zero anti-vax hippies say or do anything about it!

Gregg spends five months posting Nazi apologism and advocating violent attacks against Oregon's governor in the nearly-30,000-member "Open Oregon" Facebook group without getting banned!

Biome promotes/attends a Joey Gibson event and then brags about ordering a new translation of Mein Kampf less than 36 hours later!

And many more…

Further Information
If you have further information on Keith Michael "Biome" Erickson, Gregg Marchese, or any other fascist organizing, please contact Rose City Antifa at [email protected]. If you are a journalist or researcher looking to verify our source material or cover this fascist activity yourself, feel free to email us about accessing a copy of our Telegram archives.