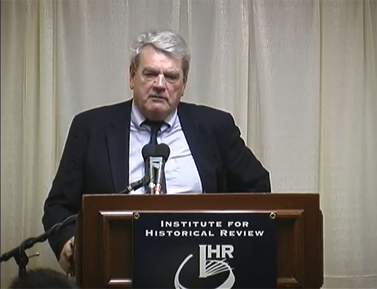 Originally posted on 10/15/2012

David Irving, Holocaust-denier and neo-fascist, is coming to Portland, OR on Saturday, November 3rd, giving a speech at a presently-unknown location. According to Irving's website, this event is scheduled for 3PM. Portland anti-racists are determined to locate, confront and if possible shut down this event. Rose City Antifascists ask that local anti-racists organize now in preparation for Irving's visit, which is only weeks away. Please keep the date free and be ready to respond at short notice.






​Who is David Irving?
David Irving is a British writer of histories who has been involved with the fascist political scene since the 1960s. Always known for the pro-Hitler bias of his books, approximately two decades ago Irving made the transition to being a fully-fledged Holocaust-denier, when he testified at the trial of neo-Nazi Ernst Zündel in Canada, and also arranged the publication of Fred Leuchter's widely-refuted report on gas chambers at Auschwitz. In addition to spreading blatant historical lies, Irving has publicly stated that "The Jews are the architects of their own misfortune". Unsurprisingly, Irving became an extremely popular speaker at neo-Nazi rallies in Germany.
In the British libel case Irving v. Penguin Books and Lipstadt, the final ruling in favor of the defendants confirmed that Irving "is an active Holocaust denier" and that "he is anti-Semitic and racist and that he associates with right-wing extremists who promote neo-Nazism." In 2006, Irving was jailed in Austria after pleading guilty to a charge of "trivializing the Holocaust", which is a crime in that county. Since his release, Irving has marketed himself as a former "political prisoner". In a 2009 interview, Irving claimed that "Hitler appointed me his biographer" and that his mission is to redeem the reputation of the Führer. David Irving's Fall 2012 speaking tour is on the topic of "Hitler & I".
Irving's last couple of US speaking tours were heavily-promoted on Stormfront.org, a white supremacist website. Emails from David Irving leaked by anti-fascist hackers in 2009 further demonstrate the depths of Irving's antisemitism--Irving purposefully screens would-be event attendees and does not provide venue information to those he believes are of Jewish ancestry.
Irving's Last Two Visits to Portland
David Irving last came through Portland on May 1, 2011. Unfortunately, this event was not countered by anti-fascists, because the venue was not successfully determined. Irving had at the time stepped up his security measures, as a consequence of heavy opposition to previous tours. Portland anti-racists now wish to compensate for their missing Irving last time, by giving Irving an extra-special Portland welcome this time around.
In 2009, anti-fascists
protested
David Irving's appearance at the Embassy Suites - Airport hotel in Portland. Despite the hotel having been informed of event's true nature, Embassy Suites was determined to allow the extreme-Right gathering to go ahead. As predicted, the Irving event drew Oregon neo-Nazi activists as well as other assorted anti-semites, including a contingent from the
Portland 9/11 Truth Alliance
(who were the largest organized group in attendance). David Irving's speeches provide an opportunity for white supremacists, neo-Nazis, and other hardcore anti-semites to network and plan. Our organization has previously argued that Irving's gatherings have an
energizing effect
on local neo-Nazis. It is for this reason that they must be opposed by anti-fascists.
The 2009 protests against Irving in Portland show that anti-fascists are capable of mobilizing significant numbers at short notice to any venue booked by Irving. We encourage any venues that may have been contacted by Irving or one of his assistants (often under the guise of Irving's "Parforce" company name or "Focal Point Publications") to reconsider allowing the use of their venue for Irving's pro-Hitler gathering.
Irving's Tour Dates
Rose City Antifa also encourages antifascists to oppose Irving's tour at its other remaining stops across the country:
Tuesday, October 16 6:30pm: Tucson, AZ
Wednesday, October 17, 2012, 6:30pm: Phoenix, AZ
Friday, October 19, 2012, 6:30pm: Las Vegas, NV
Saturday, October 20, 5pm: Costa Mesa, CA
Sunday, October 21, 5pm: San Diego, CA
Tuesday, October 23, 2012, 6:30pm: Sherman Oaks, CA
Sunday, October 28, 2012, 6:30pm: San Francisco, CA
Monday, October 29, 2012, 6:30pm: Sacramento, CA dinner
Wednesday, October 31, 2012, 6:30pm: Reno, NV
Friday, November 2, 2012, 6:30pm: Eugene, OR
Saturday, November 3, 2012, 2012, 3:00pm: Portland, OR
Sunday, November 4, 2012, 3:00pm: Seattle, WA
Friday, November 9, 2012, 6:30pm: Coeur d'Alene, ID
Sunday, November 11, 2012, 3pm: Butte, MT
Monday, November 12, 2012, 6:30pm: Billings, MT
Wednesday, November 14, 2012, 6:30pm: Bismarck, ND
Thursday, November 15, 2012, 6:30pm:Fargo, ND dinner
Friday, November 16, 2012, 6:30pm: Minneapolis, MN
Saturday, November 17, 2012, 6:30pm: Rochester, MN
Monday, November 19, 2012, 6:30pm: Madison, WI
Wednesday, November 21, 2012, 6:30pm: Detroit, MI
Friday, November 23, 2012, 6:30pm: St Louis, MO
Saturday, November 24, 2012, 6:30pm: Memphis, TN
If you have any information on Irving's Portland event or other racist organizing, please
contact