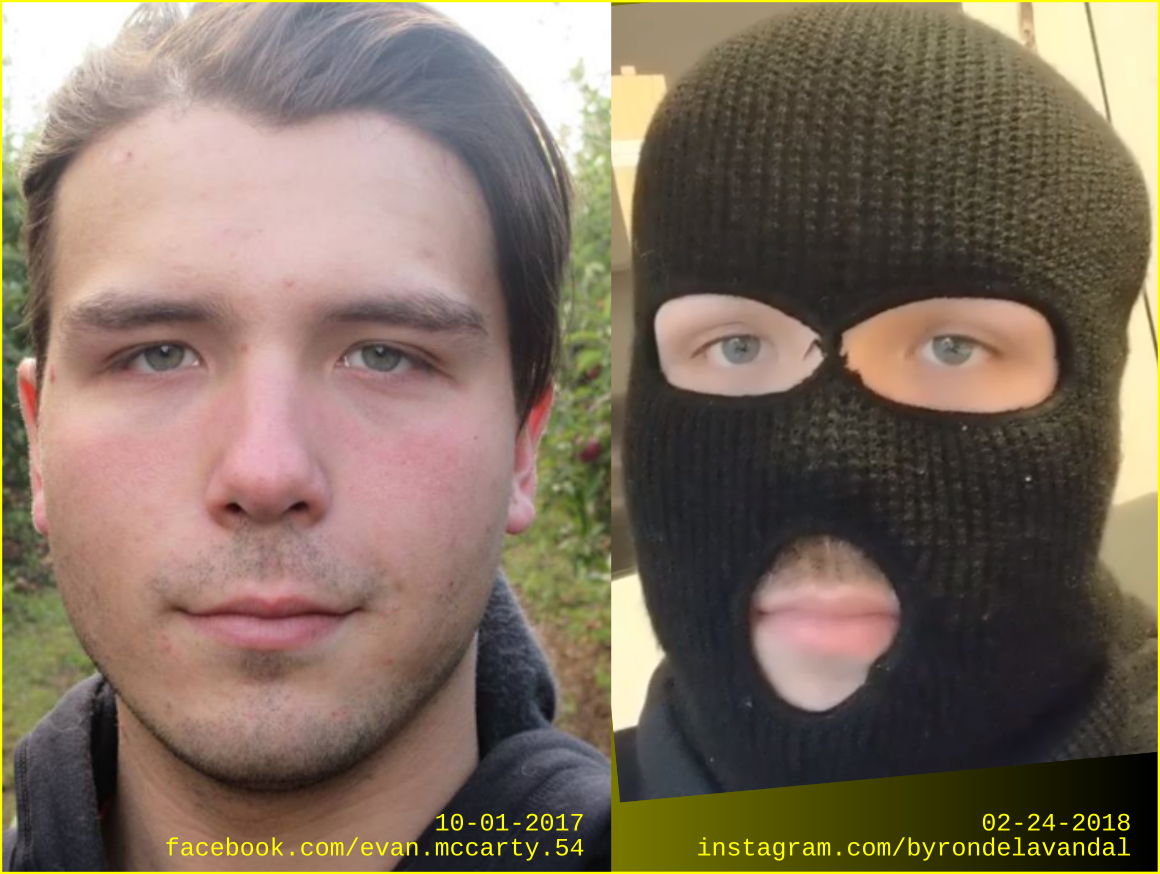 In collaboration with comrades in Eugene, Rose City Antifa is revealing the identity of "Byron de la Vandal," a virulent Nazi and hopeful fascist-folk musician, whose real name is Evan James McCarty. A major propagandist for the alt-right, McCarty also has ties to Vanguard America, True Cascadia, Daily Stormer groups, and the "Oregon Aryan" group of fascists that RCA wrote about in the Cascadian Coffee Company Discord log leaks.
By all external appearances, Eugene, Oregon's Evan James McCarty is a young man with a promising career in musical theatre and ambitions toward screen acting. McCarty has regularly acted in theatre productions at Eugene's Shedd Institute for the Arts, and also acted in a 2016 production of Spamalot at the beloved non-profit Very Little Theatre (VLT has no record of McCarty having served as a board member).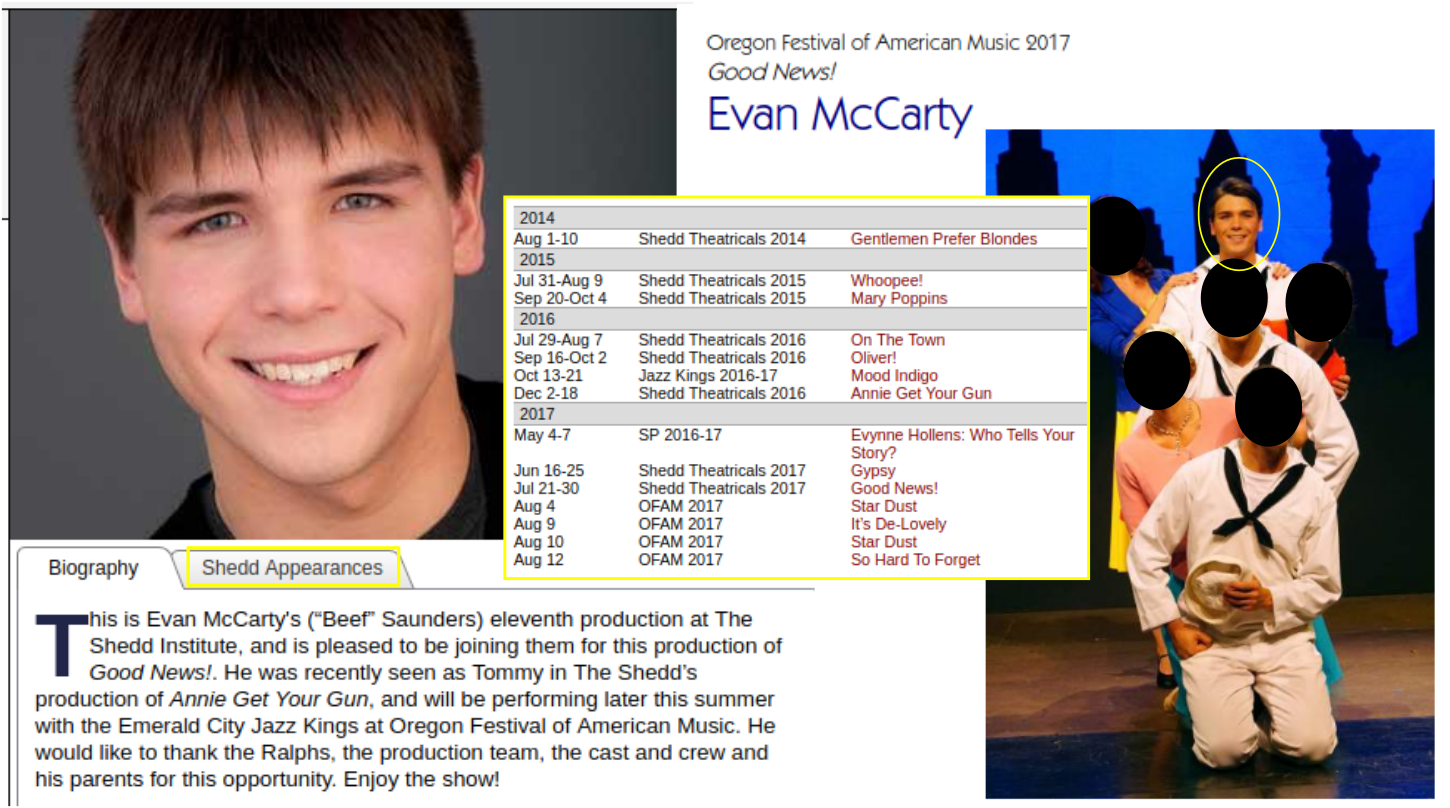 Some of Evan McCarty's credits from the Shedd Institute.


Evan McCarty performs at the Very Little Theatre.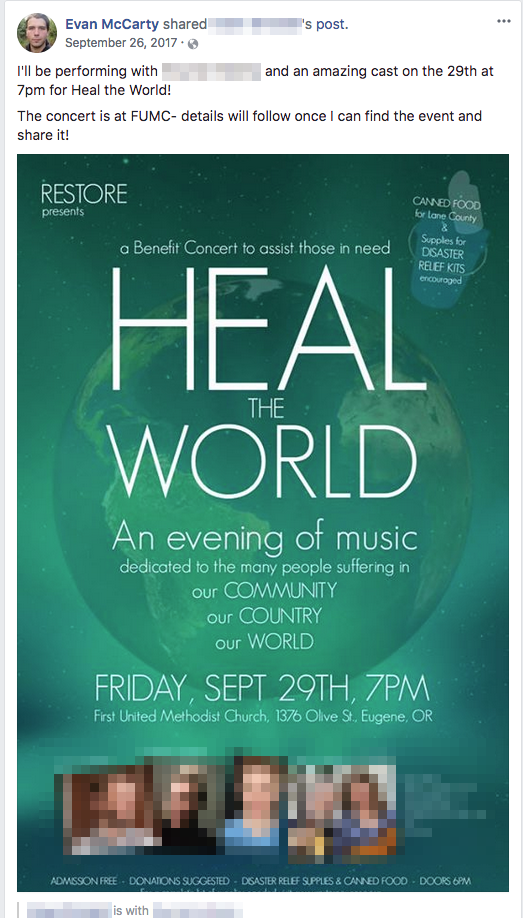 Evan McCarty performs at a "Heal The World" benefit concert at a methodist church in Eugene, OR.
McCarty attended the University of Oregon where he studied Theatre Arts at UO's School of Music and Dance and frequently performed with the University Singers. In his time at the UO, McCarty participated in the University of Oregon College Republicans, and is pictured the organization's current twitter header photo.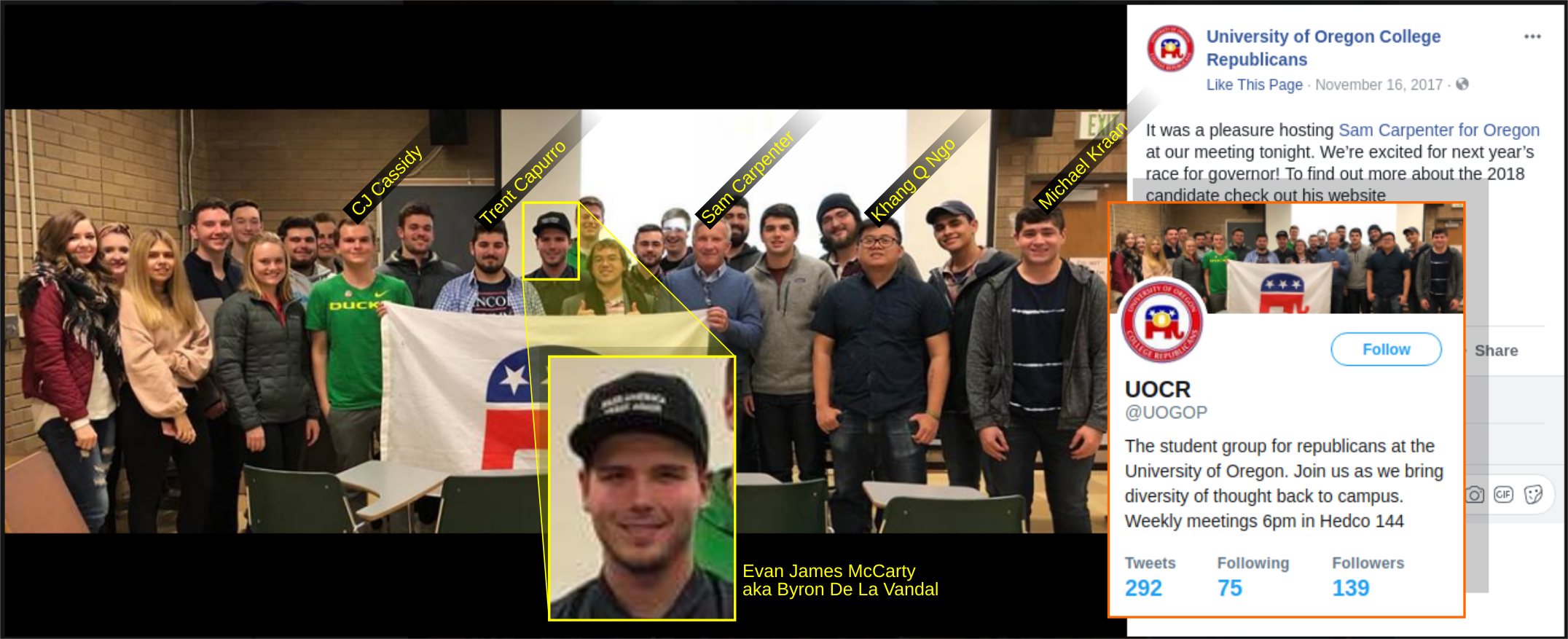 Evan McCarty is photographed with the University of Oregon College Republicans including TPUSA member CJ Cassidy, recruiting director for UO college republicans Trent Capurro, Oregon gubernatorial candidate Sam Carpenter, TPUSA Campus Coordinator Khang Q Ngo, TPUSA UO Vice President Michael Kraan, among many others.
What is apparently undetected or ignored by those who encounter him in "normie" life is that Evan McCarty is also the prolific neo-Nazi folk singer and propagandist "Byron De La Vandal" (an homage to Byron De La Beckwith, the Mississippi Klansman who assassinated Medgar Evers in 1963).
Byron De La Vandal
McCarty, in character as as the hackneyed racist folk-singer Byron de la Vandal, recently recounted to a White Nationalist blog the story of his radicalization into neo-Nazi politics through the /pol/ discussion board on 4chan, and the cementing of his anti-Semitic belief system through reading "The Culture of Critique," an anti-semitic pseudo-academic book written by disgraced evolutionary psychologist Kevin B. MacDonald. He also described a recent boost his brand received when one of his songs was played on a popular neo-Nazi podcast; "Once I'd managed to get the final draft recorded, I managed to get it on The Daily Shoah through a little networking, and the reaction it got was astounding." McCarty goes on to credit the song, "Stiff Upper Lip" as "definitely the turning point" for the rising notoriety of his Nazi folk persona.
"Stiff Upper Lip," as it turns out, is a recycled dredging of a song called "Syrian Winter" which McCarty wrote during a summer songwriting course at Cornish College of the Arts in Seattle, WA. While the original was faster, shorter, somewhat less overwrought, and not obviously pandering to aggrieved and sentimental neo-Nazis; it is clearly recognizable as the progenitor of Byron's fascist anthem through an identical chord structure and vocal melody as well as virtually unchanged introductory lyrics. Whereas "Syrian Winter" opens with the lines "I don't think I'll read the paper today, all of this fighting and killing leaves me with a bitter taste in my mouth," "Stiff Upper Lip" begins with "I don't think I'll read the paper today, all of these bombings and killings fill me with a bitter taste in my mouth". In the aforementioned fascist blog interview, "Byron" also acknowledges the re-write, saying "I had a song that was the forefather of Stiff Upper Lip, very similar melody and theme, but about a totally unrelated topic. I believe it had to do with the conflict in Syria that kicked off around 2013 or so. In any case, it wasn't difficult to form my anger and grief into new lyrics, and to overlay them on the melody of what would become Stiff Upper Lip." The voice in both songs is unmistakably Evan McCarty's.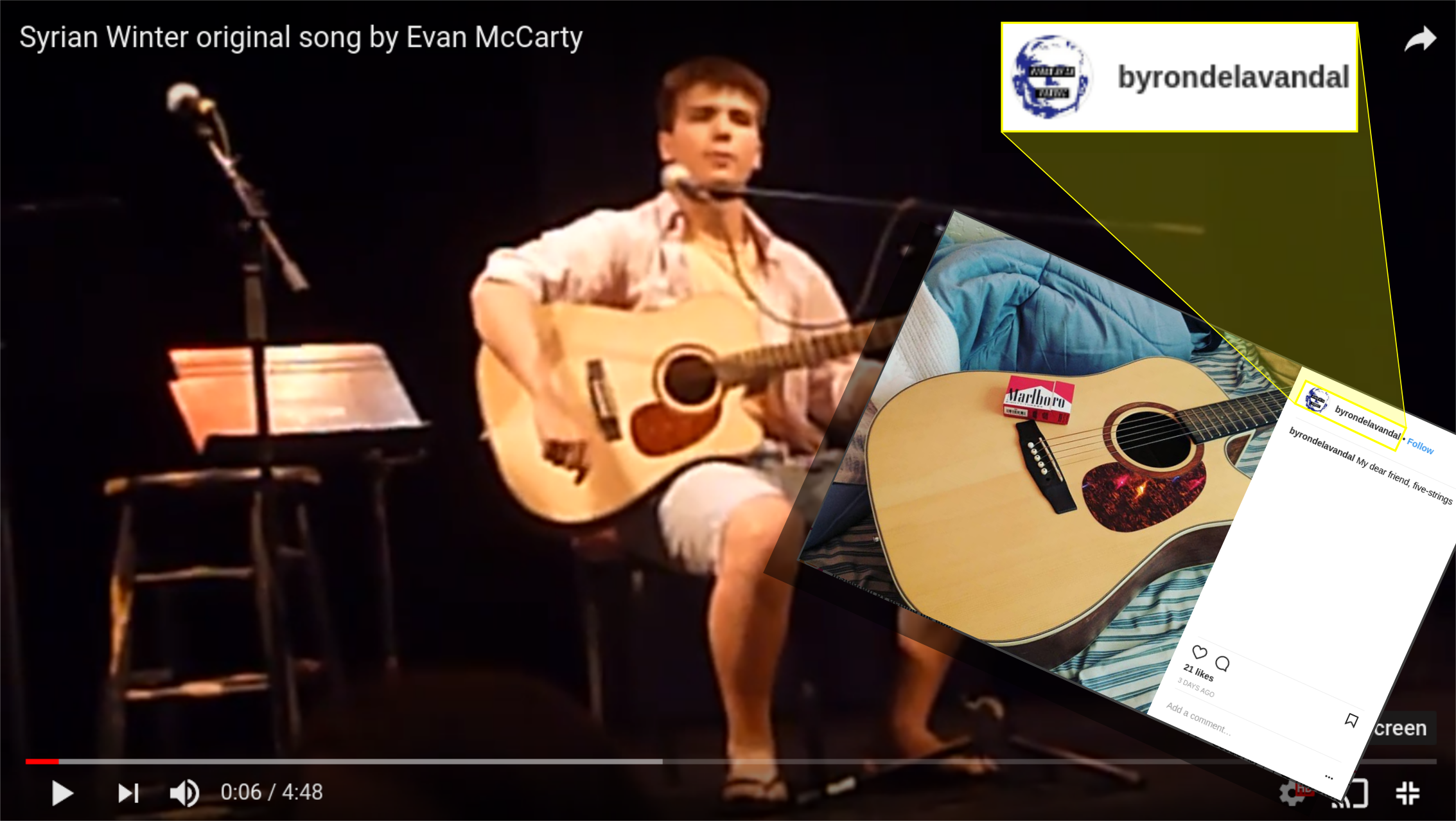 A still from Evan McCarty's performance of "Syrian Winter" at a songwriting workshop at Cornish College of the Arts reveals that his guitar is identical to Byron De La Vandal's.
In subsequent months, McCarty has released a number of songs as Byron De La Vandal. Often they are thinly re-written traditional folk songs retrofitted with white supremacist, Islamophobic, anti-Semitic, neo-Nazi, or otherwise fascist themes. "Diddle-I Diddle-O," for instance, seems to be a jingle for the Northwest Territorial Imperative; a fantasy of turning the Pacific Northwest into a white ethnostate held by white supremacists since the 1980s. The song was adopted by the white supremacist True Cascadia organization as the "official Cascadian anthem". Re-purposing the traditional Irish folk song "Whiskey in the Jar" gave McCarty an excuse with the lyrics of "Victory In Our Stars" to celebrate a revisionist history of the vile Nazi rampage in which James Fields Jr. murdered Heather Heyer.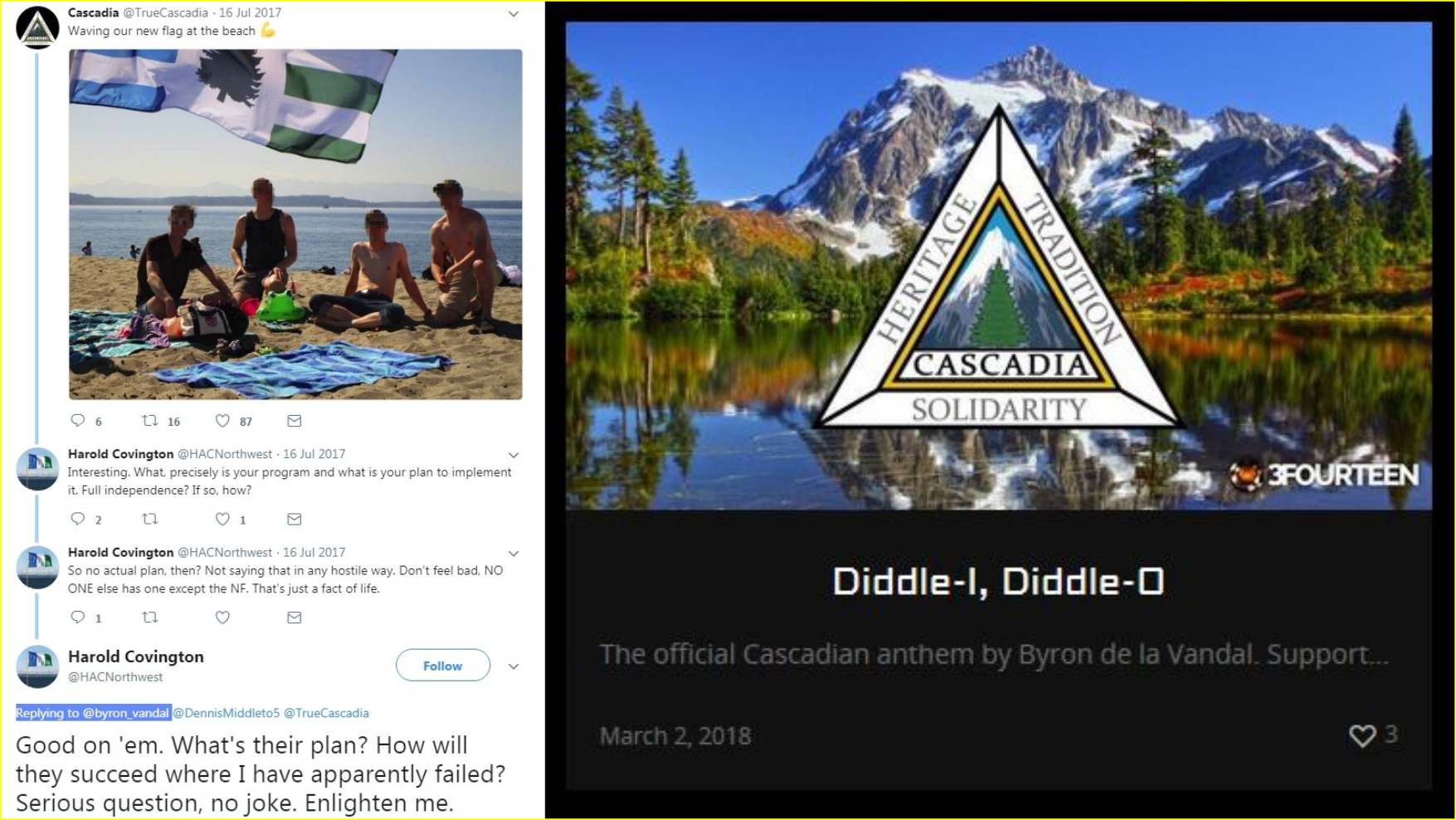 "Byron De La Vandal" is seen discussing white supremacist organizing strategies with members of True Cascadia and neo-Nazi Northwest Front founder Harold Covington before Evan McCarty's racist song is adopted by the True Cascadia white supremacist organization.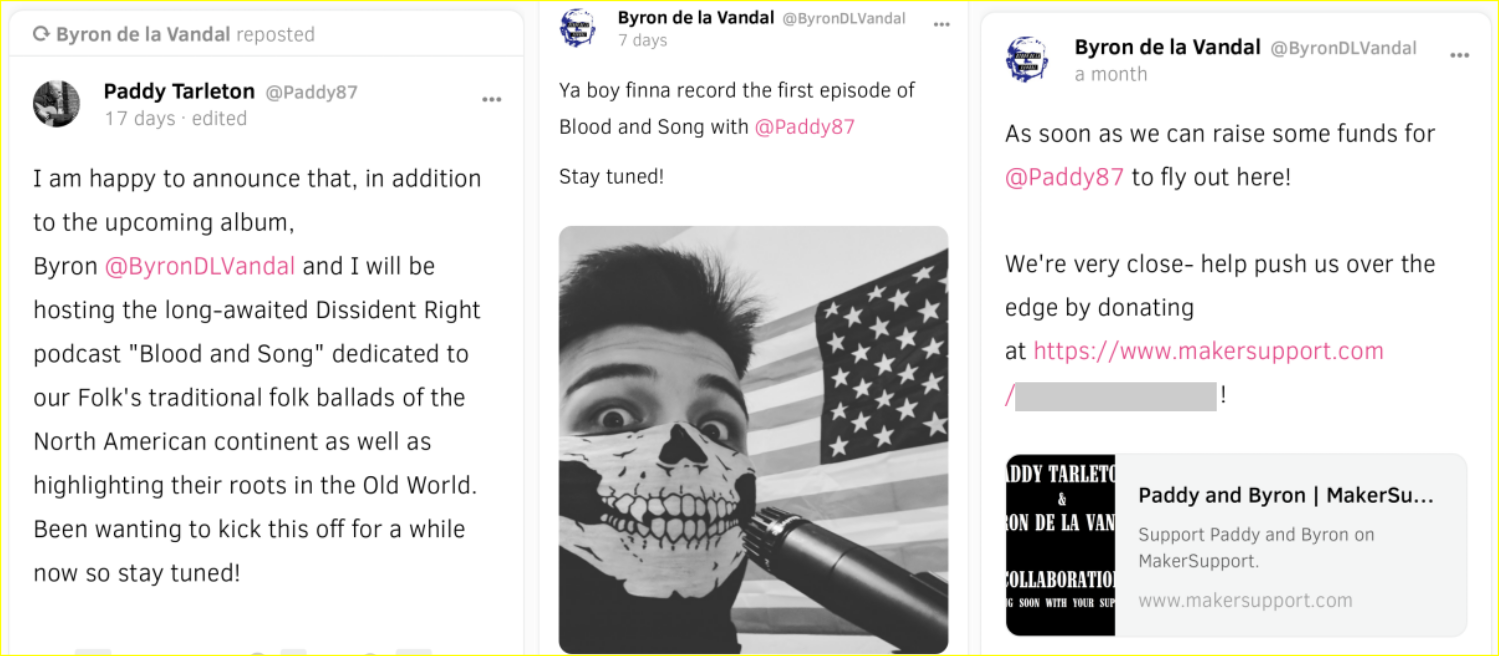 In 2017, Evan McCarty struck up a friendship with Nazi folk singer Patrick Corcoran aka Paddy Tarleton. The two of them started a podcast together called "Blood and Song" wherein they attempt to claim the legacy of folk music for Nazis and pretend that Woody Guthrie wouldn't have wanted them dead. McCarty and Corcoran also recently released a collaborative album of racist folk songs.
Involvement with Vanguard America
Both by his own account and according to statements made by other fascists, Evan McCarty has in the past year been a member of the Oregon chapter of Vanguard America. Vanguard America is the Nazi organization James Fields Jr. marched with and whose uniform and insignia he wore on August 12, 2017, before he drove his car into a crowd killing Heather Heyer and injuring nineteen other people.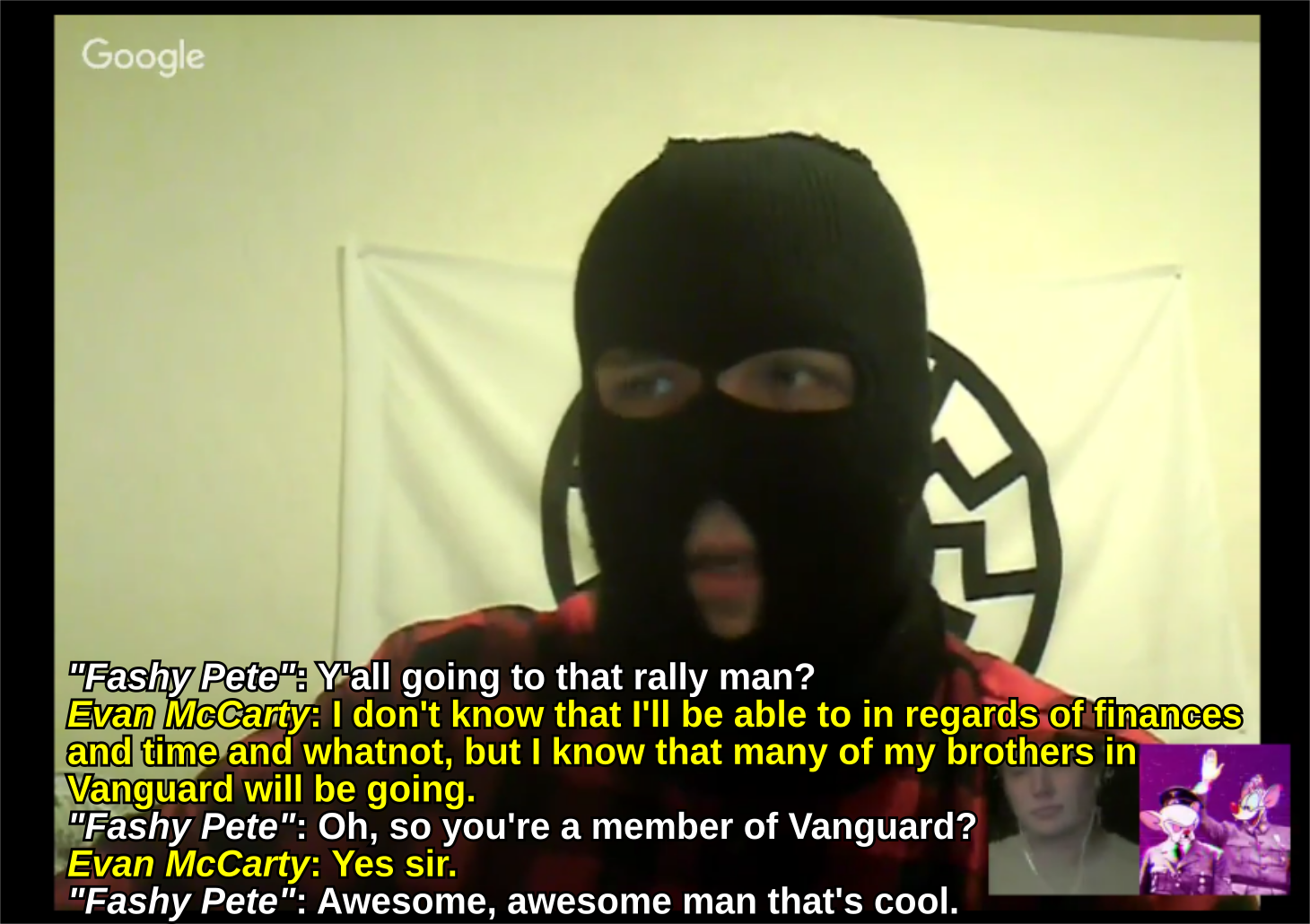 During a late-2017 google-hangouts interview with a Nazi podcast called "Fashy and the Brain," Evan McCarty (masked as Byron De La Vandal) states that he is a member of Vanguard America. He has a banner featuring a Nazi "black sun" sonnenrad symbol behind him.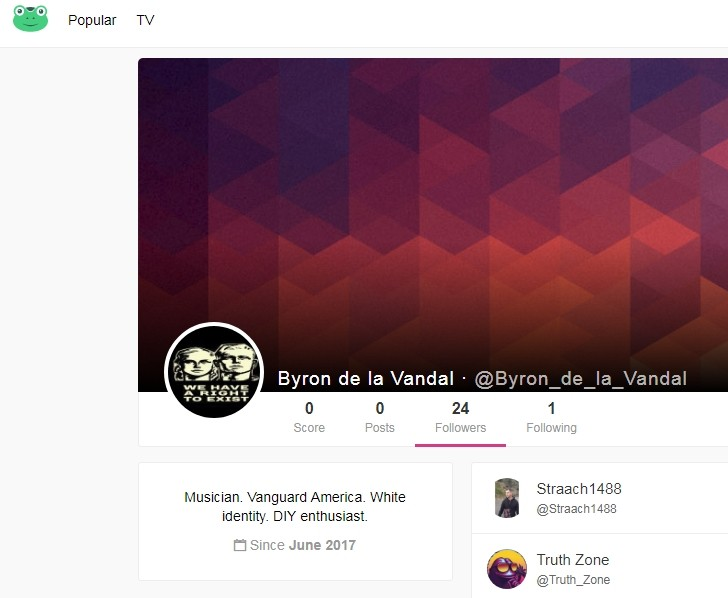 In the bio of Evan McCarty's original Gab profile he states that he is a member of Vanguard America.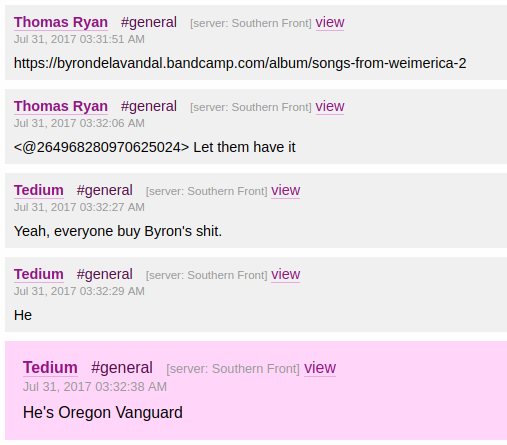 A user in the Southern Front logs released by Unicorn Riot states that Evan McCarty aka Byron de la Vandal is in the Oregon chapter of Vanguard America (Vanguard Oregon).
We have some reason to suspect that Evan McCarty may have taken point in administering Vanguard Oregon's social media output, although its meager quantity (limited to four Gab posts after its twitter account was suspended) seems to have come at the expense of McCarty's main focus on building the Byron De La Vandal brand.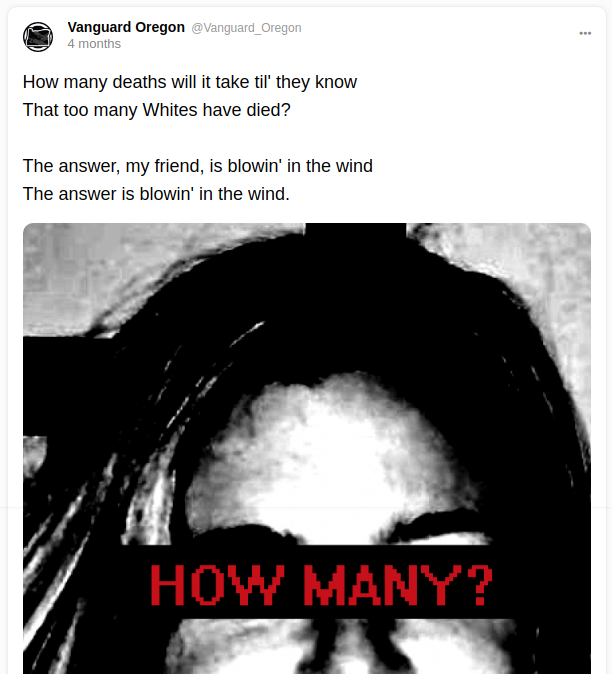 Like many other racist sectors of the Alt-Right movement, Vanguard Oregon attempted to capitalize on the accidental shooting of Kate Steinle to mobilize violent anti-immigrant sentiments. In this post they included a photograph of Steinle's partially-covered face along with modified lyrics from Bob Dylan's "Blowin in the Wind" which bear a striking resemblance to a section of Byron De La Vandal's subsequent modification of the song in which he sings "how many deaths will it take 'til he knows / that too many Boers have died / the answer, my friend, is blowin' in the wind / the answer is blowing in the wind" in reference to the Alt-Right's frequently cited canard about a supposed "White Genocide" in South Africa.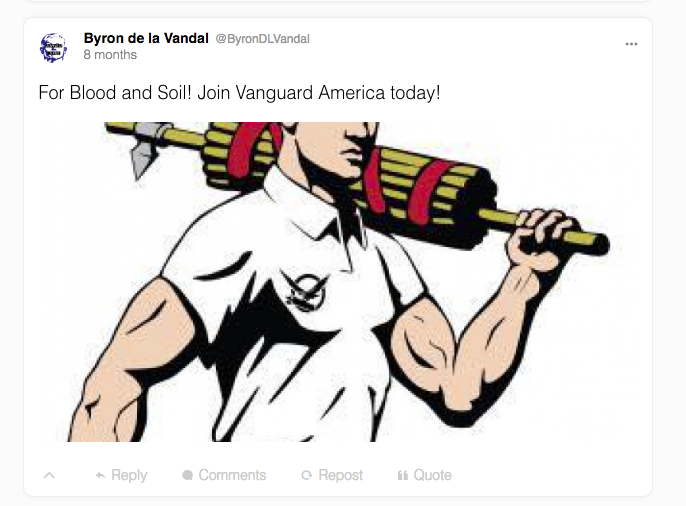 Byron De La Vandal encourages his Gab followers to join Vanguard America.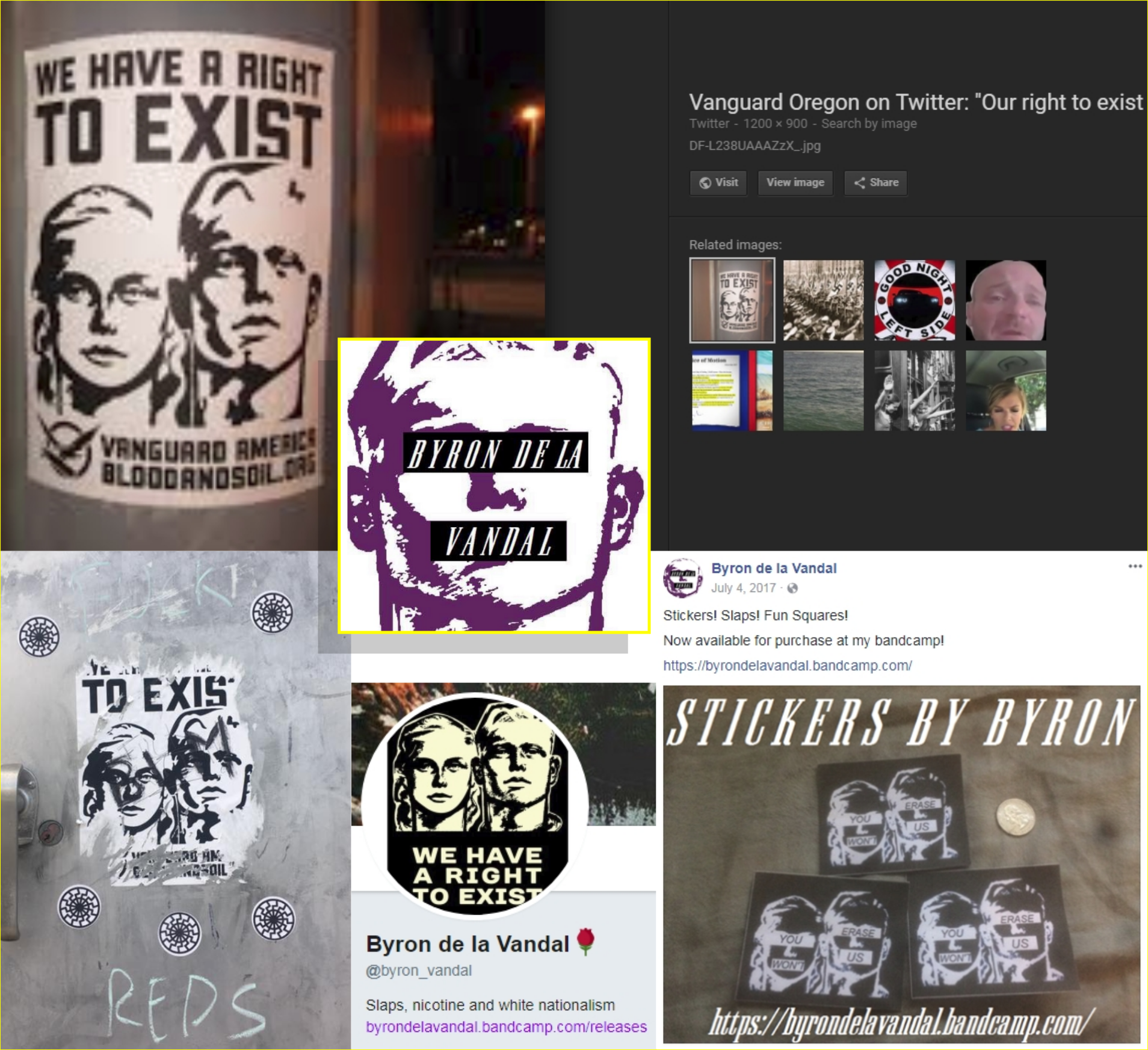 Vanguard Oregon frequently used a poorly stylized "aryan couple" design in their promotional materials and graffiti. We see that Byron De La Vandal's logo isolates one of the people from the initial graphic. McCarty, as Byron de la Vandal, has also manufactured and sold stickers with the design on them. The Nazi "black sun" sonnenrad stickers in the lower left photo, as we will see, are also likely McCarty's work.
It is worth mentioning that in the wake of the murder of Heather Heyer in Charlottesville, many members of the Vanguard America organization splintered into a new neo-Nazi formation called "Patriot Front," whose propaganda materials have occasionally been distributed in the Pacific Northwest, sometimes by members of Daily Stormer Book Clubs.
Graffiti / Slaps / Stickers activities
Evan McCarty also seems likely to have been behind a good deal of white supremacist graffiti which plagued Eugene, OR in 2017. A snapshot of his old twitter account associates him with an interest in sticker art, and a number of similarities emerge between his branded materials, and pieces of graffiti which seem intended to be anonymous.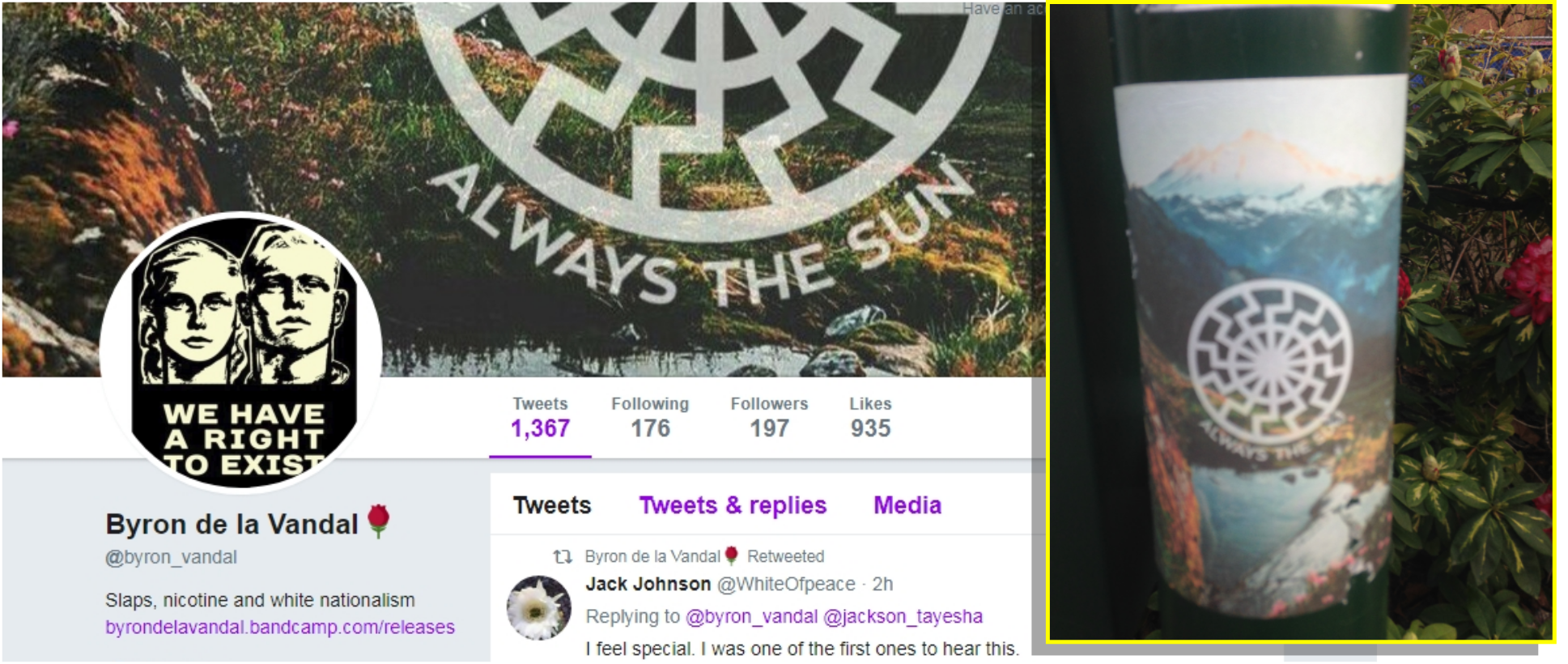 The bio on Evan McCarty's (now defunct) Byron de la Vandal twitter profile reveals an interest in "slaps" (slang for sticker art in the street art world); and his header photo is an identical design matching a Nazi "black sun" sonnenrad wheatpaste found near the University of Oregon.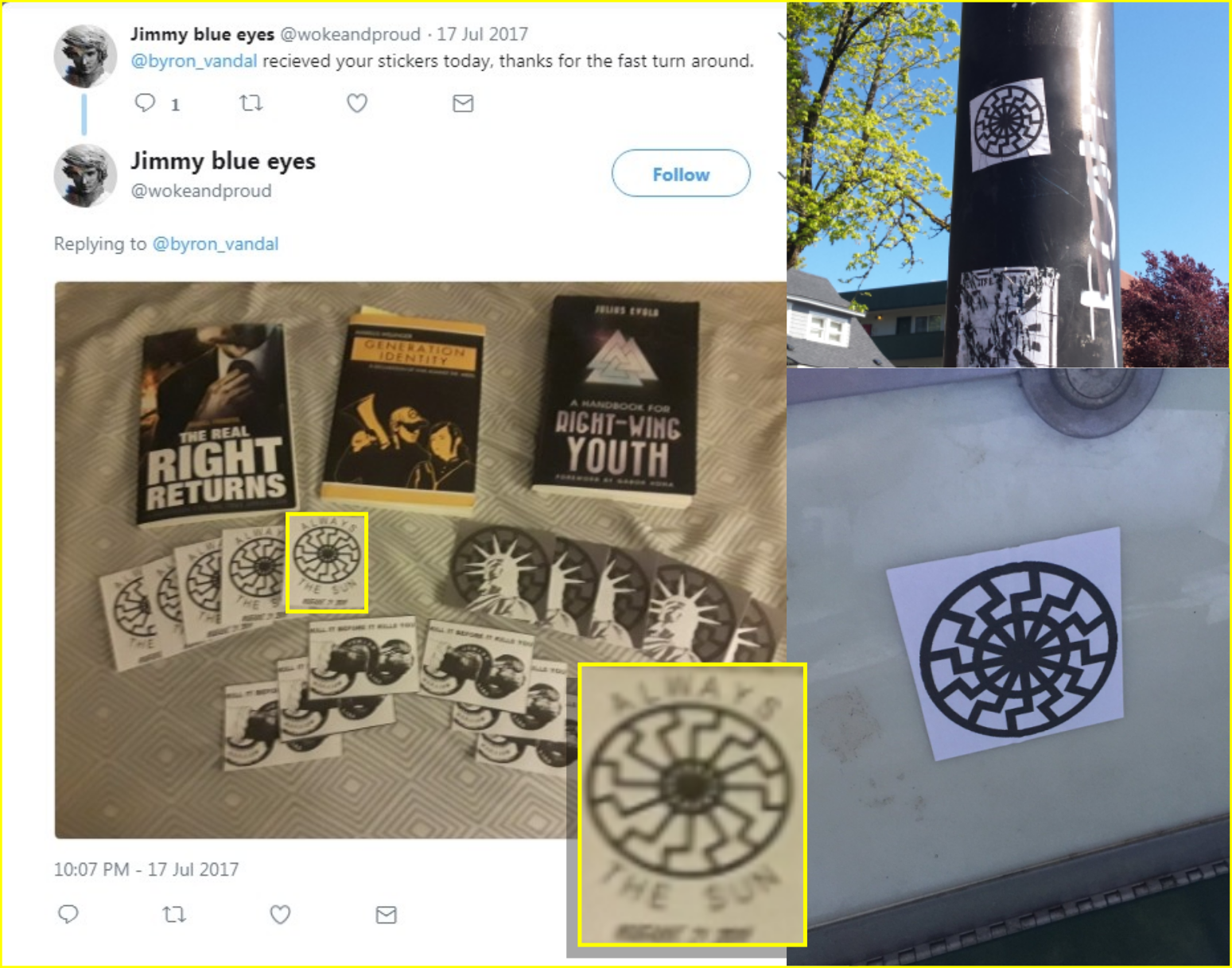 A satisfied customer thanks Evan McCarty as Byron de la Vandal on twitter and includes a photograph of the stickers he received with his order. As mentioned above, many similar Nazi "black sun" sonnenrad stickers were found in the Eugene, OR area.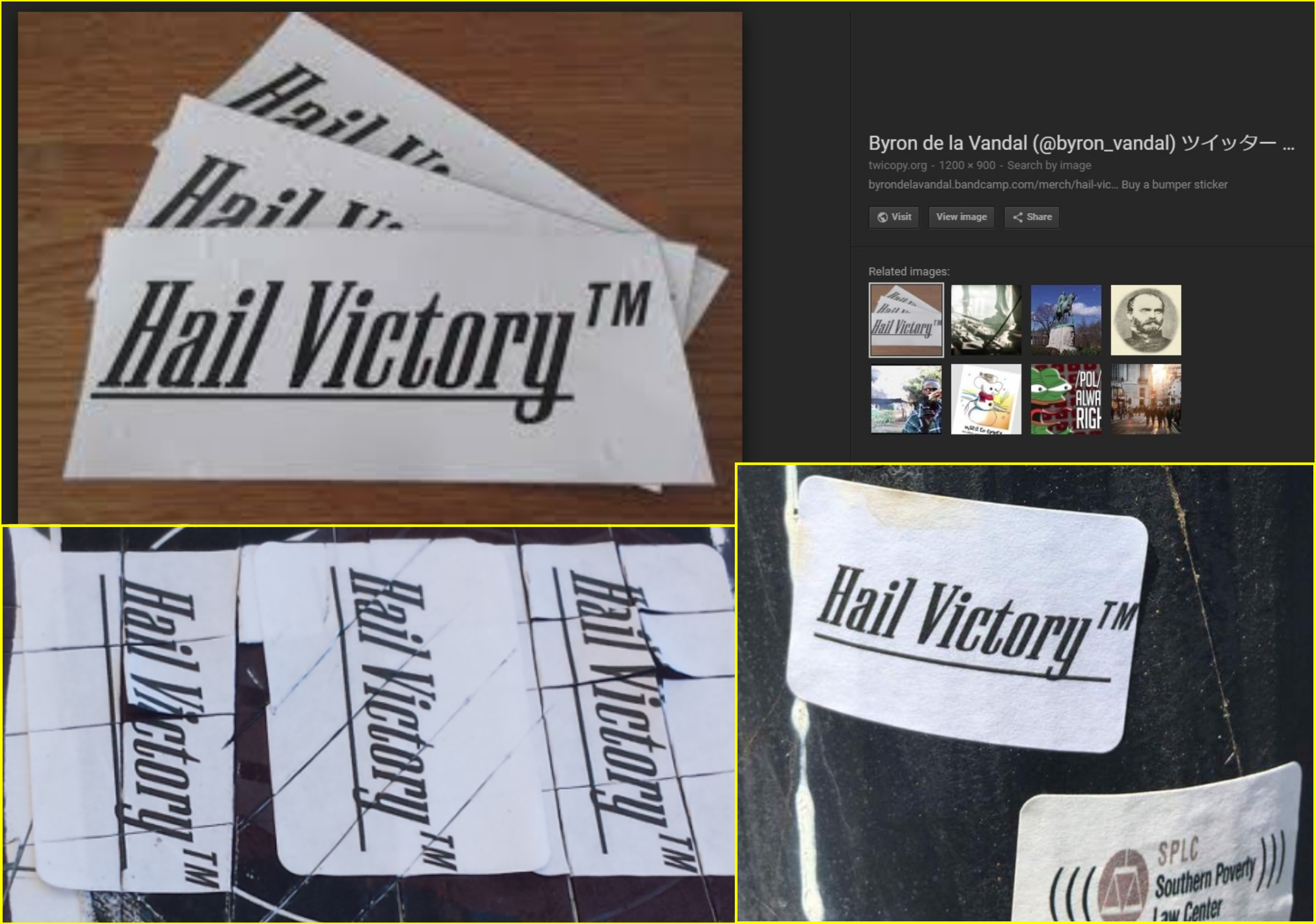 A Google image cache of Evan McCarty's old Byron De La Vandal bandcamp page reveals that he sold "Hail Victory" (the English translation of the Nazi slogan "Sieg Heil") stickers identical to the ones found in multiple locations around Eugene OR. Notice the use of the anti-Semitic triple-parentheses "echo" meme on the SPLC parody sticker.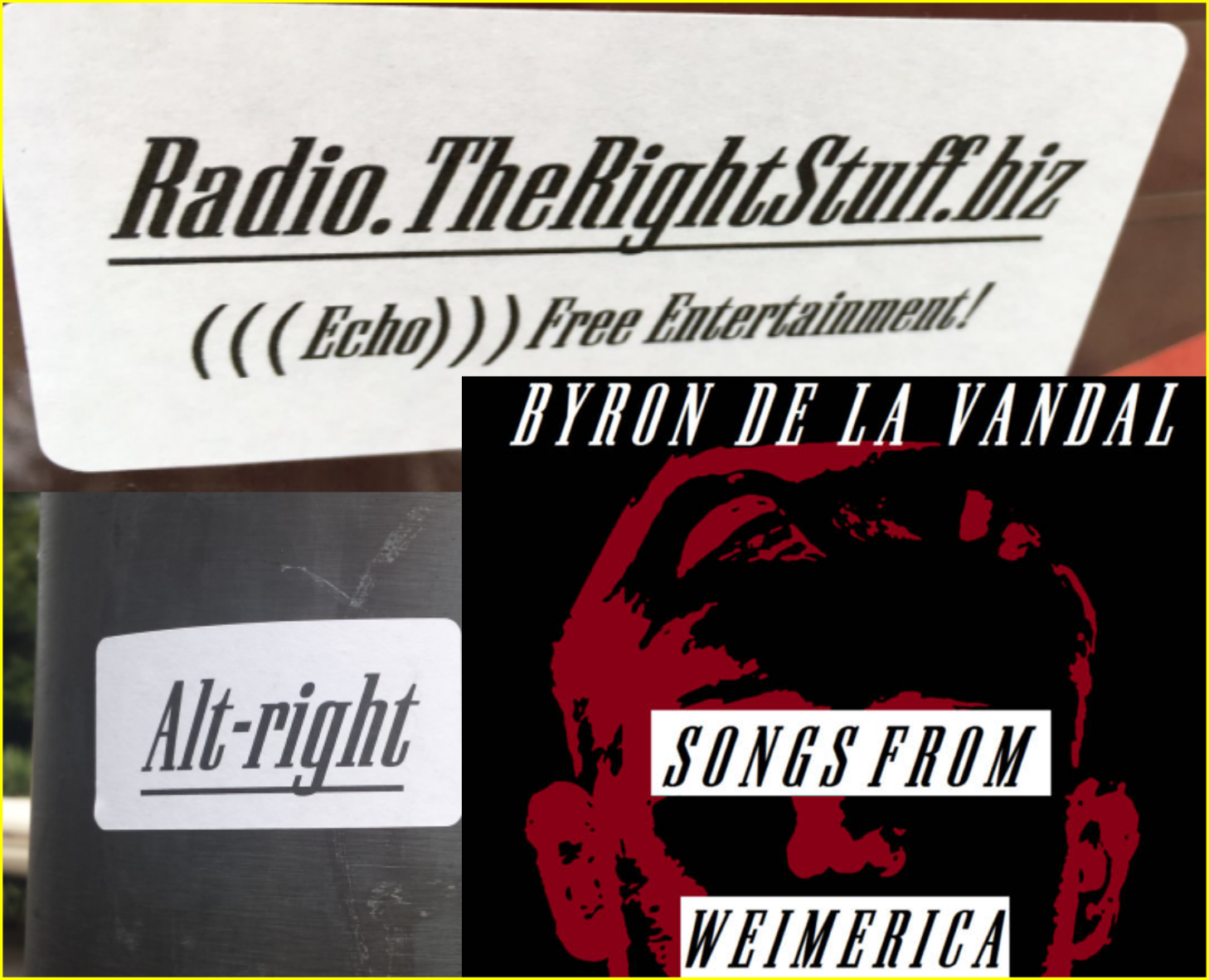 The fonts used in Evan McCarty's Byron De La Vandal logos and promotional material match those used in the above "Hail Victory" stickers, as well as in a good deal of the neo-Nazi graffiti found around Eugene, OR. Notice again Evan's use of the anti-Semitic triple-parentheses "echo" meme.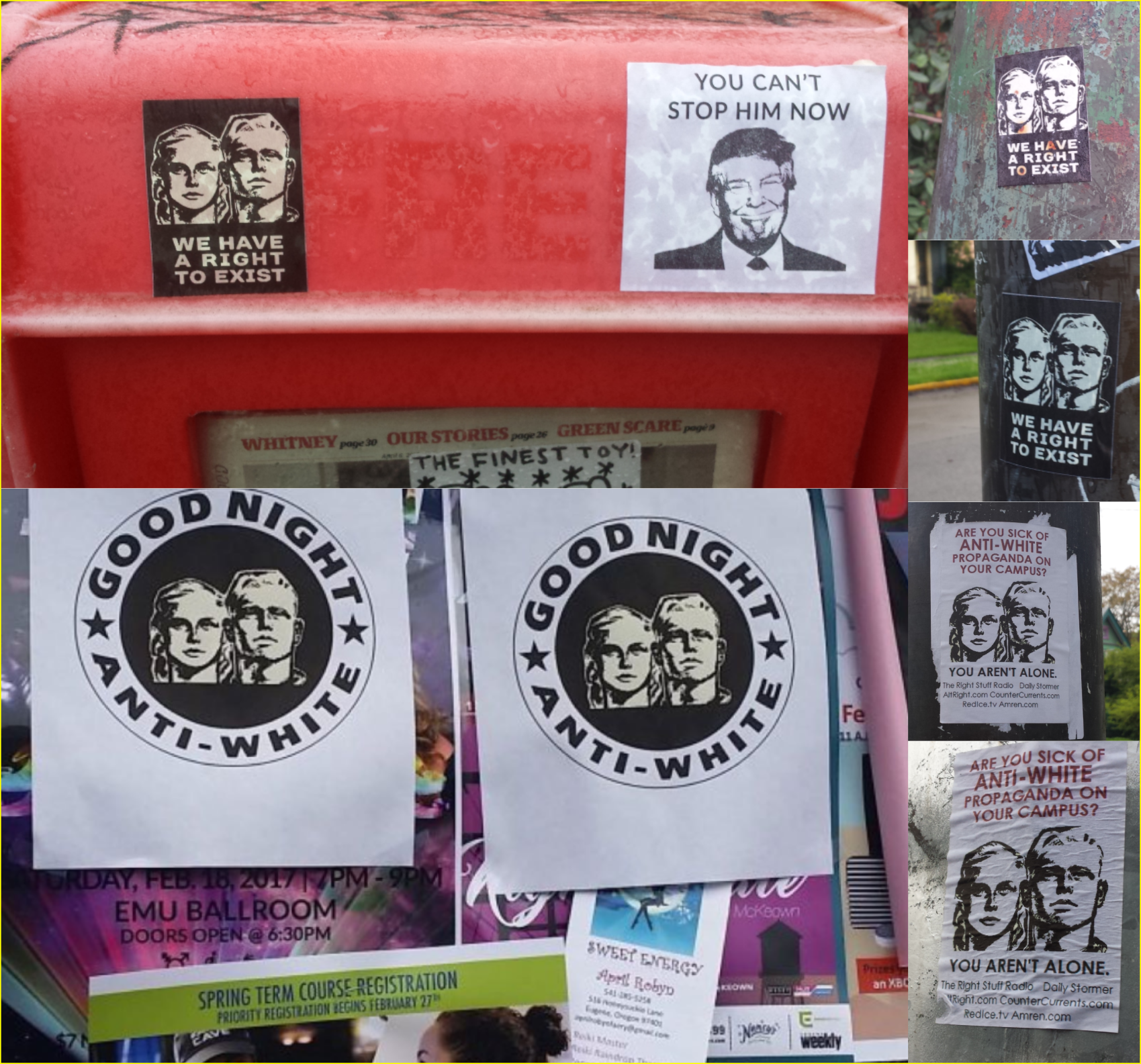 Further instances of the "aryan couple" design used by Oregon Vanguard as well as Byron De La Vandal. These and many more were found around Eugene, OR.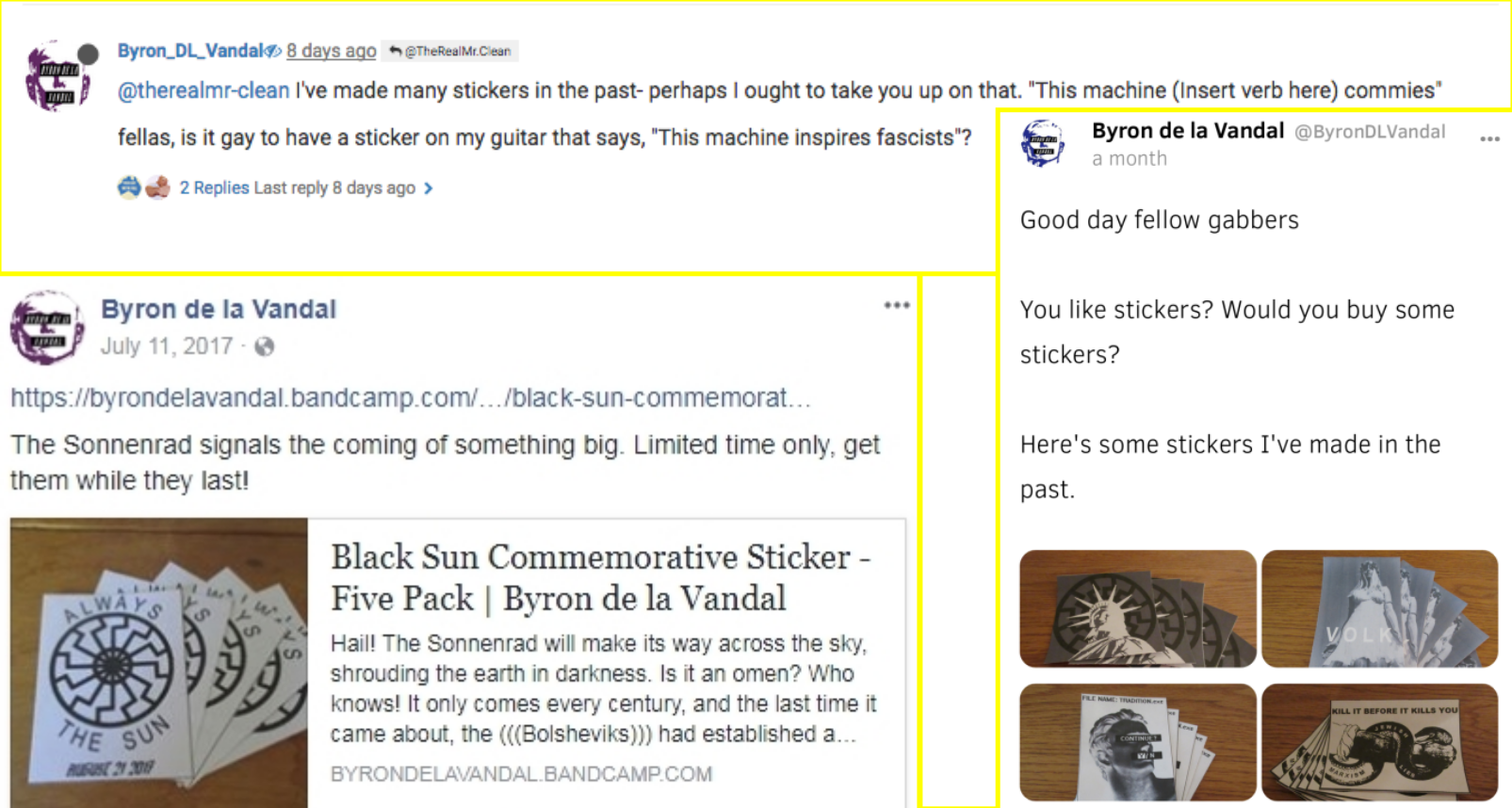 Evan McCarty posts in forums of the neo-Nazi website The Right Stuff about his habit of making stickers. Also included are screenshots of his solicitations to sell stickers from Facebook and Gab.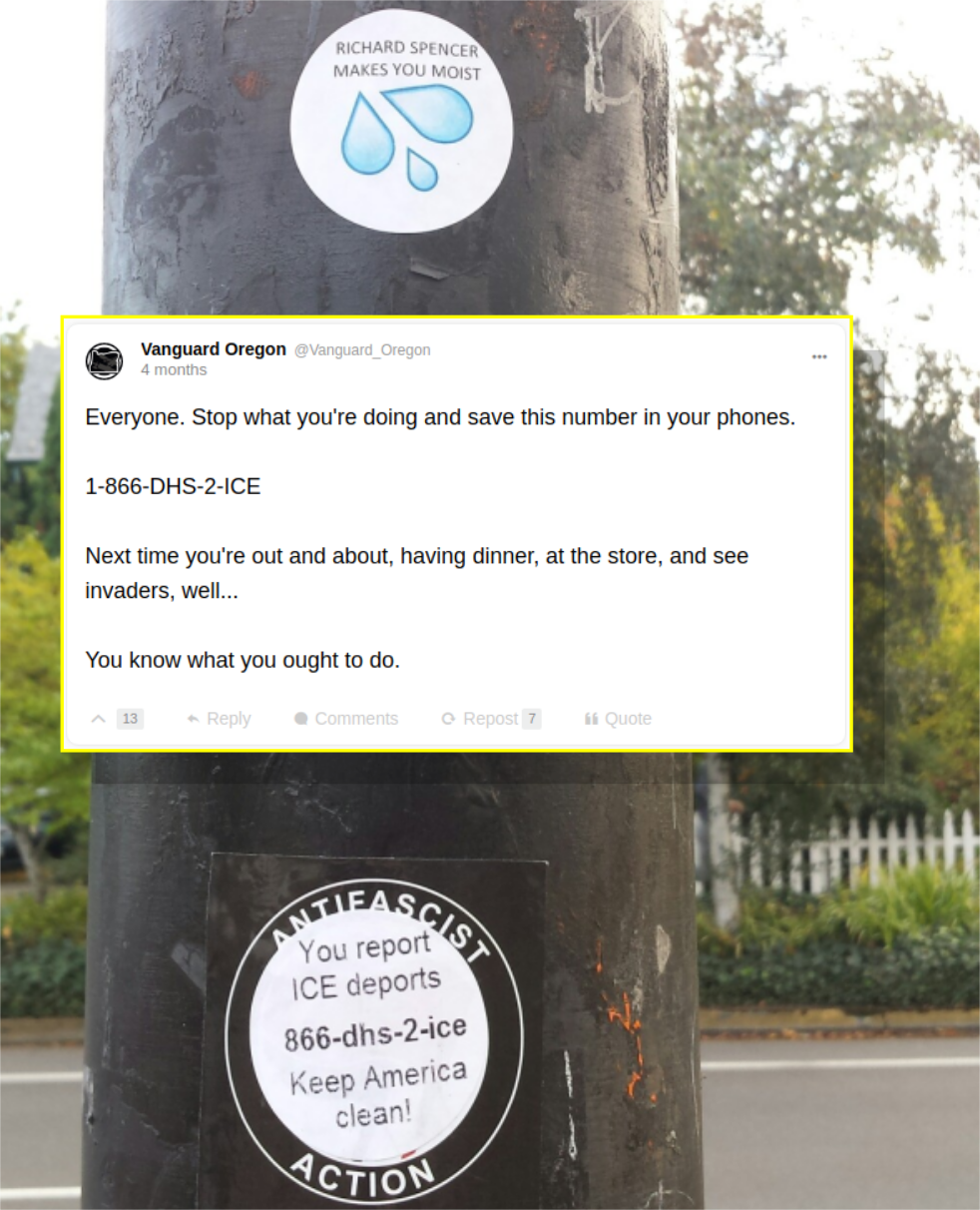 Stickers found in Eugene, OR contain text matching a Gab post by Oregon Vanguard.
Online Activity By Evan McCarty aka Byron De La Vandal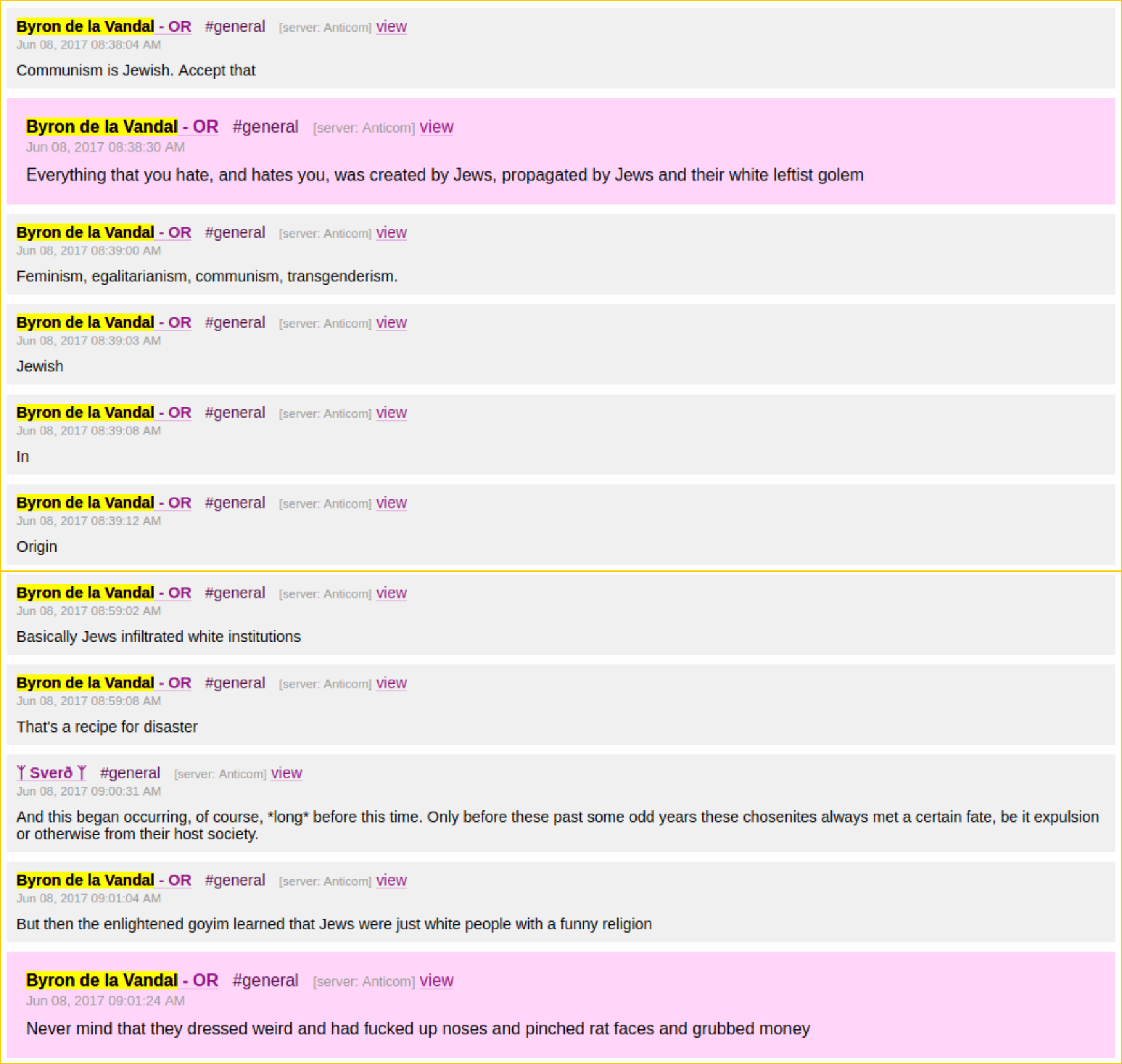 Evan McCarty was active as Byron De La Vandal in the "Anticom" neo-Nazi discord server whose logs were released by Unicorn Riot. In these excerpts we see him espousing extreme anti-Semitism.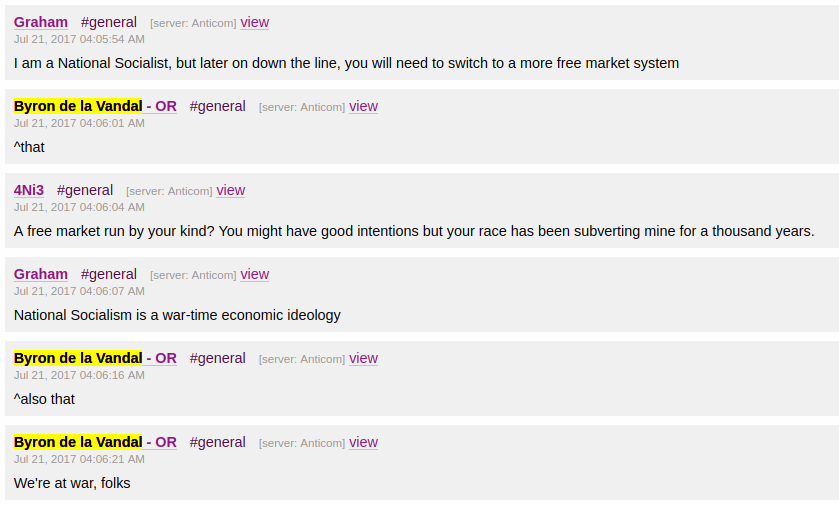 In this selection from the Anticom logs released by Unicorn Riot, Evan McCarty expresses admiration for National Socialism and appears to associate himself with its politic.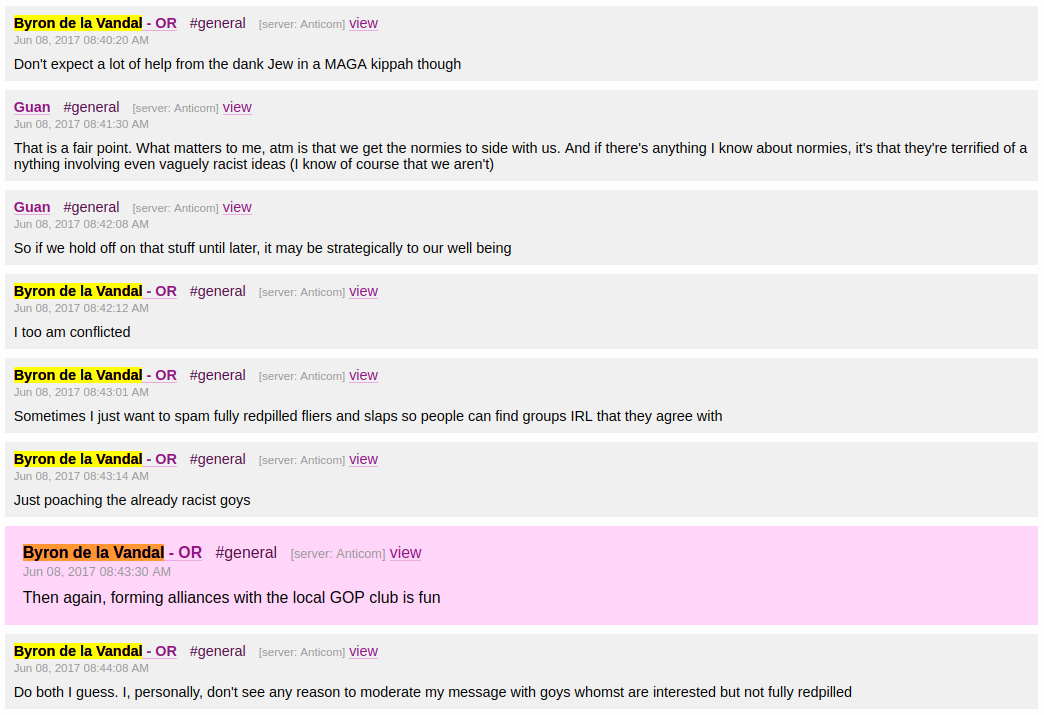 In this selection from the Anticom logs, Evan McCarty expresses anti-Semitism before engaging in the "optics" debate with a fellow neo-Nazi regarding how best to appeal to "normies" in a way that opens them up to accepting neo-Nazi indoctrination. Evan, who has been photographed participating in University of Oregon College Republican events alongside multiple members of Turning Point USA, mentions that he enjoys "forming alliances" with them, and seems optimistic about their willingness to accept further racist and fascist ideology due to their already-reactionary orientation to politics and sociality.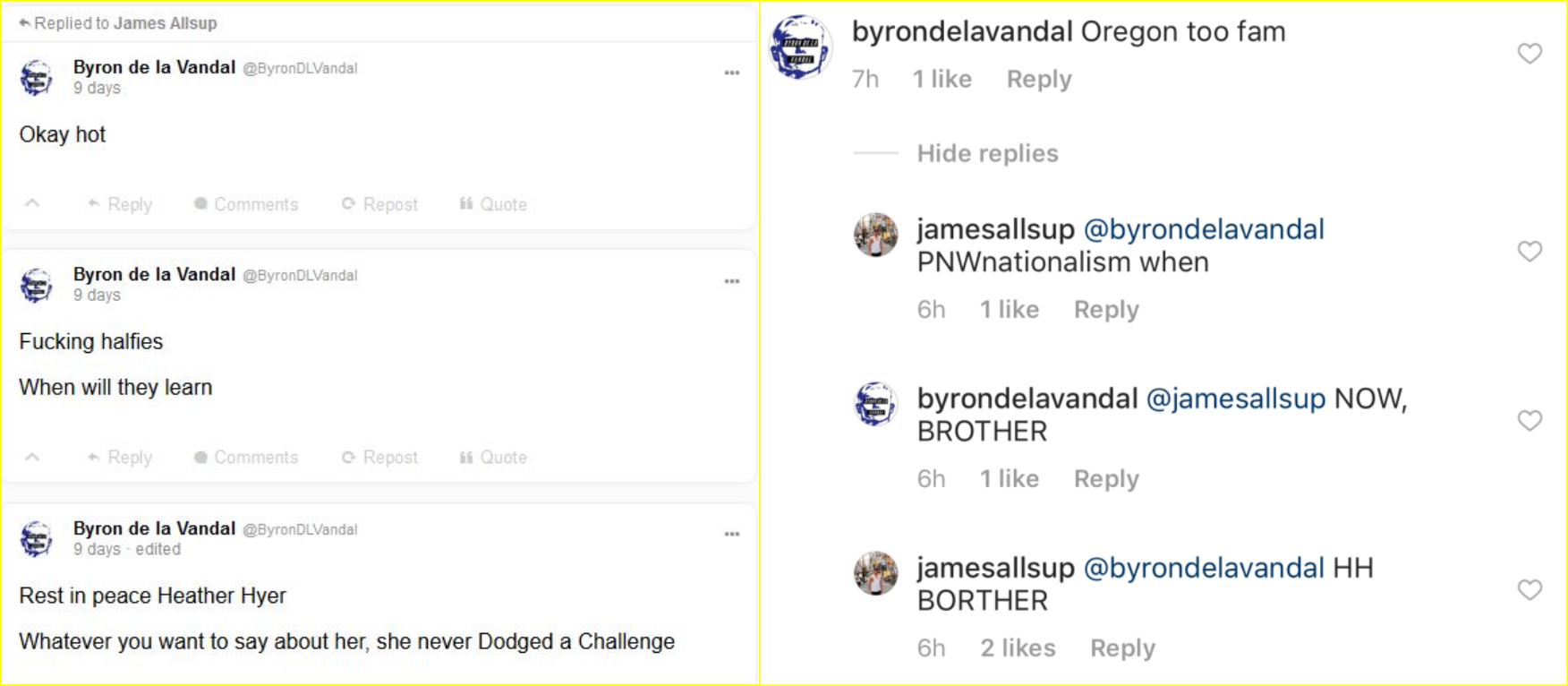 In these screenshots, Evan McCarty can be seen exchanging quips with James Allsup. In the bottom left, McCarty makes a disgusting joke about the murder of Heather Heyer by a member of Vanguard America, an organization of which he himself is a member. On the right, McCarty and Allsup carry on a Nazi-hipster exchange regarding their dream of a white ethnostate in the Pacific Northwest. At the end of the exchange, Allsup posts an "HH" salutation, initials which stand for "Heil Hitler".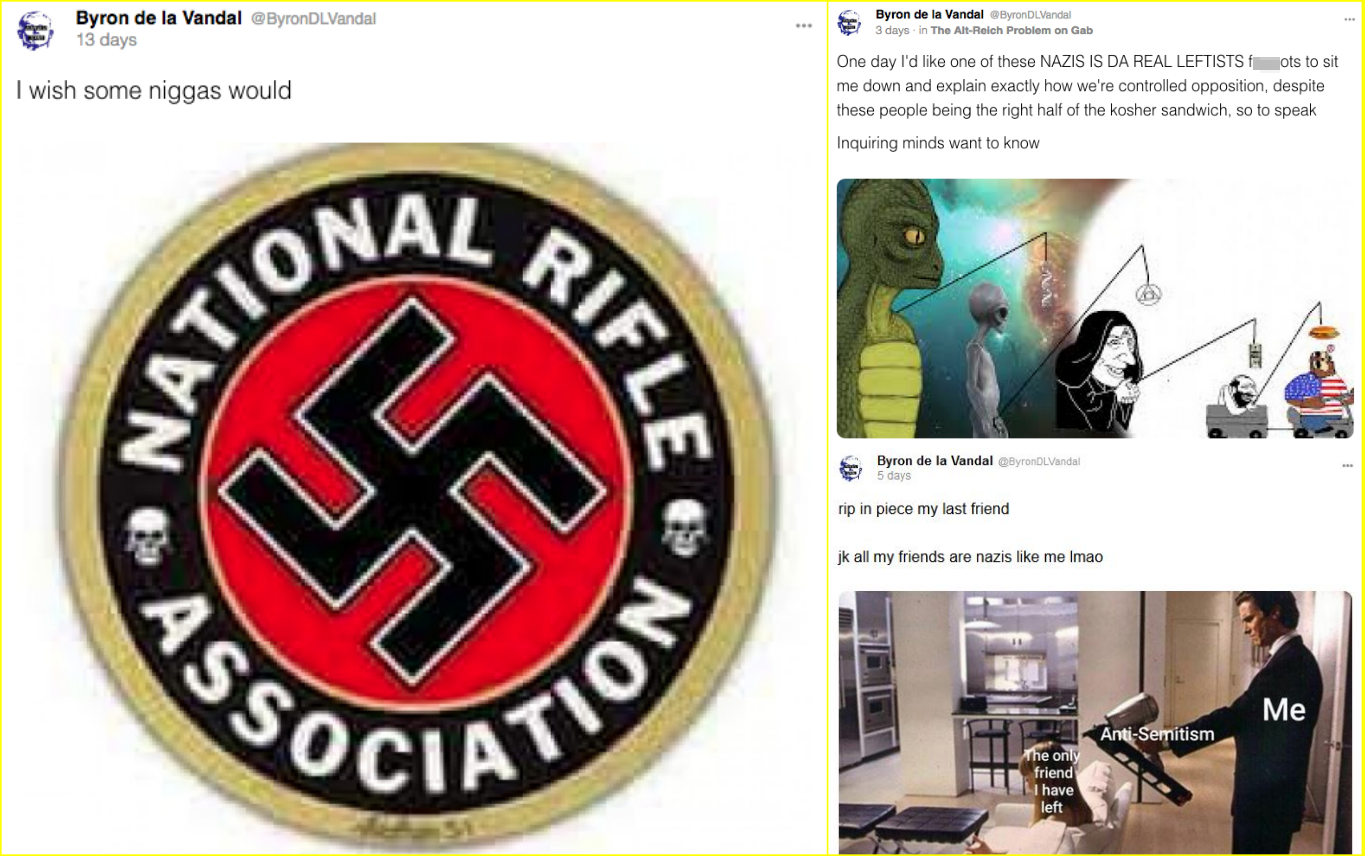 Evan McCarty identifies himself as a Nazi on Gab.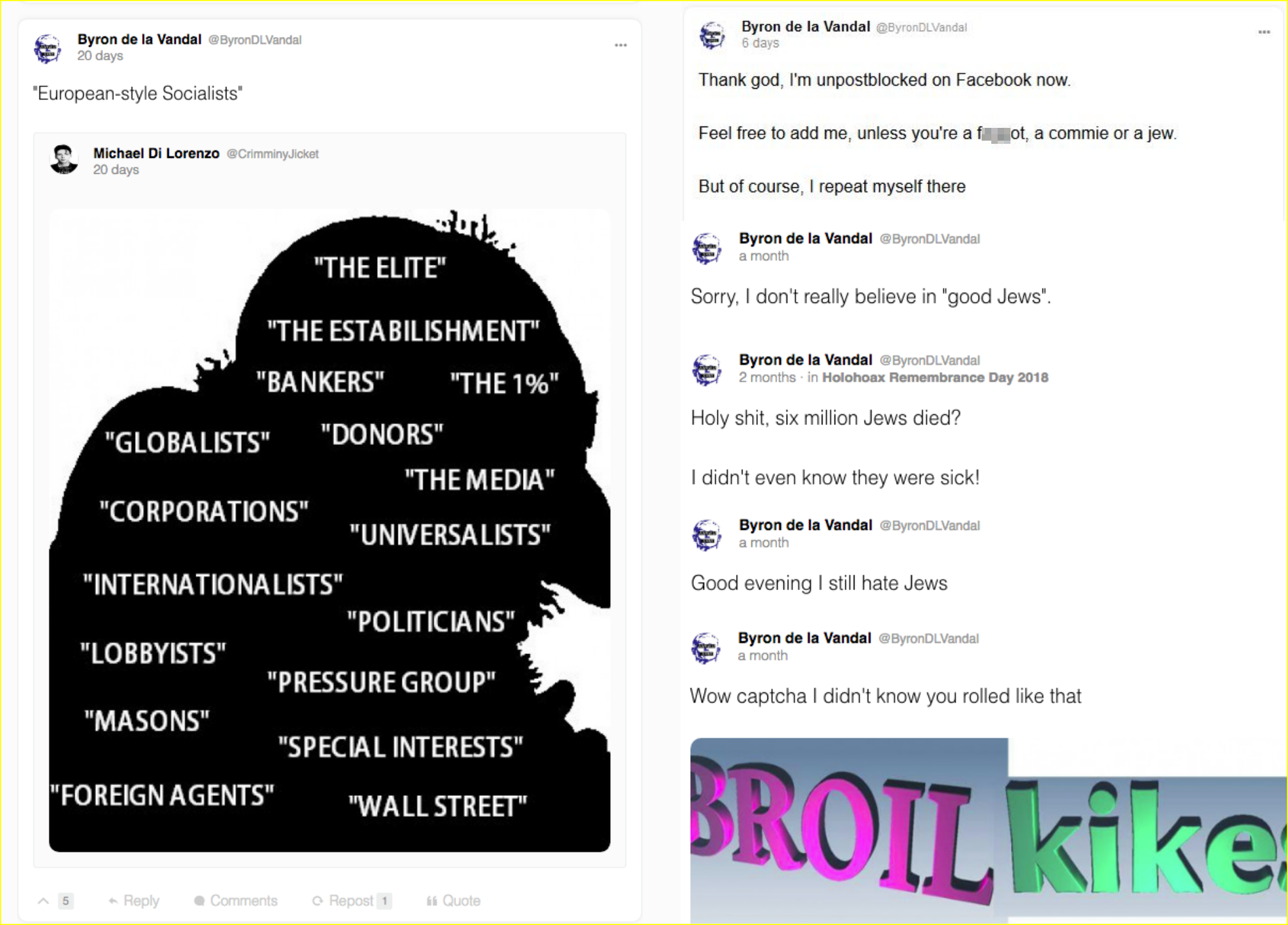 Evan McCarty expresses extreme anti-semitism on Gab.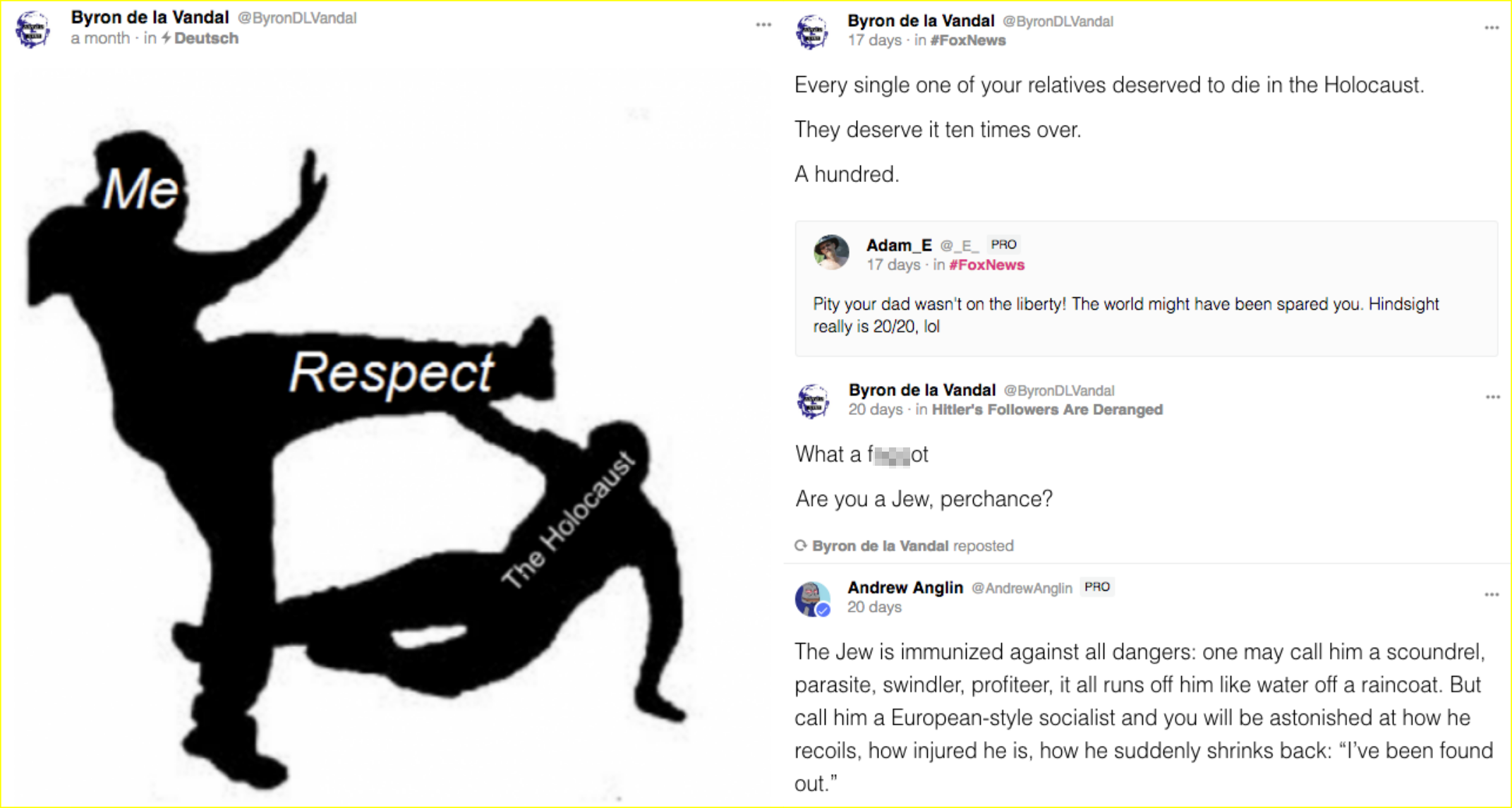 Evan McCarty expresses more extreme anti-semitism on Gab.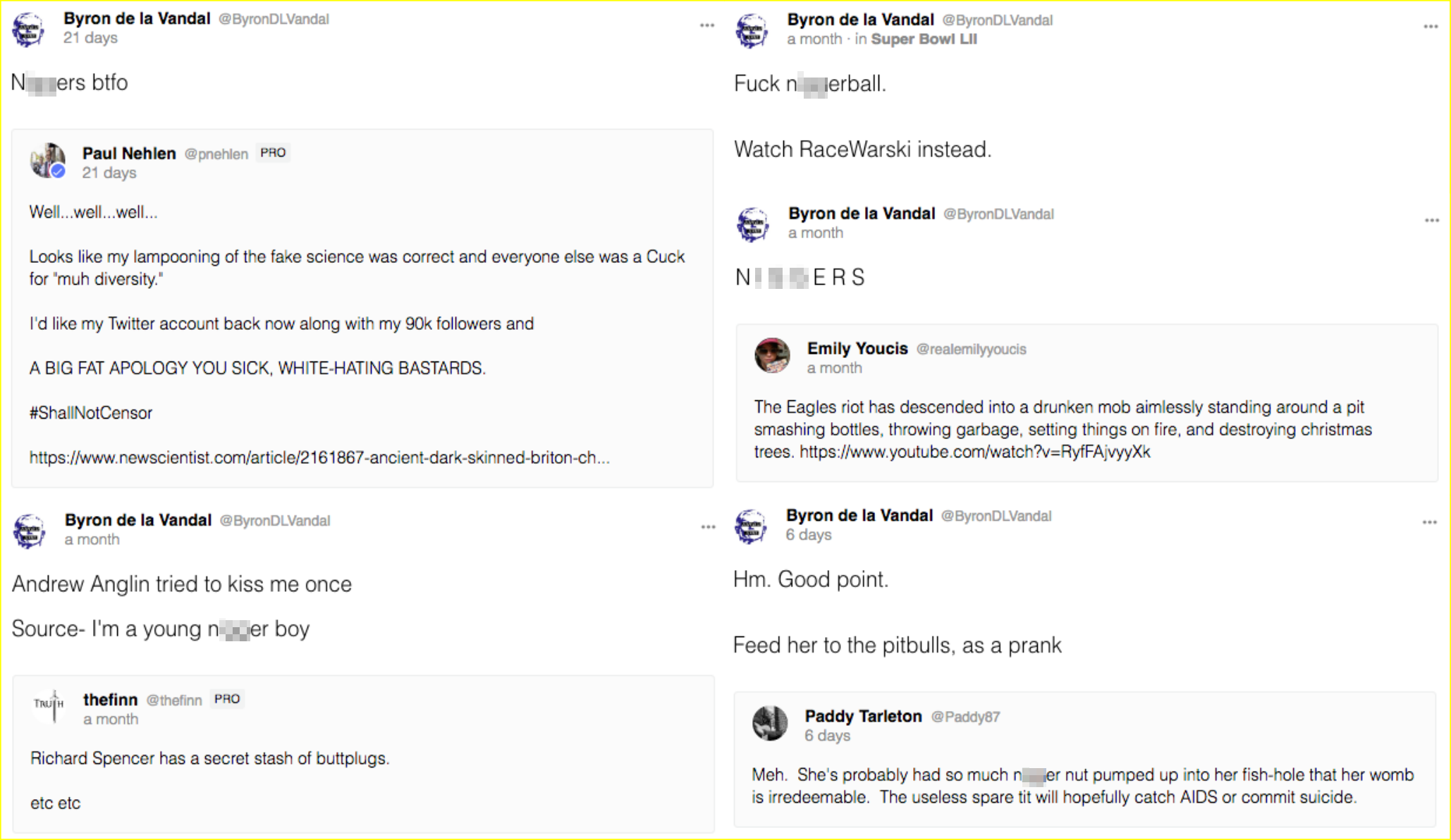 Evan McCarty expresses extreme anti-blackness with racial slurs on Gab. Note that his podcasting and song-writing partner Paddy Tarleton is quoted in the bottom right image.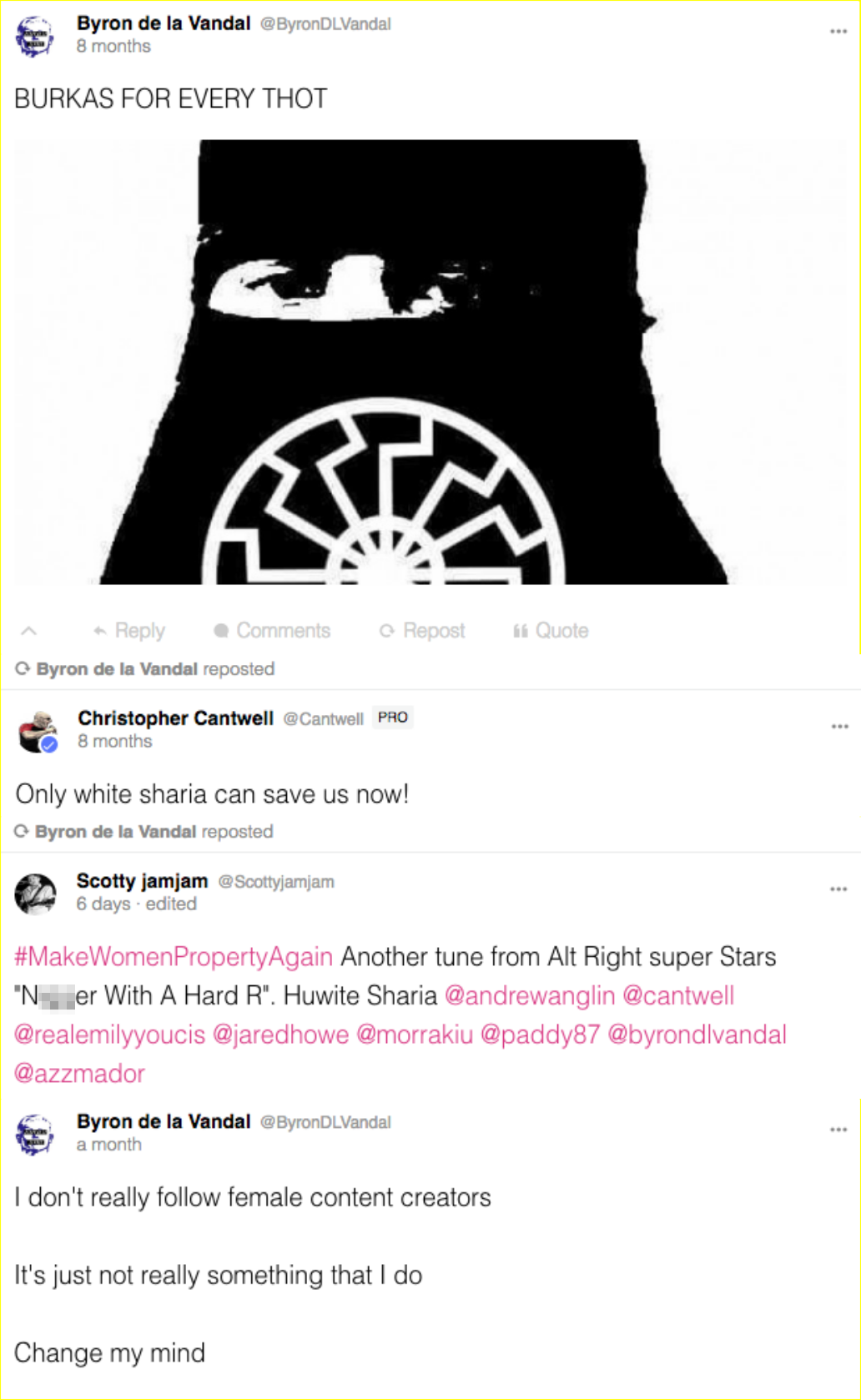 Evan McCarty expresses extreme misogyny on Gab and advocates for the neo-Nazi "white sharia" meme.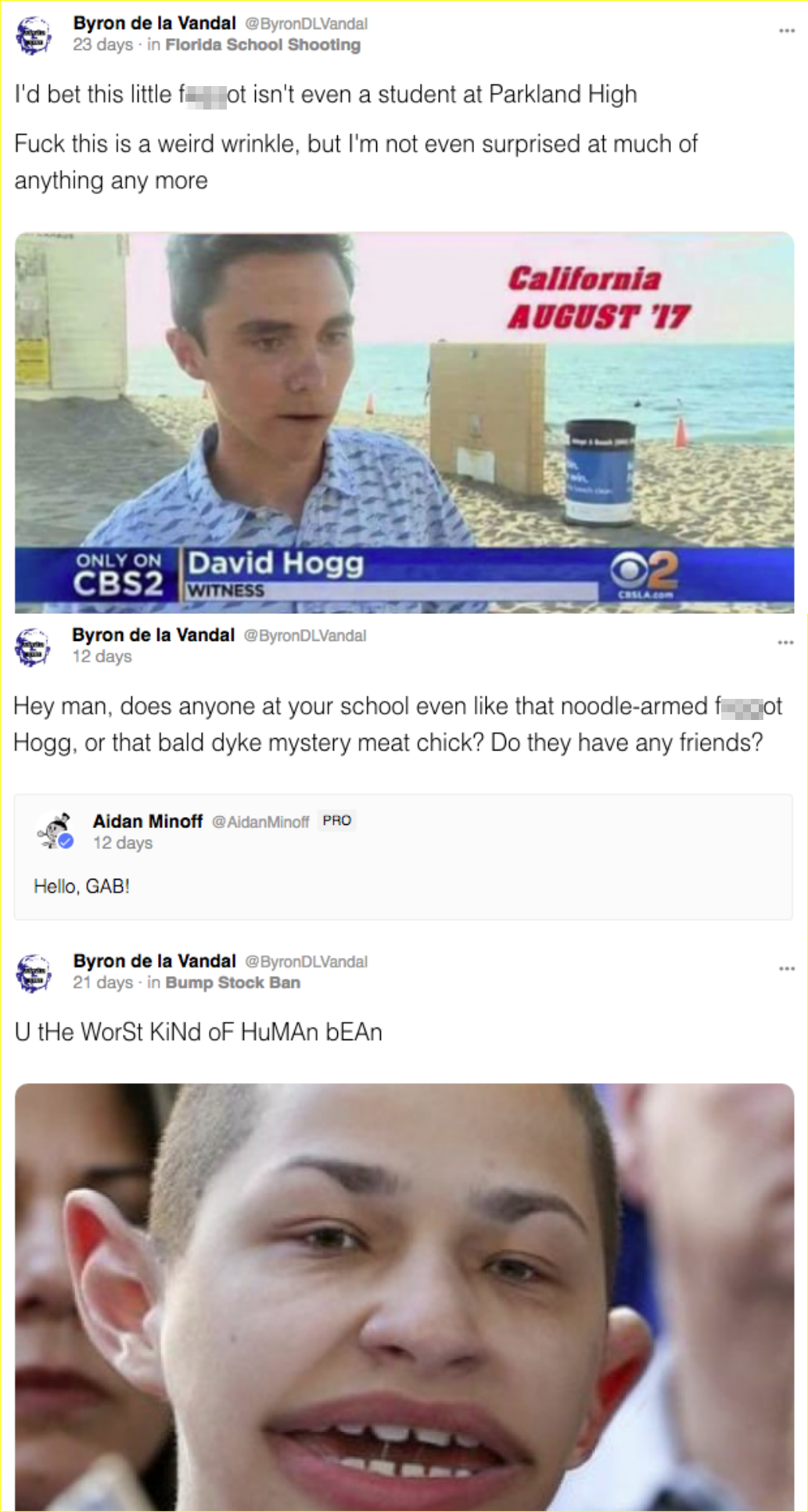 Evan McCarty heaps abuse on teenagers who survived a school shooting.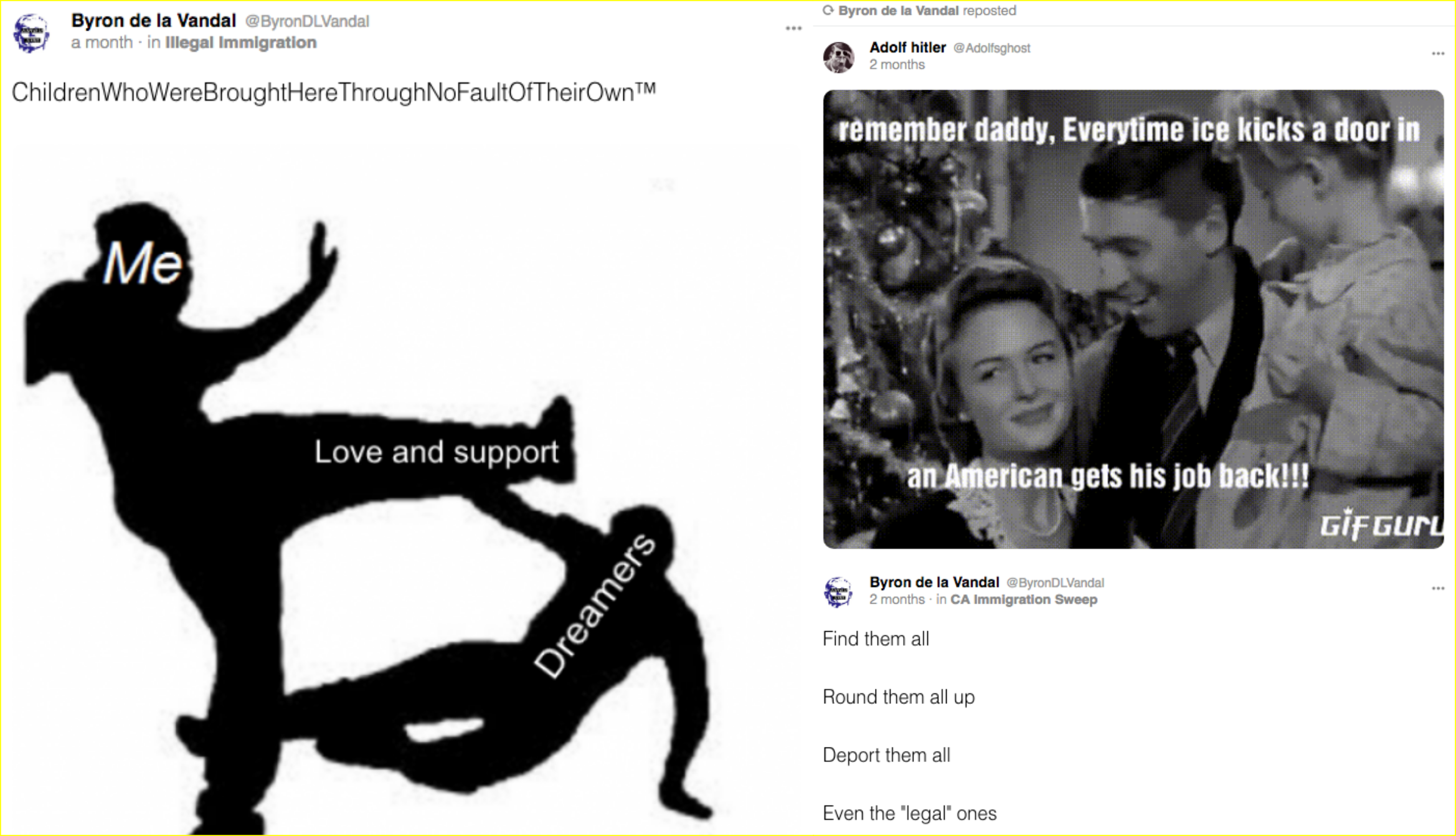 Evan McCarty encourages anti-immigrant violence on Gab.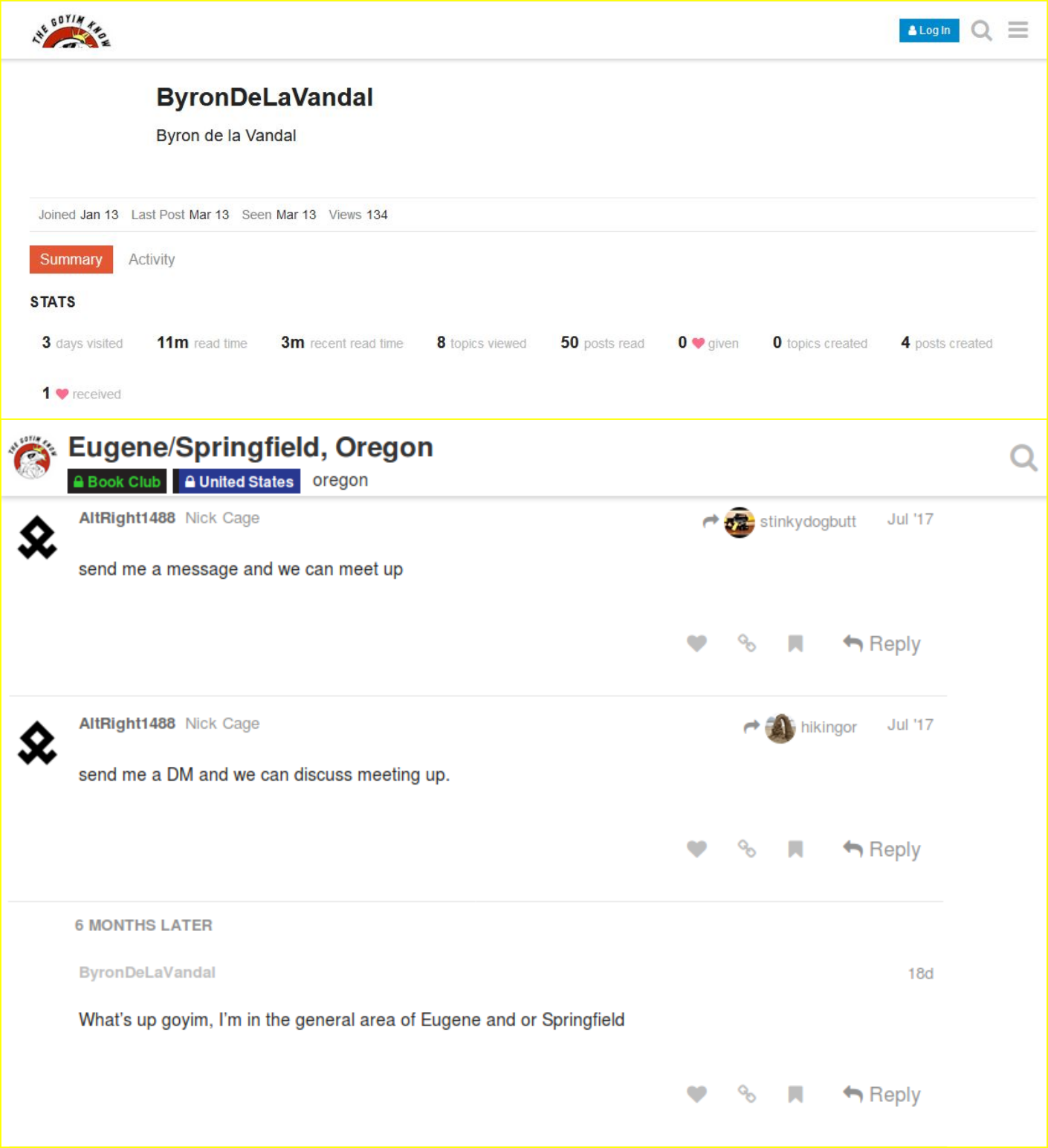 Evan McCarty's account as Byron De La Vandal on the Daily Stormer neo-Nazi website.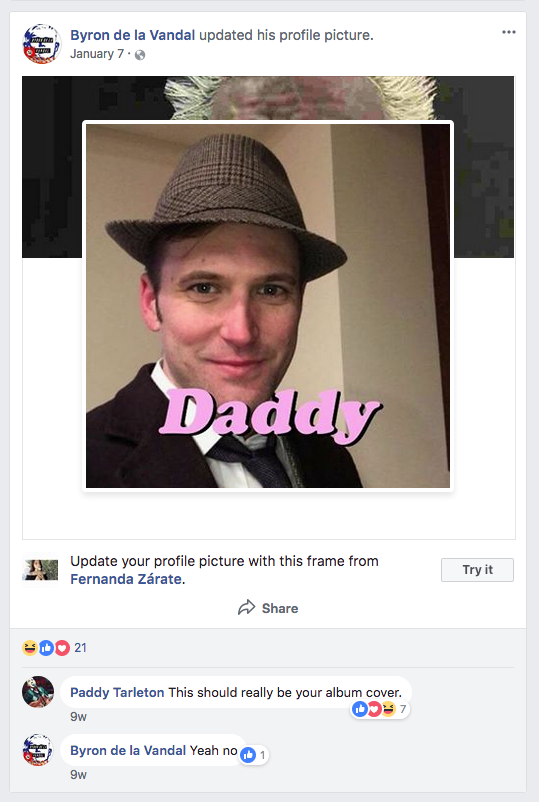 Evan McCarty calls Richard Spencer "Daddy" on facebook.
Current Details
Evan James McCarty
aka: Byron De La Vandal
DOB: 08/03/1996
Address: 325 E 18th Ave #2, Eugene, OR 97401
Social Media:
twitter/BDLVandal
facebook/ByronDLVandal
instagram/byrondelavandal
bandcamp/bdlv1
youtube
makersupport/ByronDeLaVandal
makersupport/Paddy_and_Byron

Clear Photos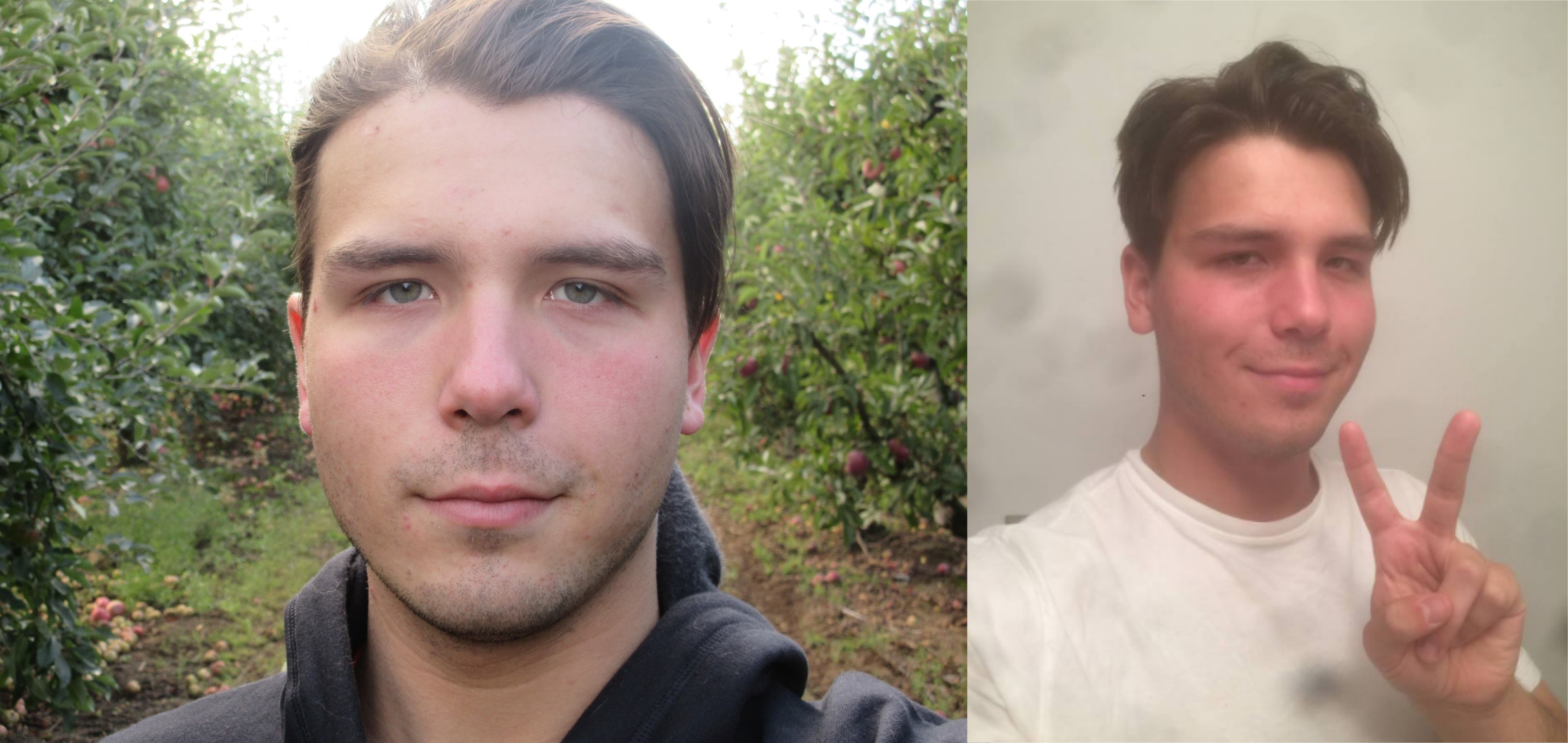 Evan James McCarty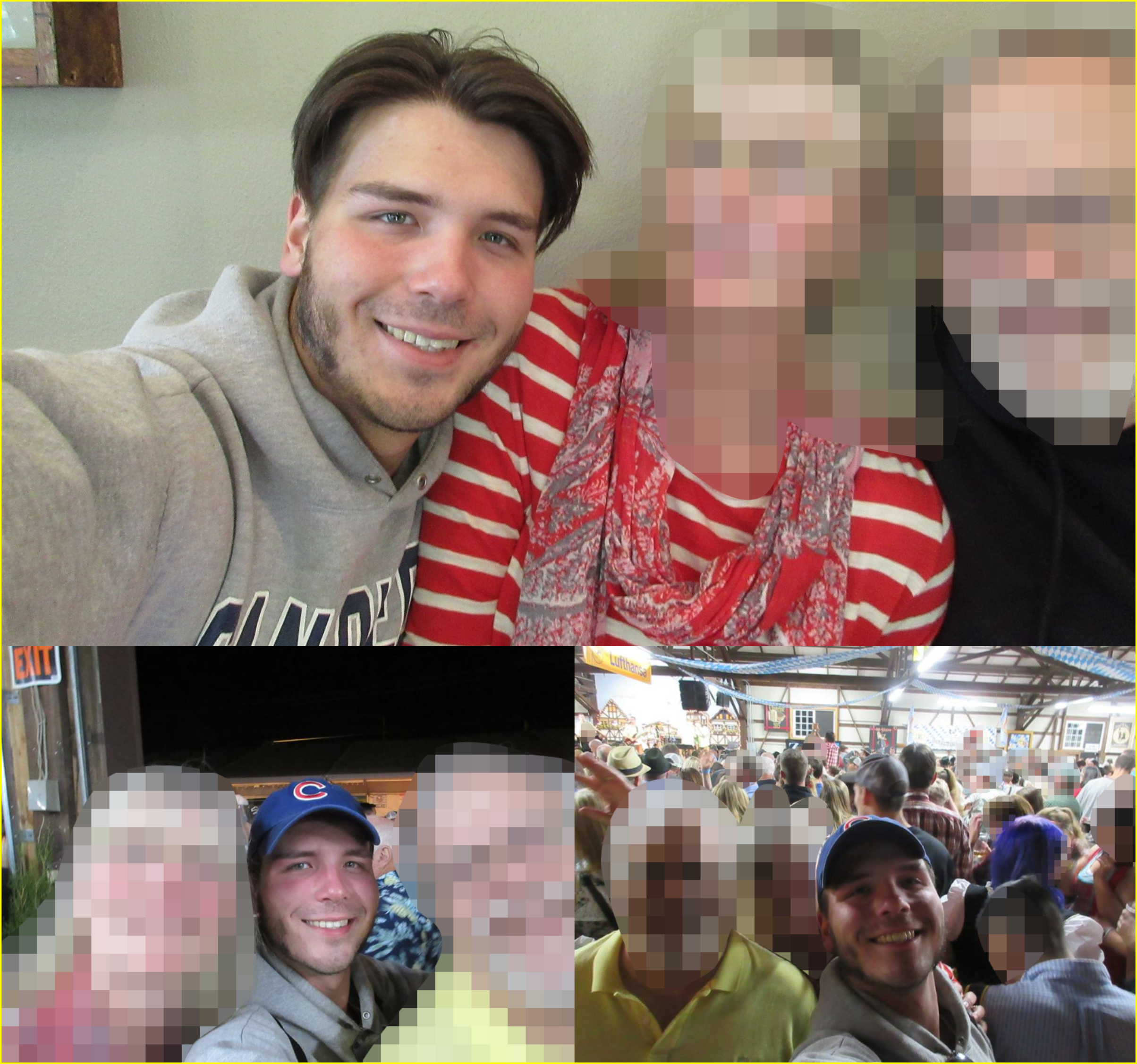 Evan McCarty with his parents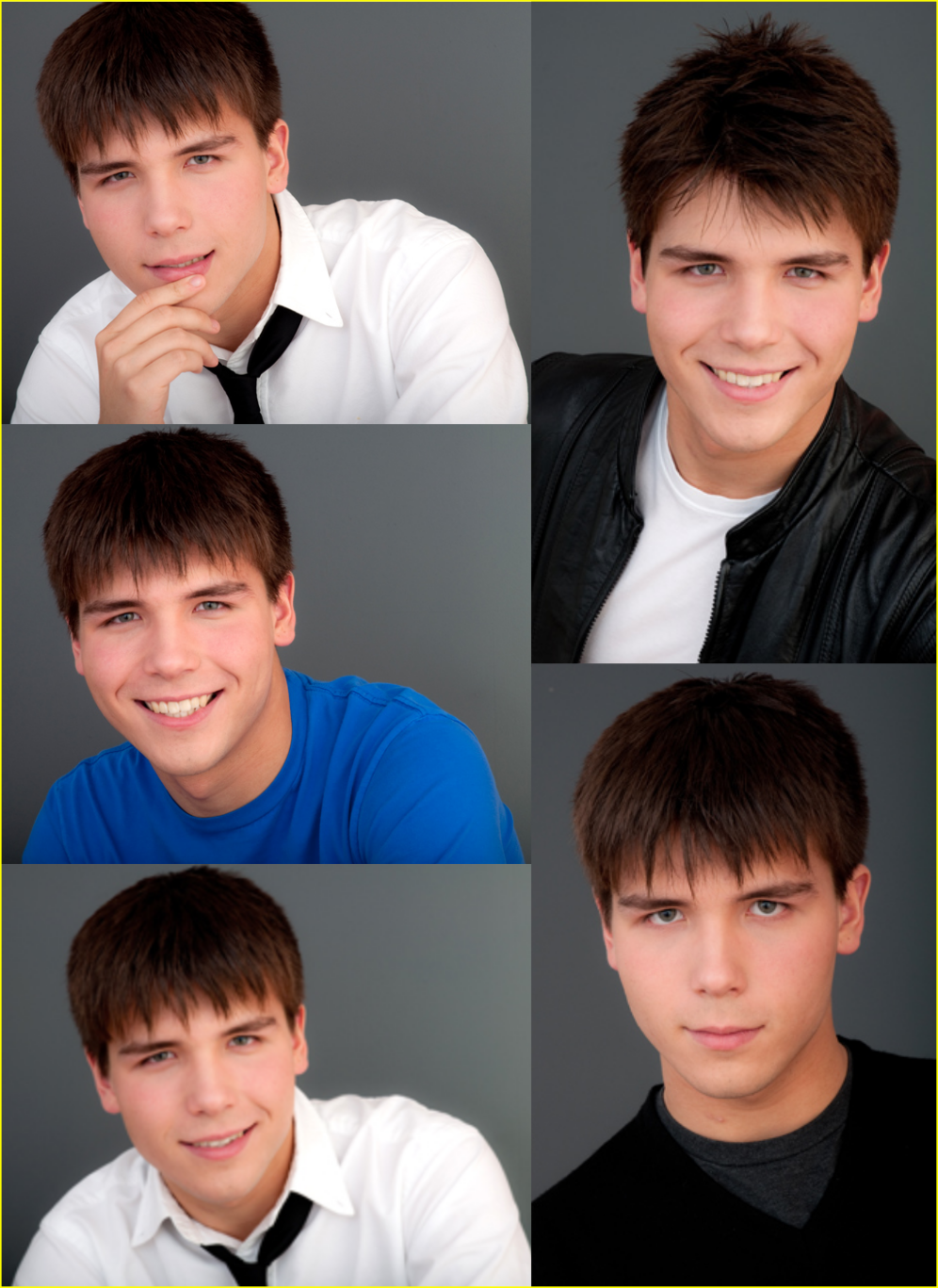 Never know when those pro headshots might come in handy.
Rose City Antifa is dedicated to exposing, opposing, and confronting fascist activity. If you have information regarding any of the people mentioned in this article, or other fascist and white supremacist activity in the Pacific Northwest, please email us at [email protected].