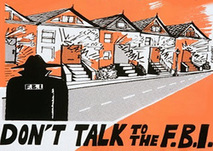 Originally posted on 8/30/2012
On August 29th, phone calls from people speaking out against the state's repression of social activists in the Pacific Northwest flooded U.S. Attorney Jenny Durkan's office.
Several individuals who have been subpoenaed to testify in a Grand Jury investigation have made public statements of their intent to resist the state's persecution of area activists.  A solidarity action scheduled for August 30th has been postponed until mid-September, to coincide with the scheduled appearances of those subpoenaed.
Those supposed to appear on August 30th were informed mid-day on the 29th that their appearances were being postponed.
Rose City Antifascists stand in solidarity with the Committee Against Political Repression and the Grand Jury Resisters.
For more information, visit
http://nopoliticalrepression.wordpress.com/