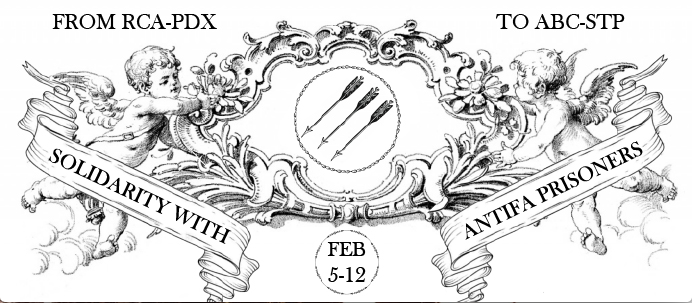 Rose City Antifa is participating in the international days of solidarity action over the week of February 5th through the 12th in support of anarchists and antifascists arrested in Penza and St. Petersburg. Over this week all proceeds from our online store will go to Anarchist Black Cross St. Petersburg for legal aid to the victims of these police raids and arrests. You can also donate to our PayPal (please note "St. Petersburg and Penza"). Please take a moment over this week to write a letter, share their story, donate funds, or in some other way show support.
Currently two people in St. Petersburg and five in Penza have been arrested. Others have been picked up in connection to the case as witnesses. Raids and repression are likely to continue. Those arrested are charged with participation in a terrorist organization, a very serious charge despite the complete lack of physical evidence. The Russian state has invented a terrorist threat to stop the activism of anarchists and antifascists. Some see this as an attempt to destroy any dissent prior to the presidential election in 2018. The Federal Security Service is extracting "confessions" to corroborate the false terrorist network story by torturing victims. Cattle prods and other gruesome implements have been used on those imprisoned to get them to make false statements implicating themselves and others. There is not one shred of proof for these charges other than statements coerced by torture and death threats.
This began in October of 2017 when six antifascists and anarchists were captured by the FSS in Penza. Raids of activist houses started all over Russia. A new wave of detentions was launched in January of 2018. Two antifascists were arrested in St. Petersburg, Ilya Kapustin and Victor Filinkov. Both of them were tortured severely. According to Filinkov's attorney Vitaly Cherkasov (translated from Russian):
"Most of all I was shocked by the traces on the hips from the electric shocker. During my long struggles against police lawlessness I have never seen such injuries, and I have over fifty torture and bullying convictions of police officers under my belt."
Our strongest weapon is solidarity so join with us in shining light on this injustice and supporting our comrades in need!
Address for your solidarity letters:
VIKTOR SERGEEVICH FILINKOV, UL. SHPALERNAYA, D. 25, G. SANKT-PETERBURG, 191123, RUSSIAN FEDERATION (Only PAPER letters)
To donate directly:
PayPal: [email protected] (ABC Moscow- Write a note For "St. Petersburg and Penza".)
Yandex-wallet of Anarchist Black Cross St. Petersburg: 41001160378989
Bitcoin: 1EKGZT2iMjNKHz8oVt7svXpUdcPAXkRBAH
Original Call for Solidarity:
https://insurrectionnewsworldwide.com/2018/01/31/russia-call-for-international-days-of-solidarity-with-russian-anarchist-political-prisoners-feb-5th-12th-2018/
Links to more info:
https://avtonom.org/en/news/ilya-kapustin-they-said-they-could-break-my-legs-and-dump-me-woods
https://avtonom.org/en/people/case-anti-fascists-st-petersburg-and-penza
https://therussianreader.com/2018/01/30/penza-terrorism-case/
https://therussianreader.com/2018/01/29/viktor-filinkov-arrest-torture-petersburg-antifascist/