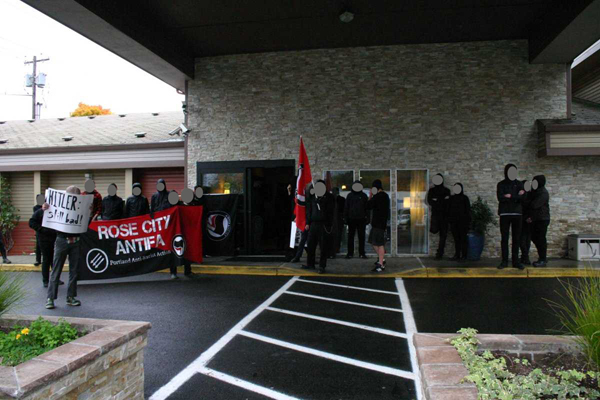 Antifascist presence at La Quinta Inn on NW Yeon st. in Portland, OR prevented David Irving's talk on "Hitler and I" from moving forward as planned.
Originally posted on 11/18/2012
On Saturday, November 3rd, around thirty antifascists and allies confronted the notorious Holocaust-denier, David Irving, and his white supremacist fans as they gathered for an event in Portland, Oregon as part of
Irving's latest US speaking tour
. The venue for Irving's presentation on the topic of "Hitler & I" was supposed to have been a closely-guarded secret, but antifascists located the event at the La Quinta Inn on NW Yeon Ave, where Irving was seen unloading stacks of books from his minivan around 2PM.
With a prompt anti-racist response, Irving's pro-Hitler event was successfully
shut down
at the La Quinta, where antifascists blocked the doors with banners and signs. Many potential attendees simply drove off without even getting out of their cars upon entering the car-park and noticing the antifascist presence. Continual phone calls to the venue--whose location and phone number was
released online
as soon as confirmed--placed additional pressure on the venue to kick Irving out. Rose City Antifascists would like to thank La Quinta for doing the right thing and showing the fascists the door, and we want to especially thank all our allies that made this small but significant victory possible.
David Irving, staying true to form as a liar about history, later wrote on his blog that antifascists had gone to the wrong location, and not shut down anything. The antifascists, according to Irving, simply went to a decoy venue designed to throw anti-racist opposition off the trail, whereas the event actually went forward at "the Embassy Suites hotel, where the masked Leftist crusaders failed even to find the meeting room." This is deceitful not only because Irving himself was spotted at La Quinta and the fascist attendees showed up at La Quinta, but also because Irving himself emailed those he suspected of being infiltrators prior to the event, stating that Embassy Suites was the venue. Rose City Antifa had in fact scouted both locations.
Another account of the day, written on the white supremacist Stormfront.org website by a user named "Tribalthinking" gives a different account than Irving's about what happened next:
There were a ton of masked commies gathered around the entrance to the hotel where the meeting was taking place. The hotel caved to their pressure […] We were still able to hear Irving speak, however. A local attendee allowed us to use his house to continue the meeting.
Anti-fascists, in other words, made it impossible for Irving to give his presentation at a venue accessible to the public. Reduced numbers of fascists retreated to a private home in order to hear Irving. The shut-down of Irving's major event was a victory for the antifascists, but Irving, in order to save face, is forced to spin lies about how his tour is going.
A Few of the November 3rd "Hitler & I" Attendees
Rose City Antifascists have noted in the past that Irving's events provide an opportunity for fascists, white supremacists and antisemites to network with each other and organize. Irving's events may also
have an energizing effect
on such forces. With this in mind, we would like to note a few of the individuals who gathered to see Irving, and the forces they represent.
The Stormfront member "Tribalthinking" who posted the comment quoted above is better known as
Tyler Cole
. Tyler and his wife Laura Cole (née Bailey) moved to Portland in late June of this year from Southern California. Tyler Cole was active in Southern California as a member of the white supremacist "Freedom 14" group, and also Golden State Party, a short-lived attempt at white nationalist electoral politics. The Golden State Party dissolved soon after a
newspaper story disclosed
that Cole, then its chairman, had felony convictions for assault as well as possession of an illegal machete. From the ashes of the Golden State Party, white nationalists went on to build the national American Third Position party. Tyler Cole is now attempting to build this white power political party in the Pacific Northwest, and hopes to get A3P registered as a political party in Oregon. On October 1, Cole and other racist associates publicly distributed A3P propaganda in downtown Longview, Washington. Cole's young racist associates also tagged along to the Irving event with him.
Scott Rautmann
, who attended David Irving's 2009 event in Portland as well, was seen leaving the La Quinta venue dejectedly this time around. Rautmann, a carpenter and construction worker based in Northeast Portland, attended Irving's 2009 talk with his then-wife
Amie Beckwith
, but the couple have since divorced. Scott Rautmann moves in racist circles that often portray themselves as simply "heathen", but upon closer examination show themselves as straightforwardly bigoted and fascist. Rautmann, for example, uses a picture of Romanian fascist leader Corneliu Codreanu to represent himself on one online forum, and also keeps in contact with the leaders of the racist European Americans United organization as well as
antisemitic propagandist
(and A3P leader) Kevin MacDonald via Facebook. Rautmann has previously been active in post-industrial music scenes in Portland, predictably collaborating with the creepy circles on the periphery of Markus Wolff's Waldteufel project.
​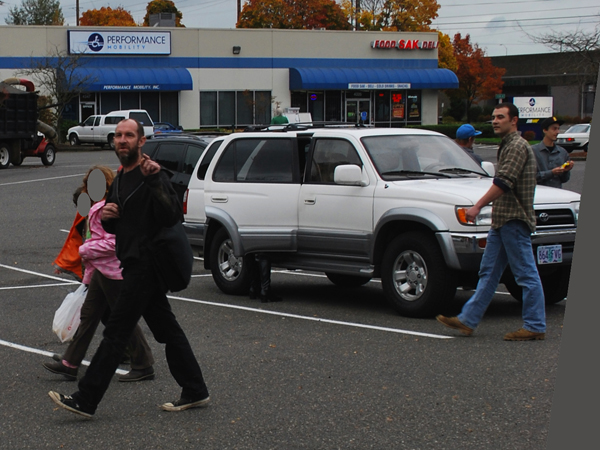 Event attendees Scott Rautmann (L, dressed in black) and American Third Position contingent featuring Tyler Cole (R, in front of vehicle.)
Another of David Irving's attendees this year was
Dave Westerlund
of Longview, Washington. Westerlund
also attended the 2009 David Irving event
at the Embassy Suites - Airport hotel in Portland. Portland residents may also know Westerlund as a regular participant at the Portland Peaceful Response Coalition's (PPRC) anti-war protest at Pioneer Courthouse Square each Friday,
where Westerlund often displays his antisemitic sign
alleging Israeli control of the US government. Westerlund also distributes leaflets from the Committee for Open Debate on the Holocaust at these PPRC events. Similarly to segments of the Portland "progressive" community continuing to support dedicated
antisemitic activist Tim Calvert
, it appears as though the PPRC welcomes or at least is comfortable with Westerlund's continued anti-Jewish agitation at their events and within their ranks.
Finally, antifascists spotted one neo-Nazi scurrying away from the Irving event sporting a
Hammerskin Nation
patch. The neo-Nazi Hammerskin grouping may be increasingly confident in setting foot in Portland following the
dismantling of Volksfront International
as an aboveground organization earlier this year. Rose City Antifascists wish to monitor this situation, and urge anyone with information on local Hammerskin activity to
contact us
.
Eugene--Portland--Seattle--Minneapolis: Antifascists on the Offensive
Even though David Irving's speaking events provide an opportunity for fascists, militant antisemites and white supremacists to network amongst each other and get organized, the tour also allows militant antifascists to build links with each other and go on the offensive against fascist and white power organizing. We are heartened not only by the dedication of the Portland anti-racist community that pulled together to oppose Irving, but also by the mobilizations in other cities against Irving's events. In
Eugene, Oregon
, antifascists were unable to intercept the Irving gathering but maintained an antifascist visual presence with banners. In
Seattle
, the day after Irving's Portland stop, Irving's event was located and disrupted. While writing this summary of Irving's event in Portland, word has also just arrived of a massive disruption of Irving's event in Minneapolis, MN on November 16. We see such active resistance to Irving's events as signs of a growing, militant antifascist movement, and will do our part to help this movement along.