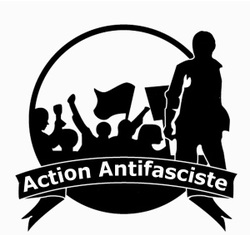 Originally posted on 6/30/2012
Visit antiracistaction.org for full text of the call to action.
Join us on July 31, 2012 as we come together to deliver a message to fascists and racists in our neighborhoods and communities: Get out!
For the past two years, antifascist and anti-racist organizers across the world have worked together to make July 31st a day to oppose white supremacy. This annual event was started in 2010 as a response to white supremacist attacks against anti-racists and antifascists, attacks that were meant to stop us from organizing.
Fascists and racists should not have a chance to let their ideas take root in our communities. History has shown that ignoring racist groups when they hold marches and demonstrations does not make them go away. Organized racists and fascists--whether neo-Nazi, Klan, white power skinhead crews, or the Minutemen--leave intimidation and violence in their wake wherever they settle.
We don't believe in waiting for the police to handle the fascists and racists, either. We know their job is to protect and serve us with harassment, beatings and arrests. We've seen how the police stand around and protect the fascists whenever they hold a rally or a march, but are quick to crack skulls at an anti-war march or an Occupy protest. We've also seen how the police routinely criminalize, harass, arrest, and attack people of color and queer people. We know that institutions like the police and prisons can never be "fixed" or "reformed" if their function is to maintain a racist and homophobic power structure.
We encourage participants to support the July 31st Day of Action in whatever ways make the most sense locally. Want to plan a punk or hip-hop show to raise funds for antifa? Do it. Want to flyer your neighborhood about a local neo-Nazi? Go for it! Want to organize an anti-police brutality march or a prison abolition teach-in? Yes, please!
Although we recognize the limitations of single "days of action", we hope July 31st will serve as a catalyst for long lasting, pro-active antifascist affinity groups or organizations. We believe that we need a dedicated and large force of militant antifascists with great intelligence, analysis, and dedication to crushing emerging extreme Right and fascist movements.
If your organization or crew is interested in endorsing the July 31st Day of Action, please contact us at
[email protected]
Fight Fascism, Smash Racism