On November 18, a member of the Stormfront white supremacist web forum posted an invitation for sympathizers to join the annual Robert Jay Mathews memorial, also known as the Martyrs Day commemoration. The Stormfront post asked for white supremacists to "Join us Sunday, Dec. 6th in Ballard, WA" and promised "five white power bands [...,] a traditional cross burning [...and…] marching through Capitol Hill in Seattle." The attached event flyer mentions two of the promised white power bands, both of which are affiliated with the neo-Nazi Hammerskin Nation.
The Northwestern Hammerskins (NWHS) typically celebrate "Martyrs Day" on the first weekend of December. This event memorializes
Robert Jay Mathews
, a leader of the white supremacist terror group The Order/
Brüder Schweigen
who died in a siege and firefight with federal authorities at Whidbey Island, Washington on December 8, 1984. Neo-Nazis often travel to Whidbey Island to pay tribute to Mathews--a photo from last year shows over thirty Hammerskins and allies posing on the Island. This year, the Hammerskins want to show themselves in a less remote location, promising events near Ballard and Seattle instead of or as well as just going to Whidbey Island. This is a major escalation by the Hammerskins.
Here, we make our first call to oppose the Hammerskin/neo-Nazi "Martyrs Day" event. Approximately a week ago, an anonymous "regional call-out for anti-fascist presence on whidbey island dec. 5th - 6th"
was posted
to the Anarchist News website. The author of the Anarchist News "call-out" referenced
our earlier article about the Northwestern Hammerskins
, and linked to our website. Our organization did not write the Anarchist News call to action and the call does not correspond to our tactical reading of the situation (although we certainly appreciate strident opposition to fascism.) If there is ever any doubt about whether a statement is from Rose City Antifa, please check our website and
get in contact
if you have further questions. We want to be in communication with active anti-fascists, so please check in if you are planning a large-scale event regionally so that we can coordinate efforts.
We wish to stress that the Hammerskin Nation, including the NWHS, have a long track record of violence. It is partly because of the violent capacity of the NWHS that we think this group is a genuine threat that must be strongly and strategically opposed. Calls to face off with the Hammerskins should not be made flippantly. Equally, neo-Nazi boneheads thrive off a feeling that they control the streets or control an area--they must be denied this feeling of power by successful anti-fascist organizing.
In terms of the weekend of the 5-6th and the Ballard/Seattle advertised event, traditionally the Martyrs day events have been held on the first Saturday of December.  However the show is being advertised as taking place on Sunday, December 6th. It seems unlikely that the NWHS would put this date forward as a decoy, as they would be deceiving their own potential supporters as well (that being stated, the Hammerskins appear to have circulated decoy venue information when organizing their annual "Hammerfest" in Boise, ID 2012, so misdirection attempts are not completely out of the question either.) Typically specific information on the location of these events is not revealed until immediately before the event itself in an effort to thwart antifascist opposition. Keep an eye out for updates on our
twitter
,
facebook
, and website rosecityantifa.org.
Some Intel Regarding the 2015 "Martyrs Day" Event
We already wrote extensively about the NWHS in
this article
from October, including some information about their earlier "Martyrs Day" commemorations. We do not intend to repeat our earlier information here. What follows below is some information we believe will be useful for those confronting this year's Hammerskin organizing.
The post on Stormfront promoting the 2015 Martyrs Day event was made by forum member "HardcoreHoney." The posts of "HardcoreHoney" reveal that this person has a birthday in March, and would currently be 27 years of age. In November 2013, "HardcoreHoney" wrote: "I'm from Washington, near Olympia though currently in North Dakota for work and awaiting the arrival of our baby girl, Valkyrie. We will likely head back to the beautiful PNW within the next year." A January 2014 comment states that "my partner and daughter have a very cool surname. Wolf...I'd gladly take it!"
The age details, surname, baby details and Washington state location information correspond to those for Christine Wolf AKA Christine Mills. A physical description "HardcoreHoney" provides on Facebook also matches up: "5'0 (Haha, Yeah I know I'm short [smiley]), dirty blonde hair, but has been bleached for the past for years. Green-blue eyes."

​We should note that Wolf/"HardcoreHoney" has a history of white power involvement beyond promoting this year's Martyrs Day event. While in North Dakota, Wolf lived near the town of Leith, which was
targeted by neo-Nazi Craig Cobb and other white supremacists
for a takeover. Regarding this situation, "HardcoreHoney" wrote on Stormfront that she "has been involved in the whole thing from the beginning."
Despite Wolf's history of active white supremacist organizing, we do not believe that Wolf is the primary or exclusive organizer for the upcoming Martyrs Day event. Rather, she is one of its main promoters. Instead, NWHS leader Matthew Schmoyer (who we have discussed more extensively
in our earlier article
) appears to be handling much of the nuts and bolts organizing for the event.
Two white power musical acts (of a planned five) have already been announced for the Martyrs Day event. One of these acts is Ironwill, whose frontman is now based in Vancouver WA and who we discussed in our
early October article
on the Northwestern Hammerskins. We now turn to Beer Hall Putsch.
Beer Hall Putsch--whose name is a reference to Nazi history, being the failed coup attempt led by Adolf Hitler which led to Hitler's prison sentence and allowed him time to compose
Mein Kampf
--is a white power musical act based in Idaho. The groups live debut was at the Martyrs Day event in Washington last year. In an interview for the "Blood and Honour Hellenic Division" blog, the group states that "being part of Hammerskins we have contacts all over the world" further confirming the musical group's affiliation.
The bassist for Beer Hall Putsch is Jeremie Kaufman, the owner of Valhallas Gate Tattoo & Body Piercing in Nampa, Idaho. Kaufman is a long-term Hammerskin organizer and one of their key activists in Idaho state. (We discussed Kaufman in our
2012 article
about the Hammerskin Nation.)
Also in Beer Hall Putsch--playing guitar--is Robert Michael Harris, who currently goes by the name "Robert Nailbiter Butcher" on Facebook. Harris is also a fully-patched in member of the Northwestern Hammerskins.
​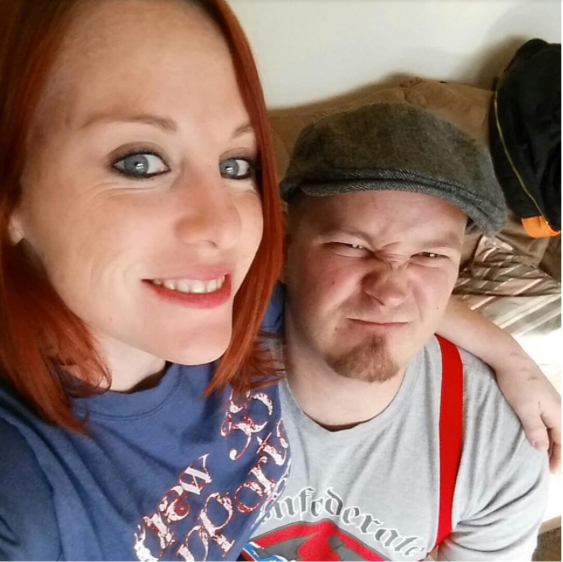 Robert Harris with wife Lindsey Maxwell-Harris. Robert's shirt is for the Confederate Hammerskins, while Lindsey's reads "Crew 38 Supporter," referring to the support crew for the Hammerskins.

​Finally, Beer Hall Putsch's frontman is Christopher Vertrice Lord, who goes by "Chris Laird" on Facebook. Judging from his patch in recent photos, Lord appears to be a Hammerskin prospect at the time of writing. Lord however has an extensive history in the white supremacist scene, having been one of the two people convicted for a
drive-by shooting against the Temple Beth Israel
synagogue in Eugene, Oregon in 1994 (fortunately, nobody was inside the Temple at the time.) Lord is now based in Idaho, in the Boise area. At the time of the 1994 shooting, Lord was affiliated with a different neo-Nazi grouping, the American Front. Now Lord sings songs about neo-Nazi terror for a Hammerskins-affiliated musical project, urging crowds to commit similar acts of intimidation.
​Conclusion
As predicted in our October article, the Northwestern Hammerskins are mobilizing in our region, particularly in Washington. This attempt to expand their Martyrs Day event into a larger, more public gathering is an escalation of aggression that needs to be decisively defeated by antifascists. Winning the war against fascists is both a matter of confronting and disrupting large events such as this, and also continual pressure on the individuals and organizations involved so that they are unable to amass the organizing strength to put together such gatherings. We hope that the information we put forward regarding the white supremacists responsible will be put to strategic use to this end. We look forward to building solidarity with other antifascists in the Pacific Northwest to oppose the NWHS and other regional white supremacists.
​